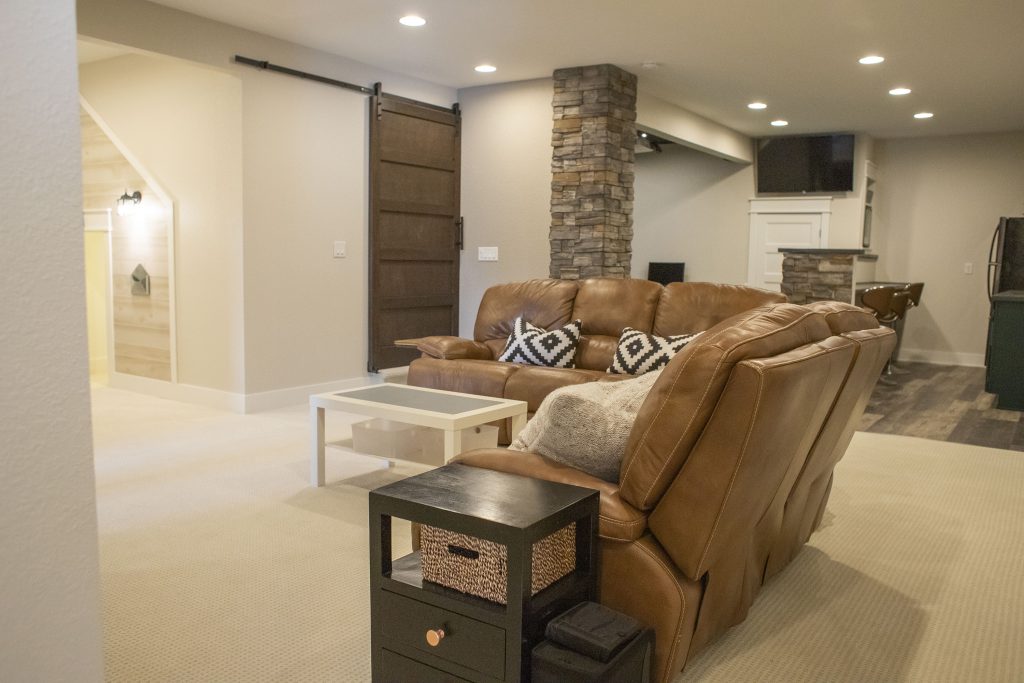 When we built our home four years ago, we had an idea of what we wanted to do with our basement level, but we weren't in a huge hurry with so many above-ground decisions to make in the meantime. Page drew out a rough idea and our builder framed it for us, and stocked it with drywall. And that was how it sat for a year or so. Slowly, we've been moving it forward over the last couple of years.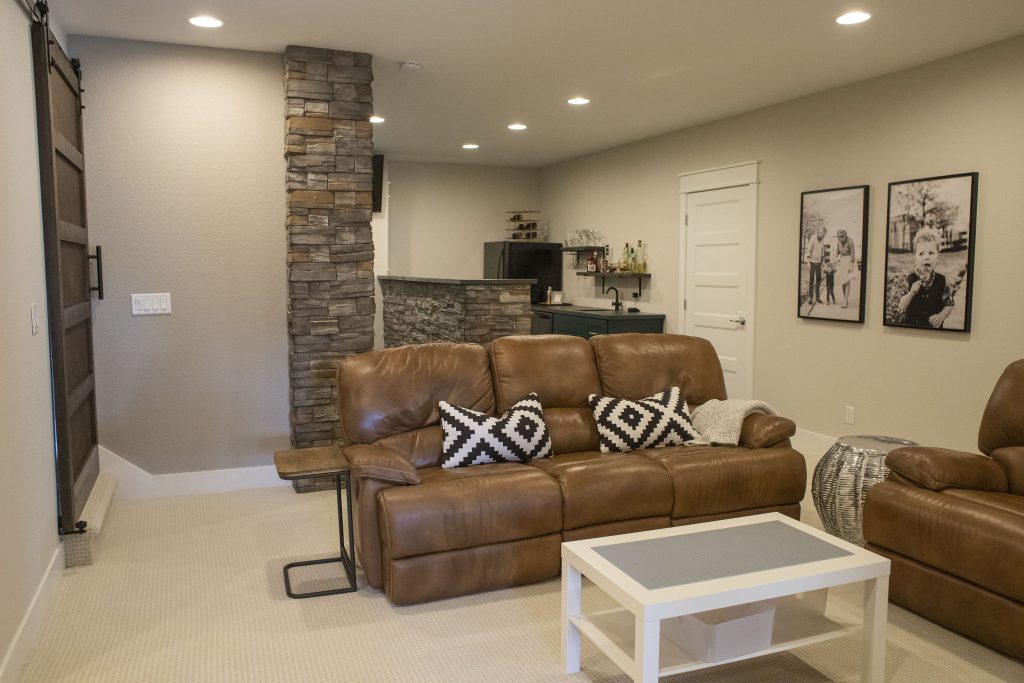 We've been using this lower level so much now that it's complete, starting with our living room. The leather couches moved down here (finally!) and they are perfect for family movie nights. I love that we kept it light and neutral down here (paint is Sherwin Williams "City Loft", trim is SW "Extra White") since our only natural light comes down the stairwell from a window, and from the two egress panes on one end of the house.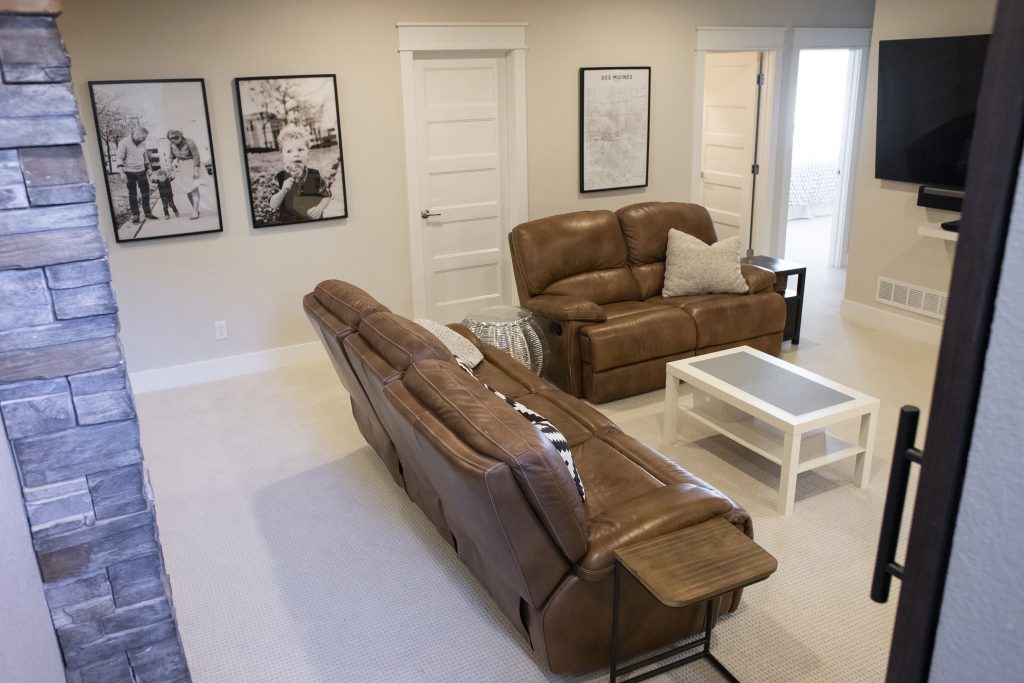 The play area is as getting as much use as ever (and the Ikea Algot toy closet has paid for itself in spades!). You can see more of the toy closet and the inside of the playhouse here.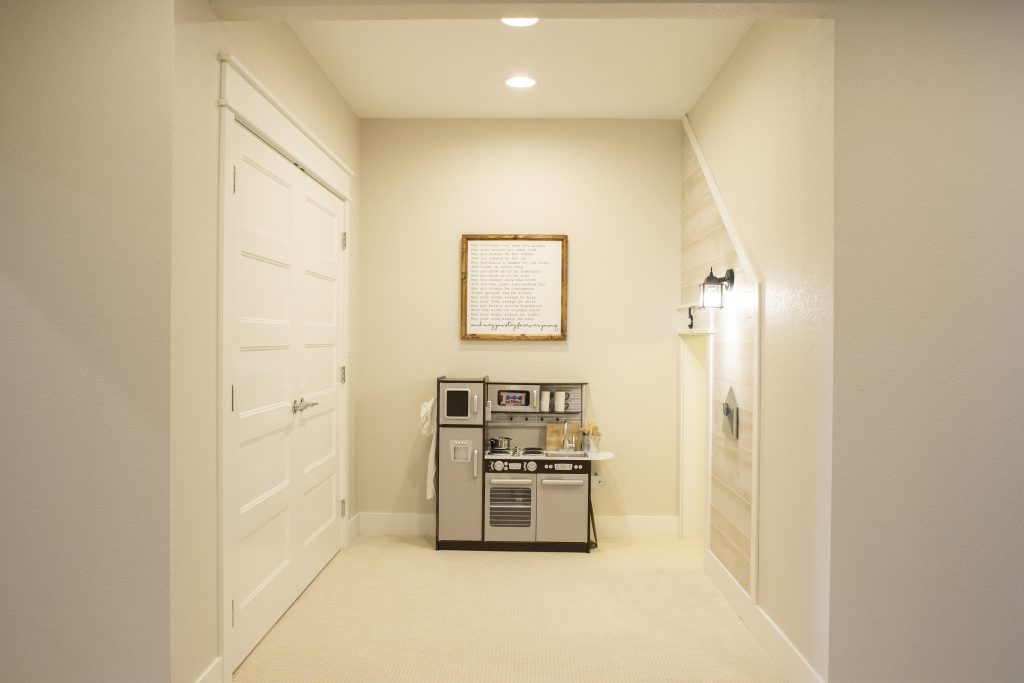 Crew's under-the-stairs playhouse is one of my favorite projects to date!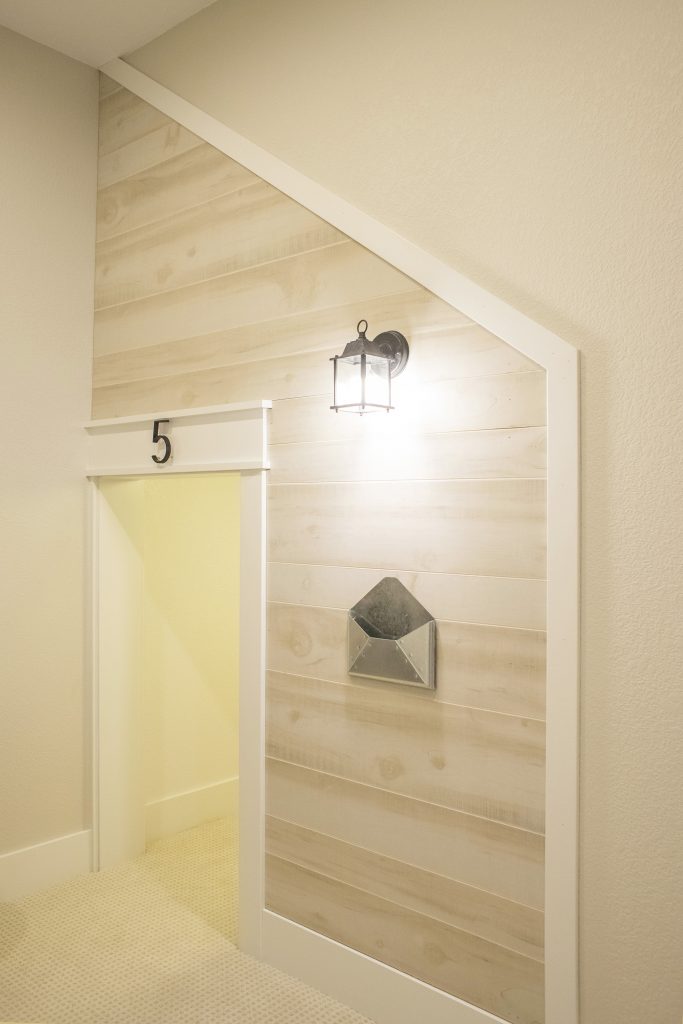 We tried to maximize the daylight by going with glass doors to the gym. Page picked this wall color (SW Oceanside) and I admit I was skeptical at first, but I love the change of energy and mood when you walk in here (which I need to do more often than I am right now. Ha!)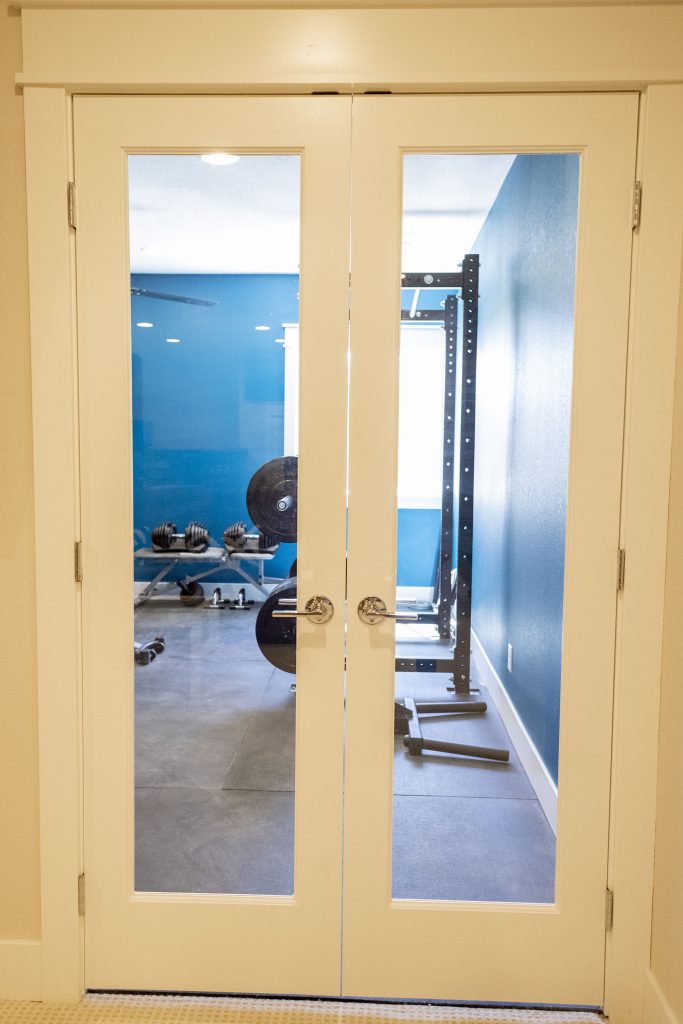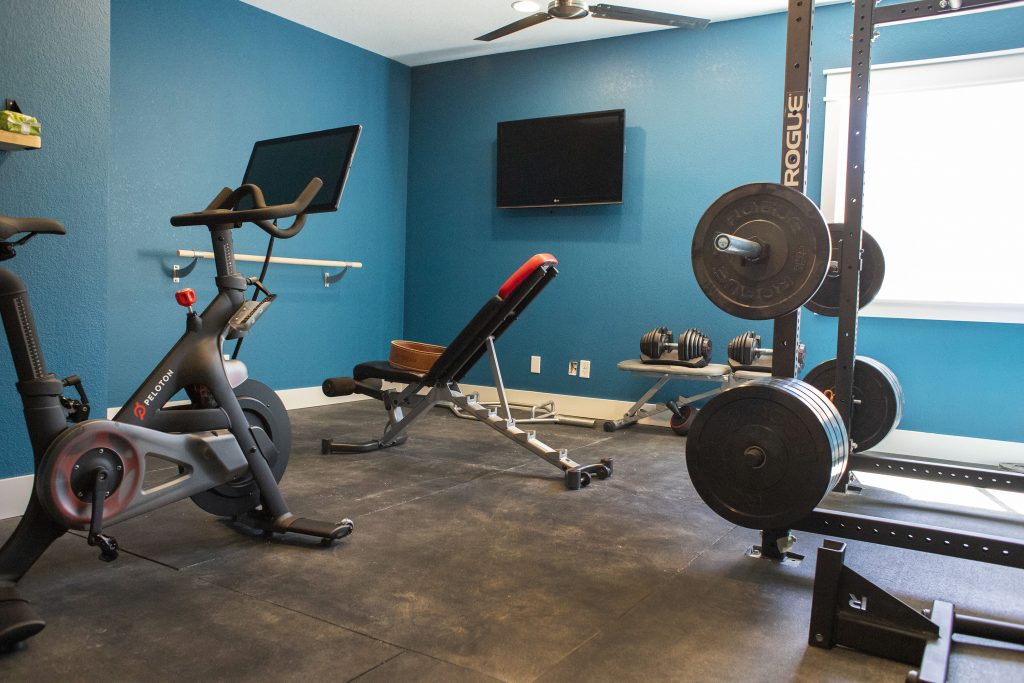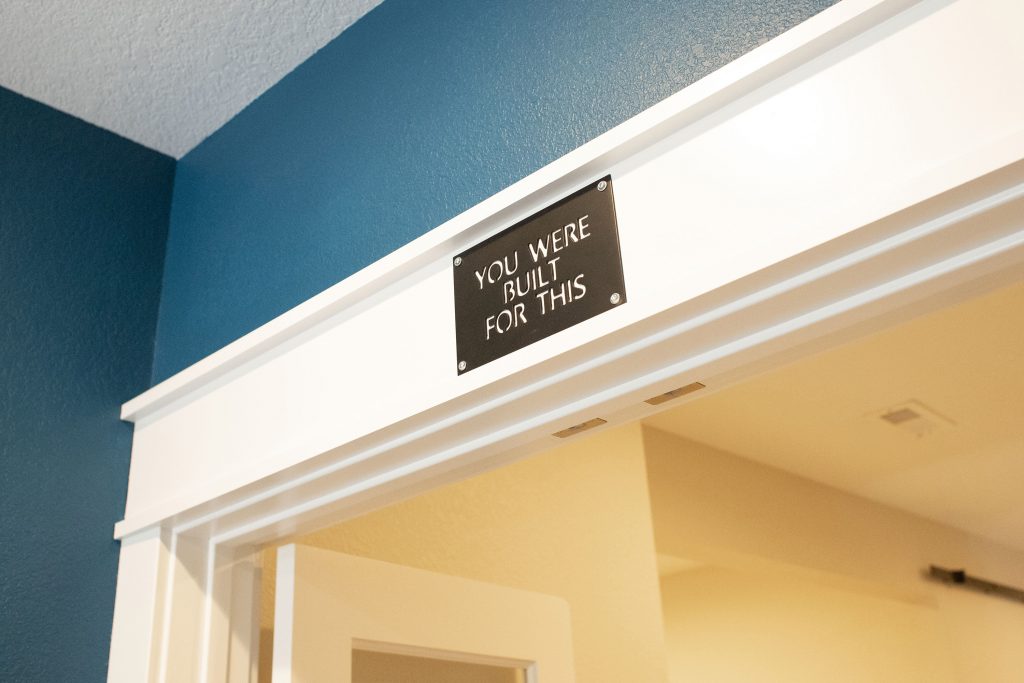 This black metal plaque from Magnolia is my favorite detail in here.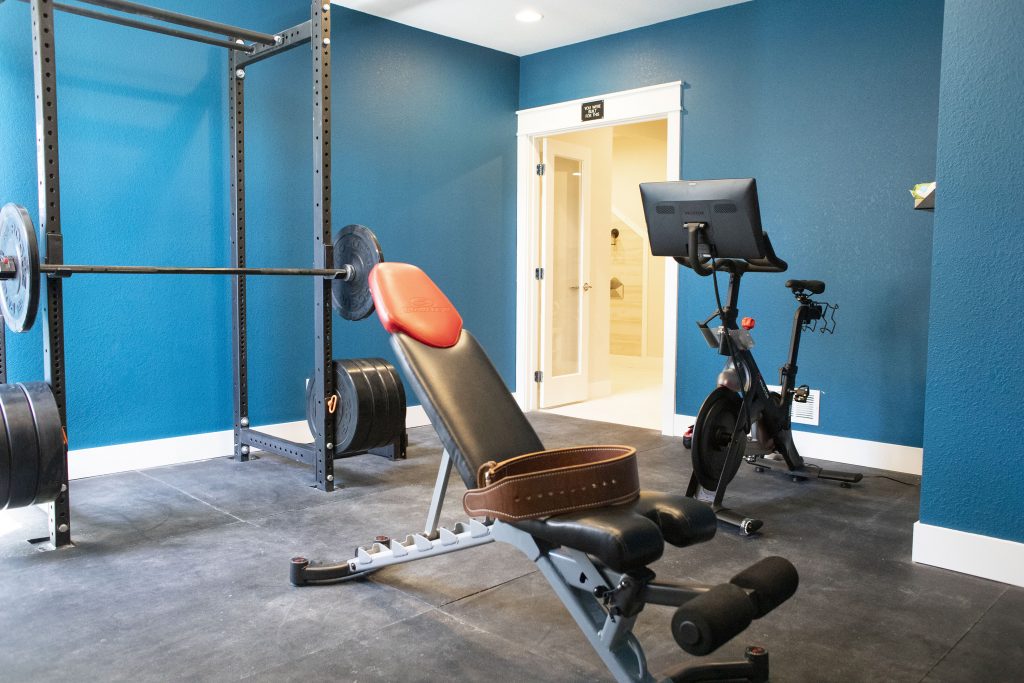 Here's a quick peek at the guest bedroom and bathroom that I wrote more about in previous posts.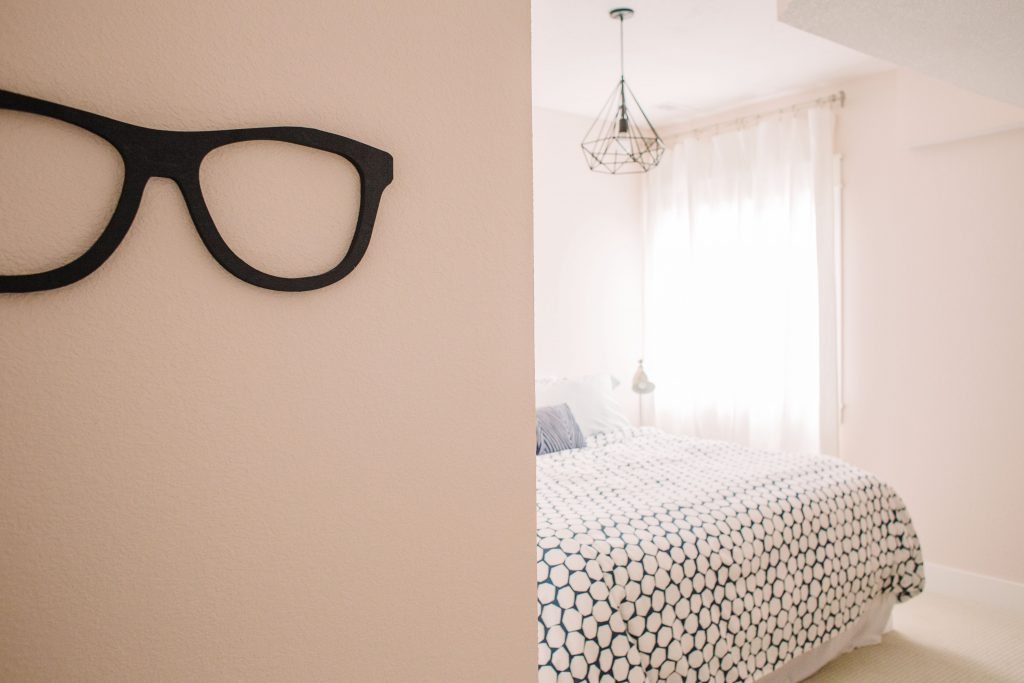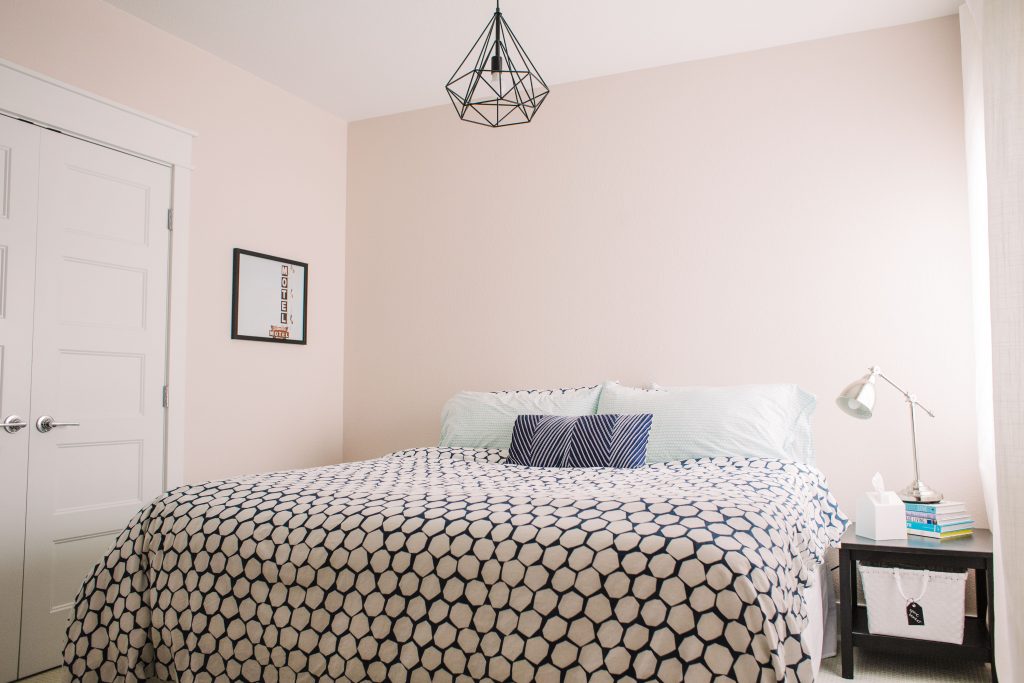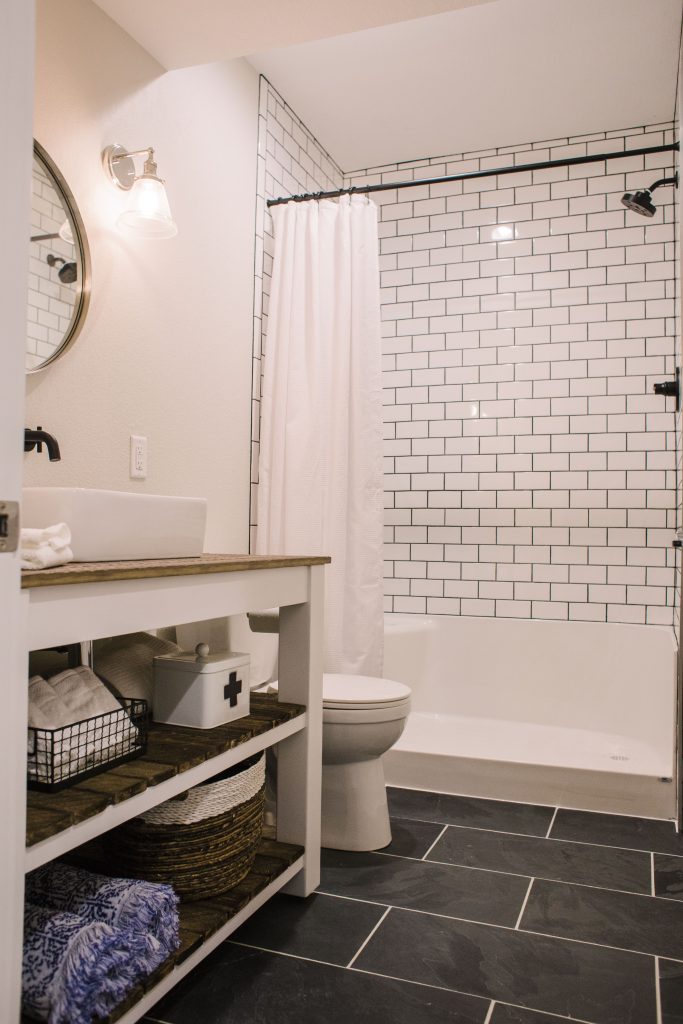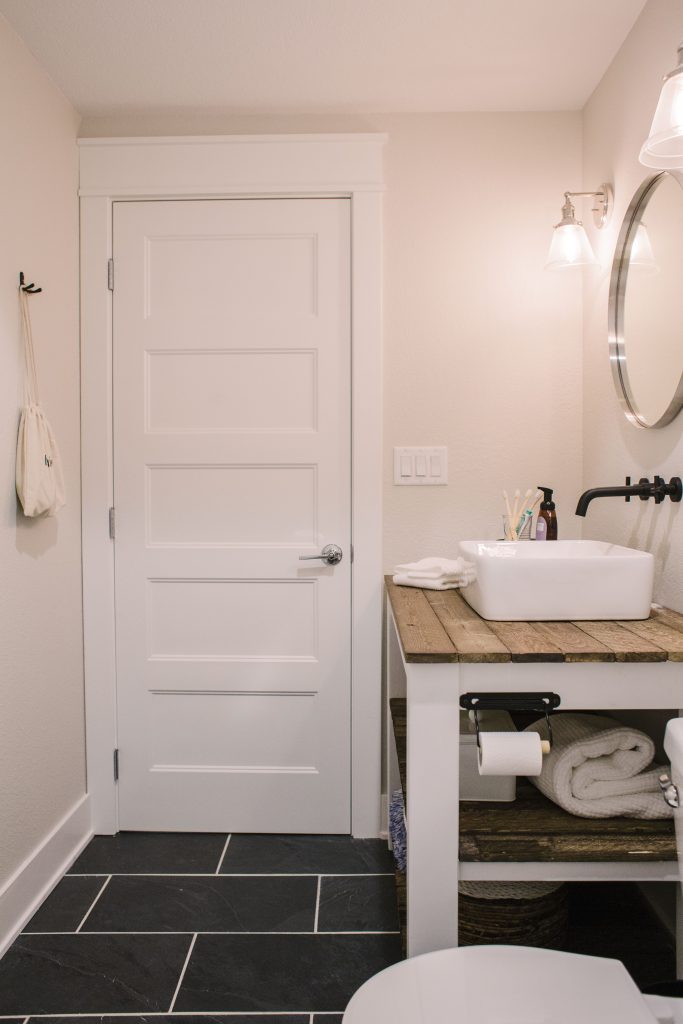 The last pieces of the puzzle were the bar and golf simulator. We bought stock cabinets which I painted (SW "Cascade") and we built the counter from butcher block stained Carbon Gray by Varathane. We debated adding a dishwasher down here but after so much up-and-down in our last basement bar with dirty glasses and snack bowls, we opted to include one this time around. We did vinyl flooring because of the nature of basements -it's from Home Depot and the color is Weathered Wood.
Page used remnant pieces from the counters to create floating shelves and found the hardware on eBay. The faucet and cabinet hardware all came from Amazon.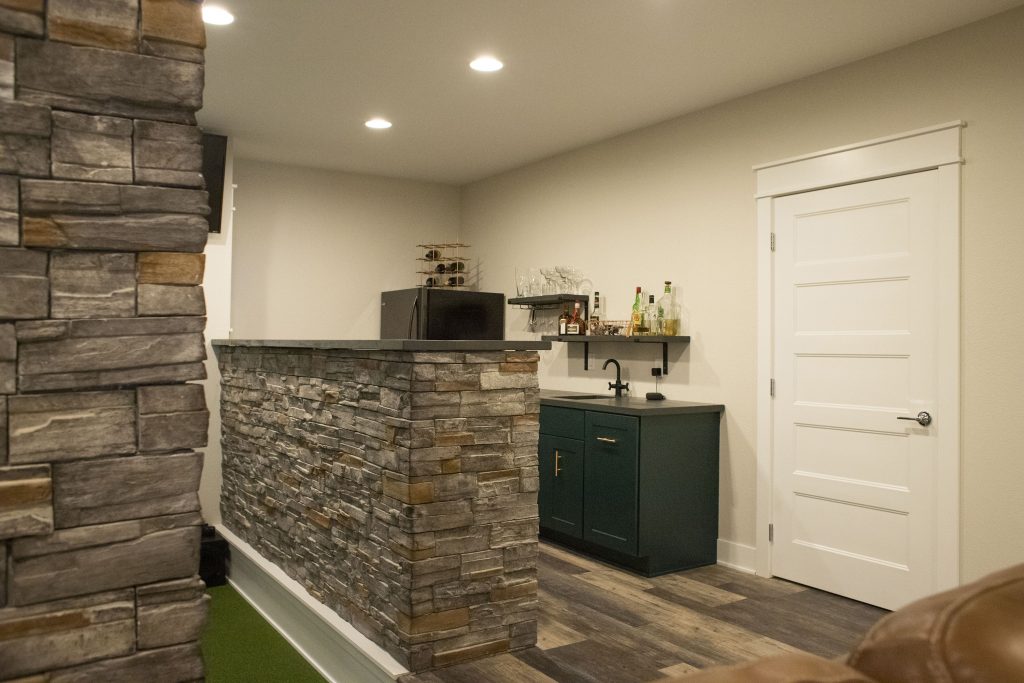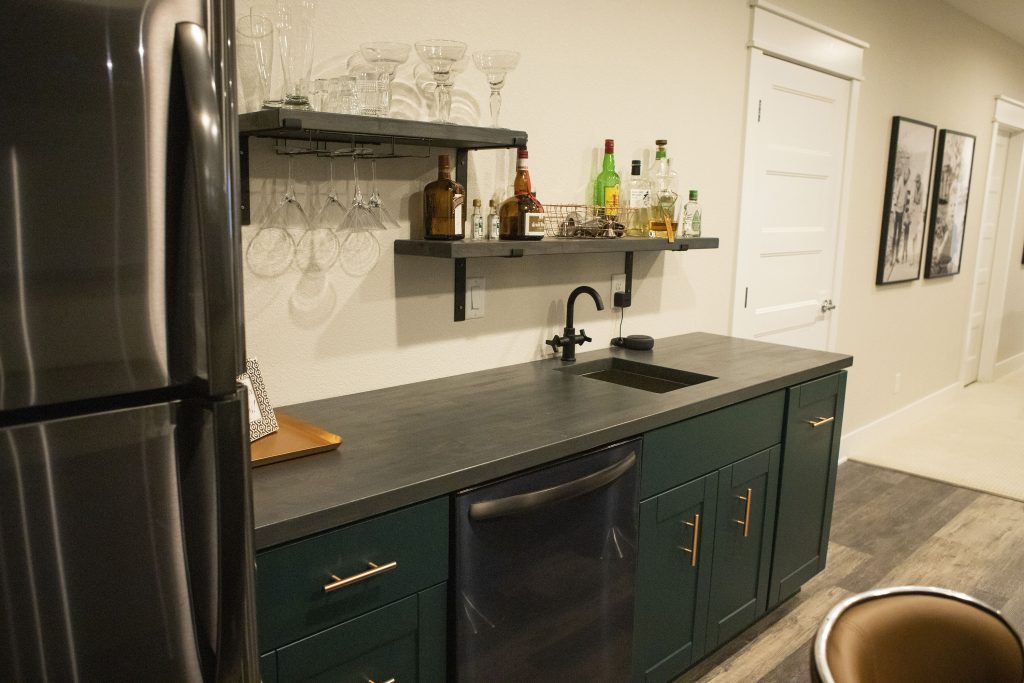 The golf simulator is by SkyTrak and Page installed it himself. We had to walk on many, many 1-foot squares of turf before he found "The One" 🙂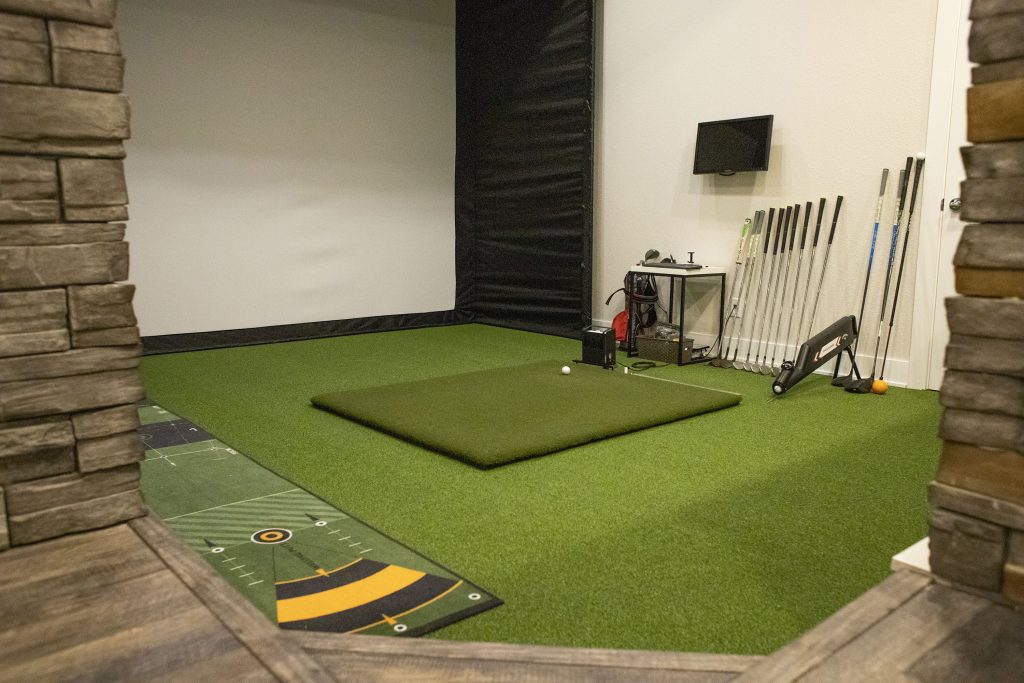 I love how all the textures and tones came together in this area. The stone isn't the exact material we have upstairs, but it's so darn close and carries the vibe from upstairs down to this lower level.
And I'd be remiss in not pointing out the barn door we had built as a solution to the noise of both the simulator and if we want to watch a movie down here after Crew goes to bed. It's hard to convey in photos but this thing is massive. You have to love a talented trim carpeter – this is perfectly cut at the bottom to hug up and around the skirt trim that comes down our stairs for a sealed closure.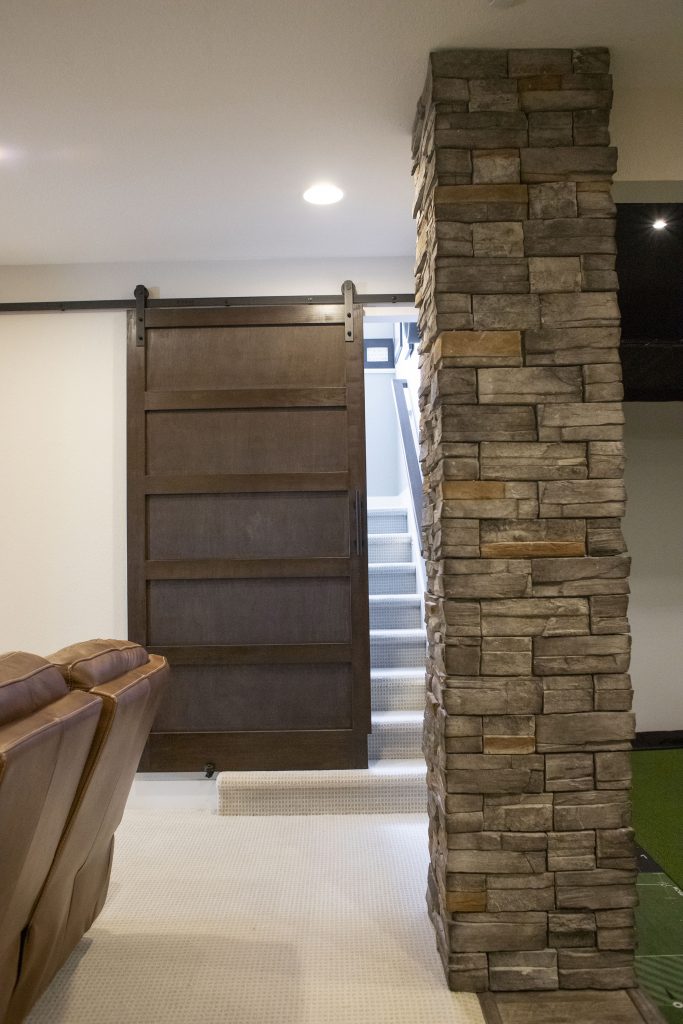 Another favorite little detail is the angled corner step down into the simulator. I will never forget showing up late ONE TIME to our builder meeting and noticing they had marked a sunken foundation. I knew exactly what had been decided without me – ha!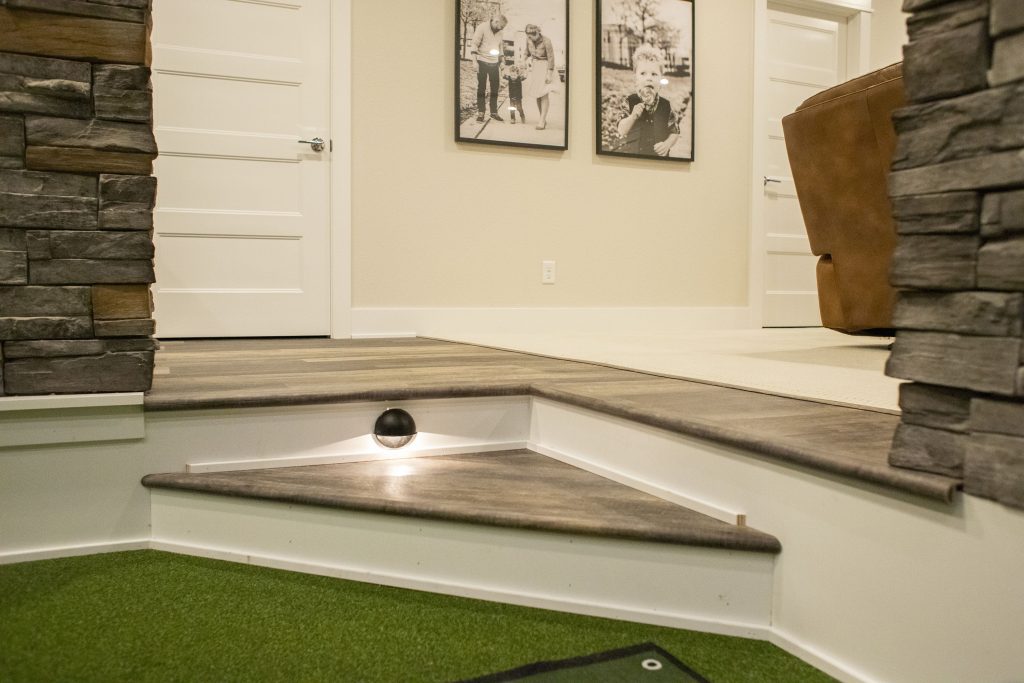 Thanks for following along. I'm so happy to have this big project checked off our list, and we're finding so much validation in how frequently we are using the space!