I last posted some updates about our basement bar/living room here, and the guest bedroom / bathroom here, earlier this winter.
Since then, it's been flooring glory!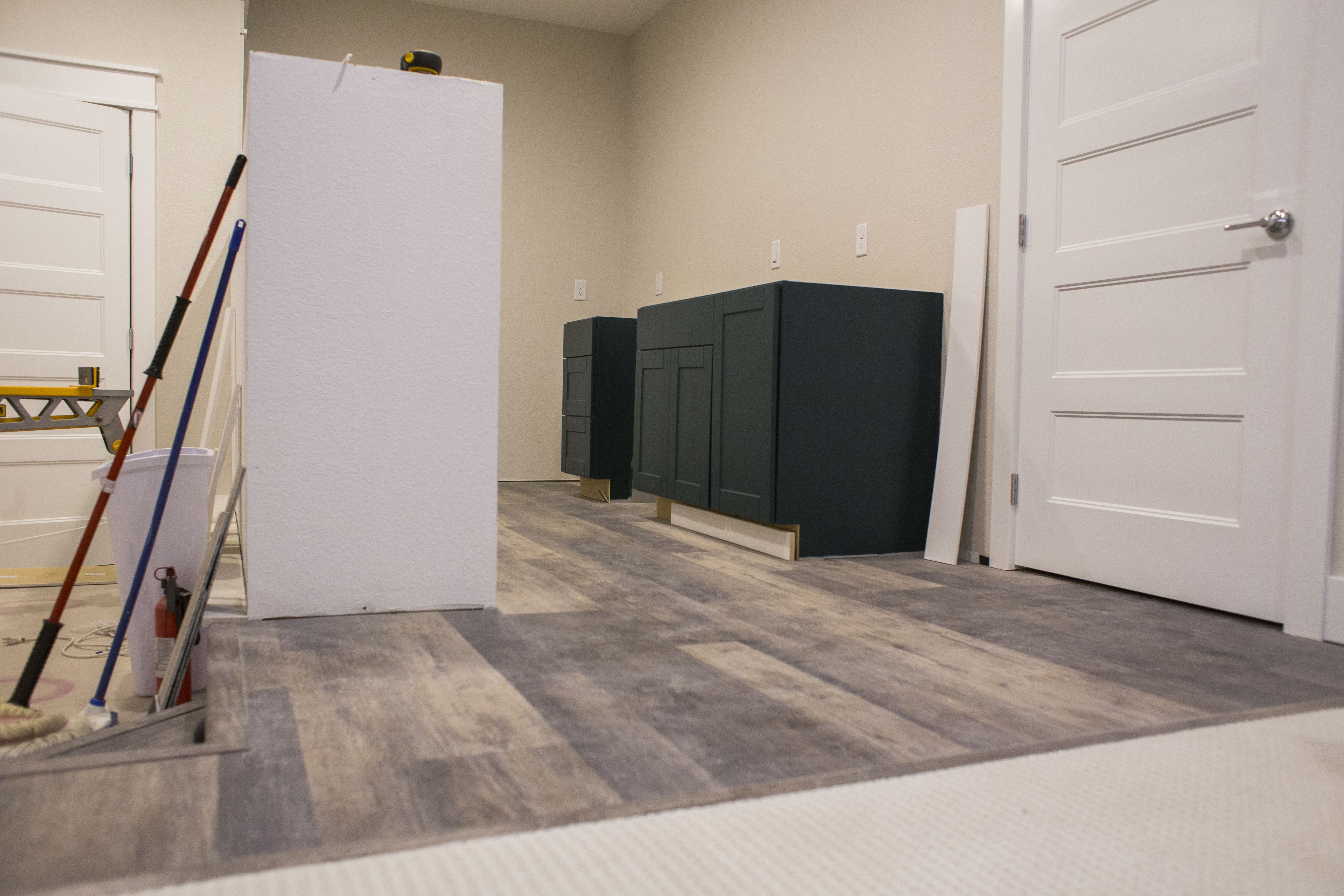 Beginning in the bar, we put down a "luxury vinyl" (that term kills me) at the recommendation of a couple different flooring experts, because of the fact this is basement level. It's still dusty in this pic, but we love the variation in the color, and the texture that looks like real scraped wood.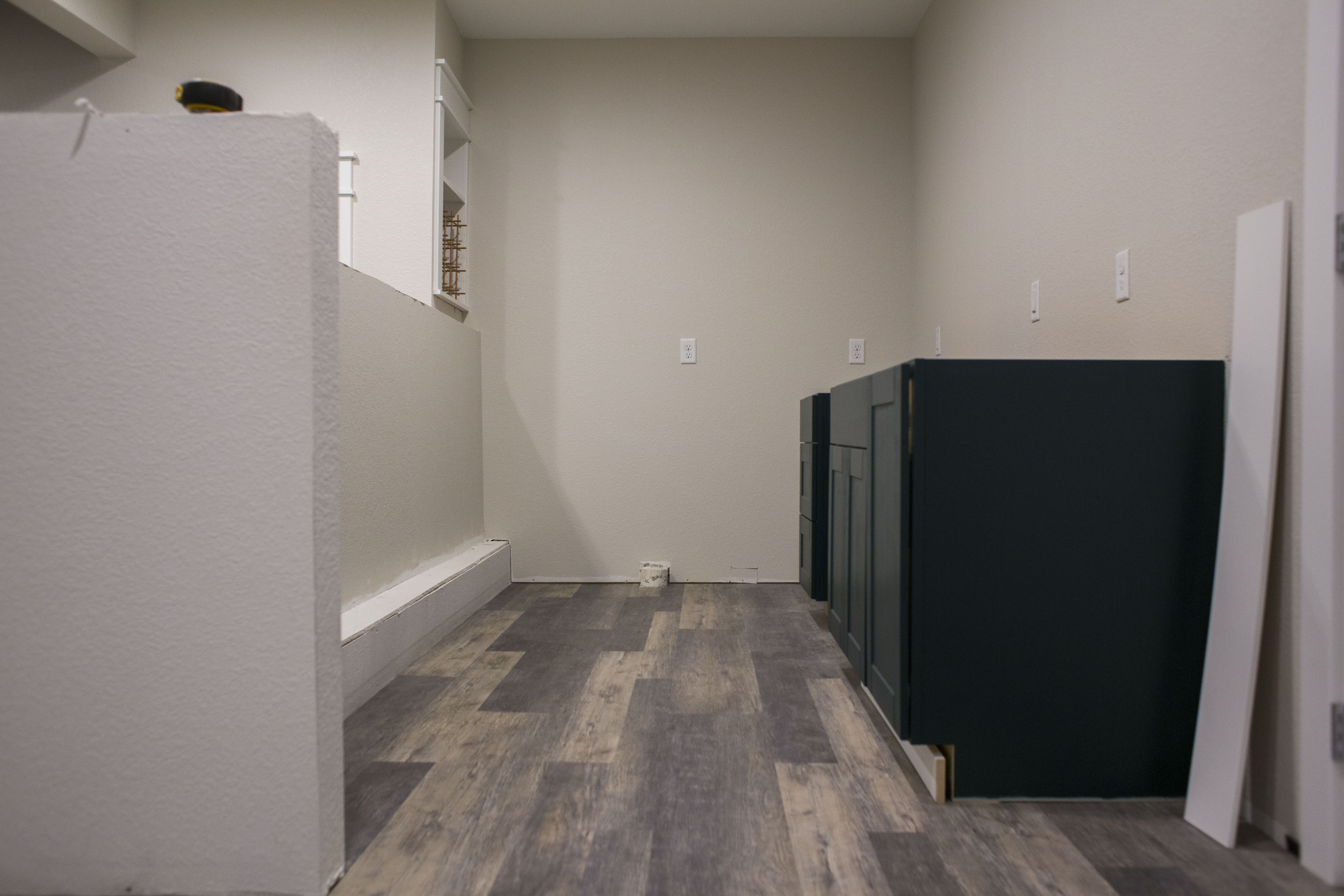 I'm totally psyched about how the cabinet color turned out ("Cascade" by Sherwin William), and it was all in all a piece-of-cake job. The bar will have some copper accents, including this cabinet hardware. After weighing a TON of counter options, we've decided to stain some butcher block for the counters to match tones in the floor, and keep some woodsy depth going — it was starting to feel like a light of "light" between the carpet, paint color, and white trim.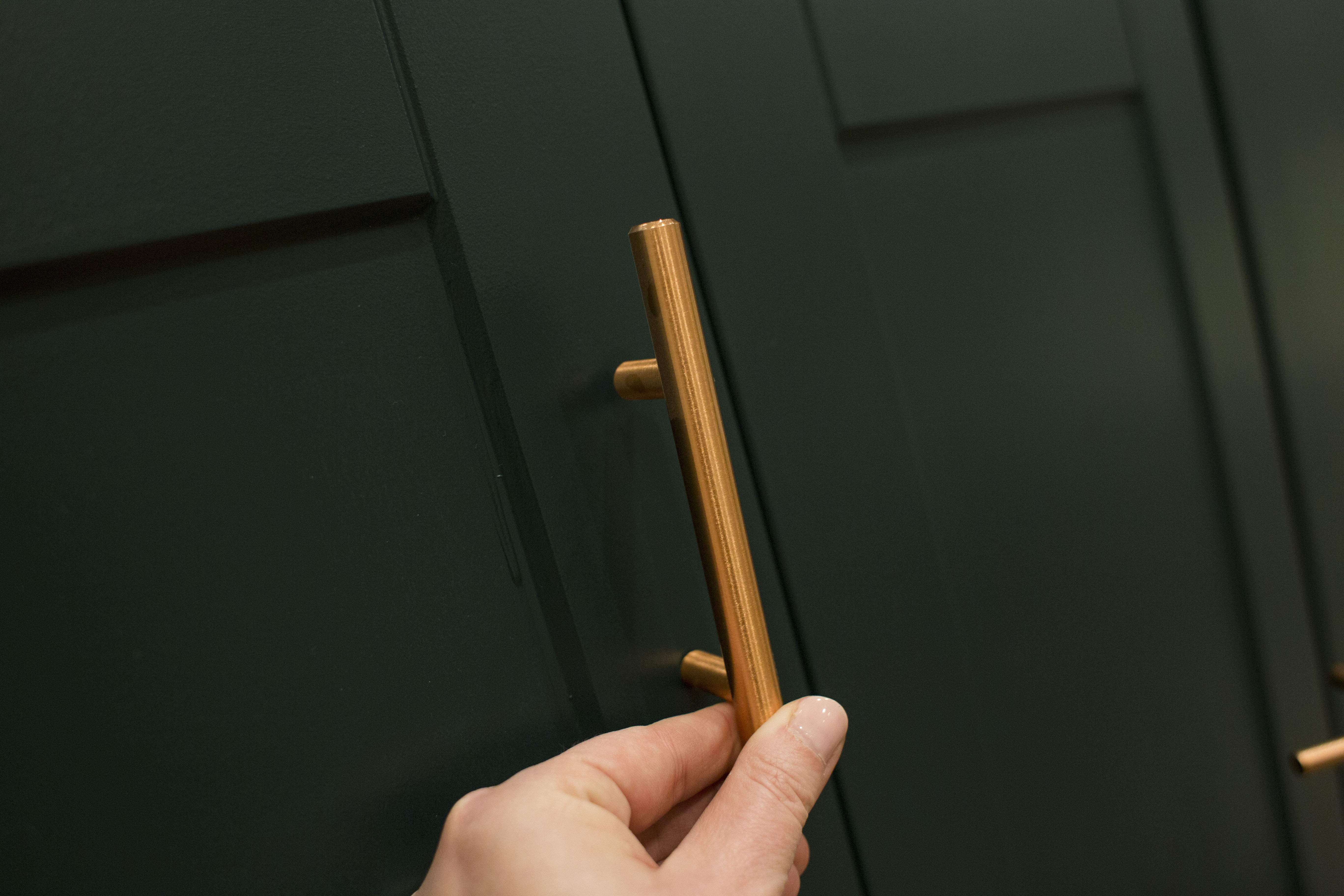 In the bathroom, we went several rounds of plumbing WTF moments — the super short version of a very long story is that our basement was originally plumbed for a tub/shower combo — not what we wanted. And because the builder had already been in here once to jack up our foundation and move the pipe once before (it was originally placed in our storage closet on the other side of the wall — face palm), we didn't want to do that yet again. So we settled for an above rough-in "special" (read: expensive and must be custom ordered — budget increase/timeline delay GRR!) shower pan insert. To make it feel as little contractor grade as possible, we opted to surround it with subway tile up to the ceiling, and hopefully draw eyes away from it altogether. I love the contrast of the dark grout on the white tile, and grounding it all with the dark floor tile and light grout that makes it pop.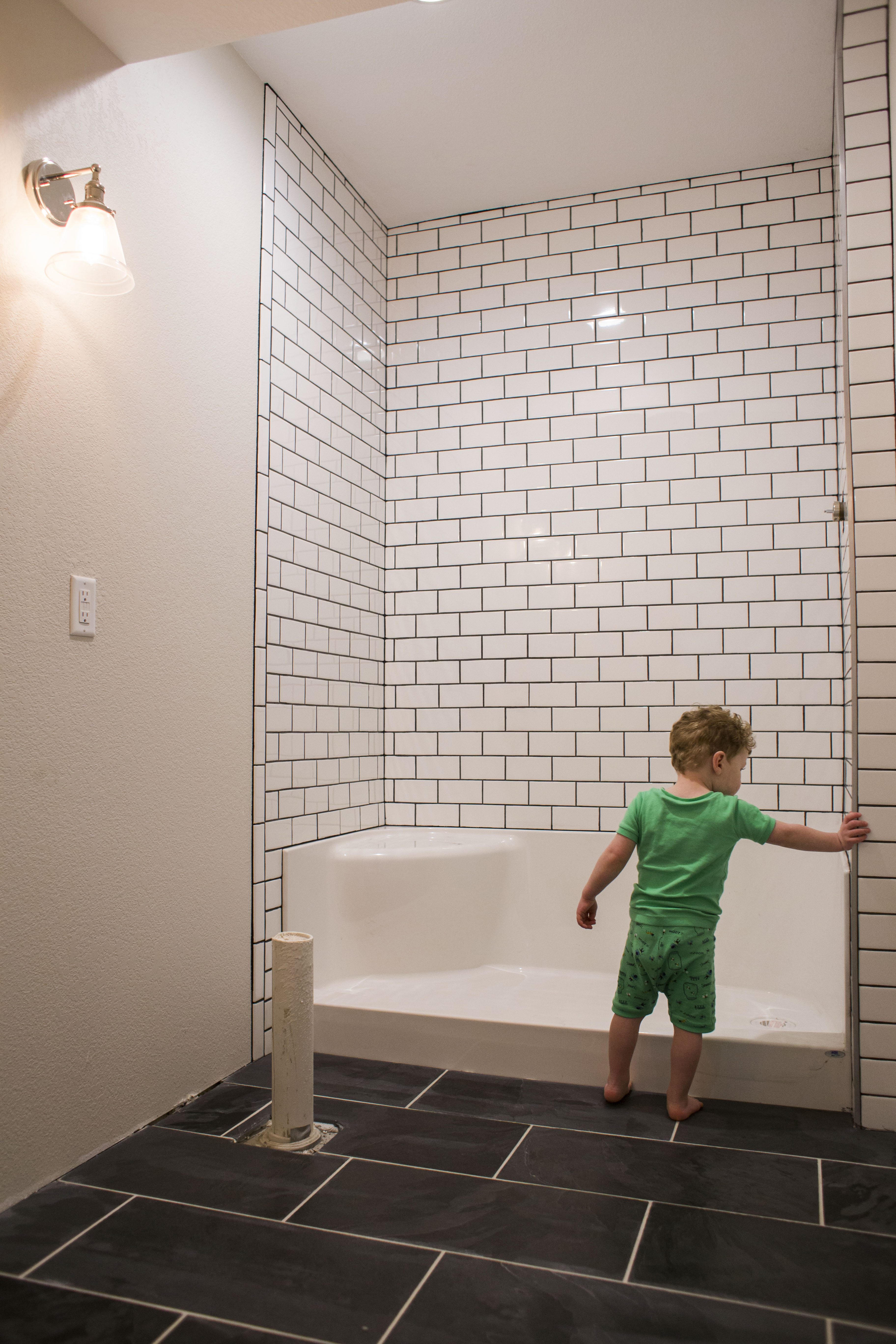 A standard shower door won't fit the space and while we looked at some alternative options, we are MORE than happy to put in one of the many cool rod options I've seen popping up, along with an extra long curtain and call it a day down here. This portion of the project ended up way over budget, both in time and money, and I'm okay that a curtain tucked to the side still shows off the tile. A toilet, some trim, and a vanity that Page would like to build himself will finish up this bad boy.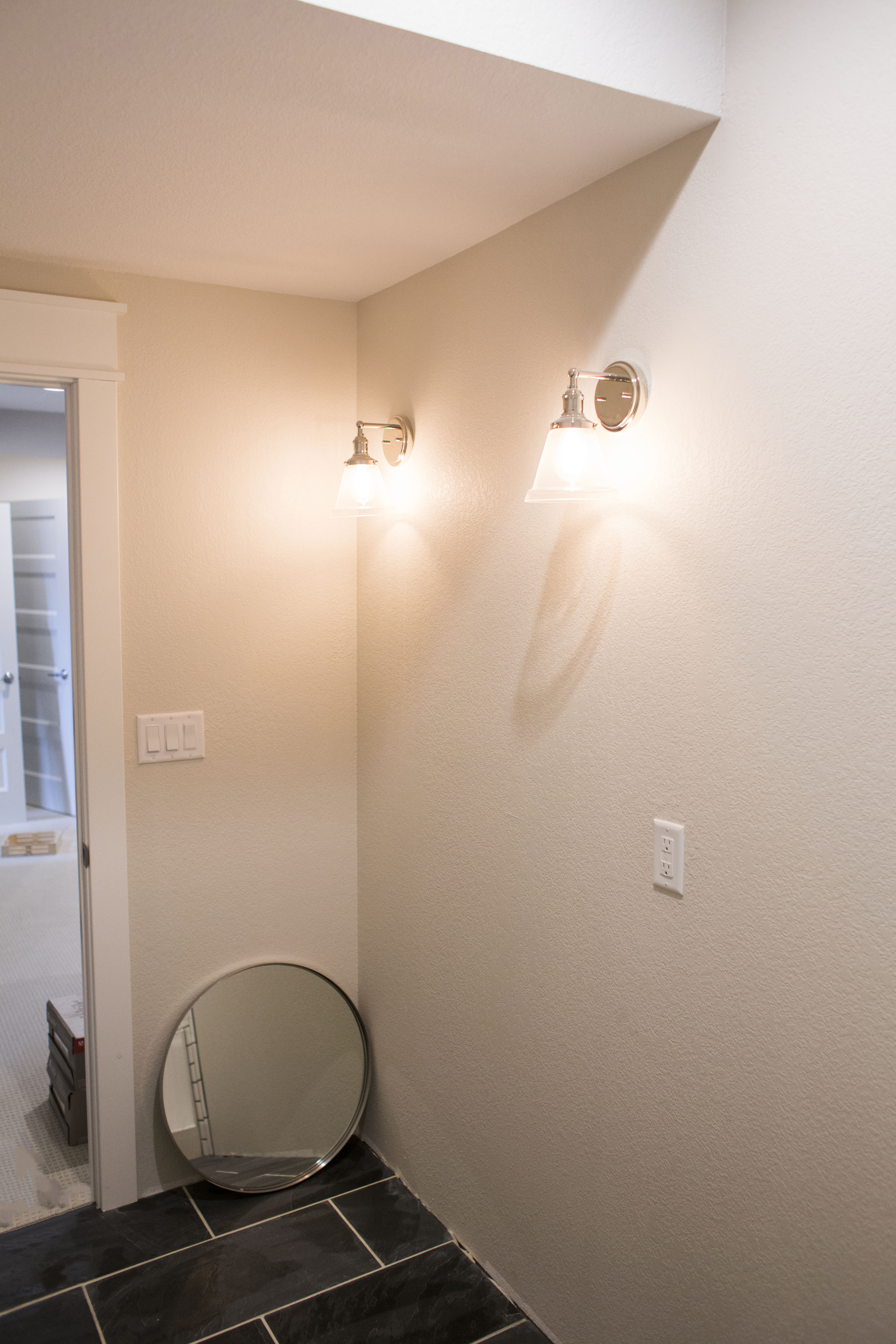 The basement is just one of many projects in the works right now, but as soon as there's more to show (hopefully just a final "DONE" tour!), I'll be back!