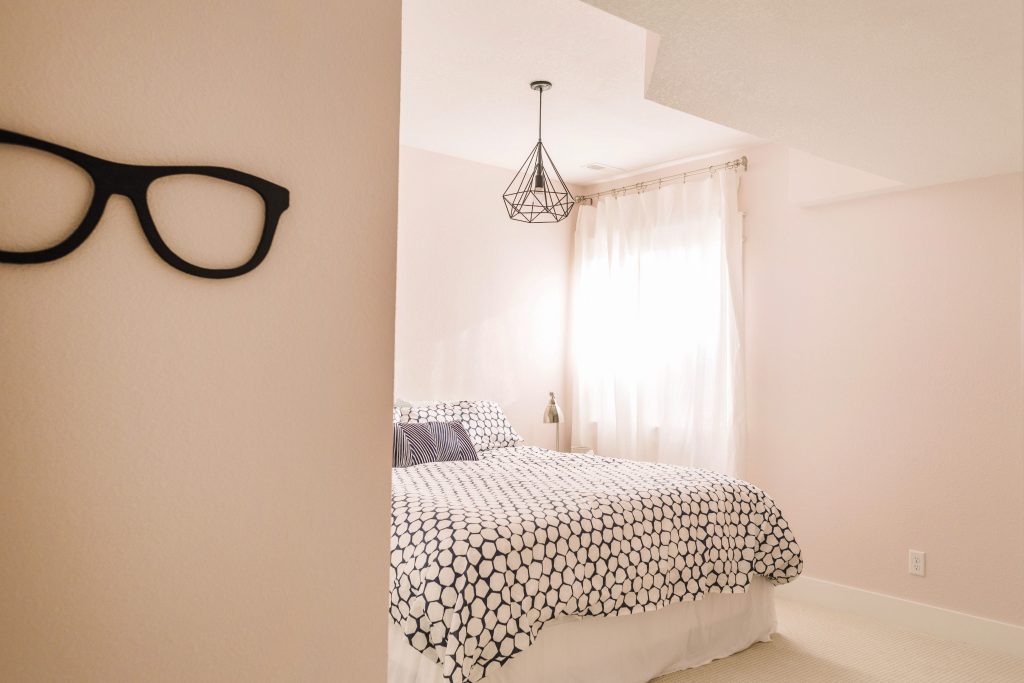 Following up on last week's post on our "kid corner" — the understairs play space and our toy closet — I'm sharing more progress today in our basement, as we make our way to the final stages of our basement finish. Today I'm sharing the guest room (well on its way to completed) and our bathroom (nowhere near…but happening very soon!).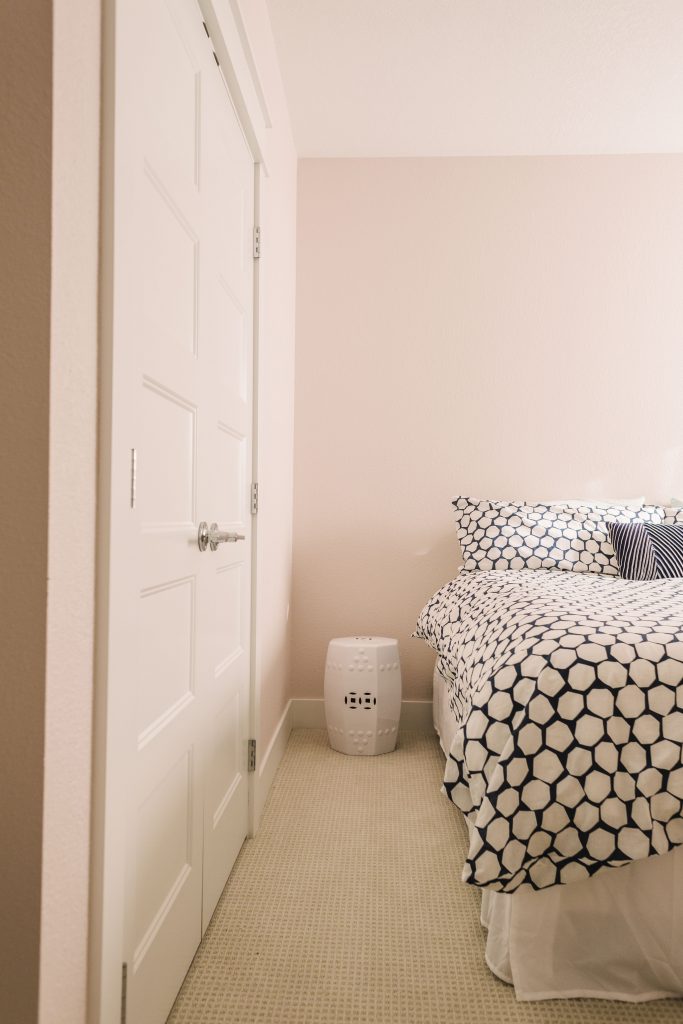 Since I last shared any photos of this room, we've checked a few items off the list, both big and small — it's validating sometimes to see just how much it takes to bring a space to fruition (and a good reminder to me to be patient with the progress). Walls have been painted, carpet installed, curtains and light fixtures installed, closet system installed, door handles on all the doors, vent covers reattached to the vents, and we moved in a bed and a couple little decor items. I still love this paint color (although damn if that blush color isn't suddenly EVERYwhere!). I'm on the hunt for an upcycled mid-century dresser to put opposite the bed, both for storage and to hold a television. I feel like I need that in place first before deciding on whether or not to add a chair or bench in here, and the walls are mostly still bare, but this room is officially functional!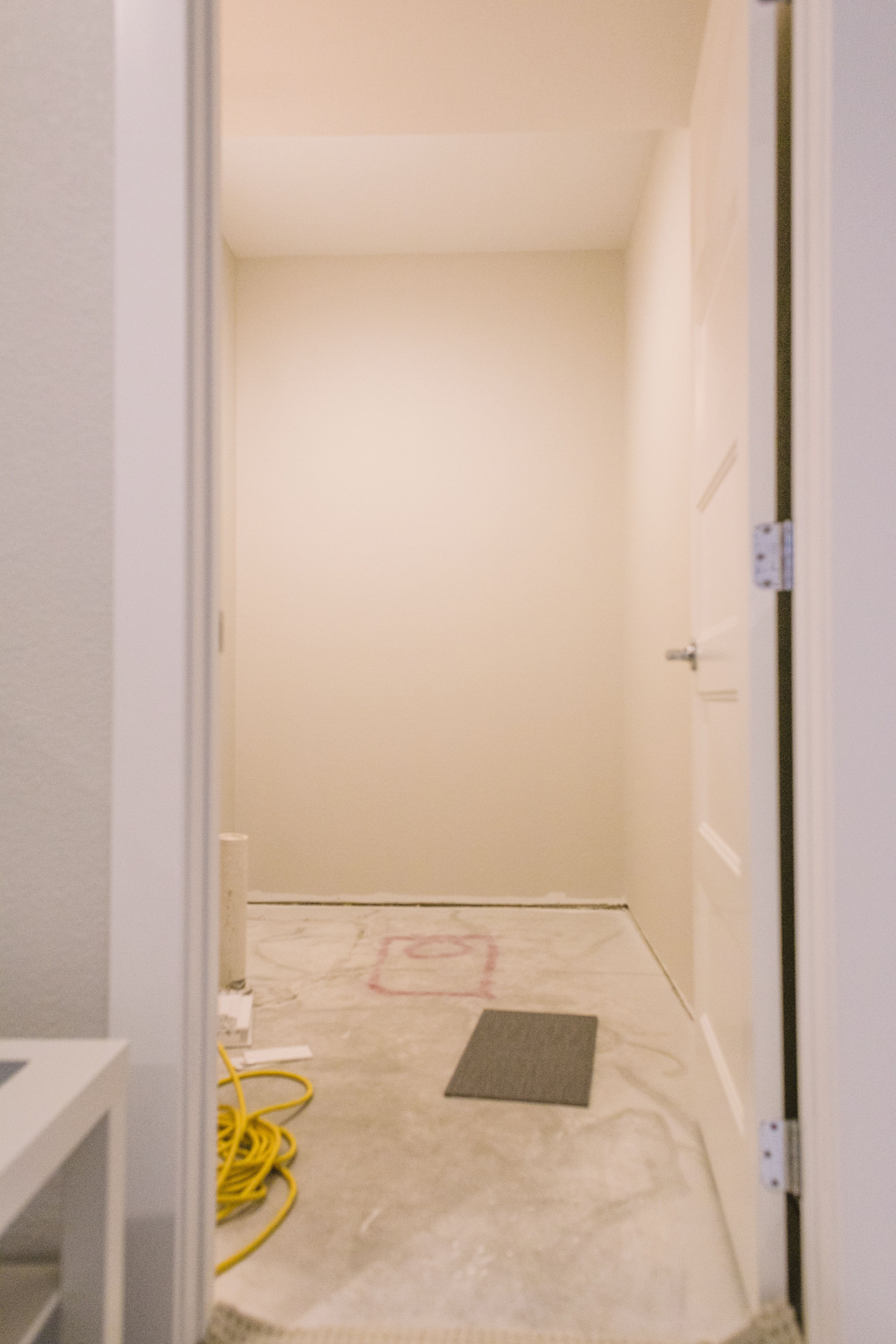 In sharp contrast, I give you the bathroom, right next door! We've hit a plumbing snag in here that may change the approach we take to this shower, but either way, the lighting is installed and the tile has been purchased and is stacked just outside the shot you see here, waiting for our contractor to work his magic, hopefully starting yet this week. If I had to narrow it to one guiding inspiration room, it's this one: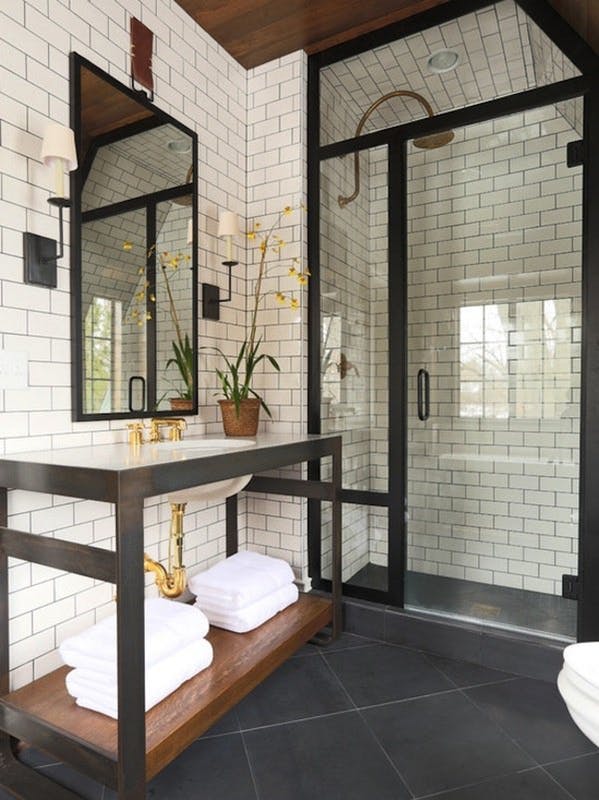 You can see more of our inspiration for this bathroom in this post, and since then, we've more or less stuck to the plan. We went with a black slate floor tile, white subway tile in the shower, and contrasting grout for both. The light fixtures are in, and we're in the process of picking out black plumbing hardware. Page plans to make our vanity similar to how we approached the bathroom in our last basement in our first home.
That's where we are today in these two spaces, hoping to share more on them very soon. In the meantime, I'm working my way through the rest of the basement, with more basement updates to come. Happy Monday!