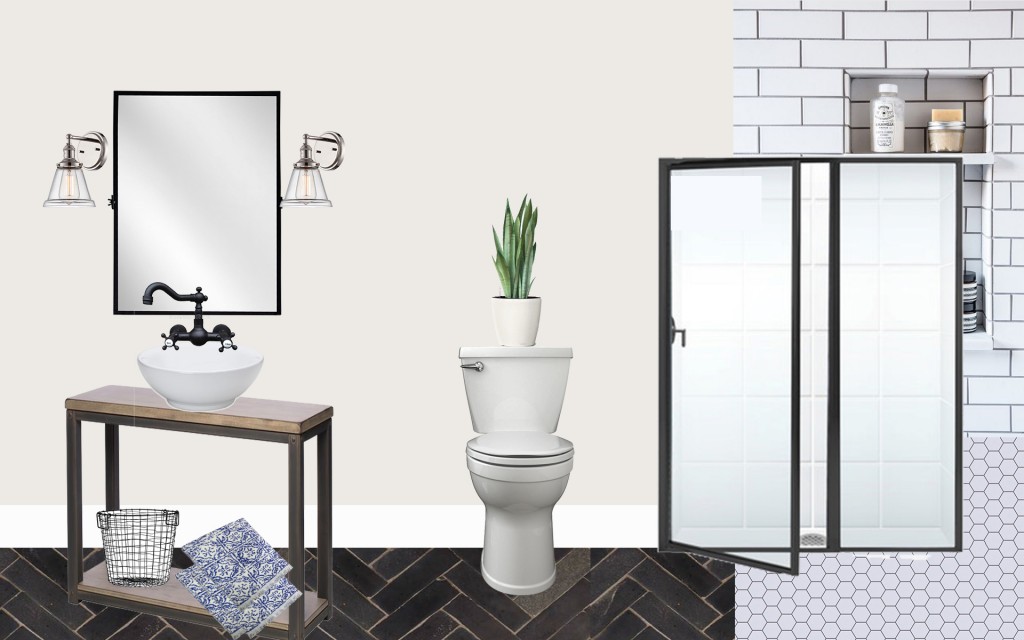 Mirror | Sconces | Faucet
Paint color pictured is Sherwin Williams "City Loft" — see all of our paint picks here
I'm proud to say we've stayed remarkably on budget for this basement project, now that we have drywall, trim, paint, and electrical/fixtures all behind us. But we KNEW when we requested our first flooring/shower estimate that we were asking for all of the "wants" on our wishlist. So somewhat expectedly, the estimate came back and we choked. For the first time, we stopped to reevaluate a bit as to where we wanted to splurge, and save, to keep ourselves in check financially. Much of the estimate (and much of where we could reevaluate and save) was allocated to various elements of the bathroom.
I've had to remind myself that while I was living out all my bath tile dreams in the showroom, this is – in fact – just the basement bathroom and the shower will only get used a handful of times a year, if that. It's a must-have for our guests, but unless I plan on moving down to the basement level and making it my master, I could apply a little "look for less" to the plan. 🙂 #realitycheck
The inspo board above was put together while we were still picking items to estimate, but the overall look/feel will stay very much the same. It was easy to identify the look we were going for in here — Pinterest is a great tool for gathering the styles that grab you time and again! My board quickly showed several trends and elements that needed to be incorporated, blending classic tile with restoration-style light fixtures, a pivot mirror, window pane shower doors, an open-concept vanity with exposed plumbing, and a mix of black and chrome hardware.
The beauty of going back and swapping out materials is that a) the challenge is kind of fun to see how much you can save for a similar effect, and b) once I settle on the new option, I often forget what I had even planned on doing the first time around. Picking a different but very similar floor tile will save us over 50% of the original estimate, as did shopping around for our subway tile and hiring our own installer. We've planned all along to hack our own vanity, similar to what we did in the basement of our first house. In part, this saves us money, and we haven't found any ready-made options out there that aren't well into the four digit price tags (keep repeating with me…it's just the basement bathroom…). 🙂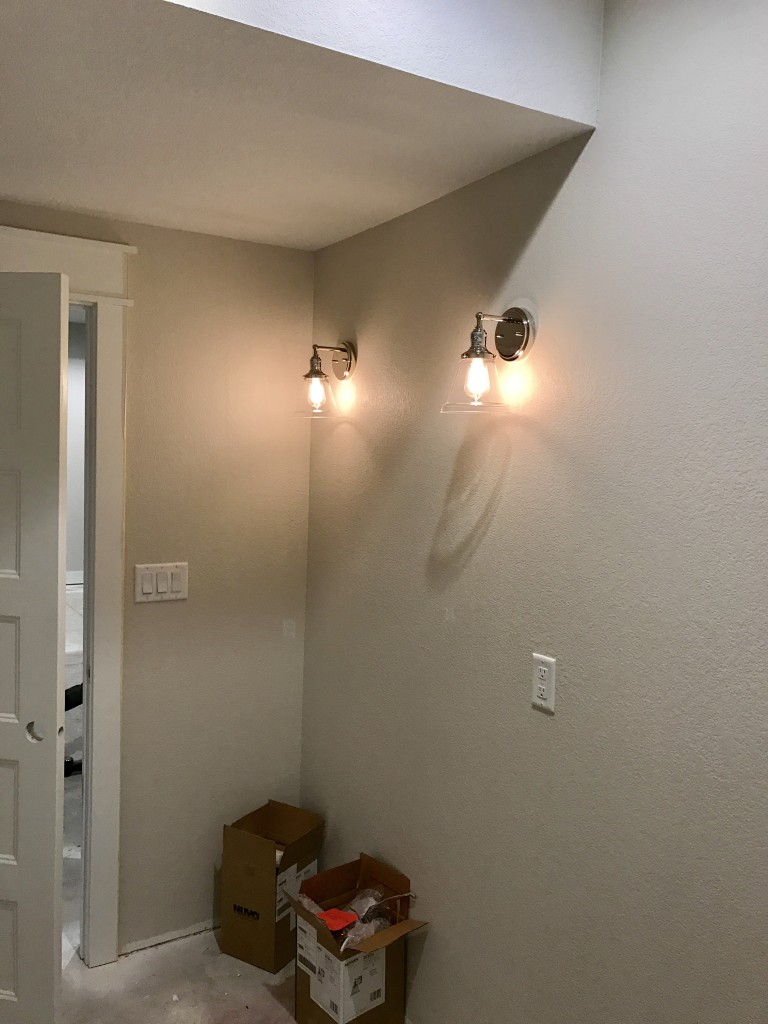 I leave you with the current status of the bathroom –more to come soon!