I am all. in. on the Amazon fashion trend — there are so many good finds…if you can find them! I noticed a gap (of course) in round-ups of cute stuff for the boys, so I wanted to share some favorite pieces my 4.5 year old is currently loving (as is his mom!).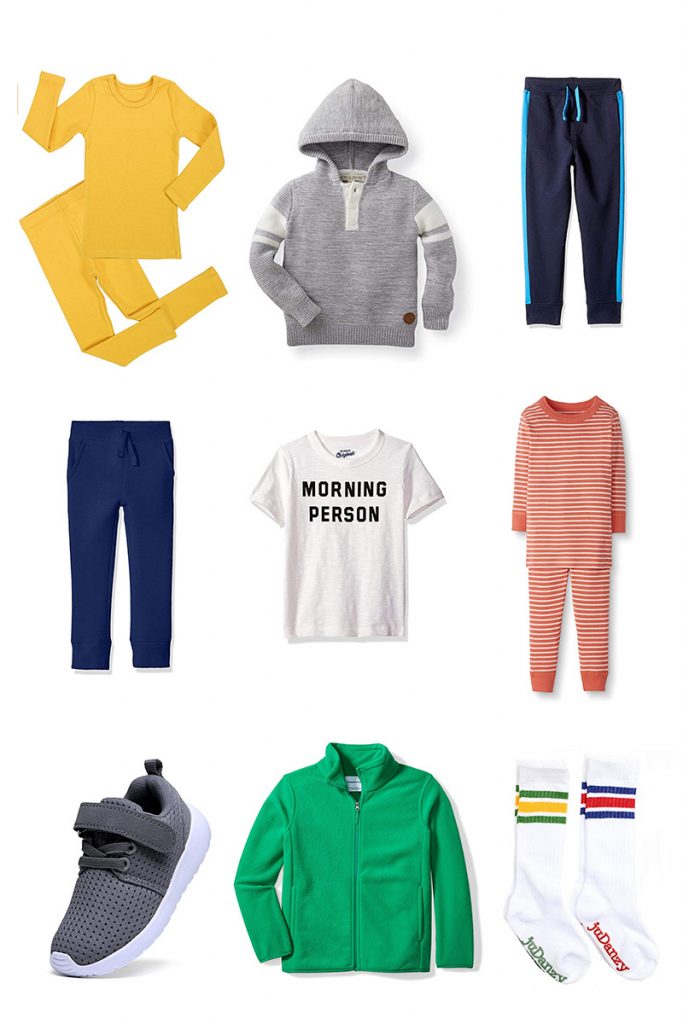 The thickest, softest pajamas. We have these in several colors and they are Crew's favorites. They come in a million shades for boys or girls, and run up to size 8.
Hope & Henry hooded sweater. I've been thrilled with the quality of this Amazon preppy brand – it reminds me of Janie & Jack, but with a smaller price tag. (This piece would be perfect for family photos!)
LOOK pull-on joggers. League Of Outstanding Kids is a J.Crew Crewcuts line exclusively for Amazon. We LOVE our Crewcuts; this line is equal in quality, but less expensive.
Amazon Essentials joggers. Just give us all the joggers – Crew is happy they're soft and comfy, and I'm happy they're easy-on and still a bit tailored for a cute outfit.
Morning Person tee. This was an impulse "add to cart" this summer and got a lot of smiles – I'm selective about all the wording out there, but this one passed for me. It does shrink a bit, so size up to begin.
Moon and Back pajamas. Another "made for Amazon" line, this time by the queen of pajamas, Hanna Andersson. I love that the size ranges would allow for siblings to match in the same patterns, and this coral stripe is definitely coming to our house.
The go-with-everything tennis shoe. I get annoyed with the splashy logos everywhere and sometimes you just want a low-profile basic shoe they can put with anything. I had seen these sneaks receive rave reviews so we tried for ourselves – I ordered two sizes uncertain of fit, and I would say they run large (we kept the smaller of the two sizes). Great quality at a great price.
Amazon Essentials zip-up. How cute would this fleece be with a monogram?! Comes in all the colors – would be fun in your favorite sports team or school uniform color, too! I love a mock neck in place of a hoodie – it seems just a tad more structured and put together.
The cutest tube socks. As the temps start to drop a tiny bit, these will be in heavy rotation with some chucks and shorts and a long-sleeve tee on top. I LOVE a little boy in tube socks! <3