When our son was a toddler, it was ALL. ABOUT. garbage trucks. So much so that I had to share a round up of our favorite garbage books and toys. Now that this little lady has proven rather dog obsessed (we must stop and "awww" at every one we see), she has amassed quite a little canine collection between Christmas, her second birthday paw-ty this month, and Easter.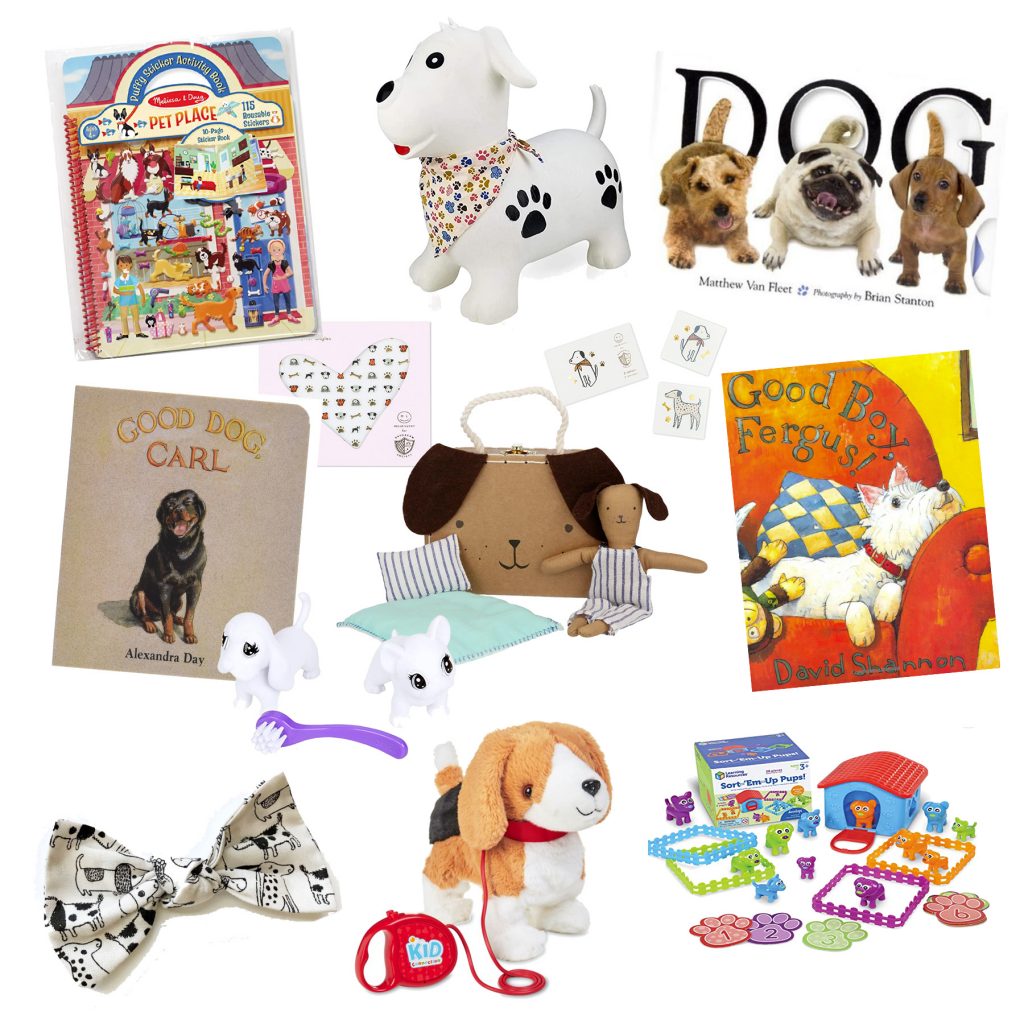 We have quite the little collection of stuffed dogs, and a handful of battery-operated barkers as well. But I tried to keep this list to items that didn't seem quite so obvious. Happy gifting your favorite puppy fanatic!
Puffy Sticker Book — instant hit. The puffiness makes these stickers easy for little hands to grab, there are a TON to choose from, and the book is several pages of scenes in which to place them. Would be great for travel/restaurant busy time, too.
Dog Hopper toy — I wouldn't have considered this but Girlfriend LOVES the farm animal versions of these at our local children's museum. The price was very reasonable and I'm all for something small-ish we can stash and bring out when we need some energy burning.
DOG book — We were introduced to this author by a friend and have been through two copies of Alphabet it was so well-loved, and also Heads. This book is rhyming and funny and interactive with pulls and flaps.
Good Dog, Carl — I grew up with this book and loved being able to get it in a board book size that's easy to keep in the carseat or stroller, since the book has very little text and a child can simply look at the illustrations to follow the adventure of a baby and her dog.
Nail Stickers — I really wanted these to work on barely-two toes, but little miss has very shallow/wide toenails for now ha! I'm holding on to these because they are well made and so darling and she'll grow into them…and I don't see the nail painting or dog obsession going away for Greer any time soon. (Also, bookmark this site — the best party supplies and a great to way to shop small!)
Dog Suitcase — This sweet little latching bag is perfectly sized for a toddler/preschooler and Greer LOVES tucking in the little dog with his pillow and blanket. Sometimes it's the simplest pieces that bring on the most play, and this is one of them!
Dog Tattoos — There are a lot of ugly temp tattoos out there haha – I love the simple and sweet illustration style of these, and they last much longer than a sticker or a stamp. Crew and Greer both got one for her party last week and it was days before they began to disappear.
Good Boy, Fergus! — A friend gifted this funny book by the author of the popular No, David! I laughed out loud the first time we read it, it's the perfect length for a quick bedtime read, and Greer LOVES this and laughs at it regularly.
Handmade Dog Print Bow — I love the versatility of this black/white print, it can go with anything, and I love knowing something is handmade from a small business.
Scribble Scrubbies Dogs — I might not introduce this to a child who hasn't learned where and where not to color, but Greer has always been very good about sticking to the canvas I give her, so I was willing to give these a try. They'd work for even early grade school though for a child who loves to doodle and design. The markers are (obviously) washable, and Greer loves every step of this activity that keeps her busy for half hours at a time…doodle, scrub, repeat.
Barking Dog on Leash — if one noisy/battery toy is going to make the list, it's this favorite. The price is right, and what toddler doesn't love a button to push?
Sort-Em-Up Pups — lots of possibilities based on your child's readiness level. Sort by color, size, number of spots, and so on. I love that all the pieces pack up neatly inside a dog house and I have yet to purchase a Learning Resources product I'm not thrilled with.
And of course there's the gift idea of the "real thing"… but for us, we're just sticking to the above list for now 🙂