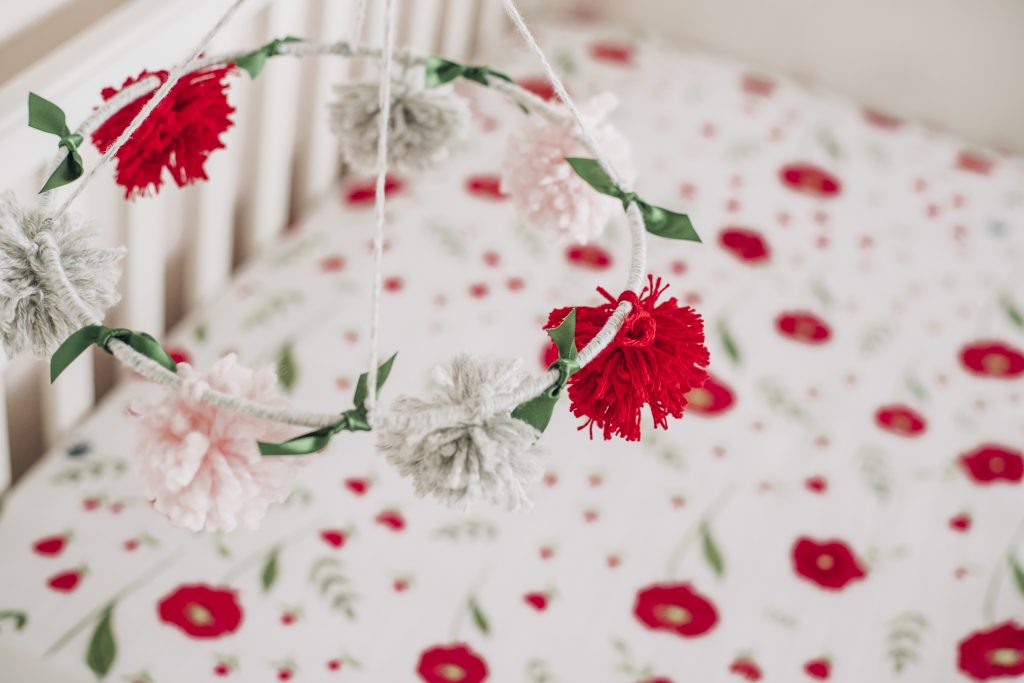 It started with the crib sheet. It was one of the very first things I pinned (even before we knew we were having a girl) and I kept coming back to it.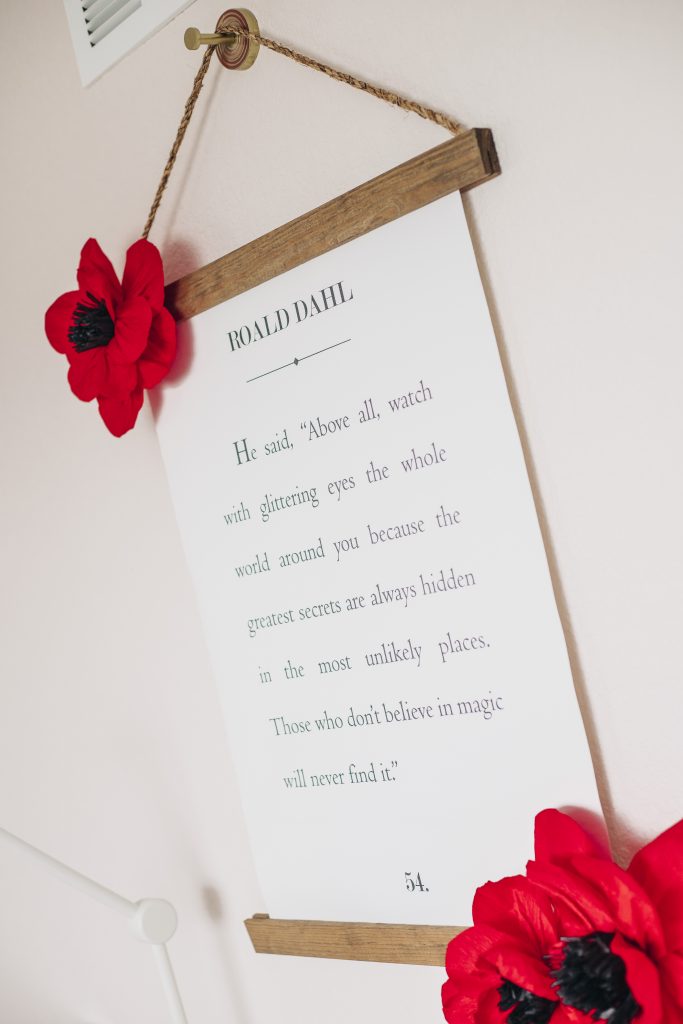 I was so in love with the SW Faint Coral paint in our basement guest room, and I like the continuity of repeating paint colors in a home, so her wall color was an easy choice. I also knew that I wanted some subtle nods to children's literature in her room as well, so this Roald Dahl sign quickly followed (I embellished it with these poppies).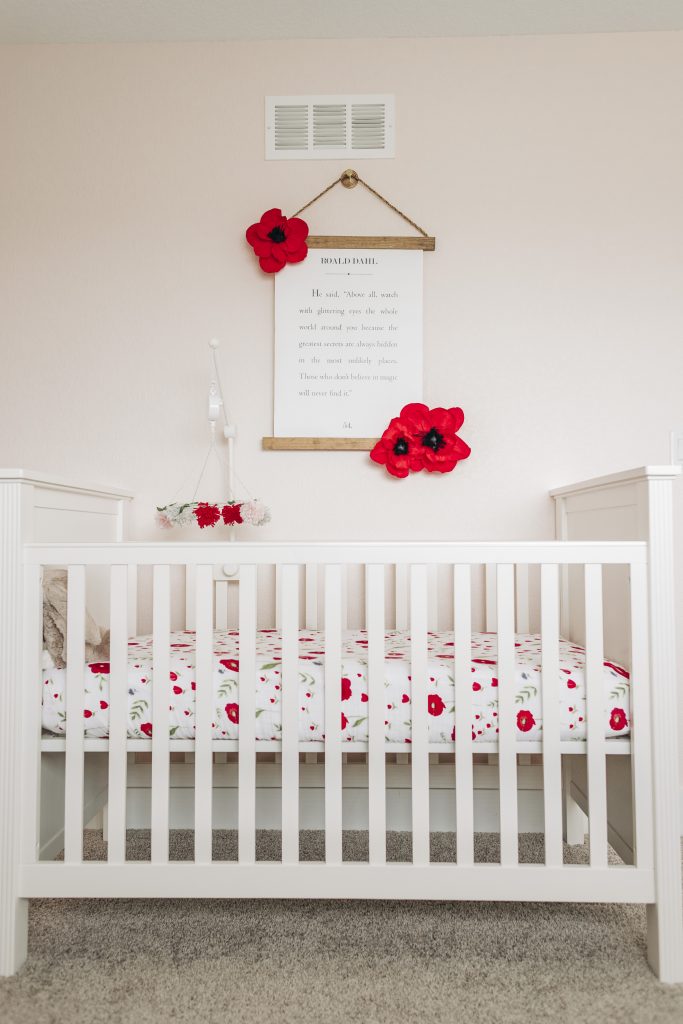 It's fun to see Crew's crib take on such a feminine look this time around!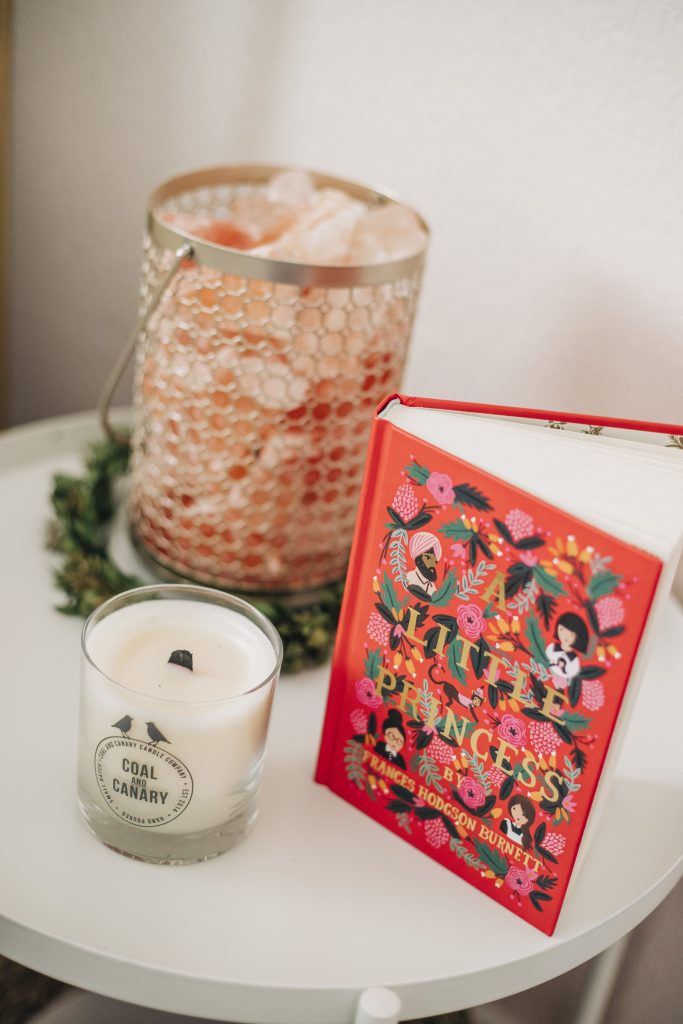 After adding the matching poppy changing pad cover, I was ready to branch out a little and find other ways to repeat the pinks, bright reds, and greens around the room. Enter the prettiest Rifle Paper Co. copy of A Little Princess to keep the book theme going, and for a nightlight, my brother happened to gift me this perfect pink salt lamp (similar linked here) at Christmas. The wreath is the crown of leaves I wore in her maternity pictures — you'll notice it floats around the room in these photos as I try and find a permanent spot for it, which I think may be this shelf (brackets from Ikea and painted, shelf cut and stained by us) with my childhood copy of Madeline and some first gifts.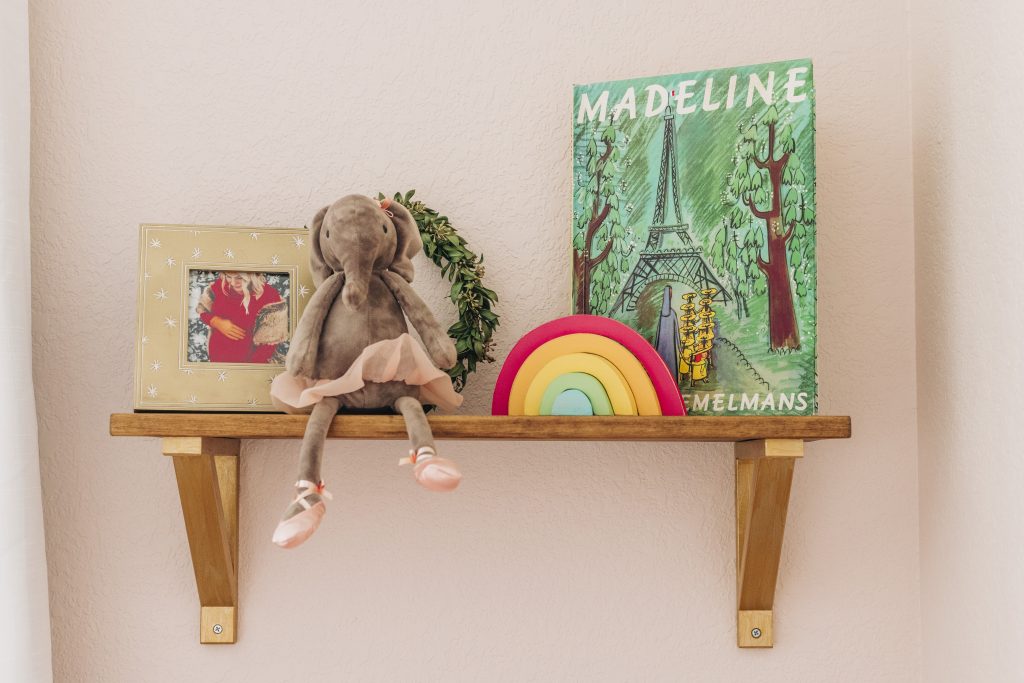 My favorite piece in here is the dresser, for both functional and sentimental reasons. We started with an Ikea Hemnes dresser because I love the layout of smaller drawers across the top for all the tiny things.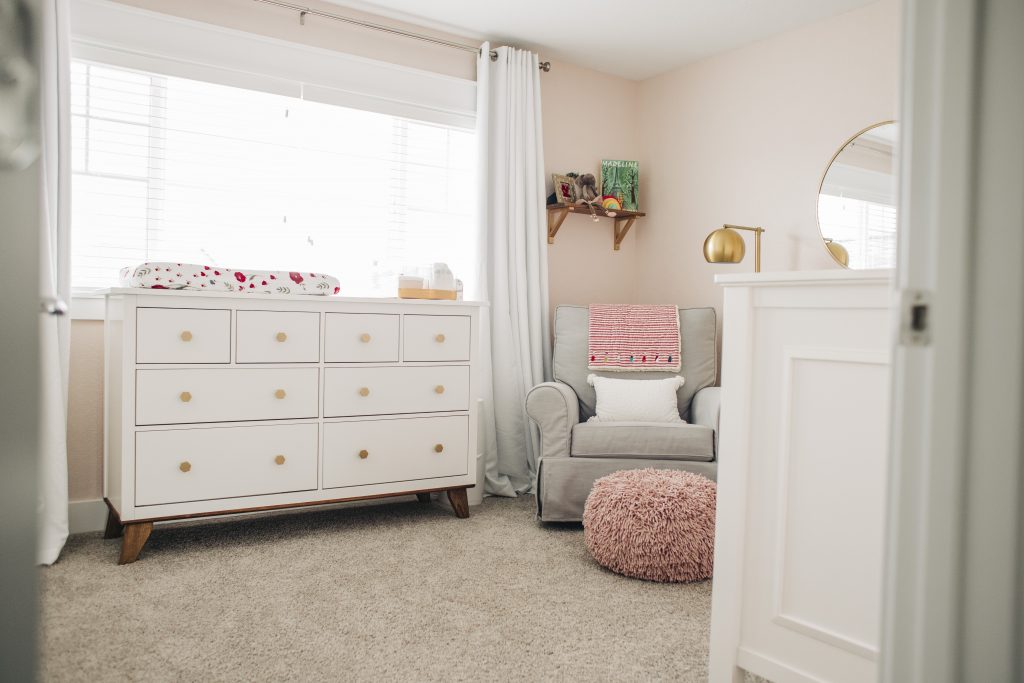 While I love the way it's organized, it fell a little short in the details. So we swapped the knobs for some gold hex pulls from CB2 and Page added some Dad skill sawing off the existing legs and giving it a little height and interest by building a new base, which we stained to coordinate with the Roald Dahl frame. I love, love, love the finished product and the extra couple inches of height along with the blackout curtains which we hung as high as possible make the whole room feel a little bit larger.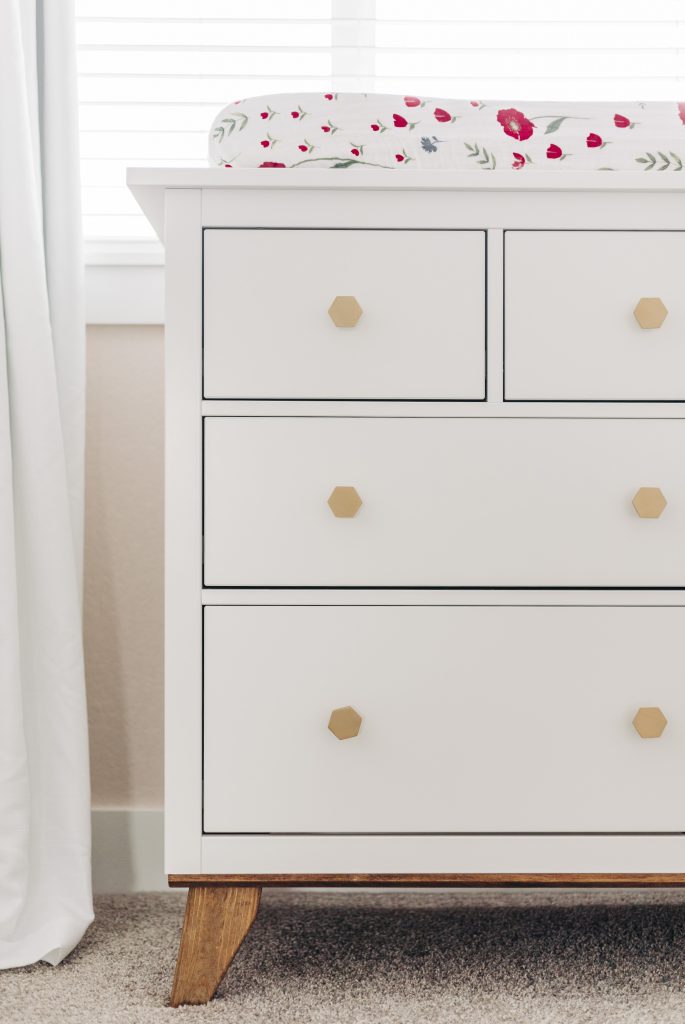 The final touch was some hidden detail inside the drawers – something Page had seen elsewhere. A couple rolls of Rifle gift wrap and some double sided tape and I love this little peek of girlyness.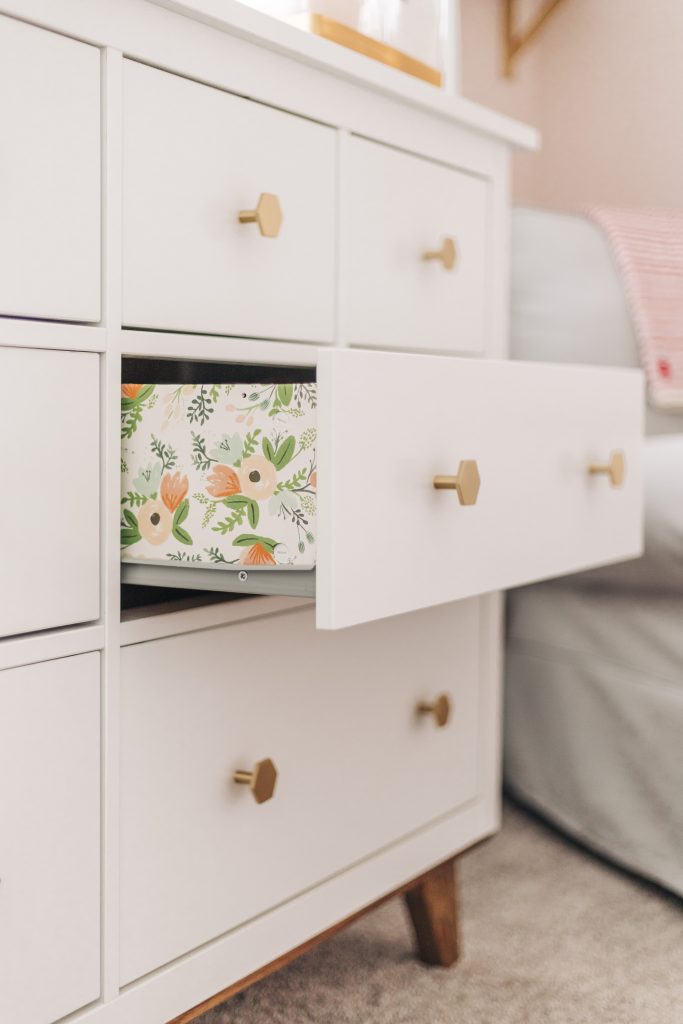 We reused the Pottery Barn glider from when Crew was a baby, and added the pink pouf from Crate & Kids. (I'm obsessed with that Petit Pehr blanket draped over the chair, from Mimi at Christmas!) The little throw pillow was a post-Christmas clearance find at Target.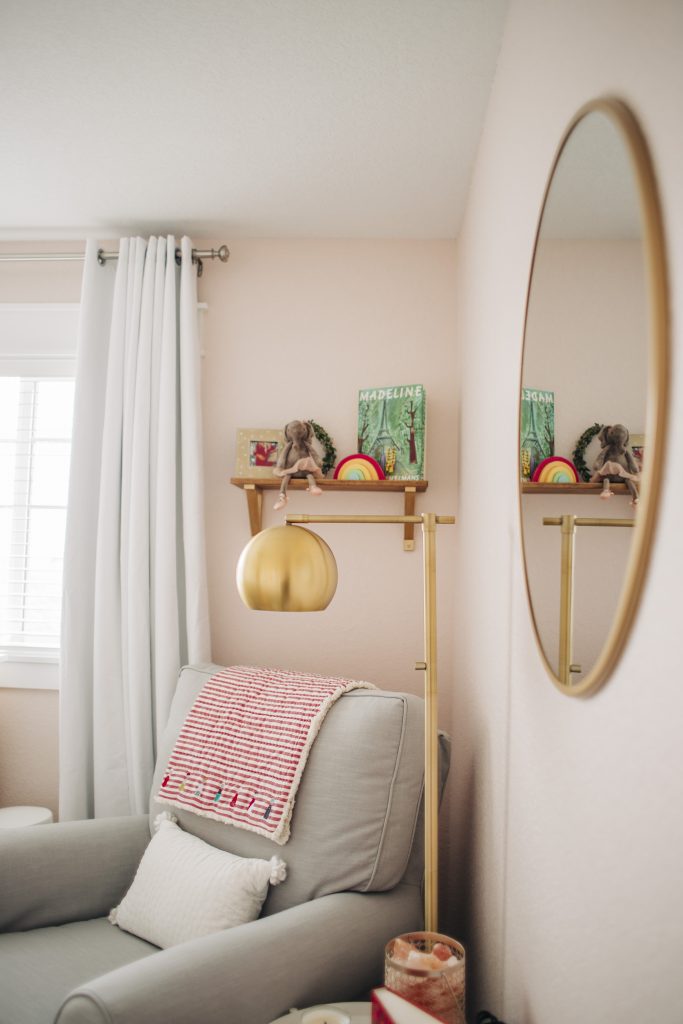 I wanted to balance some of the warm wood elements with a little gold metallic, so we added the lamp and mirror from Target to tie in with the drawer pulls and a couple other details around the room.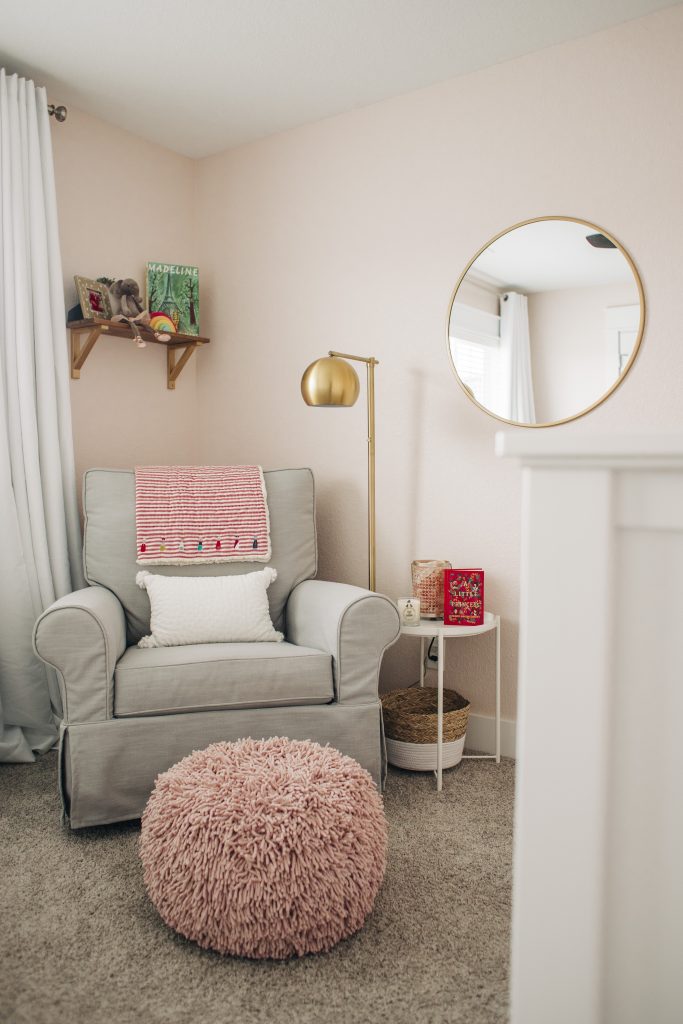 And it's not a girl's room without some accessories — and I do love a good organization project. These IKEA "Sunnersta" rails and hooks are tucked behind the door for easy access.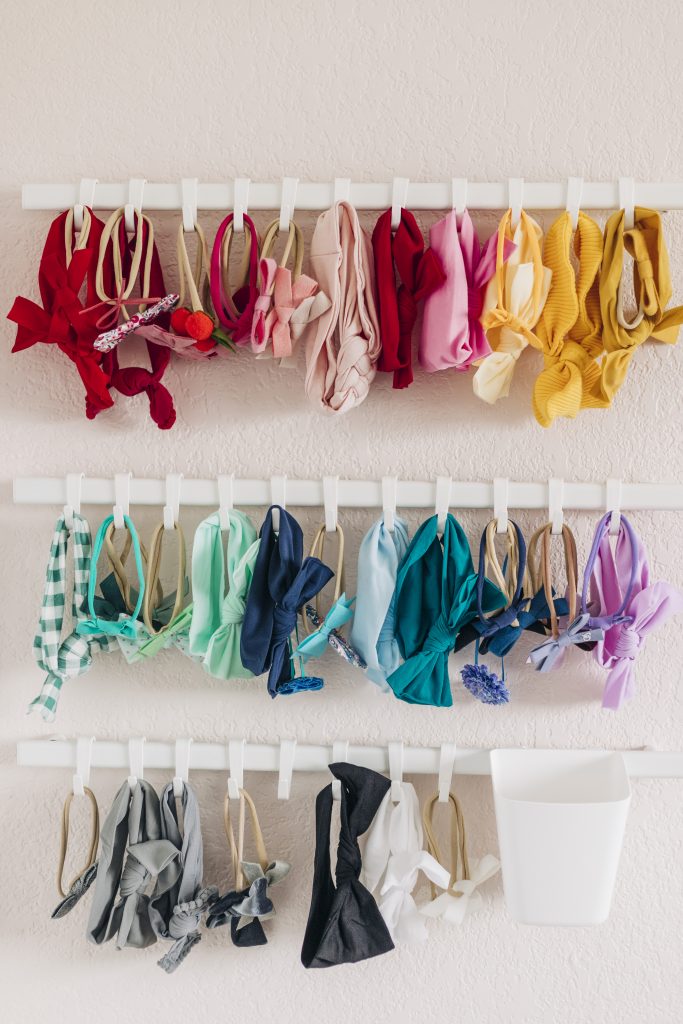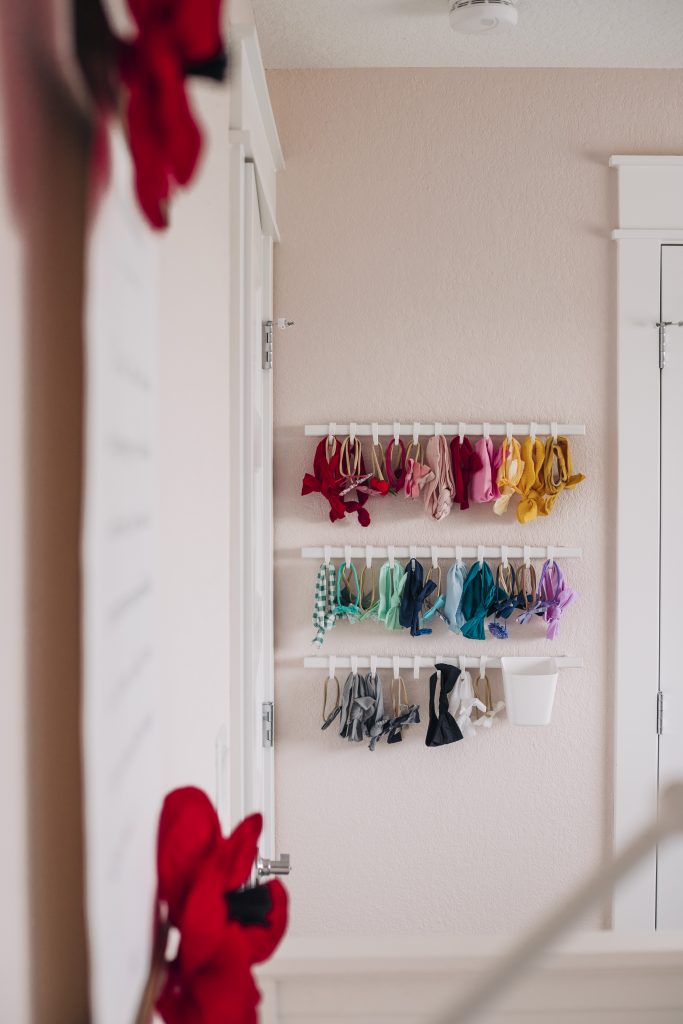 I have her newborn and 0-3 clothing on-hand in the drawers, and I use the closet to hang future sizes so I can easily see what we have and what we need (I love to shop ahead and score a bargain!). The shelves below hold books and toys at her level. I love that it's not jam-packed and we have plenty of room to grow.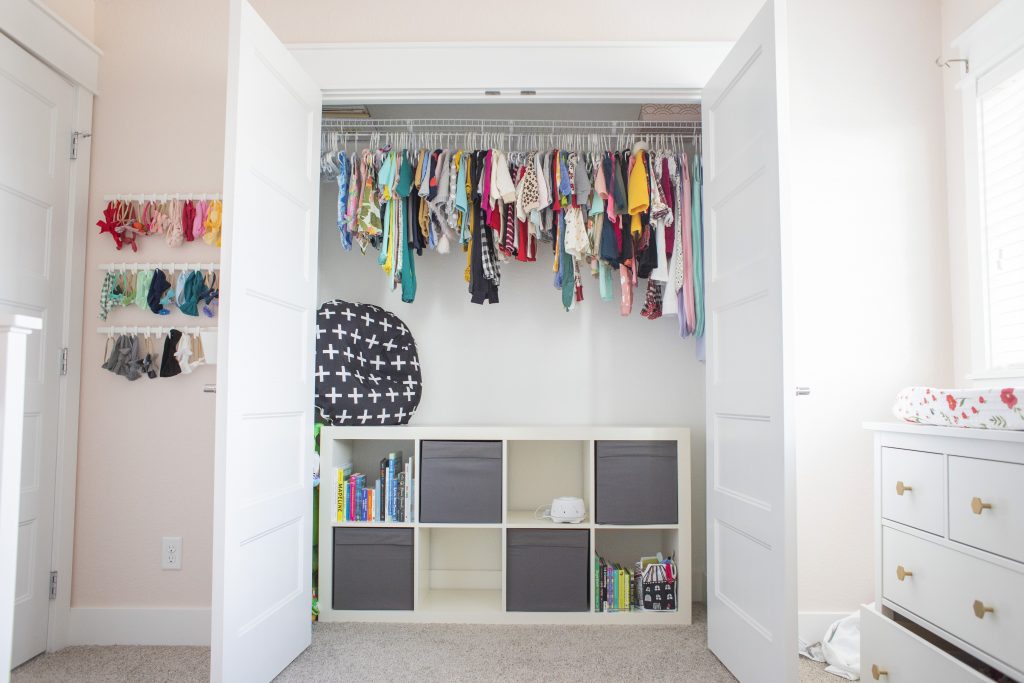 The only thing I'd still like to add is a planter in the far left corner behind her crib to round out the green in here – just waiting on our greenhouse to open soon!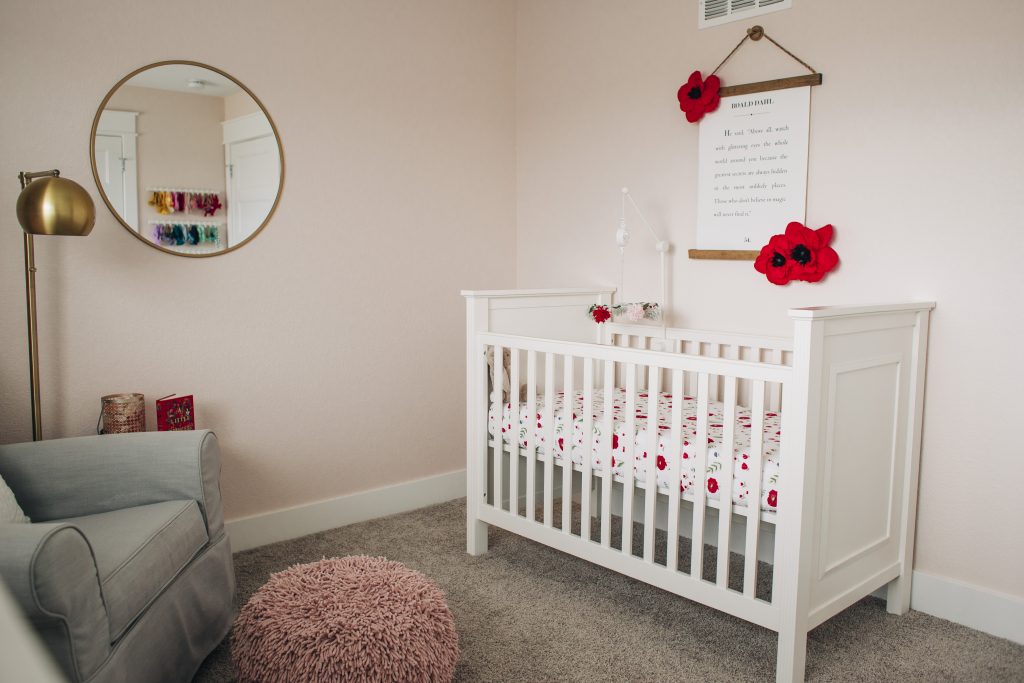 Otherwise, I feel oh so ready. Hurry up, baby girl. We are excited to bring you home!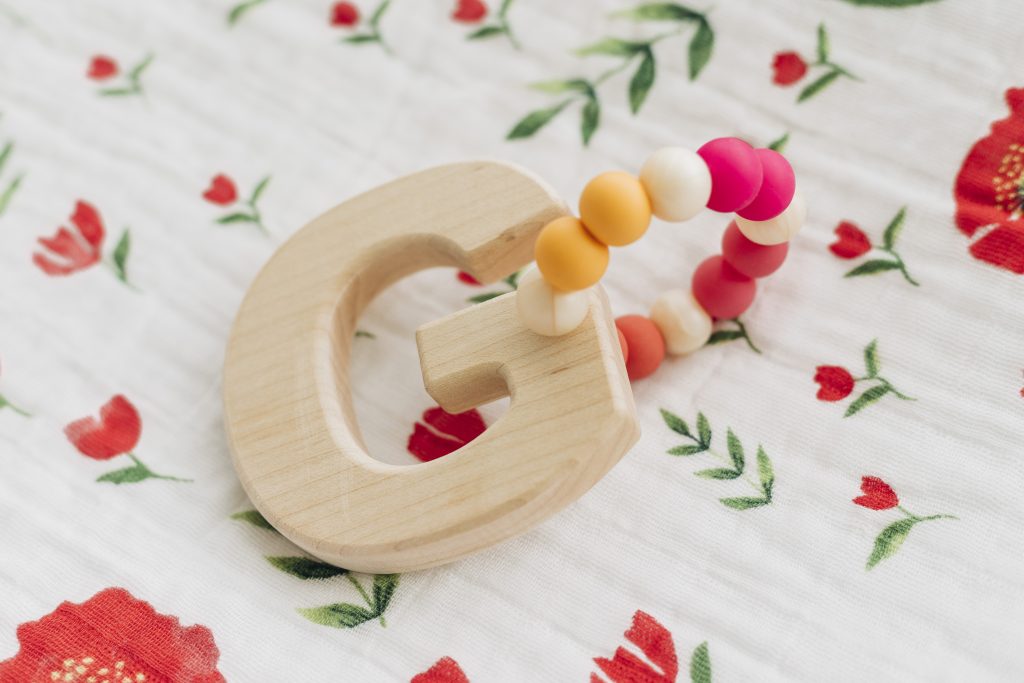 And for sentimental reasons…sharing a link to our son's nursery from a few years ago here!