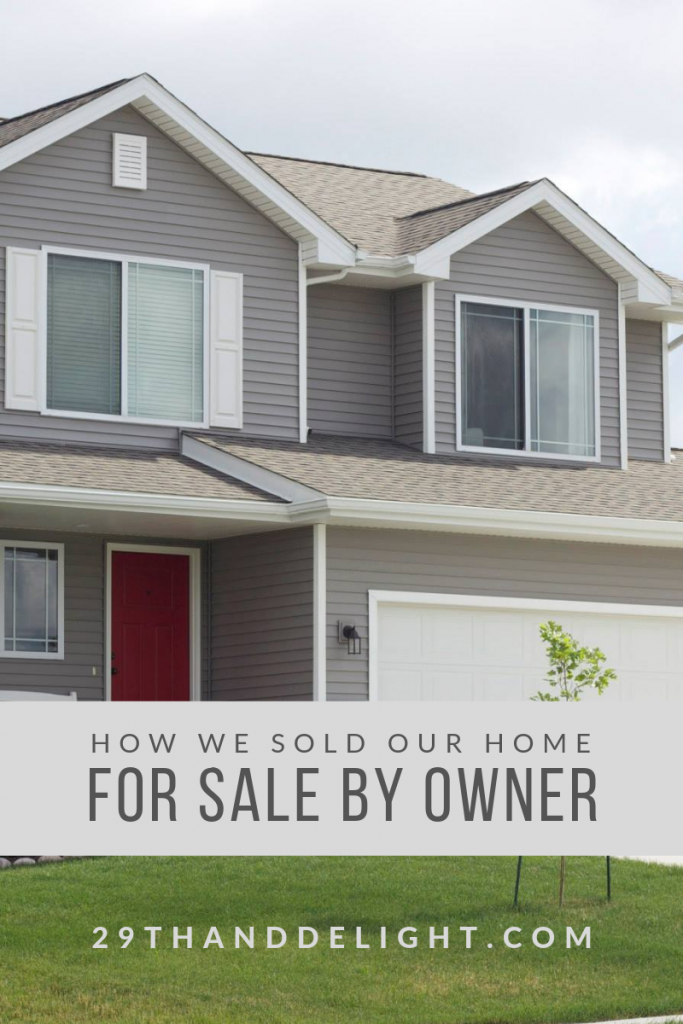 My husband and I recently sold our first home ourselves, with great success. (Part of me wants to call this post, "How we sold our house in THREE WEEKS!" but I know the markets are different for everyone.) What I want to share today are tips and tricks we learned along the way, that we think contributed to our FSBO success.
Our main motivation was to save money from the sale of our house, that we could roll into our next one, a rationale we shared openly from the beginning with our buying agent for our next home with the original intention of giving the process 30 days or so on our own before re-evaluating. I know it's not for everyone, but we would do it this way again in a minute!
1. Determine your price. In a market with little inventory in our price range/location, this was tricky for us. We did a lot of research on comparable sales in the surrounding areas in the past twelve months, and compared what our three-year-old house had to offer with new construction by similar builders and plans nearby. There were no exact comparisons, and some guesswork and averaging involved in the beginning. Additionally, we were working with outdated assessments of our home (new construction values are constantly evolving in the beginning), PLUS our finished basement numbers weren't yet reflected anywhere. Our final hurdle was that our original purchase price doesn't accurately reflect what we bought at the time — upgrades that our builder "threw in" weren't included in the price, as well as the upgrade from daylight to walkout basement, for which we didn't pay a cent (more on that unexpected free upgrade here).
Do as much research as you can to set the right price the first time, so you aren't drastically dropping it thirty days later. It's easy to question yourself the first time a buyer's agent asks how you arrived at your price. But we took it as a sign that with so much traffic through our home, people had decided for themselves that the price was not an issue.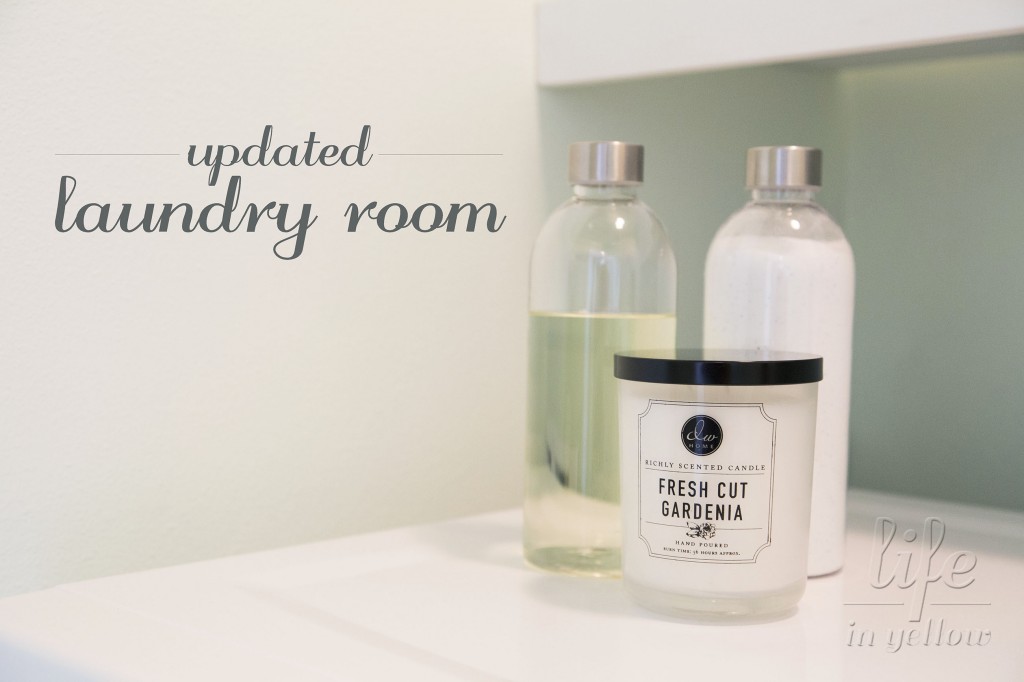 2. Stage your home. You know the drill here – declutter, clean like crazy, and stash as much personal stuff as you can. Set out only selective items that help buyers visualize themselves living there (fan out a couple magazines on the ottoman, place a stack of clean white towels on the dryer). You can read here about a few tricks we employed to keep things neat between showings. Clean and simple is best — I didn't keep the table set, for example, I just placed a bowl of lemons in the center and moved on. Speaking of lemons, scent is your friend! You know that saying that you can't smell your own home? I always worried that scents from the previous night's cooking or something would linger and I wouldn't be able to smell it. So, I used a clean lemon room spray in the main floor, and lavender upstairs in the bedrooms/laundry before every showing. Last minute things out the door included making sure all the toilet seats were down, emptying trash cans, turning on all the lights, and putting on quiet background music throughout the house on the speakers. Make your home as inviting and friendly as possible!
3. Prepare the house for showings. This is different than staging. When listed with an agent, your agent's job is to get in and out of the house and to make sure there's information available to prospective buyers. When you're selling FSBO, this is up to you. We spent about forty bucks on Amazon for a yard sign and a document holder to attach to it, and a combination box for our front door. We staked the sign and stocked it with copies of our flyer (keep count of how many you put out there — you can gauge interest by how quickly you run out!). The combination box allowed us to not be on call during showings. We changed the code on the lockbox regularly, and only hung it on the outside of the door during showings, keeping it inside the rest of the time. Page would simply text the combination to the buyers agent the day of the showing, we'd turn off our alarm system remotely, and we didn't have to worry about being around. The only exception was one showing to people who didn't have an agent of their own, for which we stuck around but out of the way so as not to crowd them.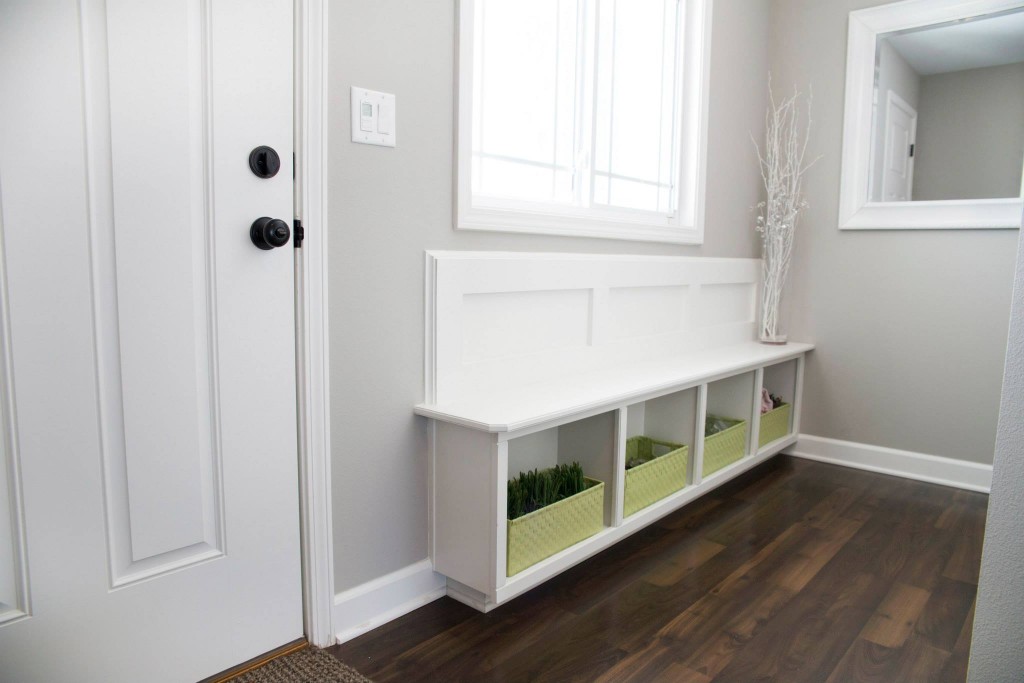 4. Take pictures of your home. If you don't feel comfortable taking photographs or don't have access to a camera (not your phone), this would be a step worth investing in, whether you rent equipment for a day or hire a photographer. Even though it drove me a little nuts as a buyer to see "larger than life" photos, I was coached to shoot real estate photos as wide angle as possible in every room – even if things appeared super distorted at times.
Shoot on a bright, sunny, day and of course only after your home is picked up and staged to show. I tend to squat a little when taking room pictures (see photo above) — just dropping the point of view down a few inches can make the photos feel more like you're there IN the room looking at it, (and ceilings appear higher!). It sounds a little weird, but the difference is noticeable!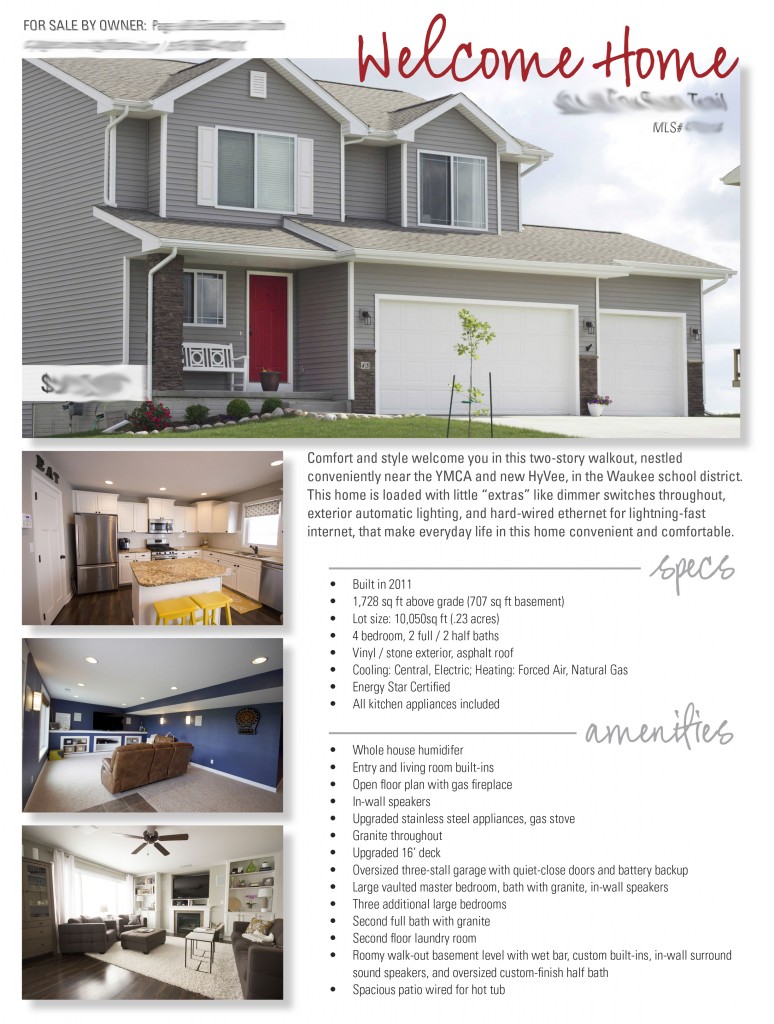 5. Find your inner Don Draper. No one but you is working for your house when it's FSBO. It's tough to write marketing for your own home without it dripping with personal attachment. We worked hard to keep it to just the facts and not use "we" or "our", while still injecting little tidbits about upgrades we'd done (so buyers knew the house was well cared for) and the neighbors being awesome (great location). Our fantastic buyers agent for our next house, Micole, helped us as well. Her tip: Even when character limits online are brief, spend them on a first sentence or two that really sets the stage and invites buyers to read on.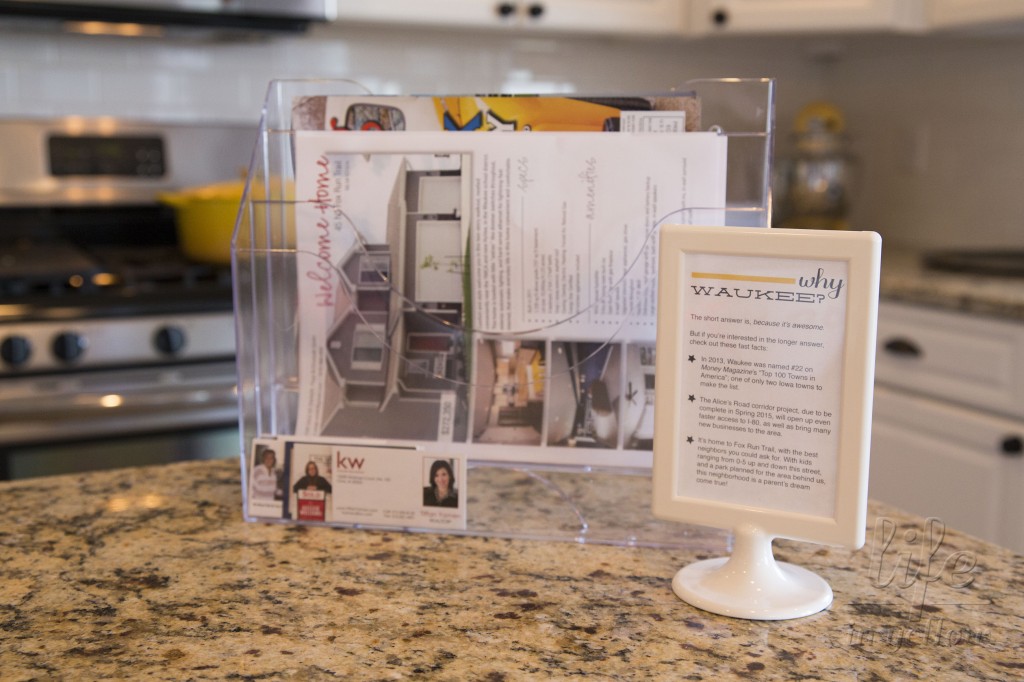 We created a one page flyer (see above) available inside and outside the house, and some fast facts about our little Des Moines suburb (we quickly learned many showings were for out-of-towners not familiar with the area) displayed in a frame during showings. We picked up a clear document stand to keep copies of the flyers, the sellers disclosure agreement, a local city publication, and visiting agents' cards all together.
6. Get your home on the MLS and Zillow. This work was KEY to our traffic (ten showings in the first two weeks). Page ran point on this, and after weighing a few options, he created our Zillow listing (costs nothing) and went through owners.com to create our MLS listing. You submit all the nitty gritty specs of your home, write a brief description, and you upload photos (and can pay for more than the standard amount of photos to display). The fees involved with this part were around $400, but verify based on the state in which you're selling. We learned that in Iowa, in addition to these up front fees, a .5% of the purchase price went to an agent because Iowa has a minimum service requirement, meaning an agent has to be assigned for minimal assistance, even when you're technically selling the home, yourself. This cost added up a bit, but was well worth it to show in every real estate and online search tool. Also, when it came time to navigate what to do with multiple offers, the assigned agent was very helpful and his attorney handled all of the purchase agreement paperwork for us.
Anyone else sell their home themselves? I'd love to add to this list of tips via your comments!