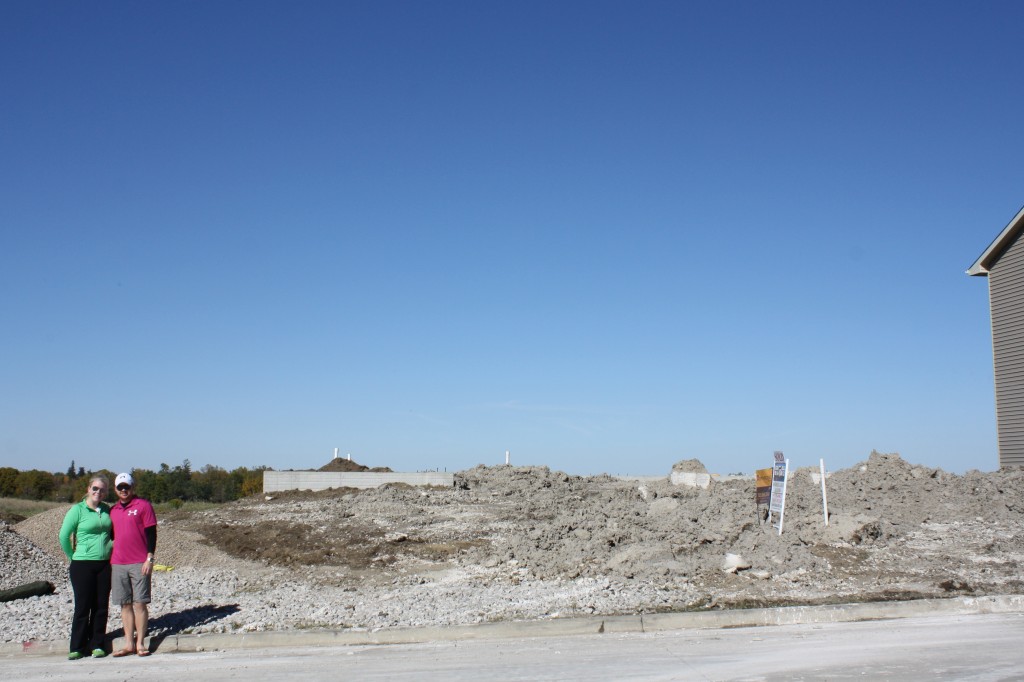 This week, we walked out.
Okay, I just couldn't resist starting with that statement. We really DID walk out, but not in the storm-out-of-a-builder's-office way it sounds. 🙂
To make a long story short, the land on our street does this slow steady slope as you go from one lot to the next. If you stand in what will be our backyard and look to the left, all of those houses are walkout lots – aka the ground slopes so much that the basement level can have its own rear entrance on the backside of the house. Our lot dramatically drops off, and then the final lot to the right of us is almost perfectly flat.
When we purchased our lot, it had been graded as a "daylight" lot and the house was priced accordingly. We were already pretty stoked about this because a daylight lot means that more of your lowest level is above ground than a typical basement – the windows wouldn't be tiny and way at the top of the walls – they would be much larger (more light) and come about halfway down the wall. Well, foundation was poured this week (yay!) and whoever the powers that be are when it comes to this stuff insisted to our builder that it was on the edge and now was being classified as a walkout lot and the plans needed to change accordingly. Apparently this exchange happened pretty quickly and we knew nothing until a realtor called us to say, "so congrats – you're getting a walkout basement at no extra cost!".
Say whaaaa?!
So we're pretty stoked – not only would adding a walkout layout to our basement have pushed us over our comfort price zone, but we didn't even think it was possible according to what the city said about the elevation of our lot originally. I'm jazzed about how much more light that level will get now with even bigger windows, and it will make for much easier access to the patio under the deck now that we will have a door there. Our goal is to finish the basement ourselves within the first year here – we will be even more motivated now to make that happen!
It's starting to become kind of magical…you can actually start to see how a HOUSE will take shape! There's still not much you can see from the street view (above) so here are a few more pics now that there's actually something besides dirt or a hole in the ground to photograph….and yes, I have on the same shirt as last week's hole in the ground photo on Page's phone…nice work, Liz. Go shopping.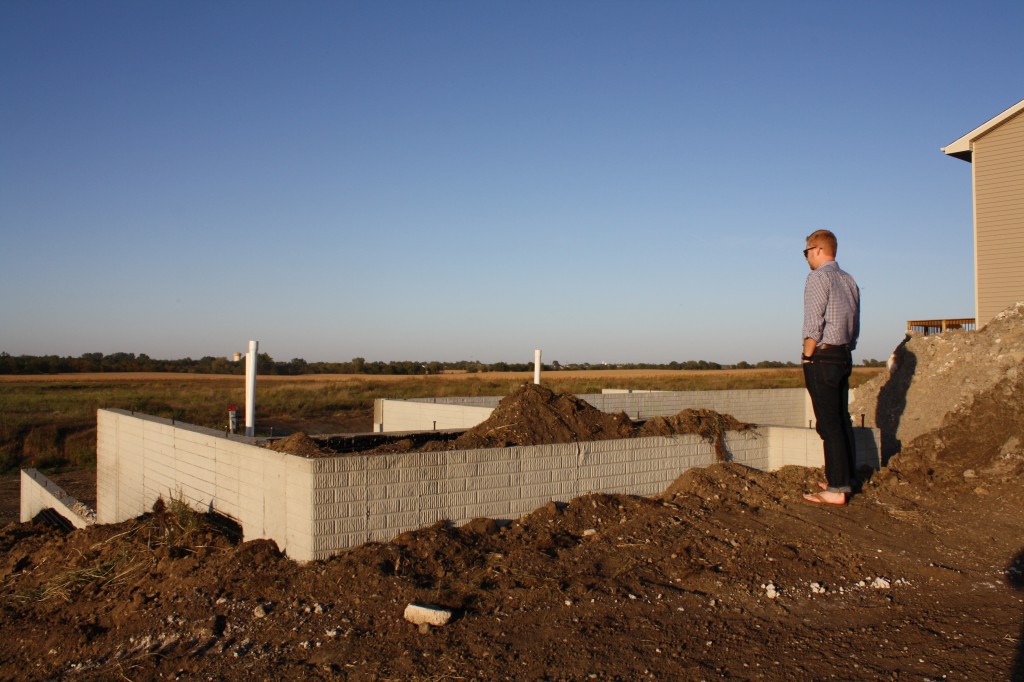 surveying from approximately where the front steps will be…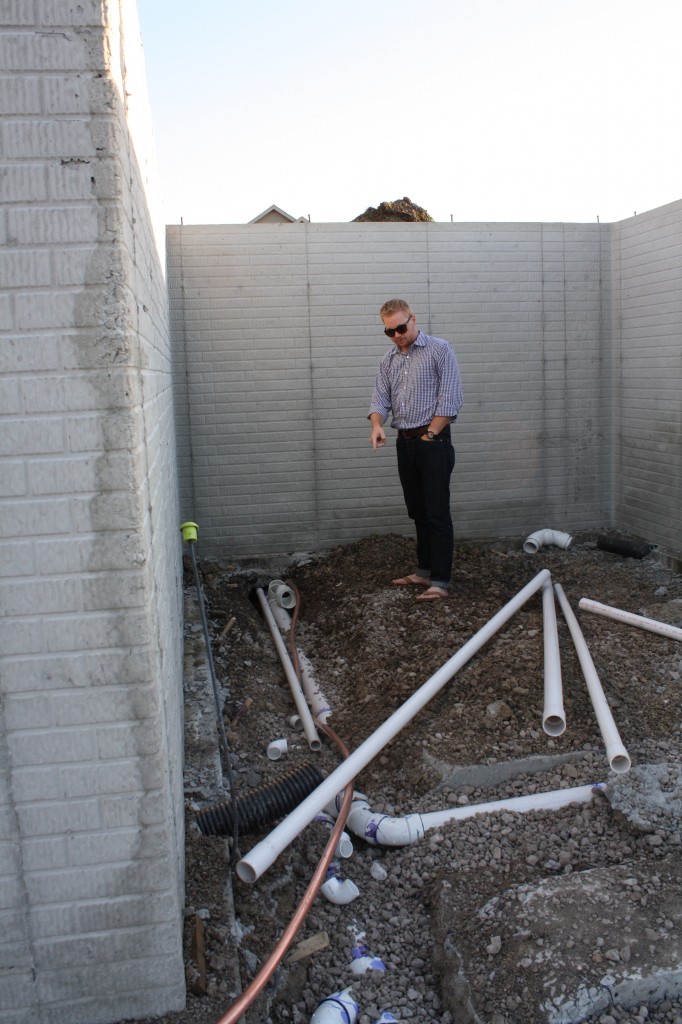 …in our basement, demonstrating to me where the stairs will come down and where a wet bar will (eventually!) go…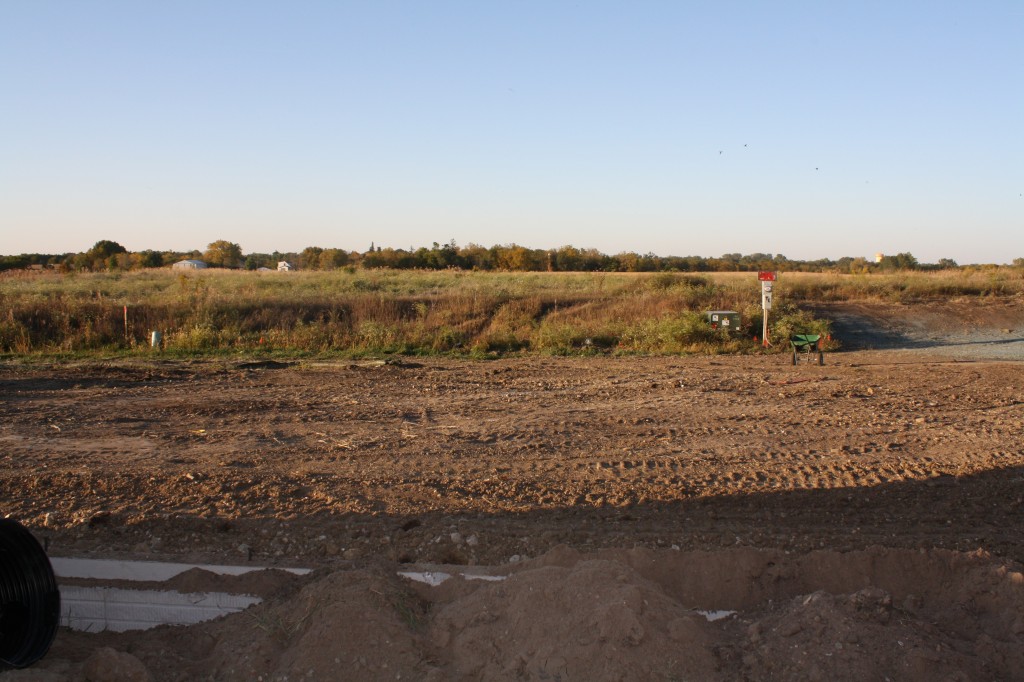 …the view (for now!) from the patio/basement…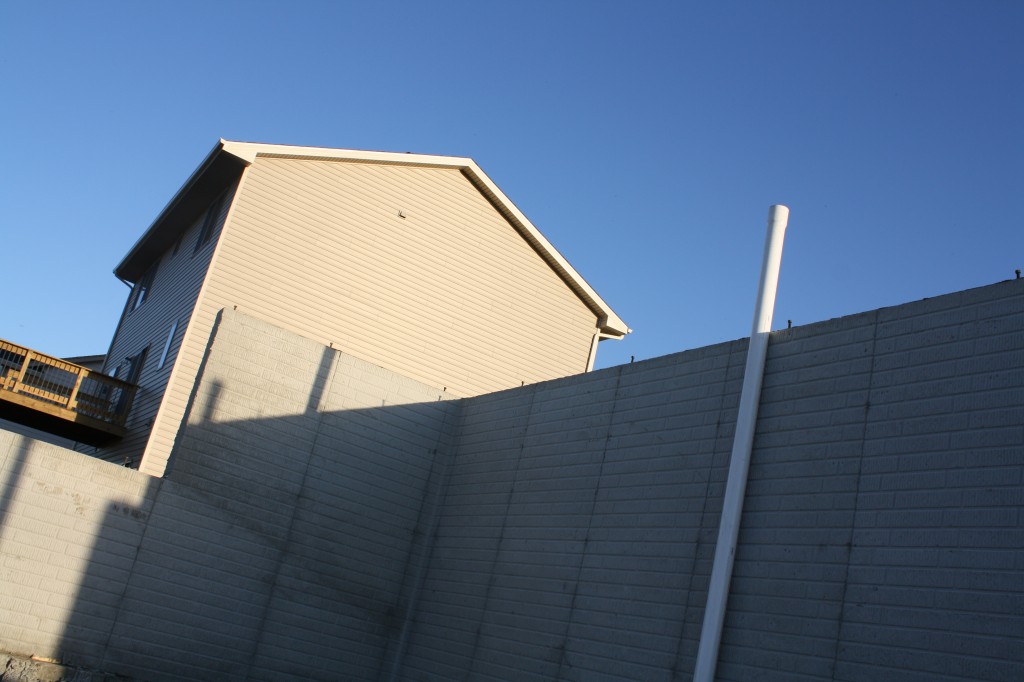 Ahh! walls!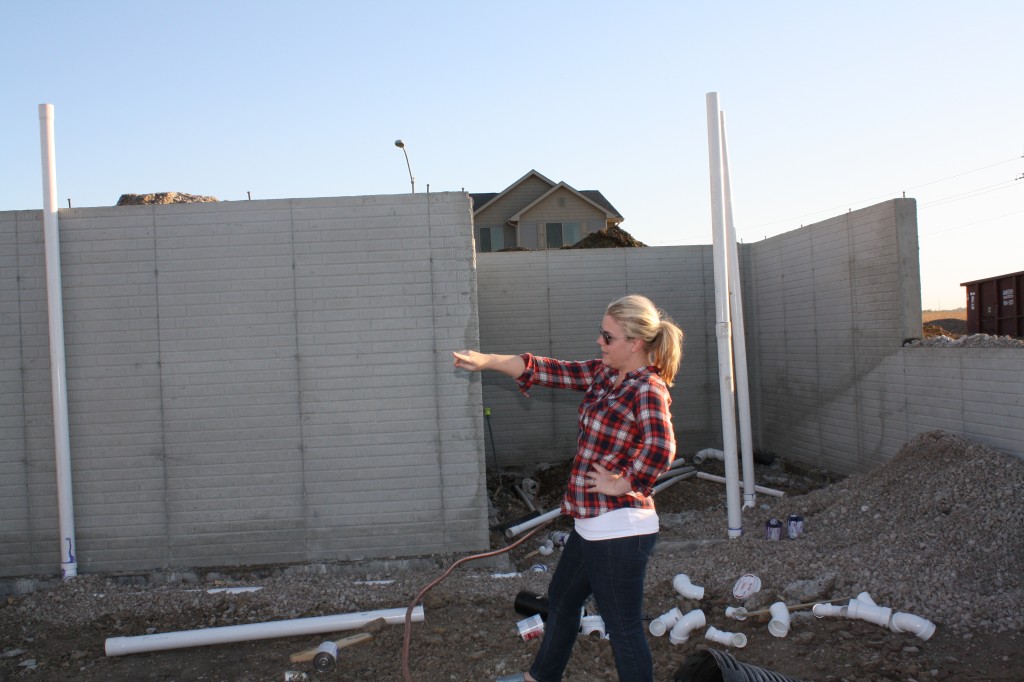 …directing and dictating – the usual… 🙂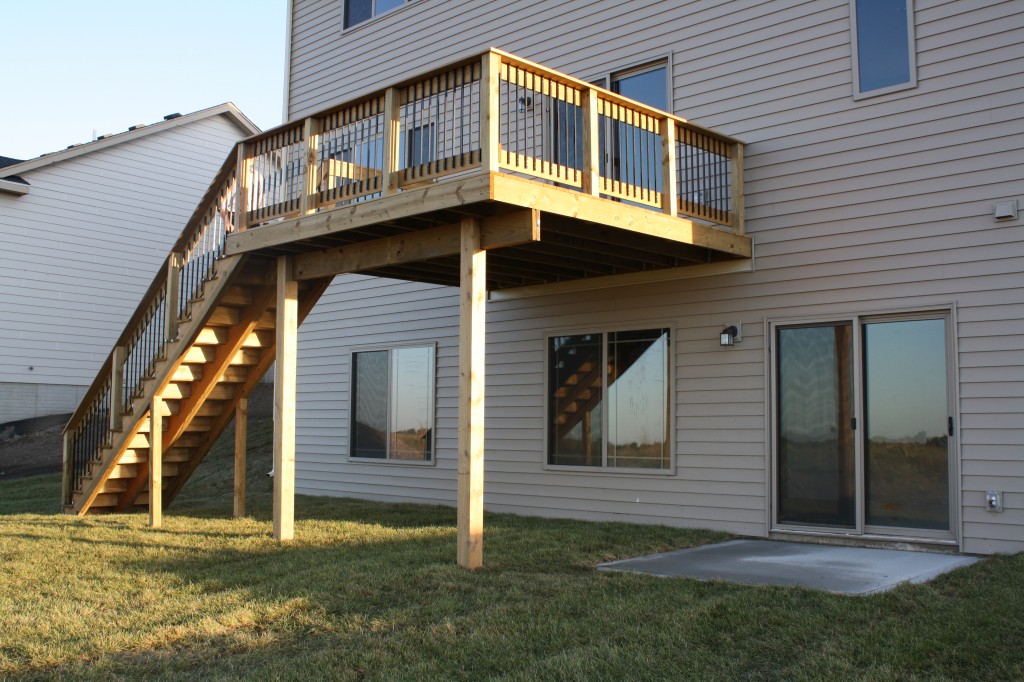 …sneaking over to the next door neighbor's house (it's okay, it's not occupied yet) to get a feel for the higher deck that we'll have now. The dimensions here aren't right – we're pouring more patio than this and the deck will be a bit longer but it's cool to get a visual!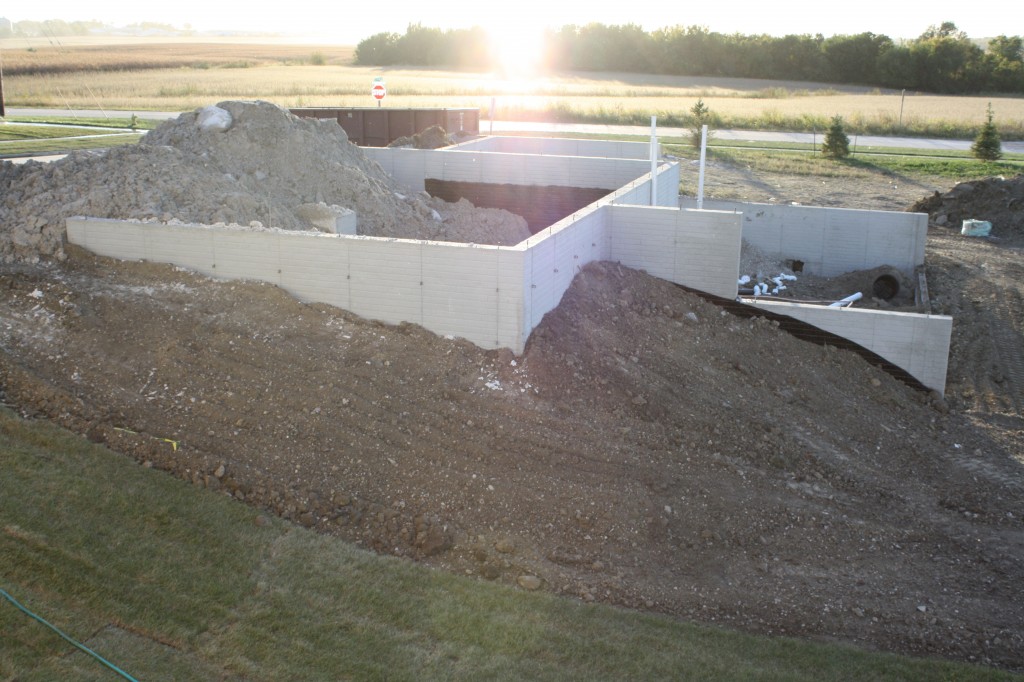 View from neighbor's deck…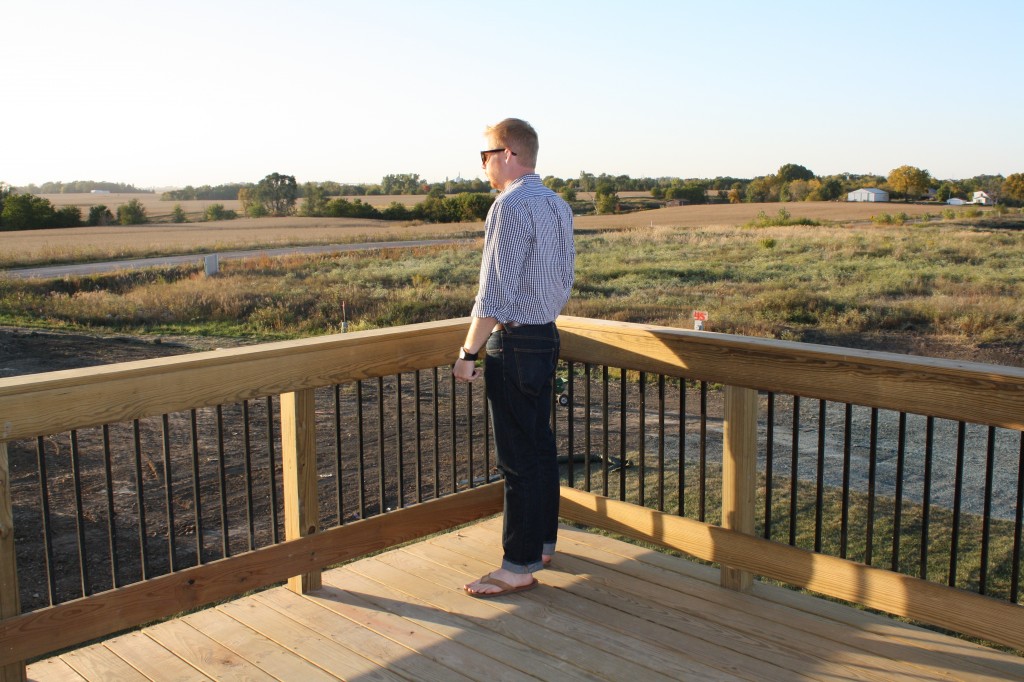 Until next week!