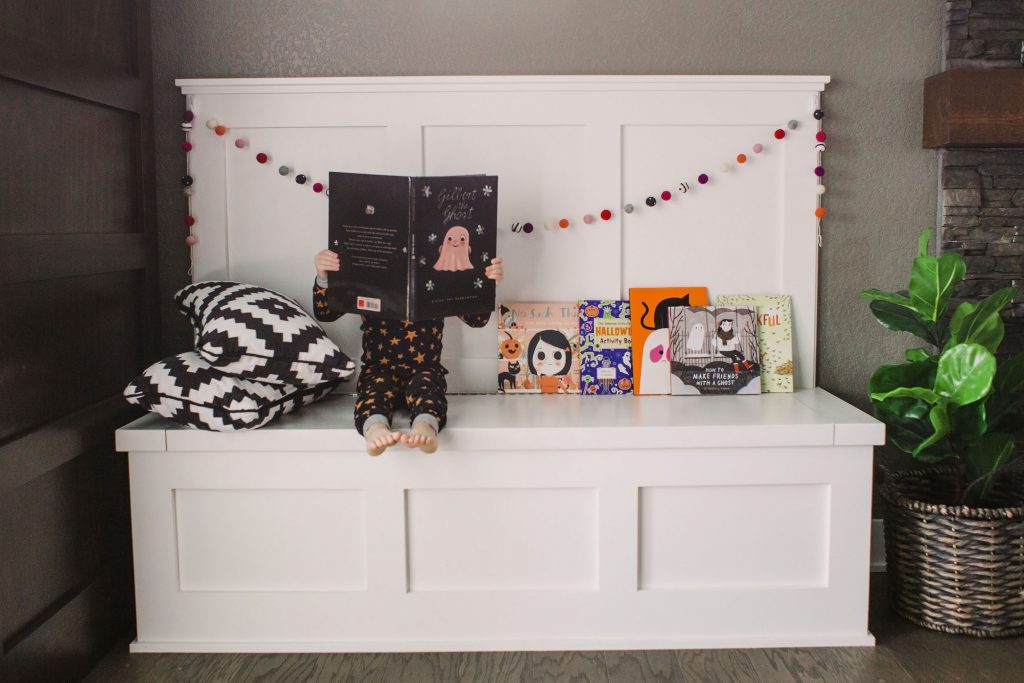 Just give me alllll the fall reads — I'm not sure who is more excited for the season, me or my mini!
Our current list of must-reads:
The Scariest Book Ever has the boldest, most "popping" illustrations that are so fun to look at. This was a big hit last year when he was only two, but loves it all over again this year at three, and it's funny for the adults reading it, as well.
Gilbert the Ghost I'll admit, is better loved by Crew than by me. But it's not too spooky and gets at the moral of being inclusive.
No Such Thing  is probably my favorite of this list — from the beginning the character doesn't believe in ghosts and explains away all the weird things happening, only to find out maybe there IS such a thing, in the end.
How To Make Friends with A Ghost is a little wordy yet for Crew, so I shorten it as I read. He laughs out loud out the antics of befriending a ghost, and I love the idea that your ghost is "with you" from your youngest to your oldest days.
Thankful is obviously a good read with the message of gratitude — I haven't found many "Thanksgiving" books but of them, this is my favorite.
The Little Children's Halloween Activity Book is sure to keep Crew busy when we need a time-filler (restaurants, road trip, etc) and it's nice to have something fresh in the mix, and relevant to the season. Always love Usborne's activity items!
Vampirina Ballerina is one we checked out from the library to test run. I thought it was adorable, but based around a girl's love of ballet, it didn't hold Crew's interest. I'd definitely recommend it for the girls, though!
Stumpkin is one I stumbled on at the bookstore the other day and will be going back to pick up. I'd never heard of it, but at first flip through, I love the story sentiments around the idea of being "perfect".
Ghosts is another on our wish list — I try to add a new title or two each year, and this will likely be one of them!
Which titles did I miss???