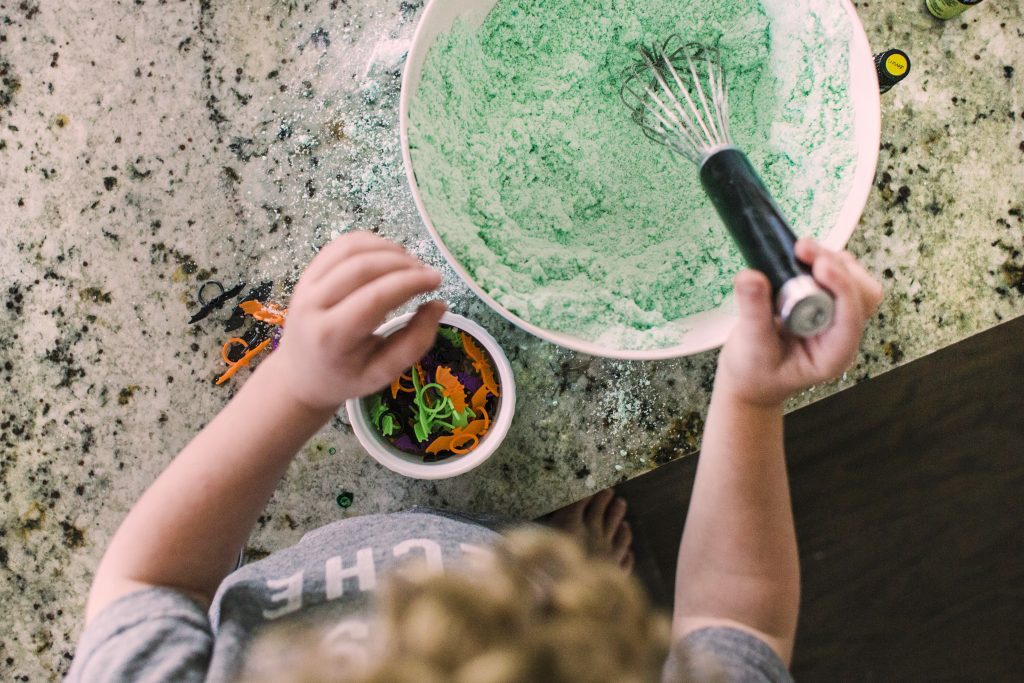 We've been busy over here whipping up all the magic potions so that Crew's classroom friends can create some of their own for Halloween!
You may have guessed it — we made our own bath bombs, complete with spooky surprises inside!
This project was much easier than I expected (I was fully counting on some crumbling bombs and preschooler – and Mom – meltdowns) but I'm happy to report it was really pretty simple and straightforward!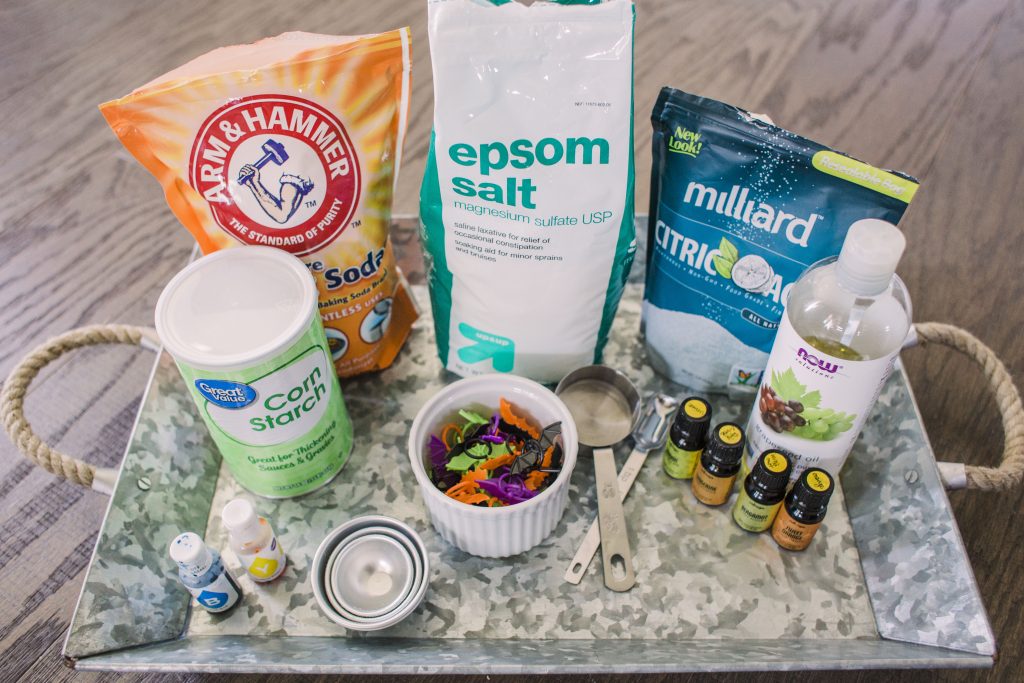 It DOES help to have all your stuff ready, premeasured/open, so you can work quickly. (Once everything is mixed, you want to make your bombs before the mix gets too dry.) I did two batches; the first I followed the recipe below exactly (this made about five medium-sized bombs), and when those turned out well, I quadrupled it to make enough for Crew's class of 24 and a couple extra friends.
My best tip is to spend a minute on YouTube watching an actual video of how to make these, because I picked up a lot of hints and it helped me understand better than all the written directions out there. In all I'd say we spent about $20 on everything (although I did already have the essential oils on hand). And if you keep scrolling I'm sharing a printable of the label we stapled across the top, so you can gift these as well!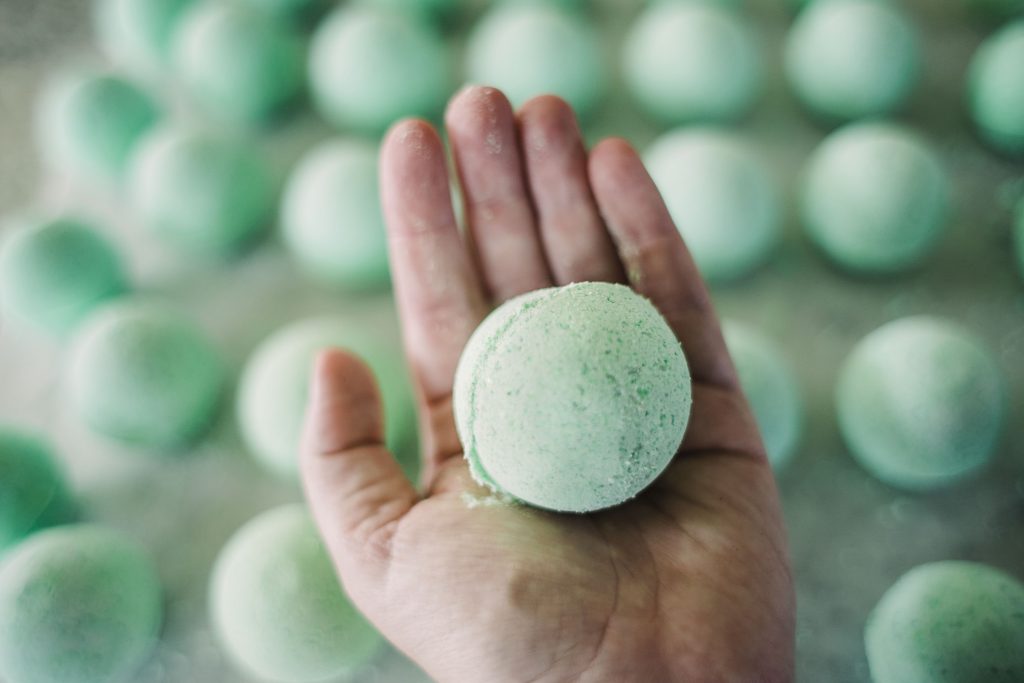 After reading a few reviews of silicone versus plastic versus aluminum, I settled on this set of molds. I don't foresee using the small one much, but the medium was perfect for stretching the batch enough to make decent-sized bombs for 24+ kiddos (and I'll be making my own and gifting some at the holidays with the larger mold, which feels even more grand/luxurious). They worked like a charm with no sticking.
For our bath bombs, we knew we wanted them to be green (but not so pigmented they stain anyone's tub ha!) so we used green food coloring accordingly.
THE RECIPE:
1 cup baking soda
1/2 cup citric acid (cheaper online than in stores)
1/2 cup corn starch
1/2 cup epsom salt
3 Tbsp almond oil or grapeseed oil
1 Tbsp water (add your drops of food coloring to this for even mixing)
Essential Oil as desired (for our quadruple batch I did about four drops each of lemon, tangerine, sweet orange, and bergamot)…Crew could not get enough of smelling them ha!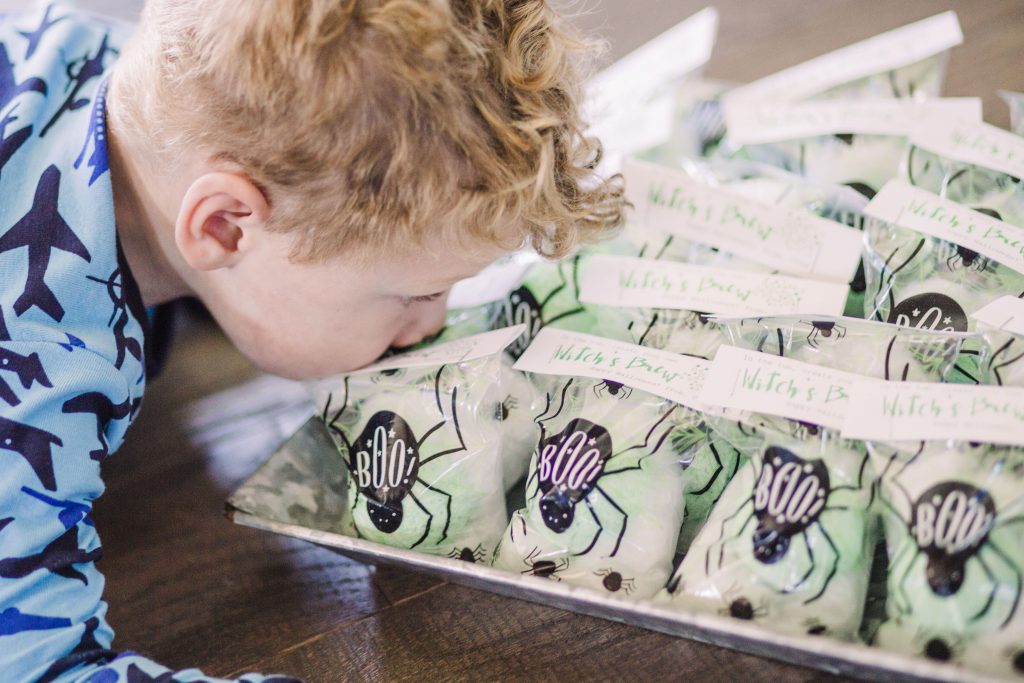 Our final "ingredient" was a bat-shaped ring (I bought a bag of 30+ at WalMart for a dollar) and they fit perfectly inside the medium sized mold. I thought these would be a fun surprise when the bomb fizzles apart in the tub.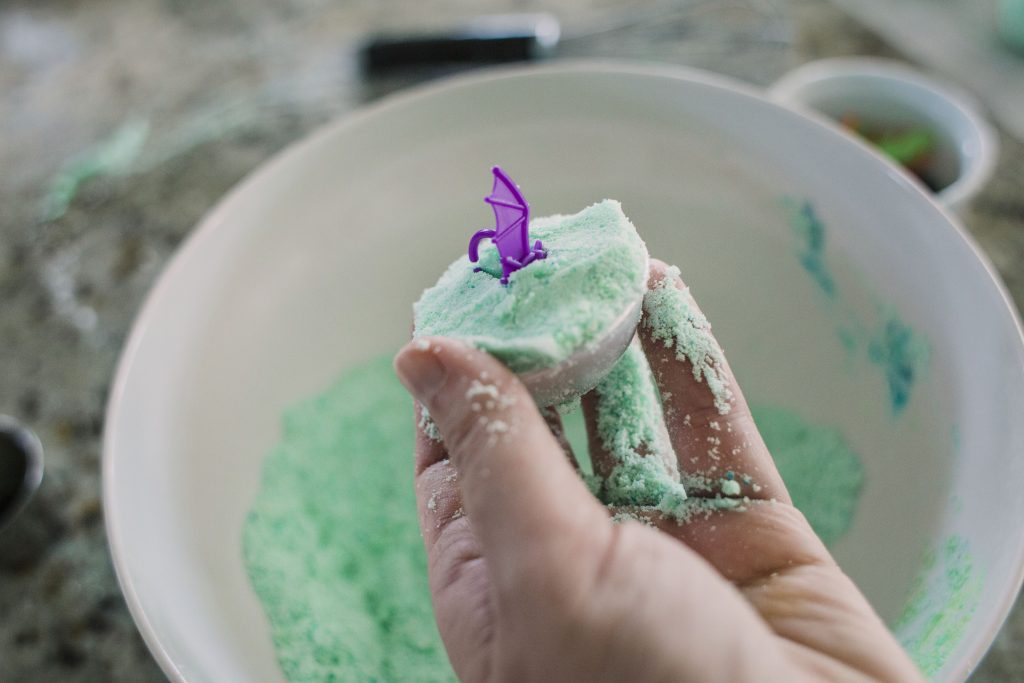 TO MAKE YOUR BATH BOMBS:
After gathering your ingredients, whisk together all the DRY ingredients first. Combine the wet ingredients separately and pour them SLOWLY into the bowl, constantly whisking. The consistency should feel ALMOST as damp as wet sand – a tad more powdery, but still "wet".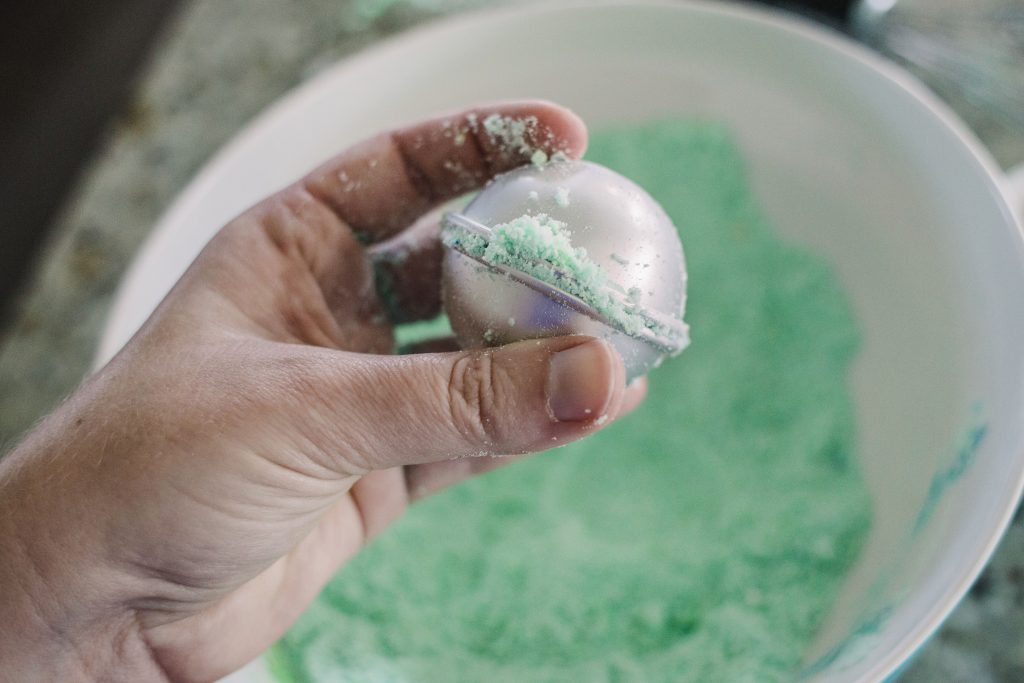 Scoop the mixture into both halves of your mold. Don't PACK it in, but gently press enough to firm it up, and make sure both halves are overflowing. (At this point, I pressed the bat ring into one side.) Stick your two halves together and press them together, wiping off any excess that comes out the seam. Use your knuckles to tap firmly on either side of the mold so the packed mixture will slide out easily. I used a slight "twist" motion (like unscrewing a cap) to remove one side at a time, and laid them out on a sheet of wax paper to harden up. A lot of recipes called for 24 hours to dry but I think it only helps to give them a solid 48 hours before handling them in any way.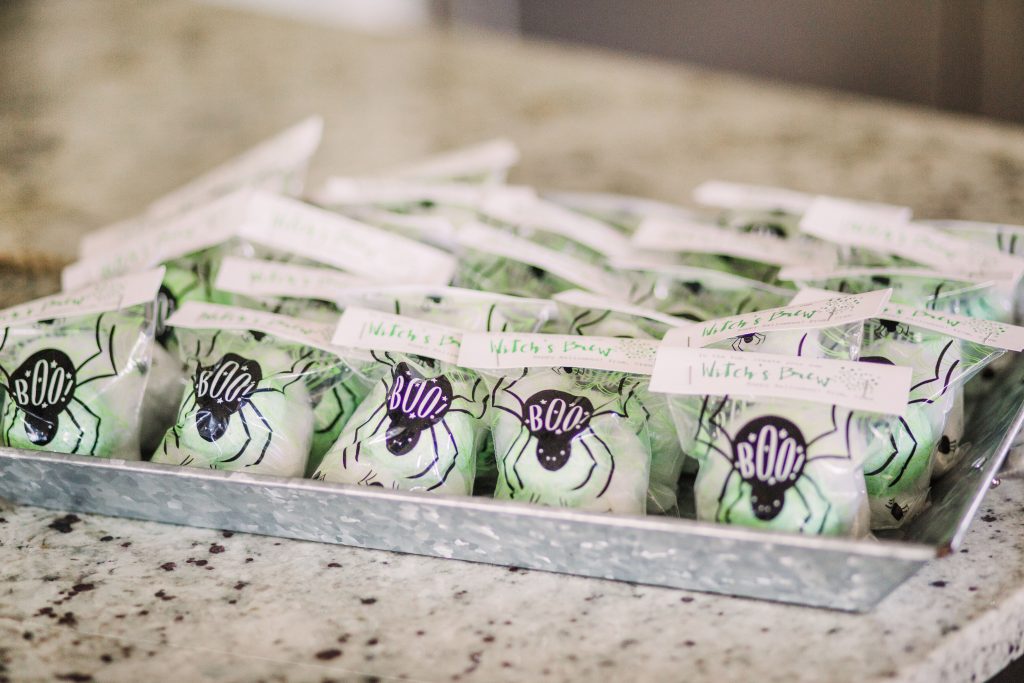 I was nervous about how durable these would be when loaded up dozens deep and handed out at school. My coworker had the genius idea to add some cobweb stuffing to the little ziploc treat bags (found at The Dollar Tree). I added a bomb and some stuffing to each bag, and printed and cut apart the following printable. (They should be about the size of a business card, before folded in half lengthwise). Stick them over the tops of the bags and staple in place. Voila! Witch's brew for all!
Grab your free printable treat topper by clicking the attachment link below: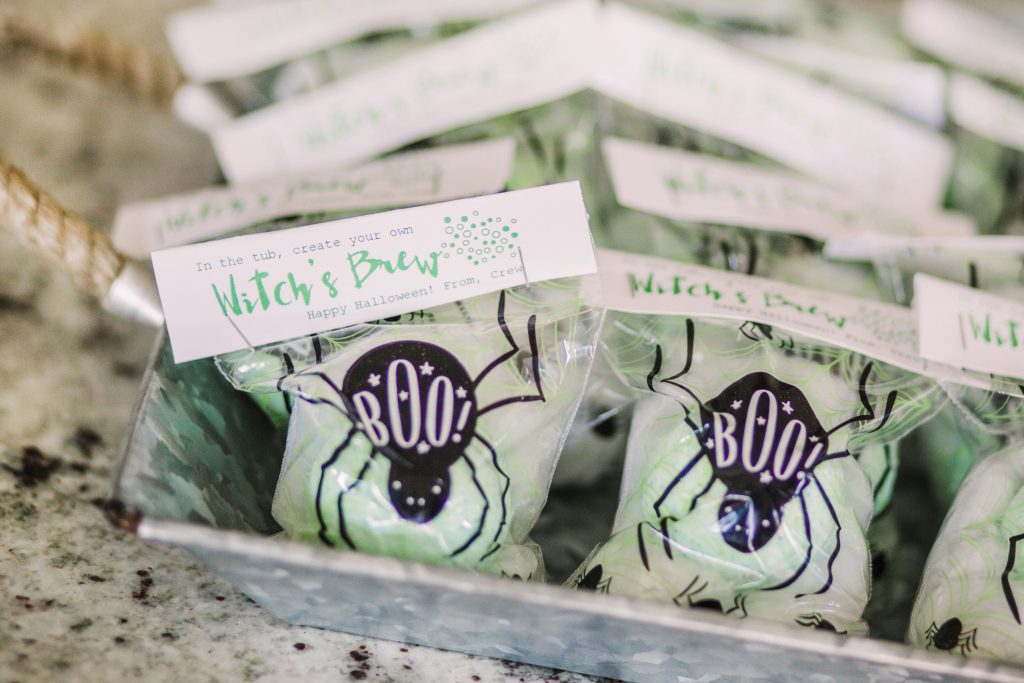 Happy Halloween!!