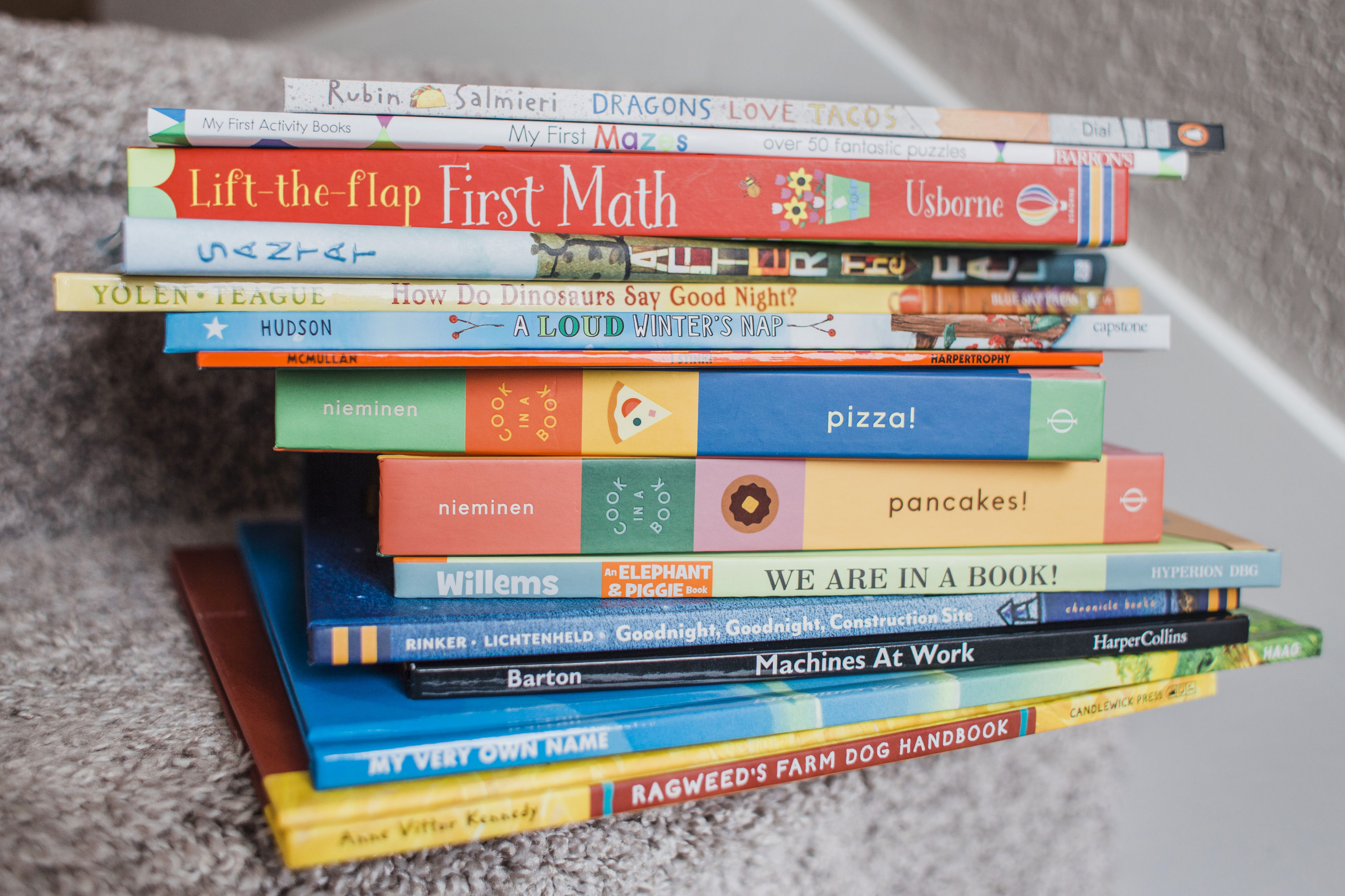 I'm so thrilled that Crew LOVES a good reading session, and is starting to "read" books back to us as well. I think this age is particularly fun for books, because the stories become more elaborate, and the illustrations more like works of art. Characters, plot, morals of the story all begin to exist. Questions are explained. Concepts are broken down. Real discussions start to evolve after the close of the cover.
You can actually see those little wheels turning and growing.
While there are what seem like zillions of titles in rotation right now (and several borrowed regulars from the library as well!), I'm doing a run-down today of some serious favorites. As I compiled this list, I realized we've only picked out about half of these — the others have been gifts from family and friends. We lucky to have a bunch of book lovers in our "village"!
Dragons Love Tacos — (and the sequel, Dragons Love Tacos 2) I've actually had to hide these books from time to time. They're adorable, but Page and I both hit a point where we just. couldn't. read. them. anymore. Dragons and dinosaurs go hand in hand for Crew I think, and the idea that they breathe fire is highly interesting to him. Read with a little extra drama for fun points. 😉
My First Mazes — Not a story, but a worthwhile mention. All about the mazes, I've been a big fan of this one and this one, both of which progressively get harder as the child works through the pages. Similarly, this one gifted by our neighbor follows the same process, but I like that it offers a little more context as far as what happens when the maze is complete (i.e. get the car to the garage) and then asks a follow-up question. Yes, there are some apps that offer mazes, but Crew seems to prefer the pen and paper and I think there's value in working on both pen control and having that tactile experience. We can't buy these fast enough before he's through them!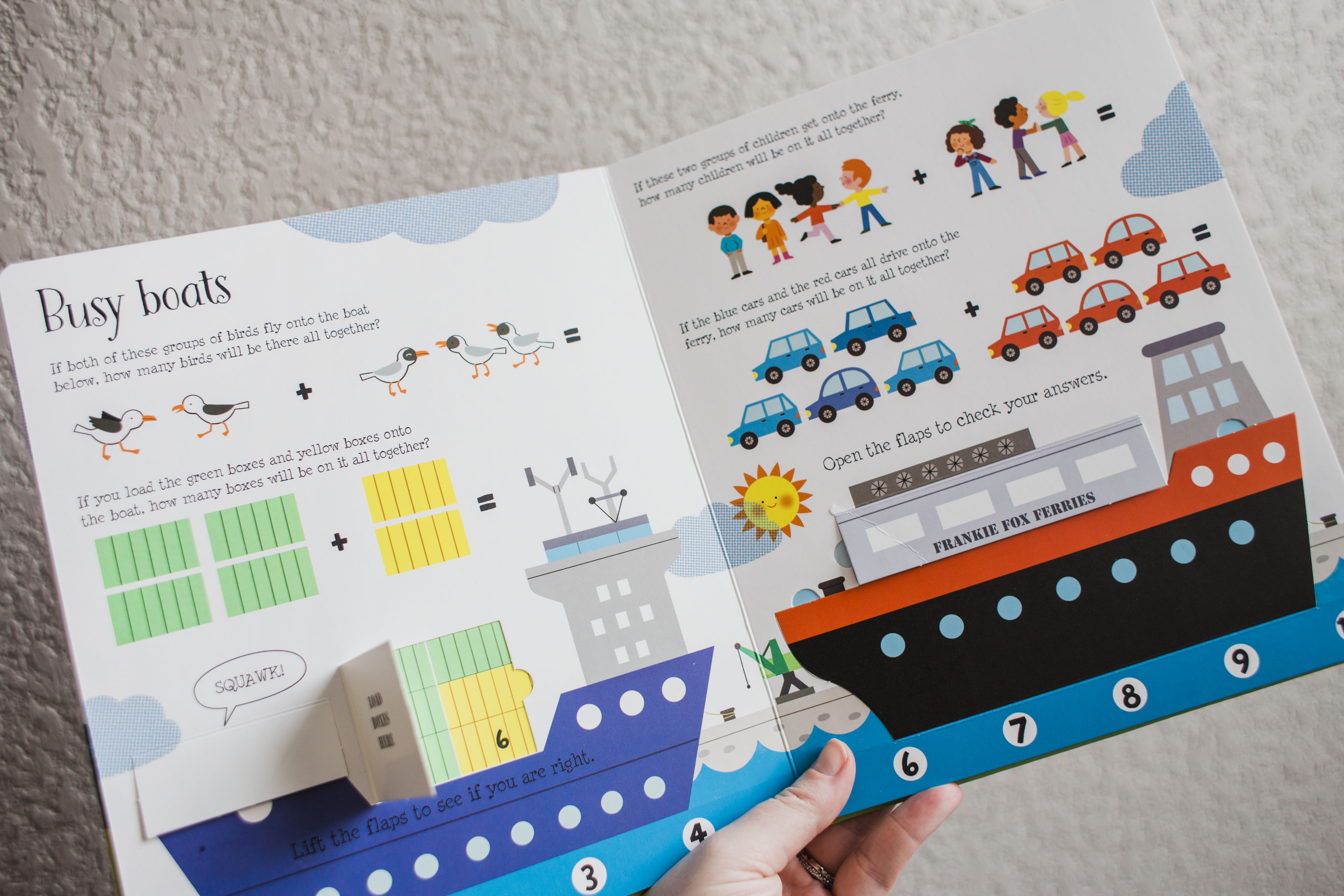 First Math — I'm a self-proclaimed math nerd and Crew is right at that point where he can identify numbers and count objects but is ready for a little more. This super visual, lift-a-flap approach helps him work through when you have 2 of something and 3 of something else…and then reveal the answer. I tend to prefer the more "workbook" type content from Usborne as opposed to the stories. At the suggestion of a rep, I also brought home Take Away which has a slide and find approach to subtraction. It's a little beyond him at the moment, but will be great in a few more months!
After the Fall — I could not love the concept behind this book more. This is the story of what happened after Humpty Dumpty got back up again. And the author is a Caldecott winner. Enough said, right?
How Do Dinosaurs Say Goodnight — Crew is very into dinosaurs, so when my mom found this book for Christmas, I knew it would be a hit. There is a whole series of "How Do Dinosaurs Say…" and each version there is a glossary of the types of dinosaurs in the front/back cover, so you can identify them as you go through the pages.
Cook In A Book series — we currently have Pizza and Pancakes (and Tacos is arriving for Valentines Day). Crew LOVES to cook, real or make believe, and is super interested in units of measurement ("how many do I go to, Mom?") so something that can walk him through the same recipe time and again is right up his alley. I think these are such cleverly designed books — spinning a wheels lets the sauce suddenly "appear" spooned onto the crust, tabs allow kids to "pour" ingredients into a bowl, you set the dial on the oven, you flip the pancake onto a plate, etc.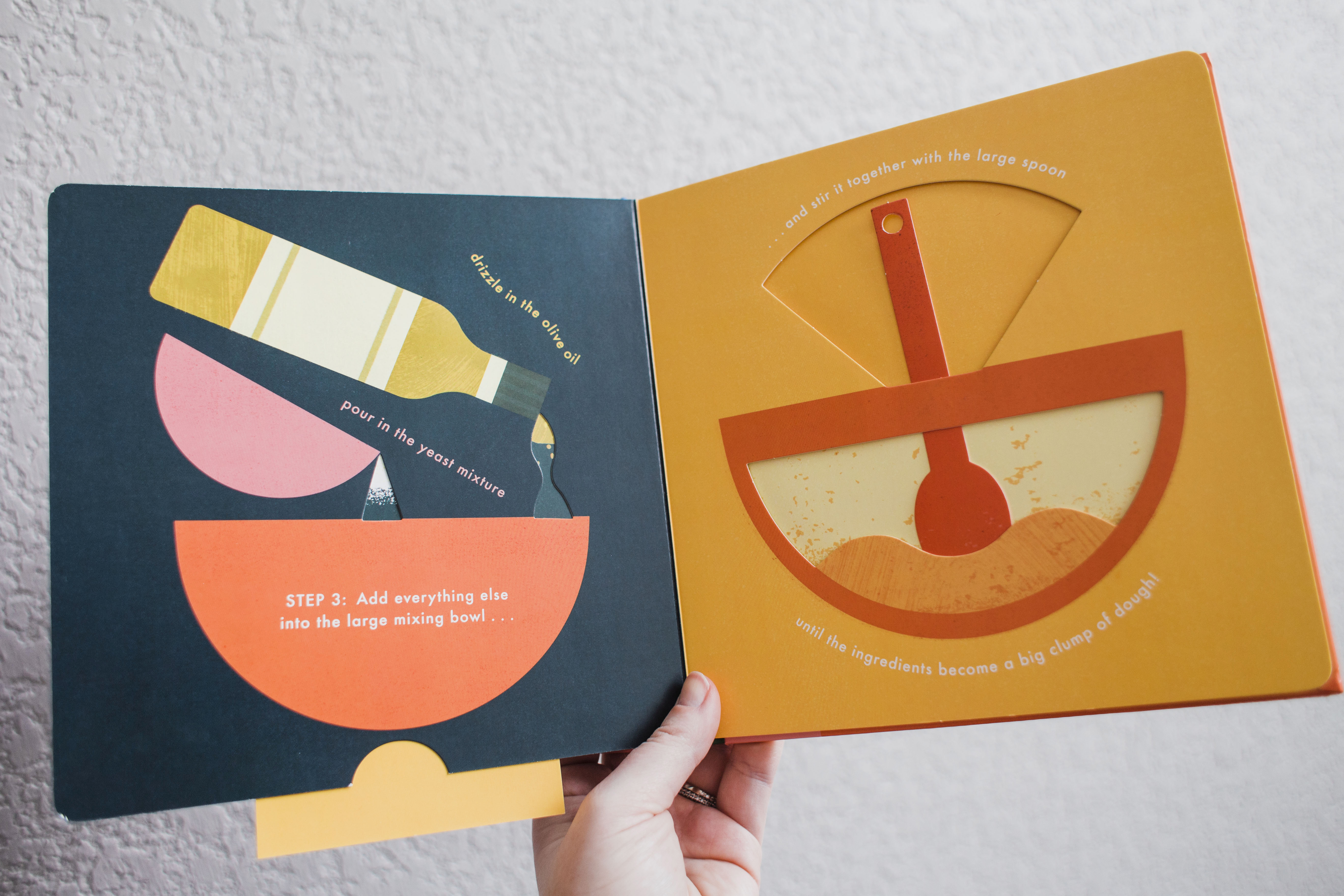 A Loud Winter's Nap — Fun to have books about winter, but not specifically holiday. This was gifted to Crew for his birthday and my favorite part is the gorgeous illustrations. The lesson is about a change in perspective ("tortoises don't like winter!") and it hits on lots of things that are big in our world this season — snowball fights, sledding, etc.
I Stink — we actually bought the board book of this story when Crew first discovered his love for garbage trucks (around 18 months) and if I'm being honest, the ridiculous language drove me a little crazy. So many adjectives and sound effects. It's a mouthful to read aloud. And yet, when we received it again in full format at his birthday this year, and have since rented the companion DVD from the library, I see just HOW into the overdone verbiage Crew is, and I've come full circle. Also, the full version references a few times "crew" as in the garbagemen, and someone is downright DELIGHTED thinking it's written just for him.
All of the Elephant & Piggie books — we own some and borrow others from the library — this duo is a big hit in our house. I purchased the first couple to prep Crew (and okay, Page, too) after I bought tickets to see "We Are In A Play!" at our local childrens theatre. I love that the books navigate lessons that are tricky (waiting is hard, sharing, etc) and the simple illustrations and emphasis on words/character dialogue is a great primer to focusing on the language to follow along with the story as opposed to spelling it out in elaborate pictures.
Goodnight, Goodnight, Construction Site — we've had this one for a year now, but it's still a regular favorite. Aside from the fact he loves to name all the construction vehicles, the rhythmic writing is kind of lulling and by the end of the book, it really does have a wind-down effect for bedtime.
Machines At Work — I remember my own brothers being obsessed with this title. We are almost beyond it in terms of the simple writing, but Crew is still in love with identifying the machines, and prefers to be the one who "reads" (recites) it back to us.
My Very Own Name — Some family friends gifted this personalized book that incorporates a rhyming story with a letter-by-letter building of his first and last name. Crew loved from the start hearing himself referred to in the story, and identifying the animals throughout, which are cataloged in the back for reference. As he's gotten better about identifying letters and spelling beyond his first name, he is SO. PROUD. to correctly predict each next letter. Awesome gift idea!
Ragweed's Farm Dog Handbook — my aunt's background as a librarian means ANYthing she recommends is sure to be a success. She gifted this title to us and it's one of my favorites to read because of the humor. It also doesn't feel like any other style of childrens story I've read in terms of the "handbook" approach to a topic.
I ALWAYS love hearing others' must-read lists, so hit me up with them 🙂 Happy reading!
You can read my list of toddler book recommendations here.
*post contains affiliate links*