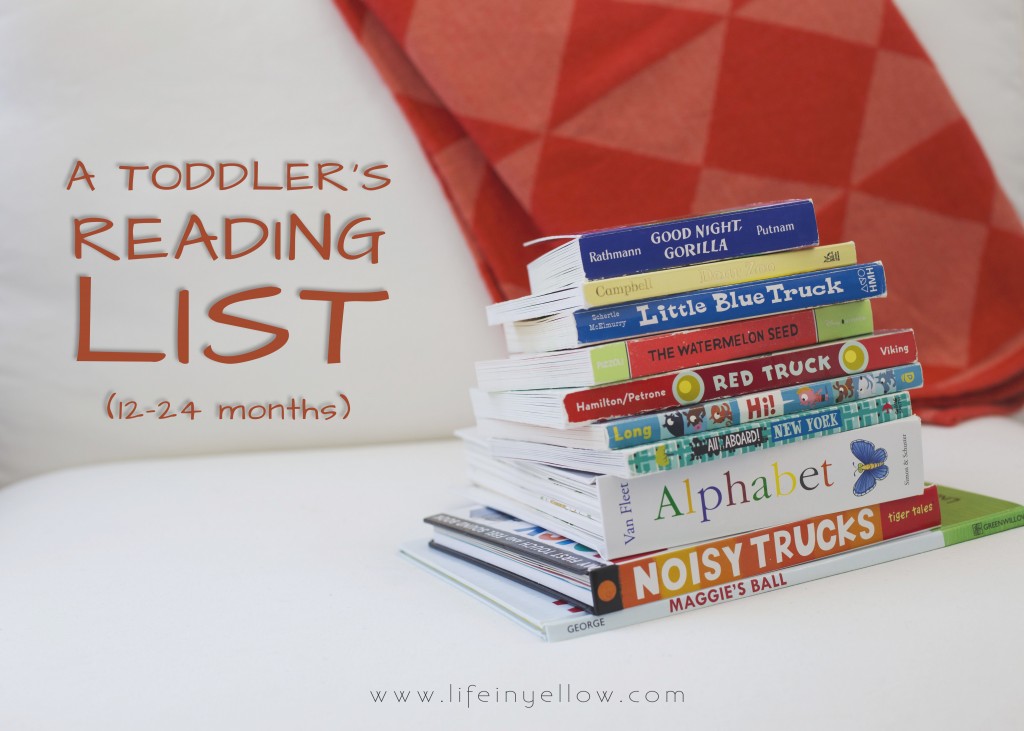 Crew is ALL about the books, and has been for some time. Fortunately for us, he's moving from some of the touch and feel books with no words, to some with a BIT more plot. Of course we have the classics in rotation — Goodnight Moon, Chicka Chicka Boom Boom, and others — but I've discovered so many new favorites in recent months and always love to share hit titles with other parents and caregivers. It's fun to think ahead to reading some of the more elaborate, classic stories I remember reading as a child, but for now I'm enjoying a toddler in my lap, asking to read these simple but sweet titles over and over…(and over).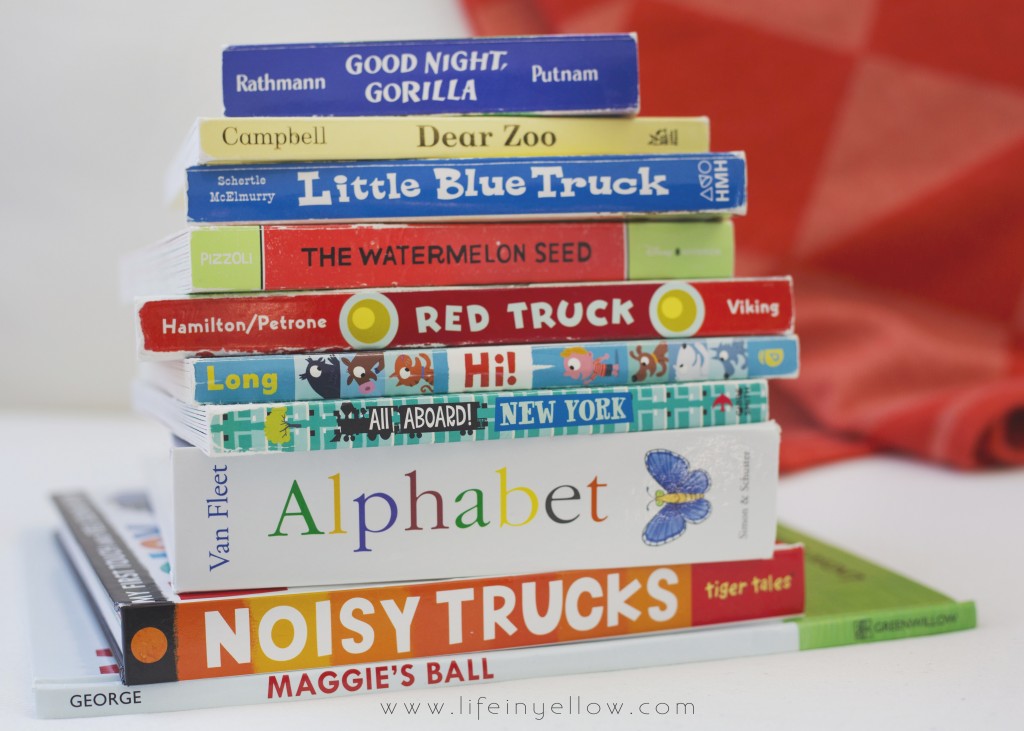 Noisy Trucks A title we discovered at our library, I admittedly am a fan of this one because, while there is some verbiage to read on each page, it can also be self-guided. Crew seems to like real-life photos of things he recognizes, as opposed to illustrations, so this book delivers. Each page includes textures like the bumpy tire or the rough ridgy grill. And of course, there is a button on each page with realistic sound bytes of the various vehicles' noises, along with a re-cap at the end.
Alphabet Crew received this for his first birthday and it takes interactive to a new level! There are things to scratch, sniff, push, pull, and all while learning the ABCs (and tons of animals that Page and I had never heard of — so I guess we're learning, too?!)
Goodnight Gorilla I have fond memories of reading this to the kids I used to nanny, so it was an immediate add to our baby registry. This story combines simple text with illustration-only pages that allow you to ad-lib what is happening as the pages turn. We read this any time of day, but it's a particular hit at bedtime.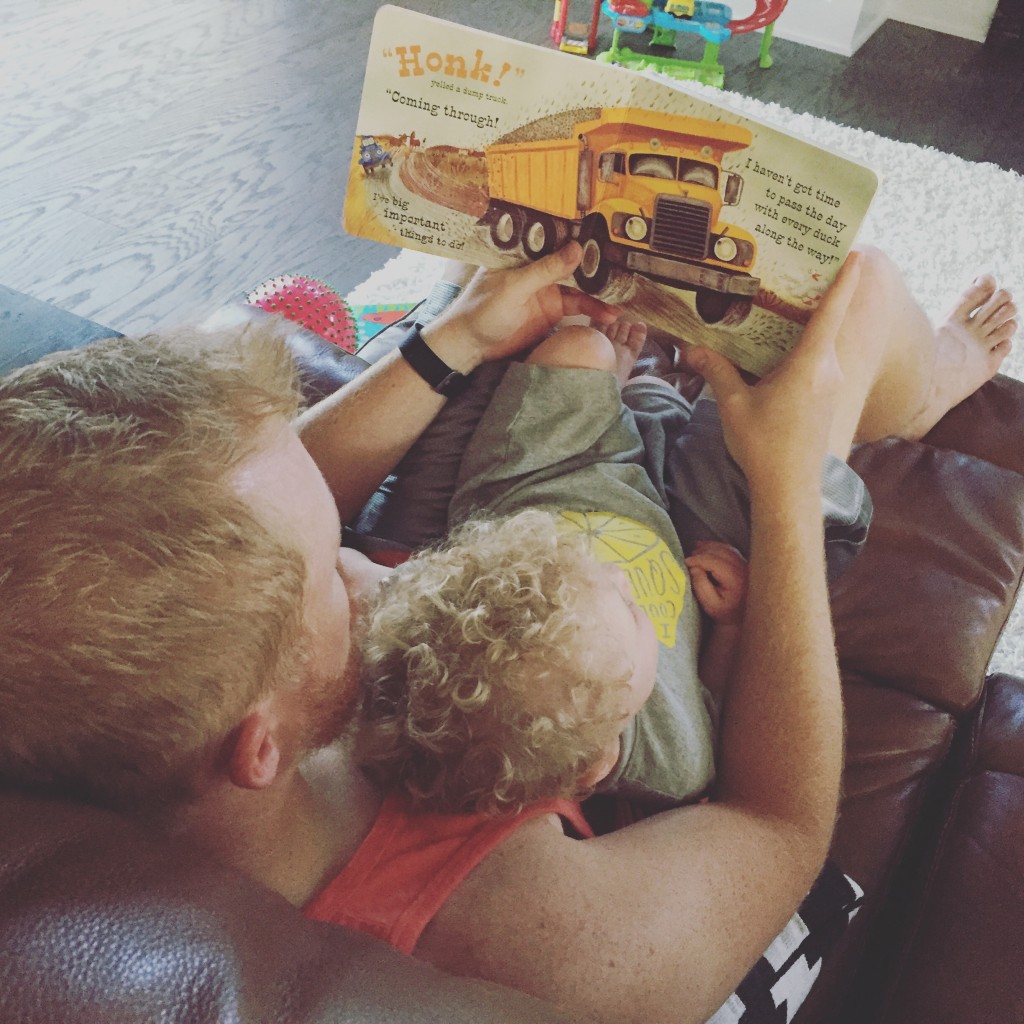 Little Blue Truck We were gifted this book at a shower, and thank goodness! I've since learned this title is basically an institution with little boys (and girls!). I like the underlying message of helping out friends, and there is lots of repetition around animal noises. We have since accumulated Little Blue Truck Leads the Way and Little Blue Truck's Christmas (the lights at the end are a big hit!), with plans to pick up the newest release, Little Blue Truck's Halloween. (PS, if you have a die-hard Blue Truck fan on your hands, you have to check out these pajamas – they are on Crew's Christmas list!)
All Aboard New York We've had a couple of these books, but the New York is both my favorite and Crew's. The colorful, bright illustrations are delightful and even at only a few months old, Crew would study them in detail. As the adult it's fun to see the whimsical portrayals of famous landmarks in a favorite city.
Dear Zoo This sweet lift-a-flap book is small and easy to travel with, and great for learning animal sounds.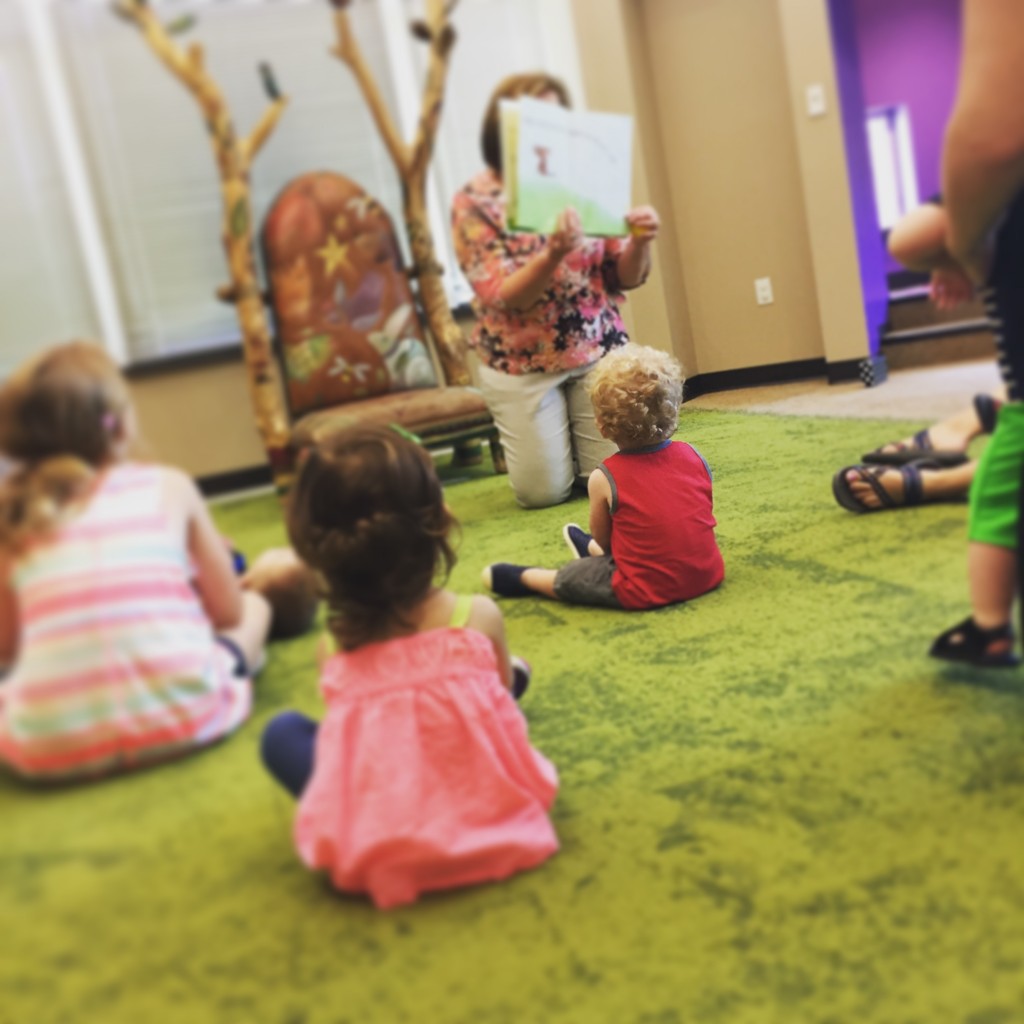 Maggie's Ball I had never heard of this book until the librarian read it at Book Babies one morning. Obsessed with both balls and dogs at the time, Crew was instantly entranced. I bought a copy for our house, and got out a sleeve of tennis balls to play with while reading (Maggie's ball is a tennis ball). This book continues to be a favorite nearly a year later.
Red Truck A perfect length book for this age group's attention span. Red Truck comes to the (very dramatic!) rescue of a stuck school bus. Loved this for learning the color red (and yellow for the bus!). We point out red trucks all around town as a result of this title.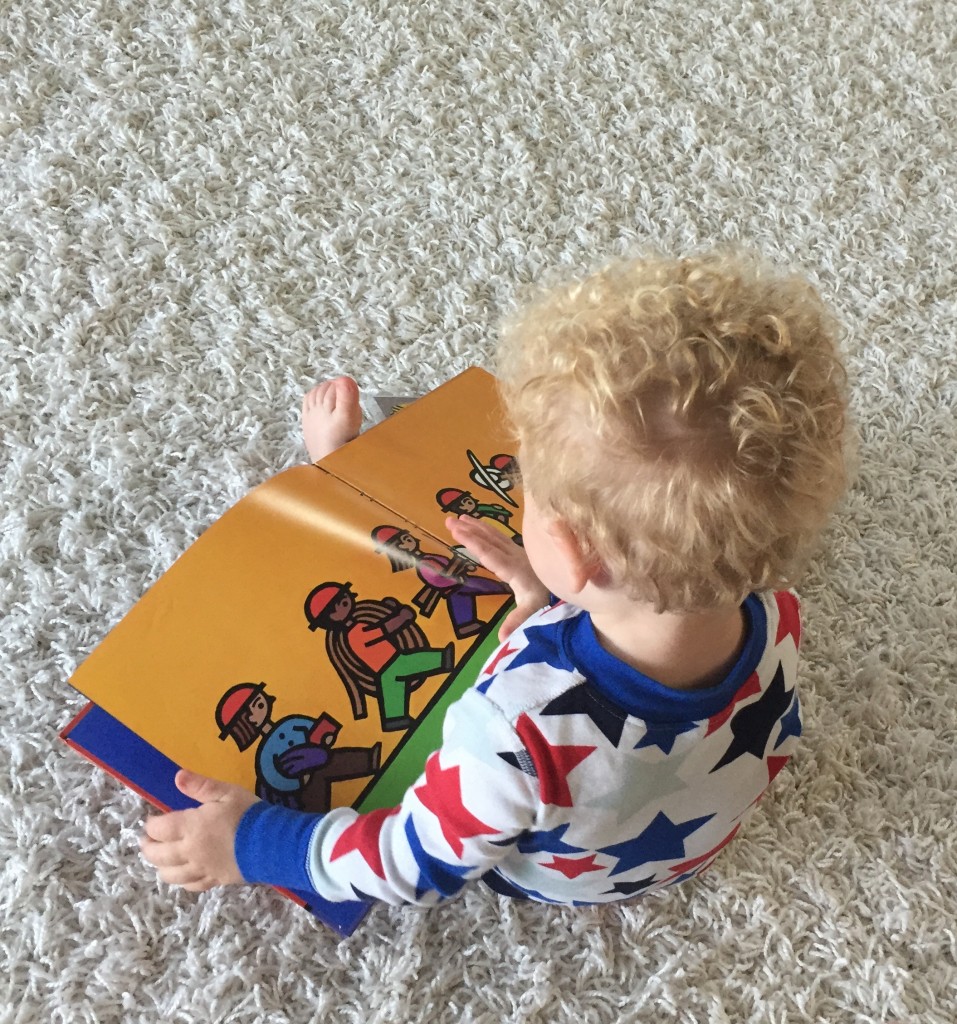 Machines At Work This book was one of my brother's favorites as a little boy, and my mom lent his copy to Crew. I love the simple three or four-word phrases on each spread, accompanied by colorful, bold illustrations. Great for learning action verbs like "dig", "build", and "knock down"!
Down By the Station We are on our second copy of this book, after the first one was gifted to us at a baby shower, and well-loved by a certain someone who's still learning to not rip paper pages (I do wish this came in a board book!). Crew loves the different scenes (airport, train station, etc) and pointing out each page's vehicles "all in a row". (Bonus points if you SING the story!)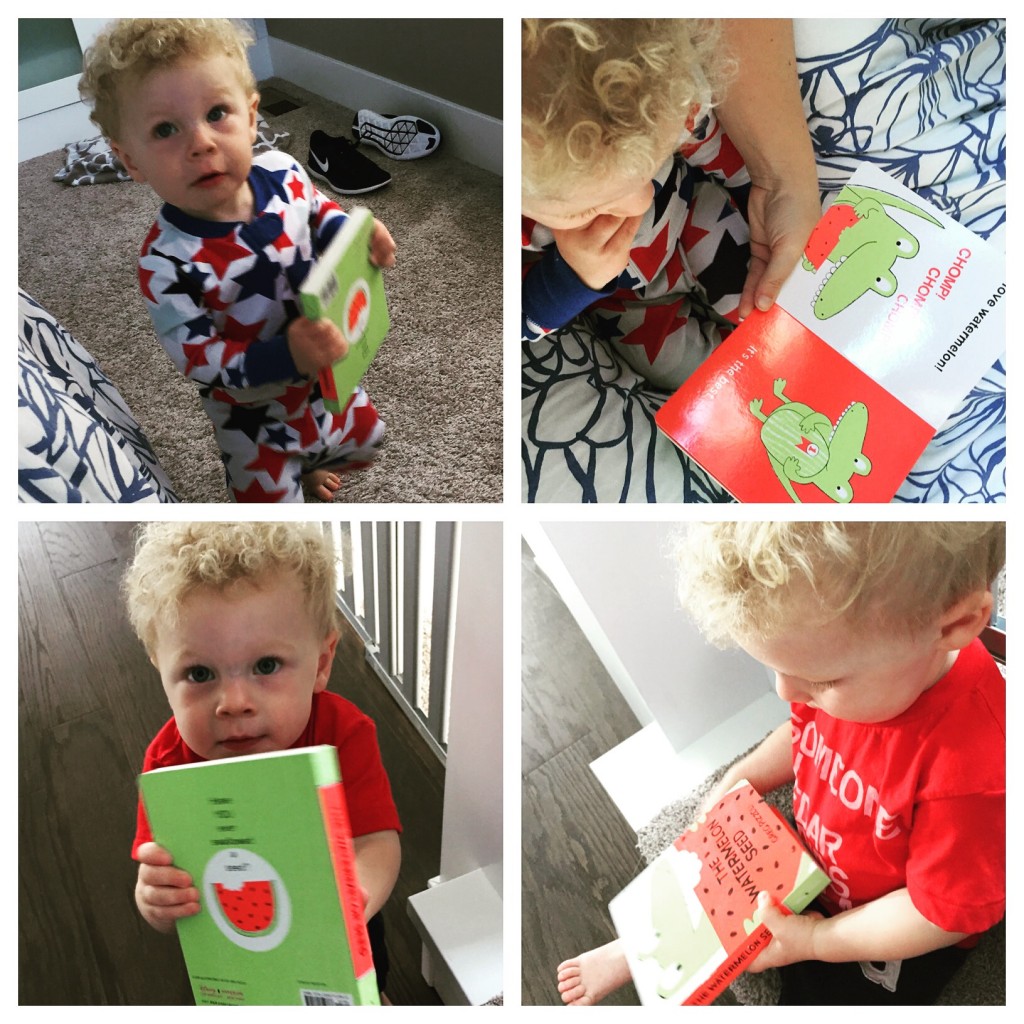 The Watermelon Seed At a time when it is ALL about the truck books (I think we have nearly a dozen in rotation!) I was anxious for a book about ANYTHING else. It seemed appropriate for summer to add this read to our collection and it has not disappointed. Super bright colors, a dramatic crocodile, and a good dose of burping make this a much-requested read in our house.
Hi! A great title for short attention spans, this book is a fast page-turner, with simple one-word, rhyming, animal sounds on each page. The animals all look to the little boy at the end to hear what HE says, and it was these final two pages I credit heavily with teaching Crew "hi" and "bye". He enjoyed this book early on before he could repeat back animal sounds, but now that he can, he seems to love it all over again.
What's on your little one's reading list???
*This post contains affiliate links.