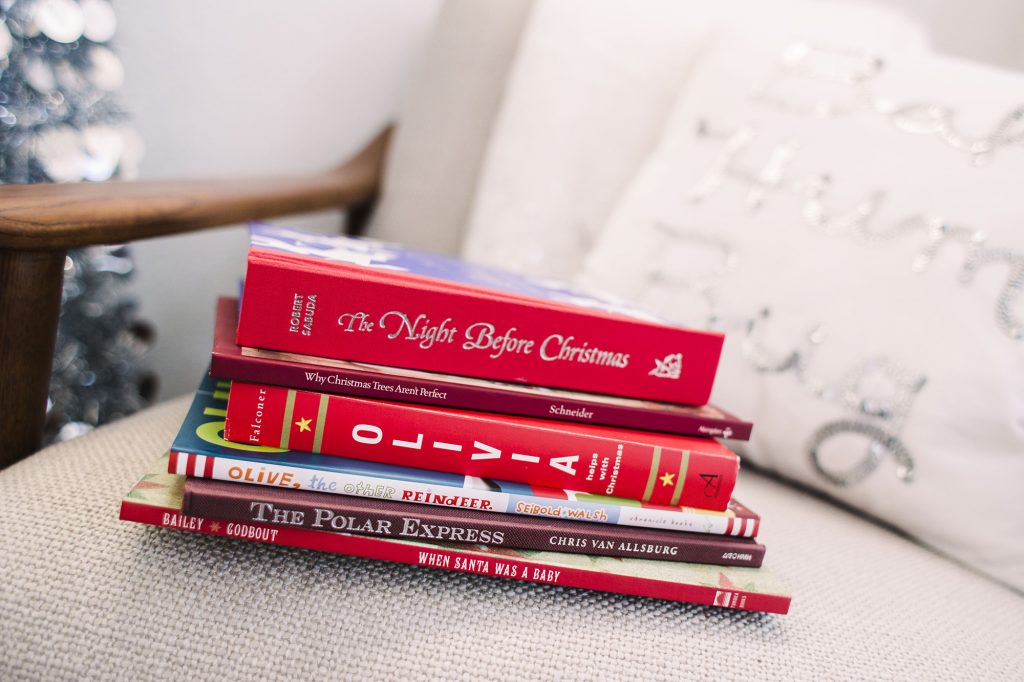 I have the fondest memories of pulling out favorite Christmas books each year as a kid and it's been so fun to continue that tradition with Crew. Our stash has grown quite a bit this year, as we've moved firmly out of the baby/board book phase, and into the "real" storybooks. It's fun to pull out old favorites, and discover new works and authors.
WHEN SANTA WAS A BABY. For a little boy who LOVES to talk about how he used to be a baby, and thinks Santa is his bestie, this book hits all the right notes. Love the illustrations in this and the story is so charming.
THE POLAR EXPRESS. Of course. Whether or not you have a train fanatic, this is a classic. And hit home especially hard this year when we were able to ride a "Polar Express" train in a nearby town and Santa handed out bells. The movie has been captivating as well!
OLIVE THE OTHER REINDEER. Crew is drawn to stories with animal main characters, so I knew this one would be a favorite. Love the clever take on the classic song lyric.
WHY CHRISTMAS TREES AREN'T PERFECT. This is one I remember loving as a kid and while it's still a bit wordy for an almost three-year-old, we paraphrase it to get the message across.
HOW THE GRINCH STOLE CHRISTMAS. Another classic and we are big fans of Dr. Seuss in general. Crew is starting to find the silly words and quirky characters funnier as he gets a bit older and understands the oddity of this writing style. Again, we love (both) movie versions of this fun story.
THE NIGHT BEFORE CHRISTMAS. We have a couple versions of this story but this one is, hands down, the coolest pop-up book I've ever seen. It's truly a work of art, and Crew is fascinated with each page (some of them interactive). For a rather wordy and old fashioned story (who is this St. Nick they speak of?! And why is he smoking?! LOL) the elaborate art keeps him engaged and following along.
OLIVIA HELPS WITH CHRISTMAS. Crew has been an Olivia fan for a while — he gets a kick out of her naughty antics. So of course, this was a natural pick to keep the mischief going.
THE SWEET SMELL OF CHRISTMAS. This was one of the books that really helped Crew to "get" the whole idea of getting ready for Christmas (decorating, baking, etc) but also that Santa just comes on ONE night, not all month long. 🙂 Plus the scratch and sniff stickers are a fun sensory way to experience the season.
(Looking for younger readers? We've loved both Little Blue Truck's Christmas – complete with twinkling lights at the end! – and Dream Snow by Eric Carle — love that you can feel the bumps of snowflakes!)
I'm a sucker for children's books in general, so I love to hear what others are reading. Which good Christmas reads did I miss??