Thank you for all of the kind comments and emails about our news. I promise this won't turn into an all-out baby blog going forward (and after this one, I'm done posting pics of sticks I've peed on!), but you'll have to forgive the next few posts, including this one, as they're a product of this secret we've been keeping the past several weeks, but couldn't talk about!
We had a scare early on (more on that below), which prompted us to wait a while to tell even our immediate family. Because of this, there has been no one but Page to listen to my little outbursts as I'm learning my new body and lifestyle during these early months, and there have been some scary and joyful moments we had to keep to ourselves early on, neither of which I want to forget. Below are some of the little stories that I couldn't yet share in the early weeks, but want to blog and remember…
1. The first person I told was my dental hygienist. Not that she and my dentist aren't great people, but it was hardly the romanticized version of "sharing your news with your inner circle, first". What can you do, I had to let them know so I wasn't given x-rays and fluoride treatments…it was still a fun moment full of hugs. 🙂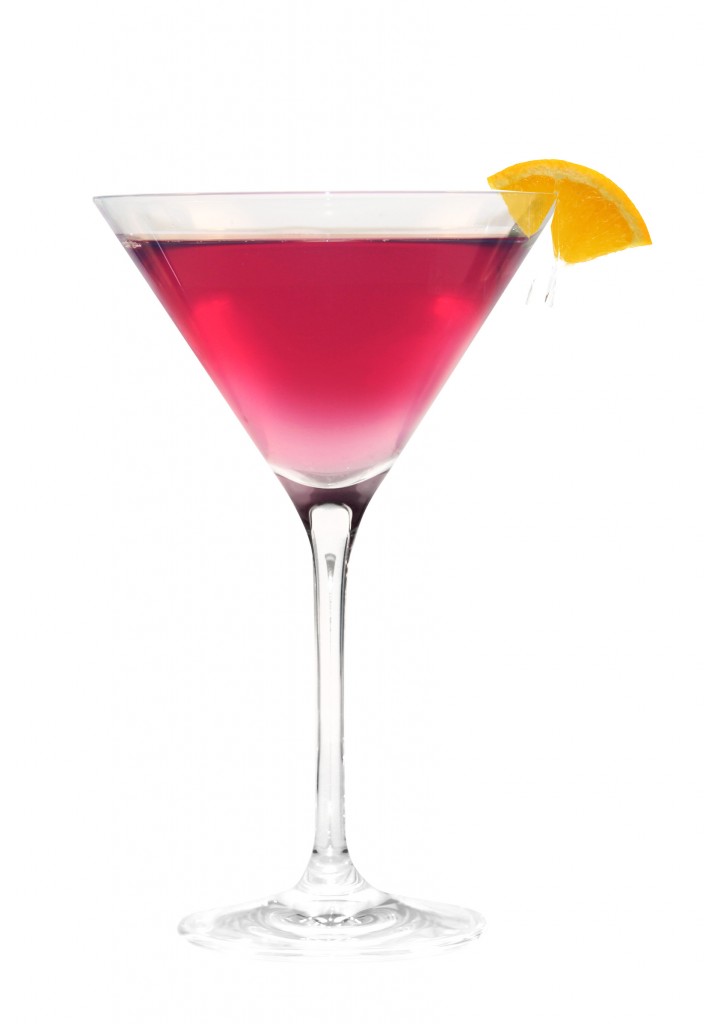 2. Fake drinking is tricky business. Within days of learning our news, I had to master this art for a variety of events from my sister-in-law's graduation to a work cocktail hour and dinner. It can be done — but you either commit to getting to an event dorky-early (so you can befriend the bartender and swear him to secrecy) or you team-drink with your hubby, taking fake sips off a drink that matches his, and swapping when no one is looking so they both empty over time. I think Page was okay to take one for the team on this. 🙂 I also took tacky to a whole new level on more than one occasion, carrying my drink to the bathroom with me, so I could pour it down the drain. Eventually, I got more lazy about covering it up and figured eh, soon enough people will find out anyway!
3. Decaf coffee…is bullshit. Thankfully, when I got to my nine-week appointment, my doctor assured me that I had permission to drink a cup a day of the real deal. I may or may not have resisted kissing her, and then hit up the Starbys drive-through on my way home. (On a related note…non-alcoholic wine is a total letdown as well!)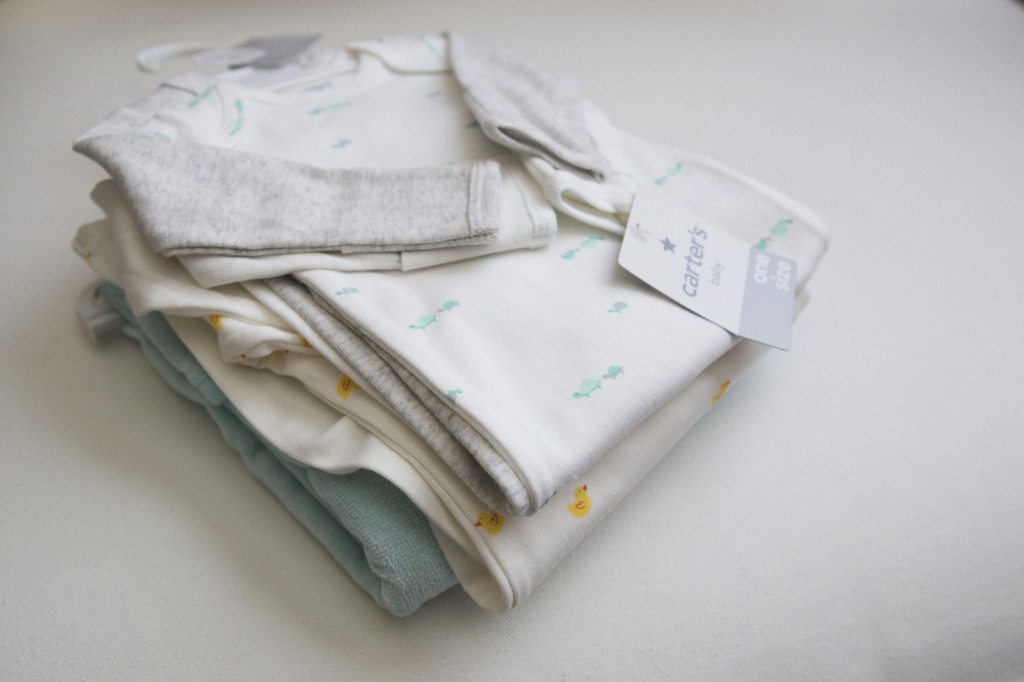 4. I didn't cry when we found out. I always kind of thought I'd cry when the day came that a test came back positive. But we were so shocked, more than anything. And kind of just didn't believe the test was right. We knew that pregnancy was a small possibility, but SO small that I had actually taken the test more to "rule out" that pregnancy was what was going on with me during a stomach bug. We hadn't actually entered the phase of really "trying" yet and I think because of this, we weren't yet in the mindset of longing and wanting enough to have tears of joy and relief. (Obviously, we are thrilled and grateful for the news, but I share that story for anyone else who might feel bad that they aren't sobbing over their EPT stick!)
5. I had to look my mom in the eye the day after we found out. And say nothing. It was WAY too early to share the news even with family, and we weren't even out of the woods of it being only a chemical pregnancy. I was still processing the news myself, let alone ready to process how to tell anyone else. But as events would have it, my parents came to Des Moines the week we moved, which happened to be the day after we found out with a home test. There's something about moms… you just assume they know everything, instantly. In fact, when we were sitting at the half-packed house discussing what else was going to go/sell/head to storage, she asked about the grill on our deck. She said something like, "well, you know that's not good for you now", referencing some recent report about grilling and carcinogens in meat, but my brain shot straight to, "why? because I'm pregnant? because you KNOW I'm pregnant?!" I think I played it cool, but I felt like the truth was written all over my face.
6. The whole ultrasound experience was a whirl of information. We tried to make the necessary plans and lifestyle changes, but did little more than that between the time we found out, and our first appointment at nine and a half weeks to confirm there was indeed a beating heart in there. I experienced bleeding and cramping just shy of week six and was told by the doctor's office that it was a bit too early to verify either way via ultrasound.We know so many who experienced the common, "it went away" scenario, and we approached the next weeks until our first appointment with a lot of caution. It didn't become real for me when saw two pink lines on a stick. It became real when we finally got to see this wiggly little nugget squirming around on the ultrasound, and the flickering of its heartbeat.
It was a good moment I'll never forget and we laughed joyously at both being able to SEE some real proof of this tiny person, and at the miracle of it all. As soon as the ultrasound screen roared to life and we saw what was clearly a moving, lively fetus (yay!), we immediately spotted what appeared to be a second (empty) sack on the ultrasound. Between that and the cramping/bleeding I experienced three weeks prior, we were told that while there's no way to know for certain, it's quite possible the pregnancy began as twins. From learning our baby was in great shape, to learning we likely lost a second, this was a lot of information to get in a single minute – I think I'm still processing this one – but it was all in all a wonderful memory of relief and happiness.

7. Hearing the heartbeat = top ten coolest moments ever. Thanks to a friend at work who loaned us her at-home doppler, we were able to find the heartbeat in the eleventh week, at home, knowing that Page would be out of town for the next regular appointment in which we'd have otherwise heard it for the first time. We were prepared for it to not work well (the home ones are sometimes unreliable) but it came through, loud and clear, in the 170s, and we raced to record it on our phone. (You can download the sound byte by clicking the audio link above!)
8. Ah, nausea, my constant companion. I felt GREAT through my first six weeks (fortunately, since we were moving and there was no time for pause!). Then, week 7 hit and for a couple days, I thought my life was over for the coming months. Fortunately I learned some coping mechanisms, but I was nauseous at some point every single day for about six weeks. I never actually got sick, or had any crazy cravings, it was more that NOTHING sounded good , and the scale has reflected that – the one ray of light in this situation. I was also WORN OUT by the end of the day and would collapse into bed super early – 9pm became the new 11.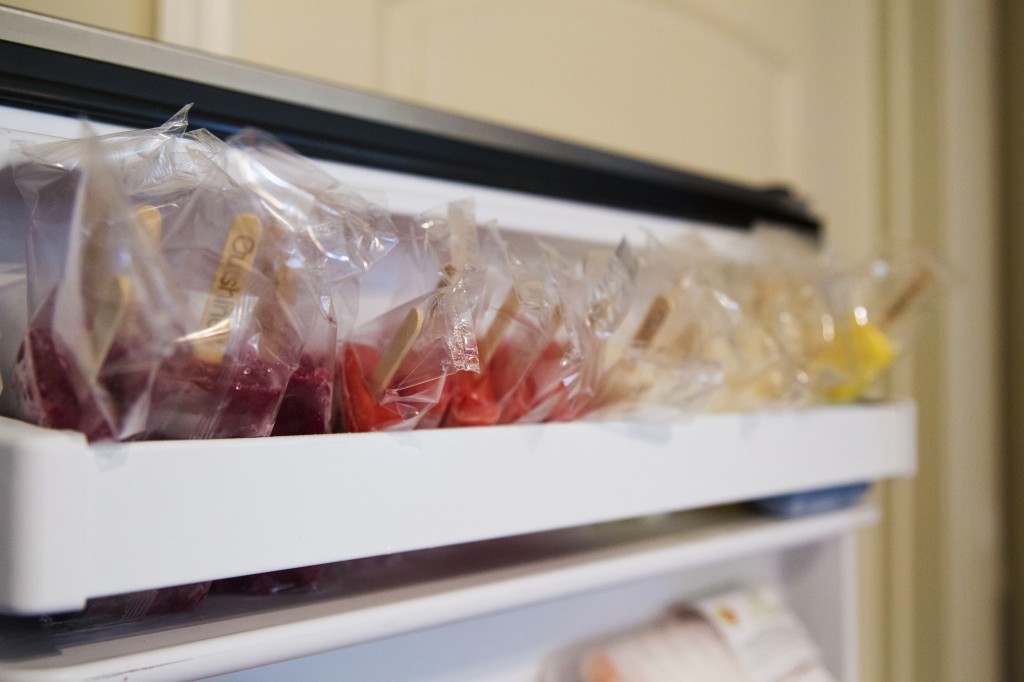 9. Just call me Uncle Si. You know how crazy old Si on Duck Dynasty always has his "tea cup" in his hand? That has been me, but with a huge pink tumbler of ice cold sparkling water. All. the. time. It's what has worked for me to keep my stomach as settled as possible. My other go-to has been popsicles. God bless Costco on both counts.
10. Telling work was nerve-wracking. This was the toughest place to keep quiet, because I spend so much of my time in our small office. For weeks, I felt like I was wearing a sign that said, "I'm pregnant!" between frequent trips to the bathroom, suddenly rejecting coffee (and all food for that matter), and downing sparkling water and saltines like it was my new career path. I never worried they wouldn't be supportive or excited, but delivering news to coworkers comes with this major sense of responsibility. It's hard to JUST focus on the good news, without weighing it down with worries about maternity leave, hiring a temp, redistributing workloads, and not being able to travel in the later months. The time will come for those discussions (sooner than later, I'm sure!), but in the meantime, work has felt like a load off my shoulders to not be secret-keeping on top of everything else to do between 8 and 5 each day.
11. Telling our families was a lot of fun. Being married for nearly seven years, we have chosen to keep it "just us" until now, and shared that decision openly with our families. We had recently alluded to some changing priorities, but the news still brought some sincere surprise, which made it fun. It worked out well that just as we approached the end of the first trimester, we would see both sets of parents in person — mine when it just so happened that my brother and sister-in-law were visiting from Korea (the first time in a year and a half!), and Page's parents, when he went through his hometown on the way to his guys' trip for the year.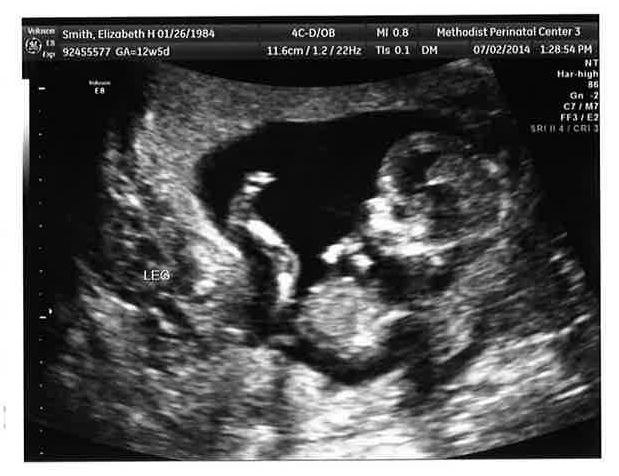 12. You DO start to feel better. There were weeks I thought I might never, but like clockwork at twelve weeks, I had a full day without any of the "icks". Then the next day, I had the tiniest bit, and by the third, I was back to feeling fine. It just suddenly dissolves, food smells, tastes, (and agrees) right again, and my evenings no longer revolve around crashing in bed at 7pm to watch Orange Is The New Black as a distraction from feeling awful. Hellllloooo, second trimester. I am more than ready for you!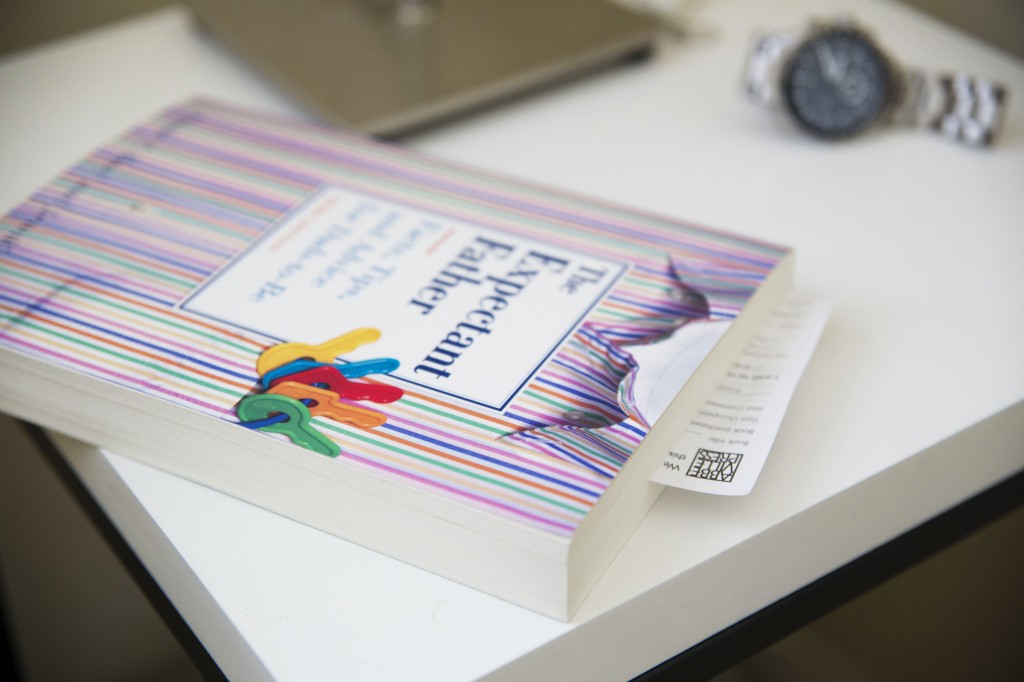 13. I'm excited for Page. We were never that couple that went on and on about family plans, in part because we've been so happy with "just us" until now, and in part I think we didn't want to jinx anything. But now that we're here, I almost feel like we're getting to know this new dimension of each other and at the same time, it all feels completely natural. While he's been very guarded during the first trimester until all checked out okay, he's also been visibly excited, which has been fun to watch.
If you know Page, he doesn't do ANYTHING halfway, and he hates to be out of the loop. So I ordered a book just for him, after scouring reviews (this one won major points from dad reviewers for being one that doesn't "talk down" to fathers-to-be — seriously, what's that about?!). I knew that, at the risk of driving me crazy with all his new "expertise", he'd devour it willingly. The above image warms my heart — he reads it unsolicited, folds down pages, and keeps it next to the bed. It's a small indicator of just how amazing a parent he will be to this new person on the way.
Anyone else have first trimester truths to share? I know I'm not alone! And, to play along with those who blog their pregnancy stats, here's my current rundown:
How far along: 13.5 weeks
Gender: I have caught myself referring to Squirt as "he" – but we'll know for sure in about 2.5 weeks!
Weight gain:   None – thanks to eating very little for two months, I'm down about 6 pounds from when I first found out
Maternity clothes: nothing yet, but some stretchy waistbands and comfy maxi dresses are always welcome!
Stretch marks: No
Belly button in or out: in
Sleep: falling asleep quickly and deeply
Best moment so far:  seeing 9- and 13-week ultrasound pictures and telling friends and family
Worst moment so far: cramping/bleeding scare at 5.5 weeks, getting poked in four spots before a successful blood draw for our first trimester screening (and eventually having it drawn from the back of my hand – OUCH!)
Miss anything: red wine
Movement: not yet
Cravings: fruit, sometimes donuts
Queasy or sick:  queasy most days until week 12, now feeling great
Looking forward to: 16-week gender appointment with both sets of parents and seeing our house start to take shape