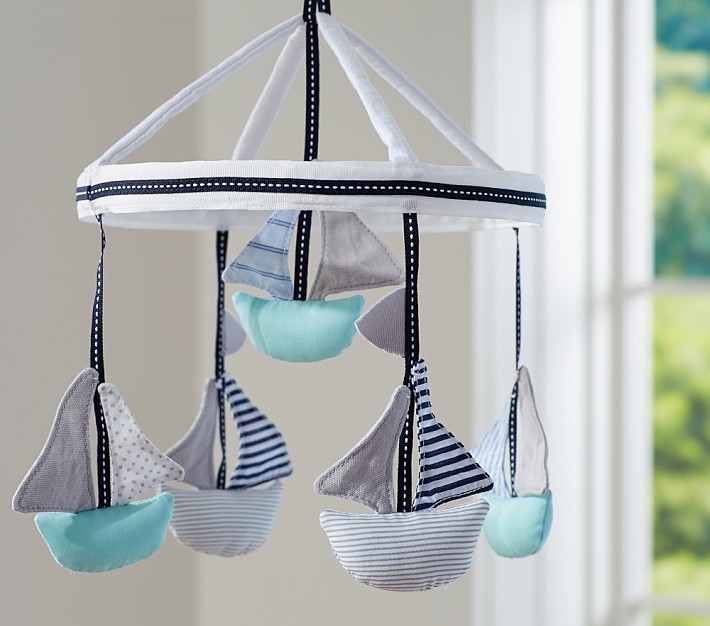 It started with a mobile, which Page was obsessed with even before we knew if this baby was a boy or girl. We were in Pottery Barn Kids one night, checking out cribs, and he was all about this. I loved the colors. Win-win.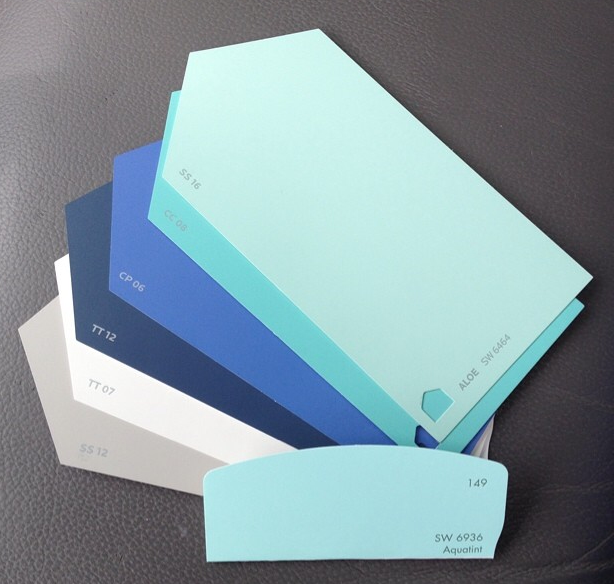 So next up are some paint chips, to get an idea of color scheme. The room won't be overly large, so I don't want to dwarf it with dark wall colors. I had thought about asking the nursery be painted a light aqua/mint color, regardless of boy or girl, and using it as my base for either palette. Page thinks it's girly and a lot of what he keeps calling "baby blue". We'll see how that all shakes out. 🙂 Meanwhile, we've picked out a dresser…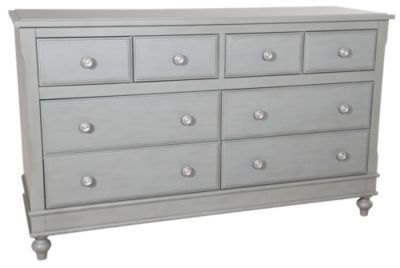 and a crib…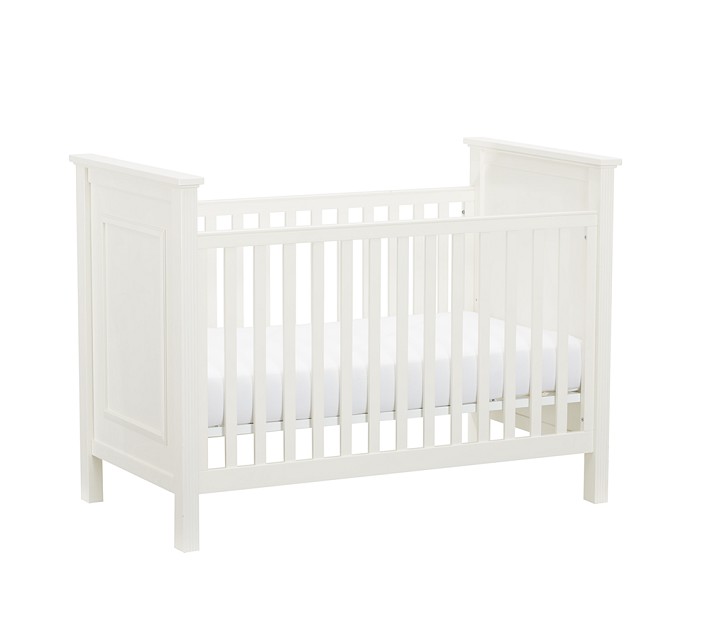 …and our glider..
…and some odds and ends to bring splashes of color into the room…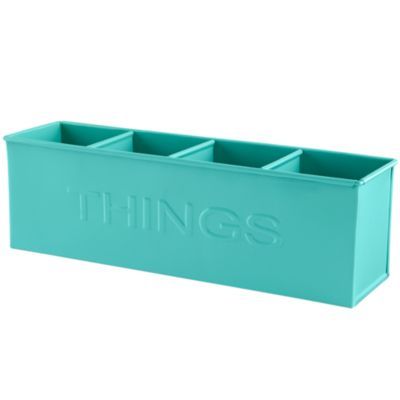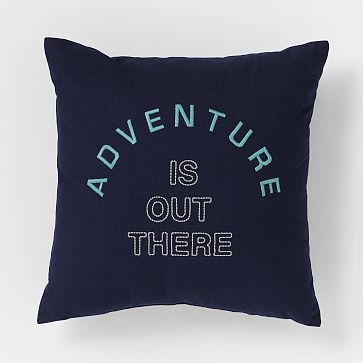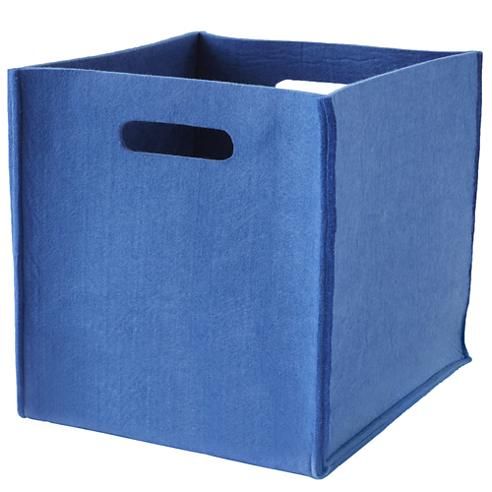 (Bins from Land of Nod, pillow from West Elm)
There's no room to stash much right now, but that somehow has not stopped me from beginning to collect things — a cool navy sailboat blueprint canvas, a striped blue/navy/white bin to hold wipes and diapers on a changing table, and of course adding some fun decor pieces to our registry!
Switching gears, I'm trying to lump some baby info together in fewer posts so it doesn't TAKE OVER the blog. For anyone following along and posting their own versions, here is my monthly rundown of pregnancy stats (and a plea for someone to clean that dirty bathroom mirror!) 🙂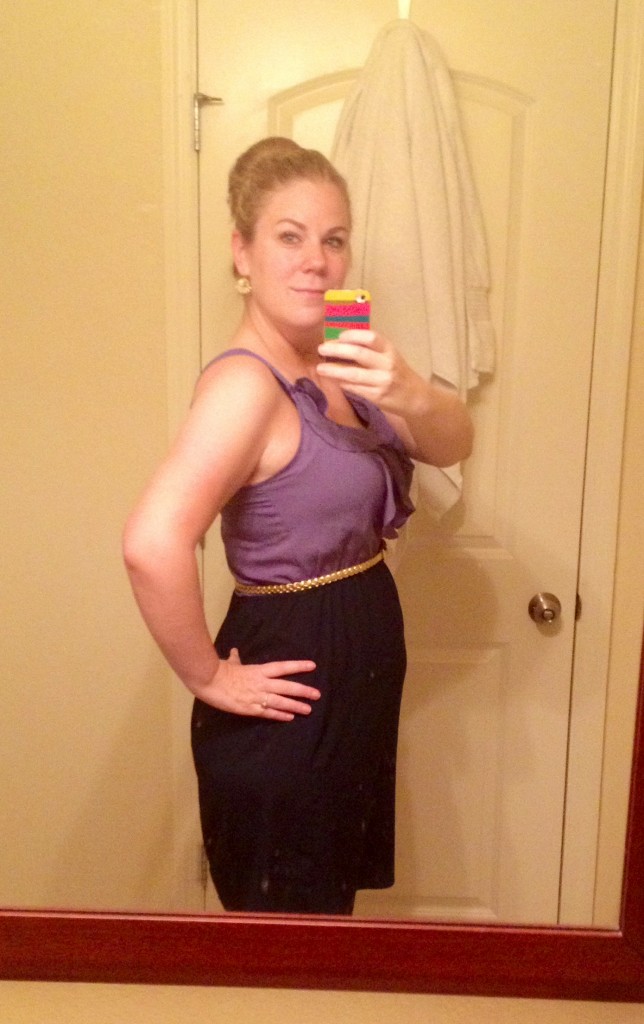 How far along: 17.5 weeks
Gender: BOY!!!
Weight gain:   None – Eating more now, but still down about 3-4 pounds from where I started
Maternity clothes: Some under-belly cropped leggings, but otherwise just stretchy waistband pants/skirts, and lots of dresses
Stretch marks: No – but I've started the cocoa butter bedtime routine!
Belly button in or out: in
Sleep: falling asleep quickly but waking up to pee at least once a night
Best moment:  sharing our 16 week u/s with the grandparents, learning we have a SON on the way
Worst moment: having our build pushed back yet another week, this time because of city permitting (sigh)
Miss anything: red wine
Movement: not yet – anxious to feel these "flutters" I keep hearing about
Cravings: any and all dairy – milk, chocolate milk, yogurt, cottage cheese
Queasy or sick:  400% better than during the first twelve weeks – and more energy all day long!
Looking forward to: 20-week ultrasound, shopping in Chicago later this month! 🙂
If you will choose an inexperienced or new lawyer, than you might be face prada sunglasses for women some problems. For instance you make prada sunglasses for women a claim for road accident damages, then your choice of lawyer could possibly be decided on whether or not they are members of the Motor Accident Solicitors Society (MASS). This organisation comes with an accredited panel of vehicle accident experts who can deal with lots of Cheap Louis Vuitton Handbags Outlet the problems that occur from such incidents. This is a great possibility for prada sunglasses for women men and women who do not have louis vuitton sunglasses women the supplementary sources accessible to retain a legal representative out of pocket.
It has not put off people prada sunglasses for women trying to acquire a foothold into the business and this article discusses how young aspiring lawyers can get a head start in their legal career. The expectation is that genuine claims get paid, and bogus statements never. Up coming, the adjuster will coordinate care and act as a liaison between the injured employee and Cartier glasses the insured. In an car claim, you could have 4 diverse folks managing the declare.
Rely on me, if prada sunglasses for women the statements seems as even Cartier Sunglasses Men though it really is fraudulent, they will know,