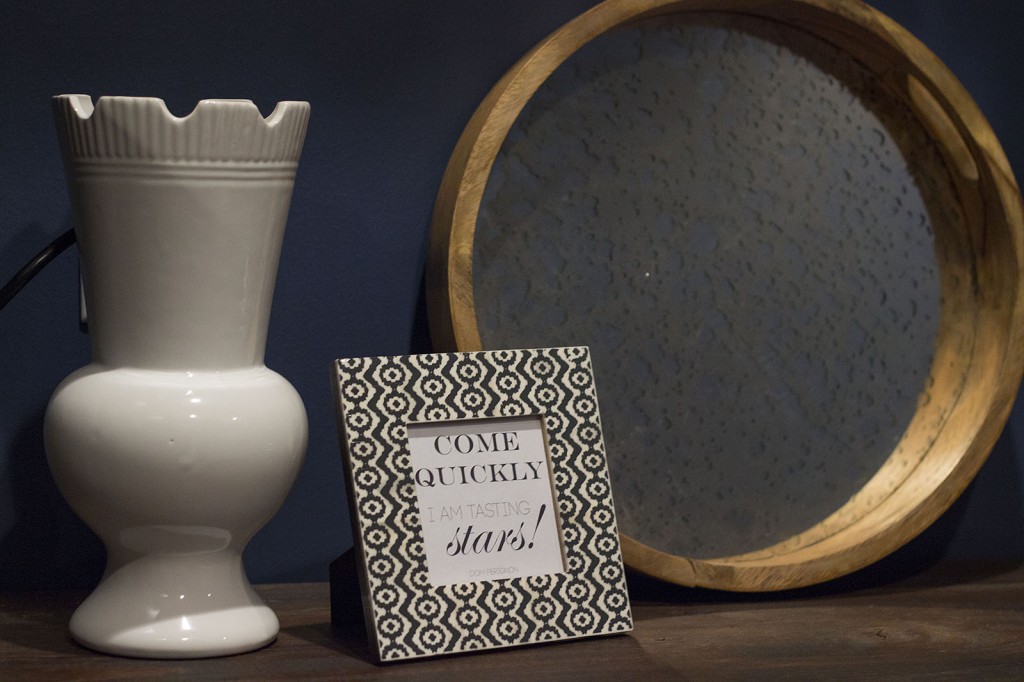 You've probably caught wind of my excitement by now that basement progress has resumed in the past few weeks, finished just in time for a party this past weekend. There are a couple last details being finished up now, but pics of the whole reveal are soon to come. For today, I'm excited to show our completed BAR!
I've been trying to keep the basement series of posts to only a handful, so that each post shows some real progress and not each of the fifty (million) tiny steps it has really taken to get to its current state. But while I mentioned putting together our bar in the last "Basement Diaries" post, I thought this area warranted its own post as to how we went about DIY-ing it.
We started with standard-sized unfinished cabinets from Lowe's. Armed with the dimensions of the various pieces available, I used Illustrator to lay out options until I had a configuration that I liked and that would fit the corner we had deemed bar-space. (Note: we added spacers between the top/wall cabinets so that their total width would perfectly match the width of the floor/bottom cabinets — you can pick these spacers up in the same aisle where you'd find cabinets in the hardware store.)
Once the cabinets were delivered, I applied a coat of Sherwin Williams wood and wall primer. (I purposely wanted a little wood grain to show through, but to avoid this, I would have applied a second or even third coat of primer.)  Already knowing I wanted to do them in a dark grey, I attempted to do a little thrifty recycling and reopened the leftover paint from Page's office (Valspar's "Storm" from Lowe's). Two coats of "Storm", and two coats of polyacrylic sealer later, the painting portion of the program was done just in time to break for the holidays and some carpet installation.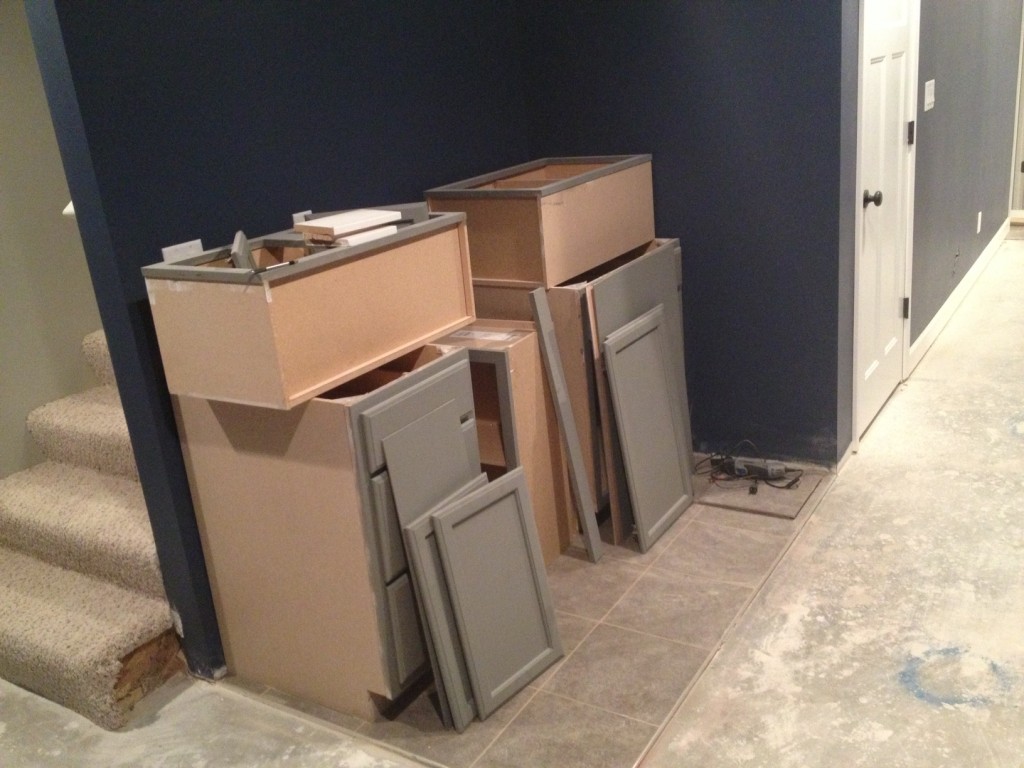 As for the sink base cabinet, they didn't make one in the width we needed (only wider or narrower) so we bought a regular base cabinet and I simply removed the actual drawers and railings, adhering the drawer front only back onto the front of the cabinet as a facade. This left room inside to drop a sink in, later.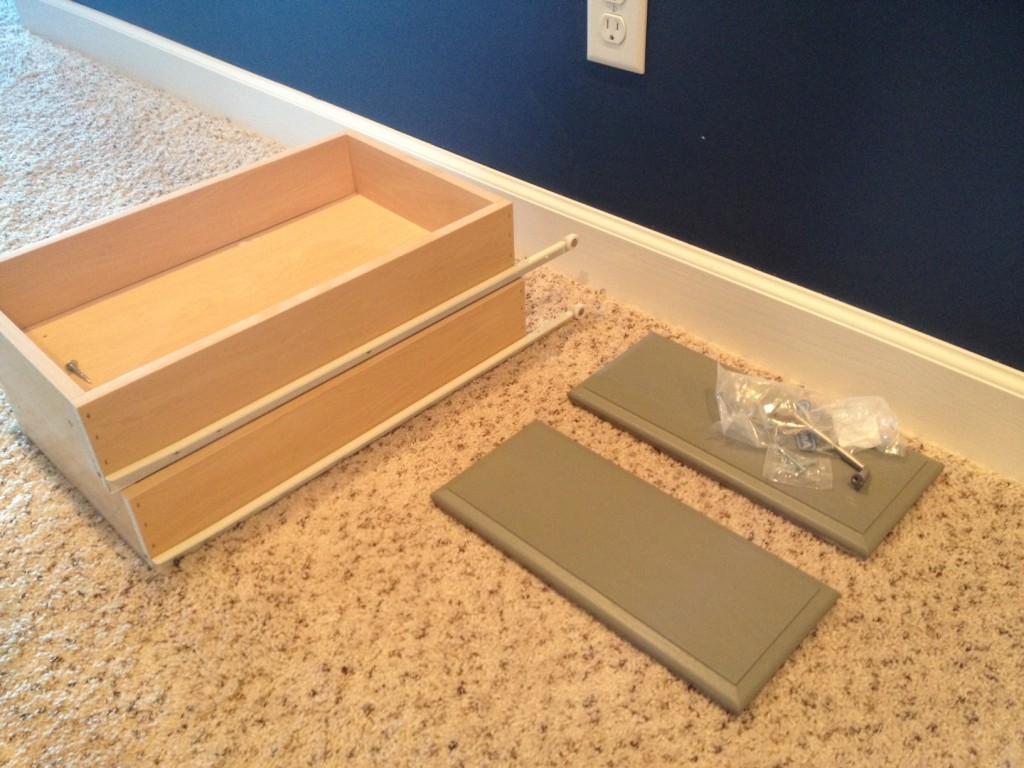 I ordered our hardware and with Page's help to drill the holes (I am SO not a careful measurer!) I wrapped up this step by attaching all the pieces to the doors and drawer fronts.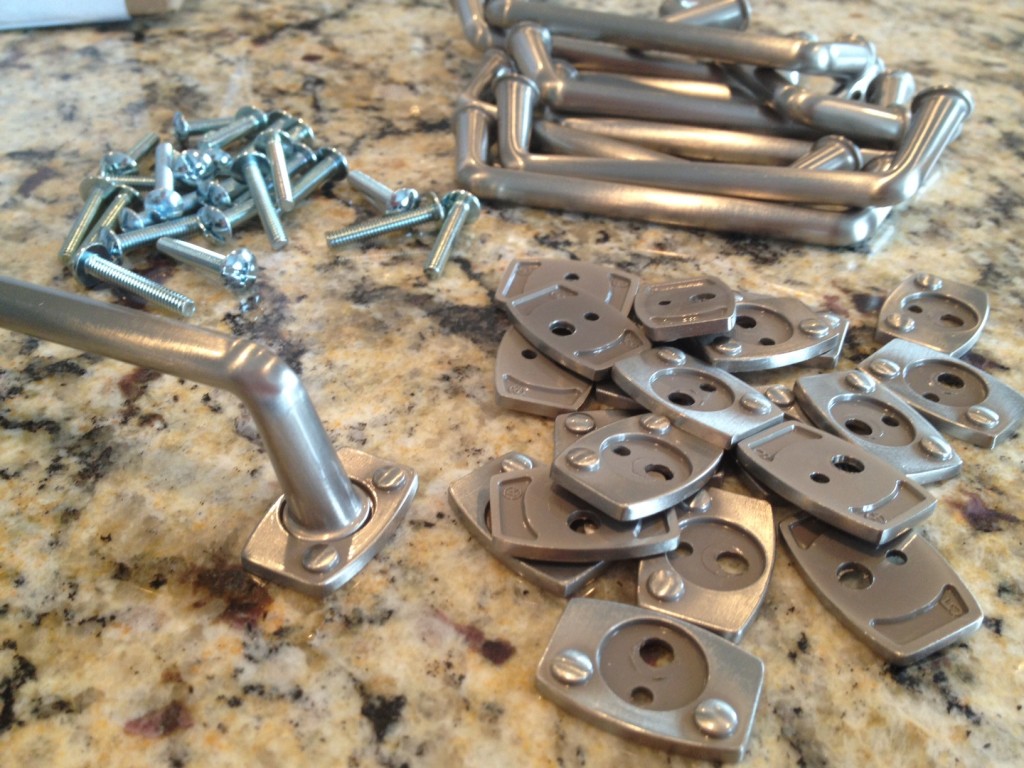 Meanwhile, it was time for the counter. We had weighed options like a remnant piece of granite or a piece of stainless steel. In the end, this was a place where we could cut back on cost and still love the result so we went with a thriftier option (this cost us less than 100 Washingtons!) that was a little more one-of-a-kind. Following a plethora of Pinterest tutorials, I put together a plan to make a stained, plank-style countertop. While this was, in theory, part of the basement plan that I thought I could do myself, I did need a little help intervention when it came to cutting down the planks to the exact length we needed.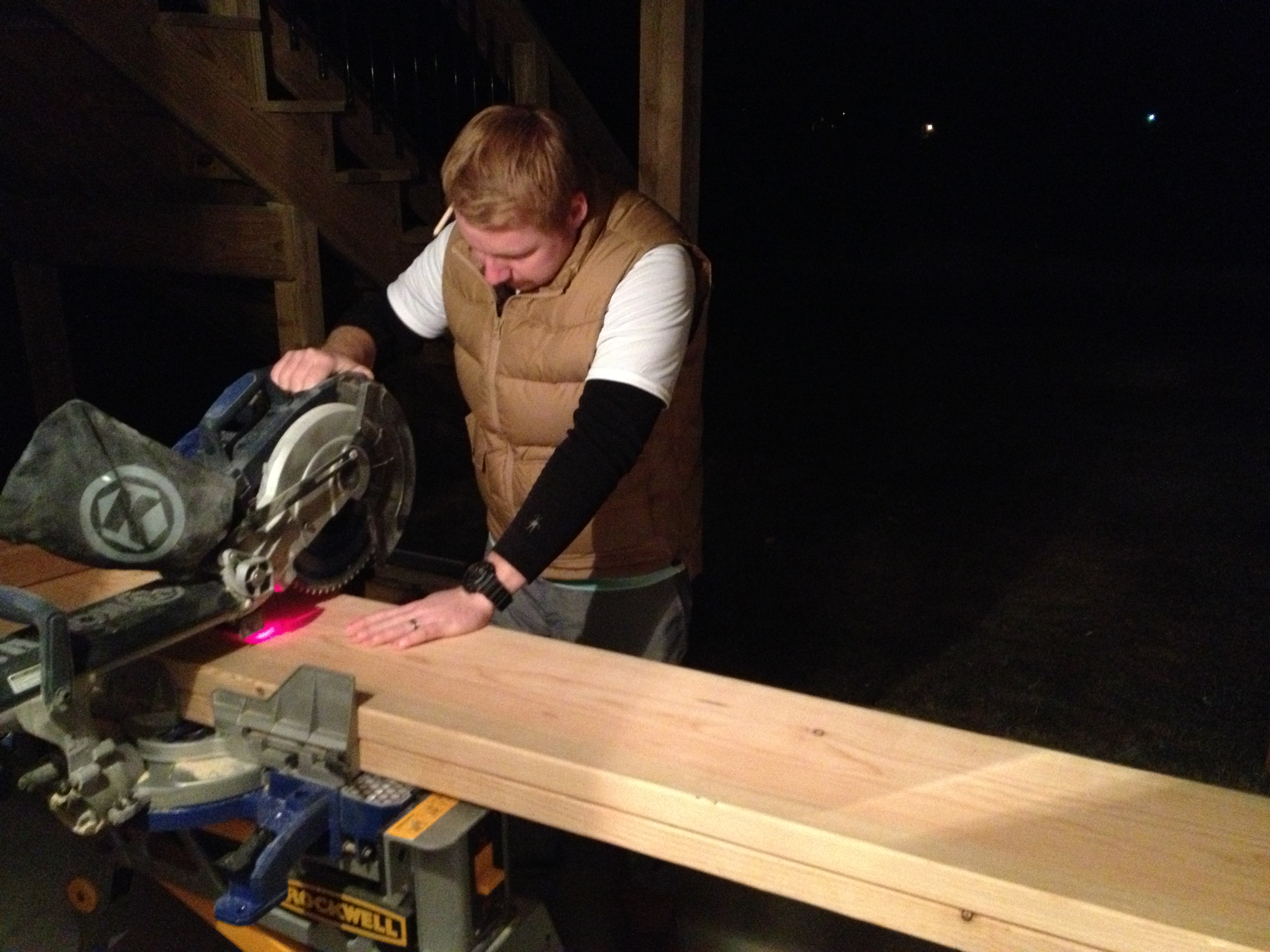 We took two 11-inch-wide pieces of pine and cut them to the exact length we needed (in our case, 70″). To get the depth right, we added an additional 2×4 strip in the back. We lined them up and traced around where our sink would go and Page cut each of the boards along the sink lines with a jigsaw.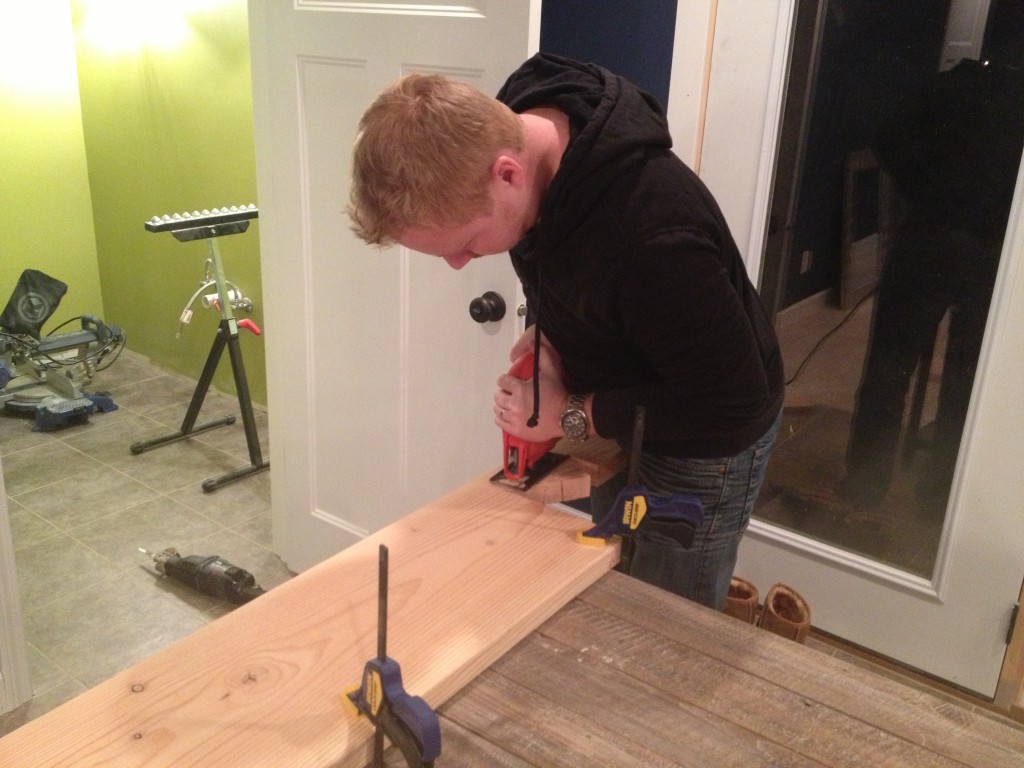 I gave each piece a good sanding and glued them together using Liquid Nails then used vices to clamp them tightly together while they dried.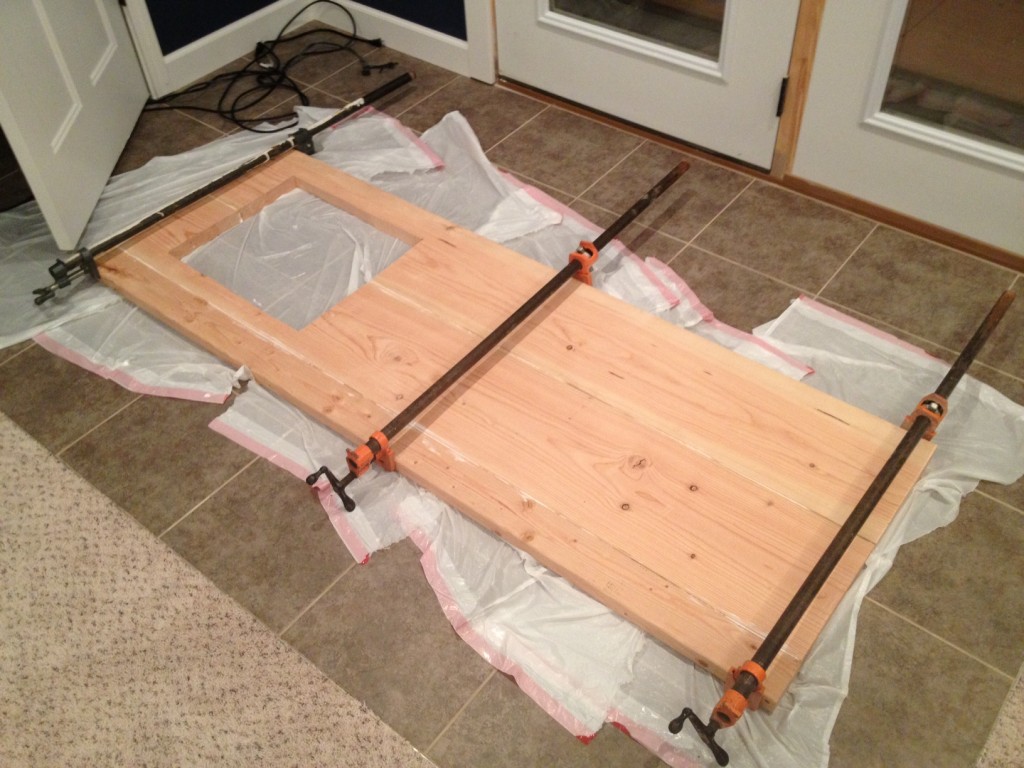 We let them dry for a full 24 hours before I filled in the seams with stainable wood filler, which I left on for several hours before sanding the whole counter smooth. We set the counter on top of the bar to ensure everything fit properly before I began staining. (Note: the counter is pulled away from the wall in the shot below, there is not really that much over-hang.)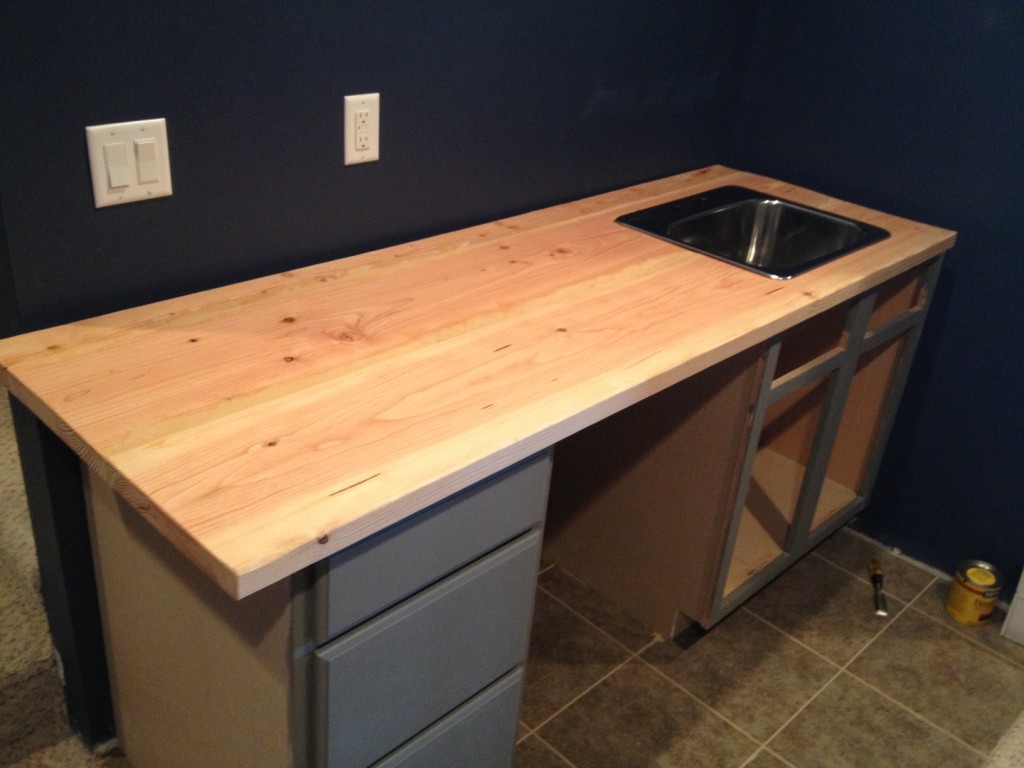 I have stained a couple things before but had never heard to use wood conditioner first. It definitely made my coats of stain go on more smoothly! You can see the deep color that came through in the very first coat…I was so happy with the color! (Yep, cleaning gloves = staining gloves.)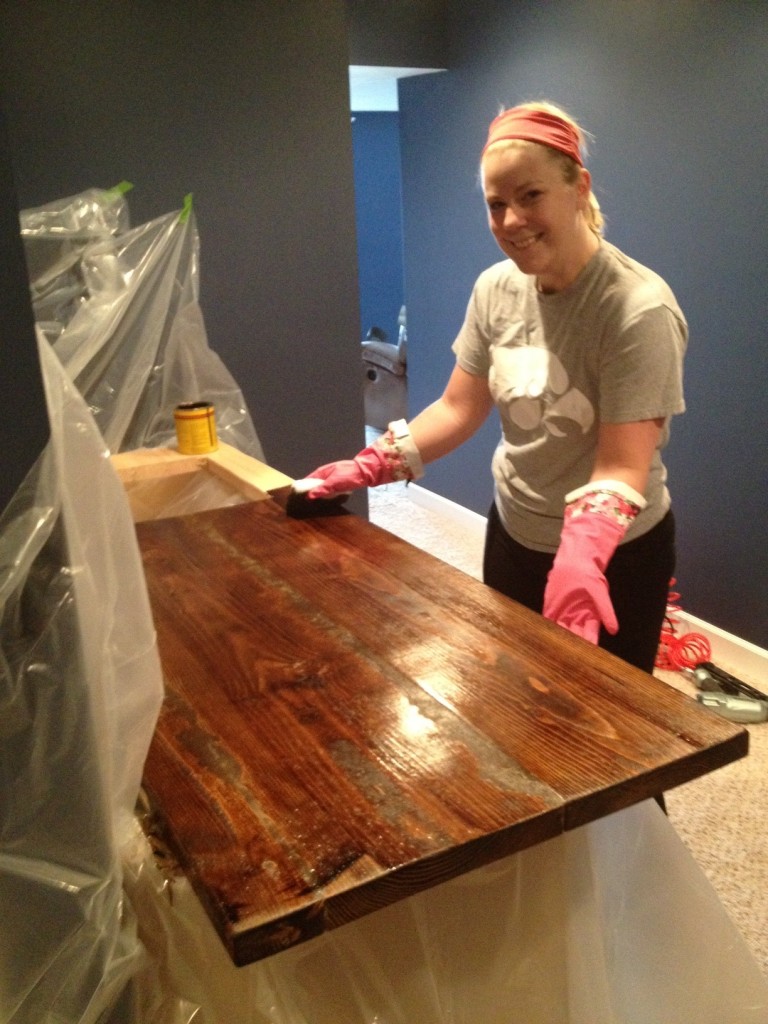 Two thick coats of dark wood stain (left on about 15 mins each time to further deepen the color before wiping away the excess), three sealing coats of polyacrylic spray, and a final 24 hours to fully dry, rounded out the finish for the countertop.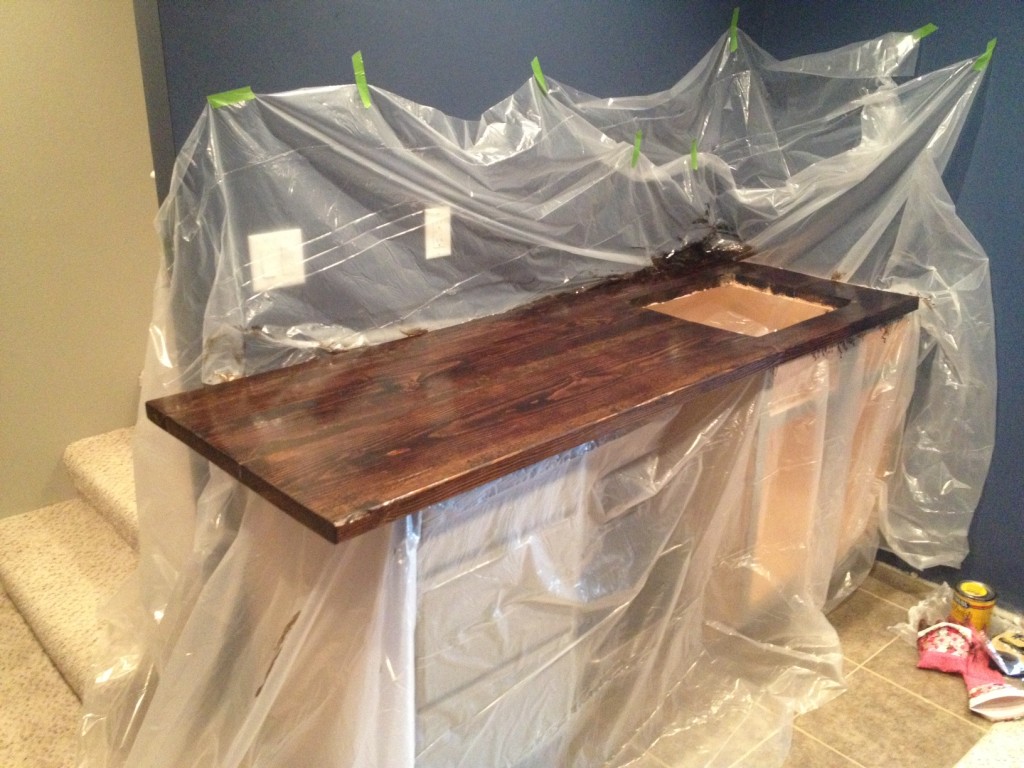 (You all know what happened next…Pager tore his ACL on a ski trip and doing any work down here was physically out of the question for several weeks as he underwent and recovered from surgery. We could have hired some help but we were SO close to being done and knew just what we wanted and as impatient as I can be, the truth is we were in no rush. So fast forward through some calendar pages….)
In early June, our super-helpful friend, Chris, came over to help hang the upper cabinets (we swapped services as I helped his wife plan a baby shower…but we definitely got the sweet end of that deal!). Here's the pic the guys texted us once the three pieces (and the spacer pieces in between each cabinet) were up on the wall. It was so exciting to see something new down there after such a long break. Tools + Beer = Successful Install.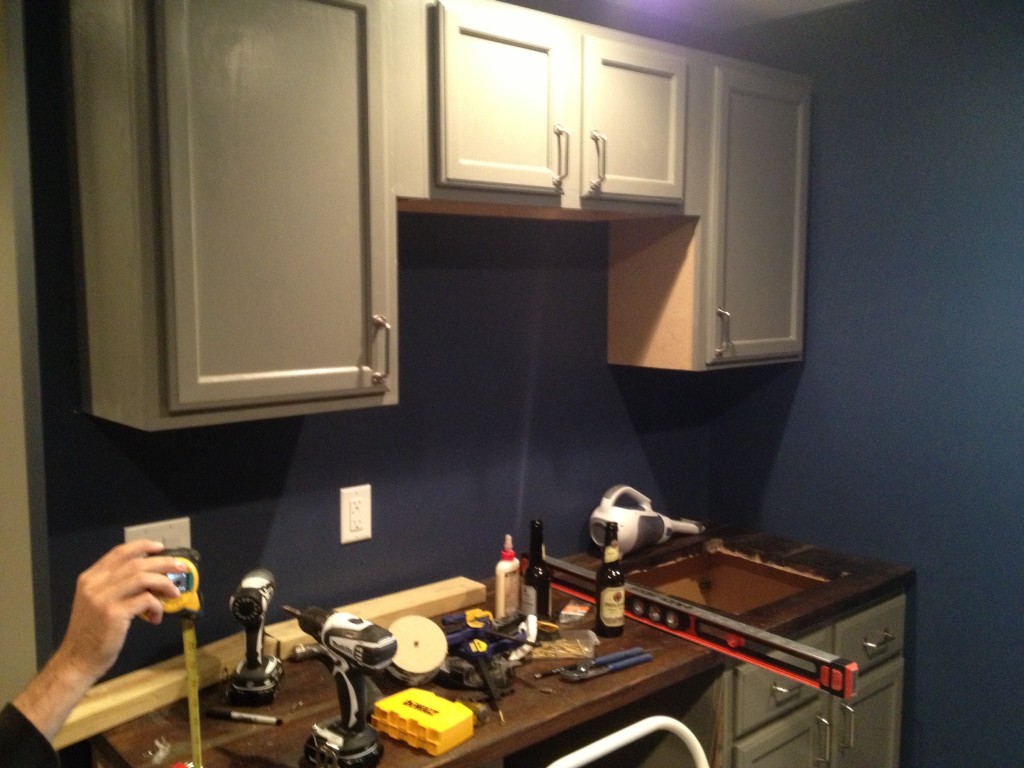 Following this picture, the end cap pieces I had painted were adhered with construction adhesive and I added some bumpers (similar to these) to the insides of the doors/drawers so they wouldn't slam when closed. The plumbing was hooked up and the sink/faucet added, but not before Page discovered the standard sink clips that came with the install kit weren't big enough for our extra-thick counter top. (Good to know if you plan to create a similar type of counter — the ones we needed had to be special-ordered.)
We added a beverage fridge among the bottom cabinets (thanks, Amex points!) and hooked up our counter top wine cooler (thanks, Mom & Dad!). We relocated the wine glass racks I originally added to the red hutch (that's now in our guest room, where we HOPE wine glass racks aren't needed), and installed them under the center cabinet. After adding some trim to the tops of the cabinet (made a big difference in helping them look "finished"), our only future item is to look at some under-cabinet lighting options to go under the two longer/lower cabinets.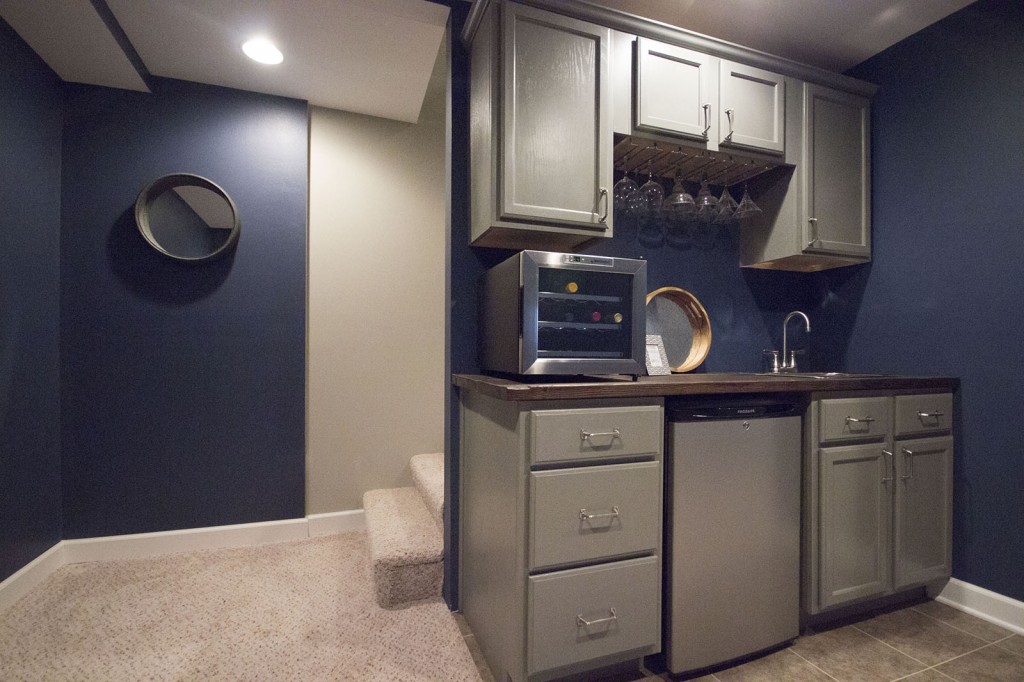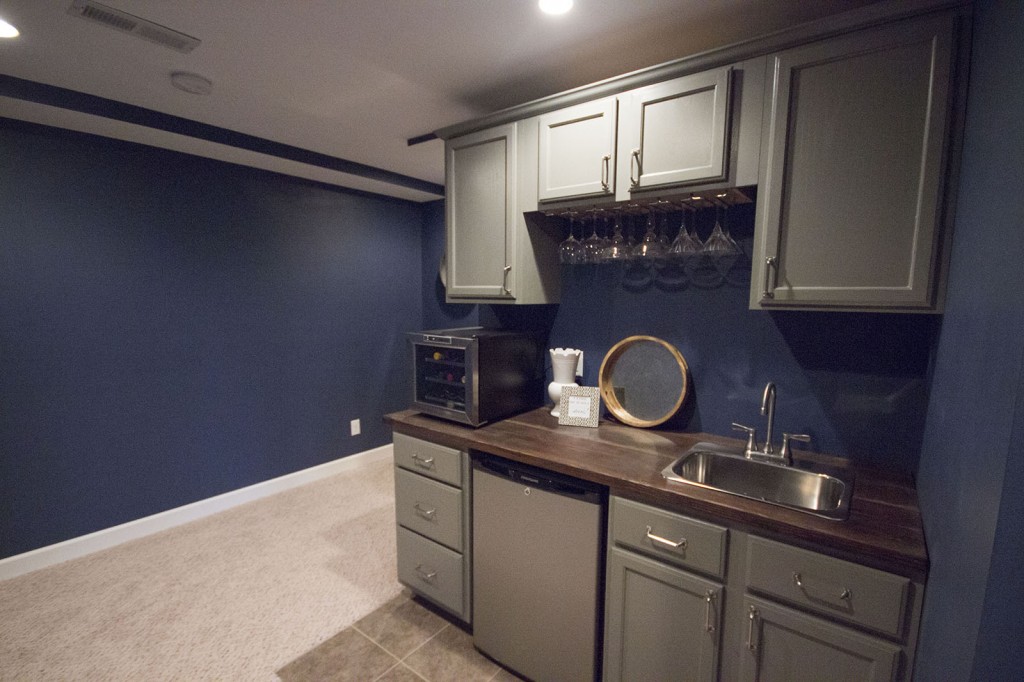 It was an all-out, one-person party filling up the cabinets and drawers with lots of entertaining goodies. Voila – our DIY bar! Celebratory completion martini, anyone?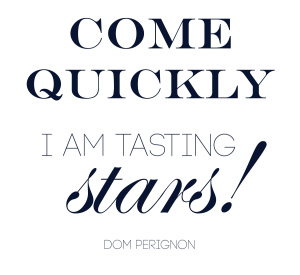 And as a special "share the love, we're celebrating!" type of thing, feel free to print your own Dom Perignon quote for yourself! You can use the settings in your printer to create it as a full page (roughly 8″ x 8″)  or scale it down to fit a smaller frame (like mine, which is 4″ x 4″).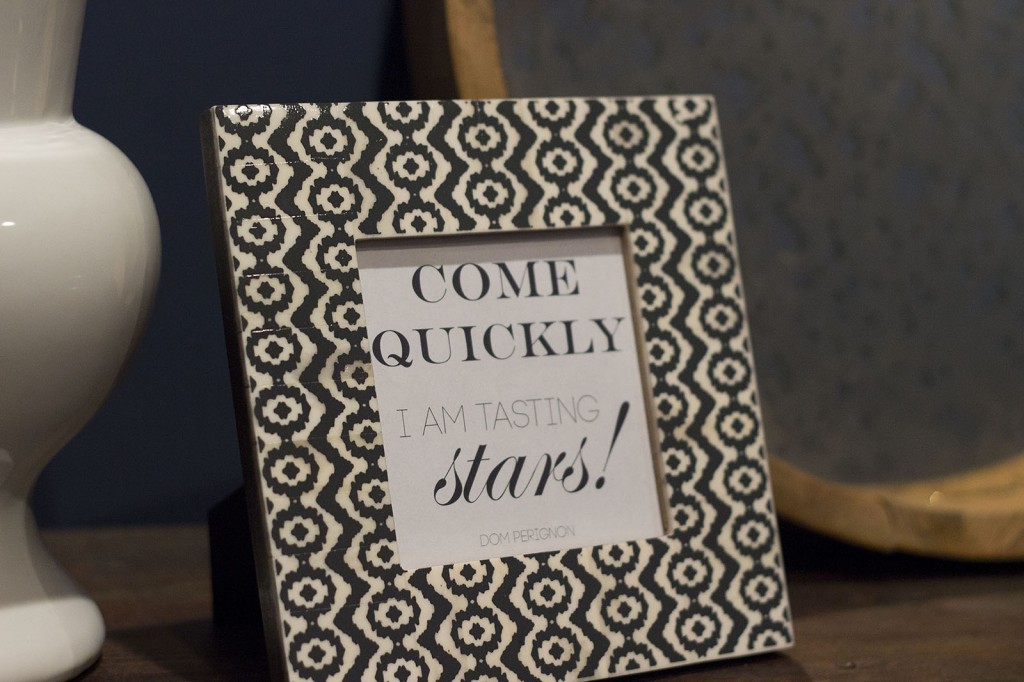 To download, simply click or hover/right click over the words below:
Back soon with the rest of the tour…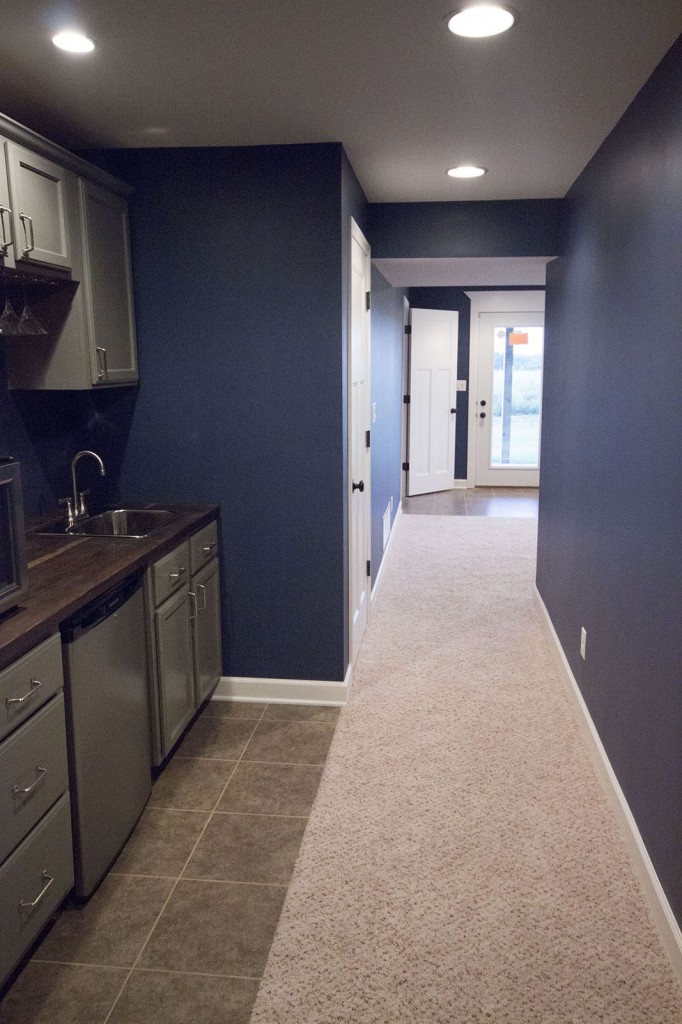 Linking up today with Home Stories A to Z!