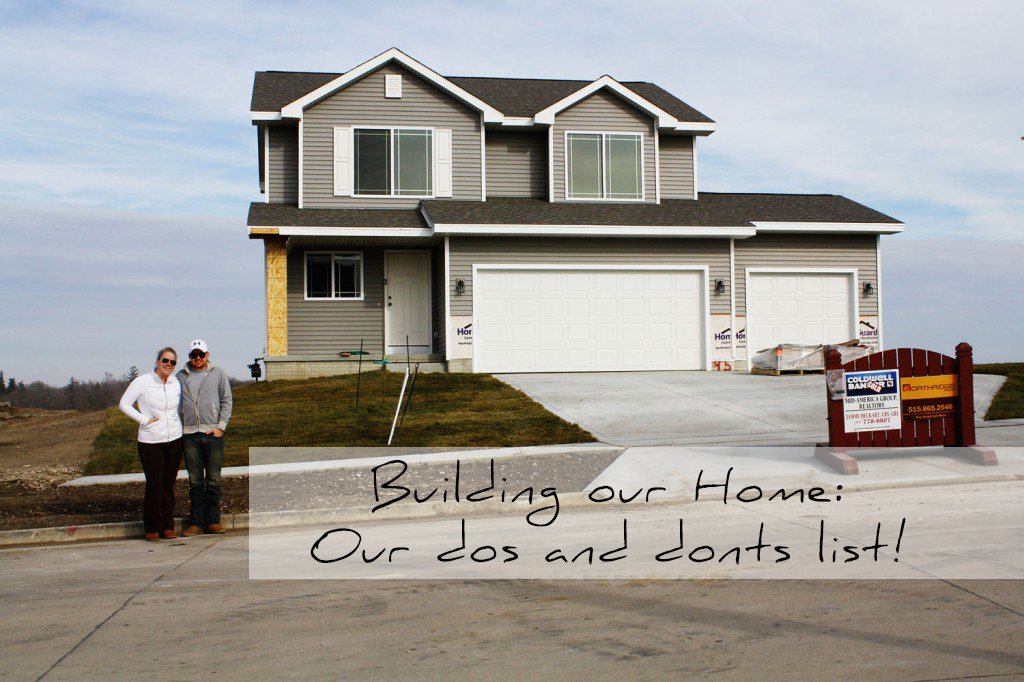 A year and a half ago, we signed an offer to buy a lot and begin building a home. We had never built before, or even purchased ANY home, none of our friends had built, and we threw ourselves into a process of "learning as we went". Here we are, in all our pre-groundbreaking excitement… 🙂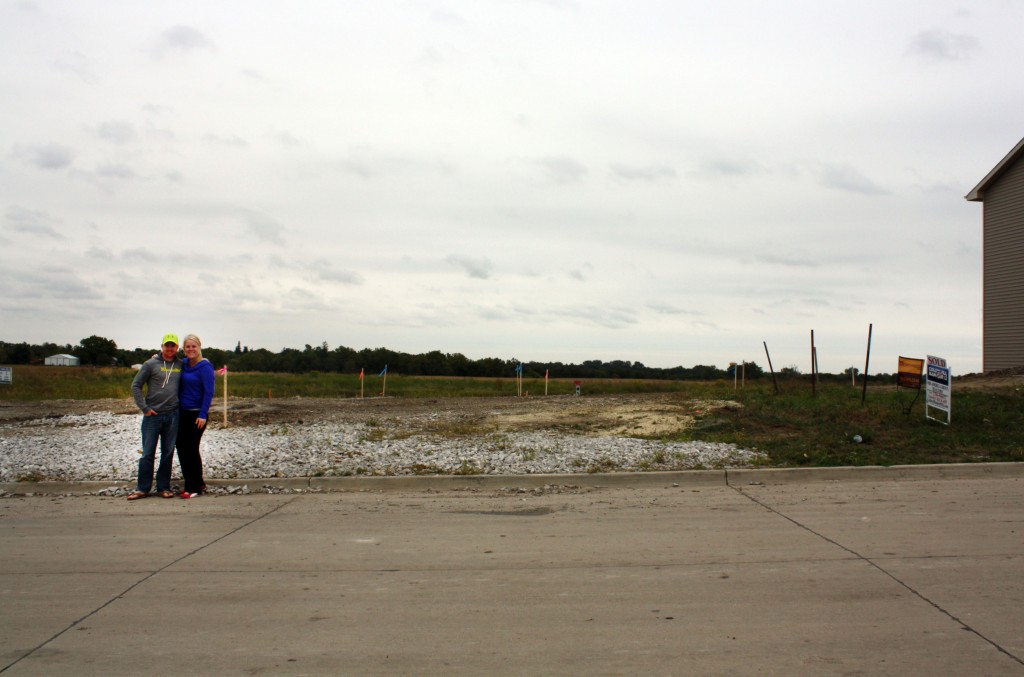 Since then, I've been asked by a few people if we'd do it again or if we'd do anything differently. The answer to both questions is "YES!" and after getting to know many of our neighbors, who also are first-time builders, I feel like I have a collective pool of advice to share with anyone considering building a home.
You can read the full series of posts on our build here for all of the week-by-week details. Below is our list of things we've learned, more than a year after moving in!
Shop around with builders and ask a LOT of questions. You are the customer, so don't feel like you're being annoying. Different builders own lots in different neighborhoods, so if there's a particular area you like, ask for a list of any/all builders who own property in that area so you're getting the "whole picture".
Everything is negotiable. Builders, just like sellers, want to do business. While the price of a floor plan is pretty "set" (as opposed to buying from a private seller of a pre-owned home where you can counter with a lower price), you can negotiate finish upgrades, floor plan changes, permit expenses, and more into the listed price. Work with your realtor to feel out where the "limit" of what you can/should ask for should be, but if there are a couple of "wants" at the top of your list that might seal the deal for you – simply ask for them. The worst the builder can say is no.
The "list price" of the house plan you buy WILL increase before your close date. We bought a plan, on a particular lot, at X amount. We very much had to pick and choose where we could spend some extra money, but by the time we upgraded the appliances, carpet, kitchen cabinets, added extra stone to the front, expanded the size of the standard deck, and added a handful of extra lights/outlets/etc the price had jumped. A good bit. Consider yourself warned. 🙂
Ask if you can do some DIY during the build. Every builder is different and at the end of the day, they have to put their name on the house they are building and they ARE the expert. But if you have an interest in running your own internet, wiring for speakers, etc, talk with your builder. They may or may not allow you to come in and do this yourself, with the supervision of his electrician. Technically, the house belongs to the builder until the day you close, but some may allow you to come in and install speakers, hardware, etc before that date.
Pre-wire for everything you can think of. Even stuff you don't need. You're BUILDING so take full advantage of having no walls yet. Pre wire for anything you can think of – ethernet, cable, future electrical in unfinished spaces, in-wall speakers, etc. It is a zillion times more difficult (sometimes simply not possible) to do this stuff later on.
If it's not already standard, opt for higher ceilings on the first floor. This didn't even cross our minds and the standard for our plan was 8 foot. I wish we had known to spend the extra money to alter this part of our floor plan. It's not a cheap upgrade, but one that would have been well worth the money for the impact. One of my (few!) regrets.
Don't assume that the options given to you are the ONLY options. We went to a specs meeting and were presented with five different backsplashes, none of which were majorly different from the next. FIVE. TOTAL. We did a little more research on our own and asked about a white subway tile – nothing like anything we had been offered. Customize and ask for pricing on a material that isn't "standard" – it's a great way to keep your house from looking like every other one in the new development.
Upgrade your appliances. Page is a MAJOR review reader before buying anything. Upon researching the "standard" appliance package, we read all kinds of less-than-great reviews, in particular about our dishwasher. Because the appliances are bought via the builder's vendor, the pricing is MUCH better through your builder than if you choose to upgrade later, at retail cost. So pay the money NOW to upgrade, when you get to take advantage of the discount. (While you're at it, ask if you can add on any other appliances not covered in your house price, as long as you get the discount. We saved a couple hundred dollars by buying our washer/dryer "from" our builder this way.)
Plan out your lamps, Christmas trees, and anything else you might want to plug in. Current building code calls for a TON of outlets as compared with older homes, but the beauty of building is you can put things EXACTLY where you want them. We had an outlet added to our living room floor so we could plug in laptops from the couch, and the lamp on the end table, without running cords across the floor (trip hazard) to the nearest wall outlet. We also added extra outlets in our master bath so they were on either end of the counter, rather than just one (no one's reaching over cords during hair-drying sessions). A year and a half later, we still haven't added the rope lighting we plan to above our kitchen cabinets…but at least we have the hidden outlets installed up there ready and waiting!
If there's a spec home of your plan (or similar) ask to walk through it during the day, and again at night. Even if it's not your exact plan, get a feel for what certain finishes look like during day and night, how much light the windows let in, etc. The downside of building is you don't get to walk through "your" house before deciding to buy it. Walk through every spec home of your builder's that you can and make notes. After going through at night, we realized we wanted to pay to add more canned lights in the kitchen. So glad we did – it would have been a very dim kitchen otherwise!
Finish it yourself. If you're even halfway handy, and have the time and interest, know that you can finish certain tasks for far less than what a builder will charge, and with the time/freedom to make some more customized choices. We saved about $600 by buying and installing our two garage door openers ourselves, rather than having them buy/install, and we ended up with nicer quality (quieter!) openers than the "standard" for our home plan. We took on larger projects as well, like finishing our basement ourselves. For what it would have cost us to have the builder finish the space "bare bones" (walls, paint, and carpet, no extras) we accomplished the same, PLUS we added a wet bar, a half bath, separate storage closet, and a media wall with built-ins…all for what it would have cost to have the builder simply drywall and carpet a four wall space.
Deck space is cheap "square footage". True, in Iowa we can't use it year-round, but in the warmer months, our deck becomes almost a bonus room off our house. The original plan for the deck was a square 12′ x 12′. I remember taping it off in our townhouse living room and being shocked at how cramped it felt. For something like $300 more, we expanded it by several feet and it feels much more spacious, with room for a table/chairs, grill, and still with plenty of space to move around. Another cheap upgrade was pouring an extra $100 of cement to expand the patio below the deck, to (someday) allow space for a hot tub, and additional seating, comfortably, without feeling cramped.
Run an extra gas line. Our neighbors would back us up on this one! We had one gas line already in place for our living room fireplace, but we ran another line on the opposite side of the house so we could upgrade to a gas stove (would do that again in a heartbeat – LOVE my gas stove!). In our neighbors' case, they ran an extra line for the basement level of their home. At the time of purchase, they didn't want to pull the trigger to put a second fireplace in downstairs (they run a few thousand) but if they ever want to down the road, they (or future buyers) have the option, ready to go.
Focus your attention on the more expensive finishes. There are a MILLION choices to be made, fairly quickly so things can get ordered, and it's easy to get overwhelmed and feel rushed. Paint is cheap and easy to change, so is cabinet hardware. Think about the bigger things – the ones that are more involved/expensive to swap out later if you decide you dislike them. In our case, I had seen tons of DARK wood flooring on Pinterest, loved it in contrast to our light walls/cabinets, and we picked a floor swatch instantly and never looked back. In retrospect, I would have gone out to the flooring vendor's showroom and seen it in action, rather than choosing based on a 6-inch sample square. I researched what I wanted like a crazy woman, so a year later, I still love 95% of the things we chose, given the short time frame. The hardwood laminate floors are one of the few things I would change. They look great and flawless in photos, and I'd do laminate again (more durable/less expensive than real wood) but in real life, the dark color I love so much shows everything. I've had friends comment they would like this, because it forces you to keep it clean, and how gross to think what lighter floors are "hiding". I appreciate the support. 🙂 But I still would rather go back and swap them for something a shade or two lighter, and with some texture (ours are perfectly smooth, no fake "grain" to them) to hide the day-to-day a bit better.
Be sure your builder guarantees some sort of new home warranty, and take full advantage of it. The homes on our street are built by a variety of builders, but in all cases, they included some sort of one-year warranty to cover the things that can happen in a new home. New construction is constantly settling during those first months. One day your wall or ceiling will look great, the next, there's a crack or a nail pop from something shifting. Our warranty included a one-month and eleven-month visit from a contractor to fix these types of things, including recaulking our counters (granite is heavy and had settled, pulling away from the backsplash a bit), and fixing a handful of nail pops in various rooms of the house. Take advantage of these provisions – because after the first year, they're GONE. Thankfully, our roof debacle happened during the first year, and was fully covered by this warranty (and we've since learned from MULTIPLE builders that this is just a risk you take building in Iowa in the winter). (Note: anything weather related, like the hail that took out our west siding, is NOT covered by this warranty, but rather your homeowners' policy.)
Congratulate yourself – you just built a house! We sounded like broken records throughout the process, but even on the more stressful days, it was still amazing to see our home literally come to be out of nothing, straight out of the ground. To see your choices on paper take shape in real life is just pretty darn cool. In a time when people are struggling to sell homes, we chose to build, a decision not everyone around you might support should you decide to build. It is also a time of unemployment for a lot of contractors, and slowed business for home builders, most of whom have a staff they need to pay. You can look at it as taking away a home sale for a family — we saw it as providing work to a handful of carpenters, drywallers, plumbers, and electricians, all with families to support. I'm so glad we stuck to our guns and celebrated our decision to build – we would do it again without hesitation and I can truthfully say we enjoyed nearly every minute of it – even the stressful minutes. The home that YOU put together will be there for a really long time, lived in by many families after you. Kind of a cool thought!
If there's anything I didn't cover, or a question that's on your mind, please leave it in the comments and I'll be happy to answer! Hopefully someone out there, ready to build, gets a little snippet of help from what we've learned! Happy home building 🙂