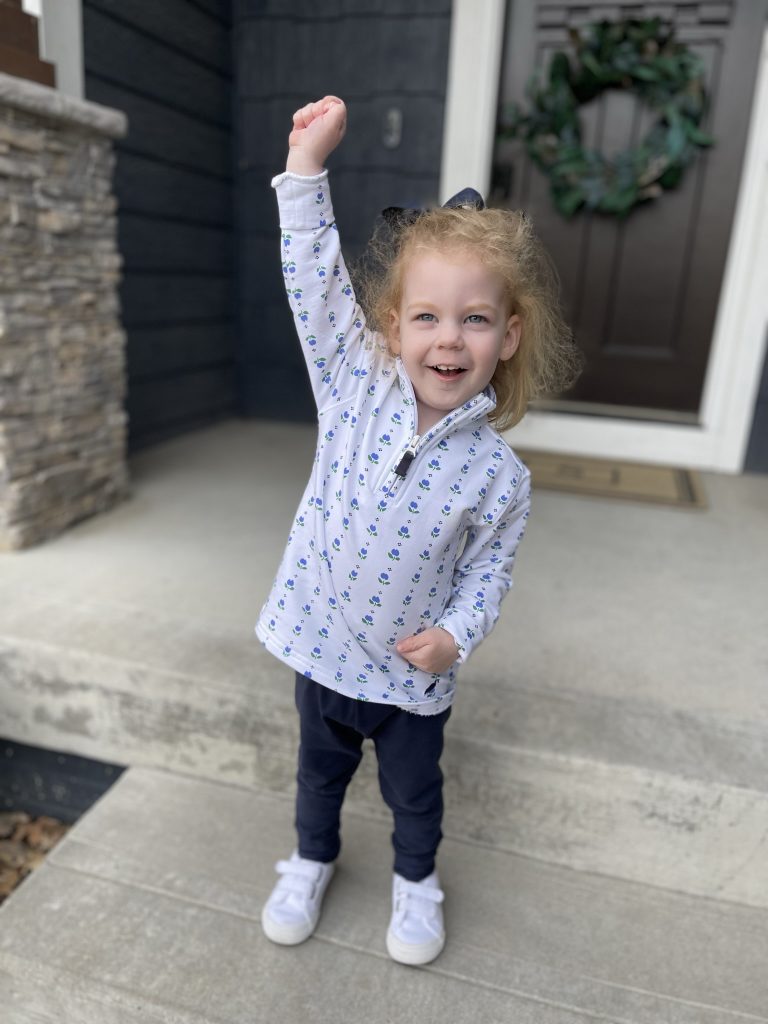 And suddenly, you're three. Full on preschooler and "babyhood" is long gone.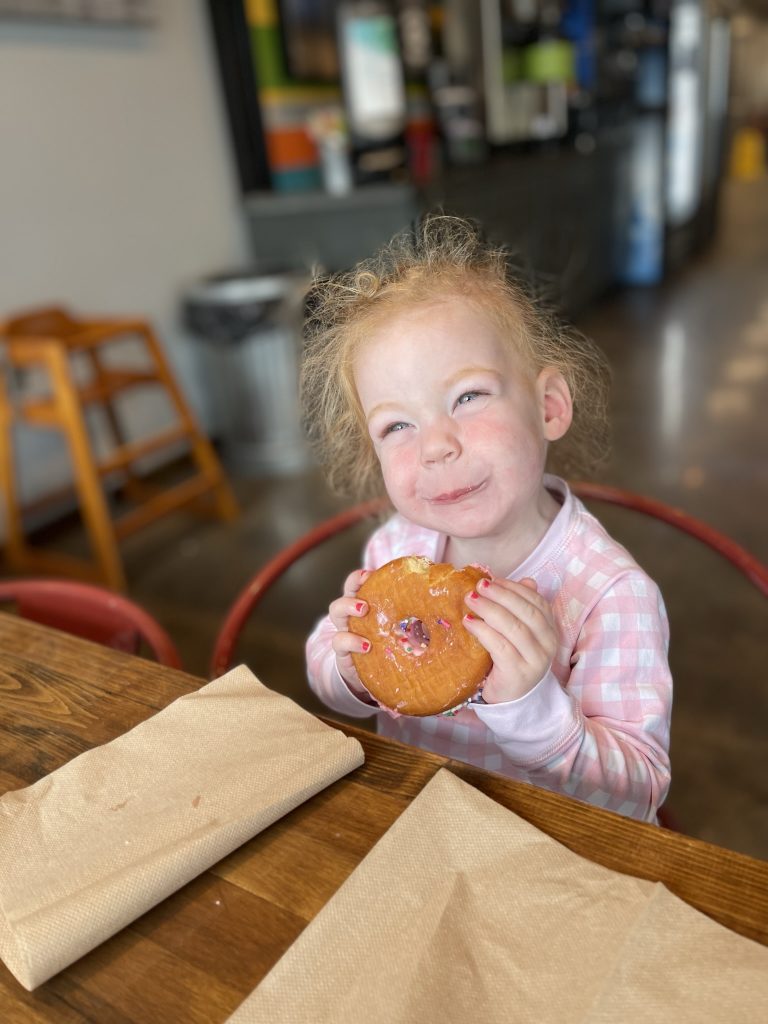 You want to do everything your brother and the big kids do, love all things girly, and live for donuts just like a certain older bro.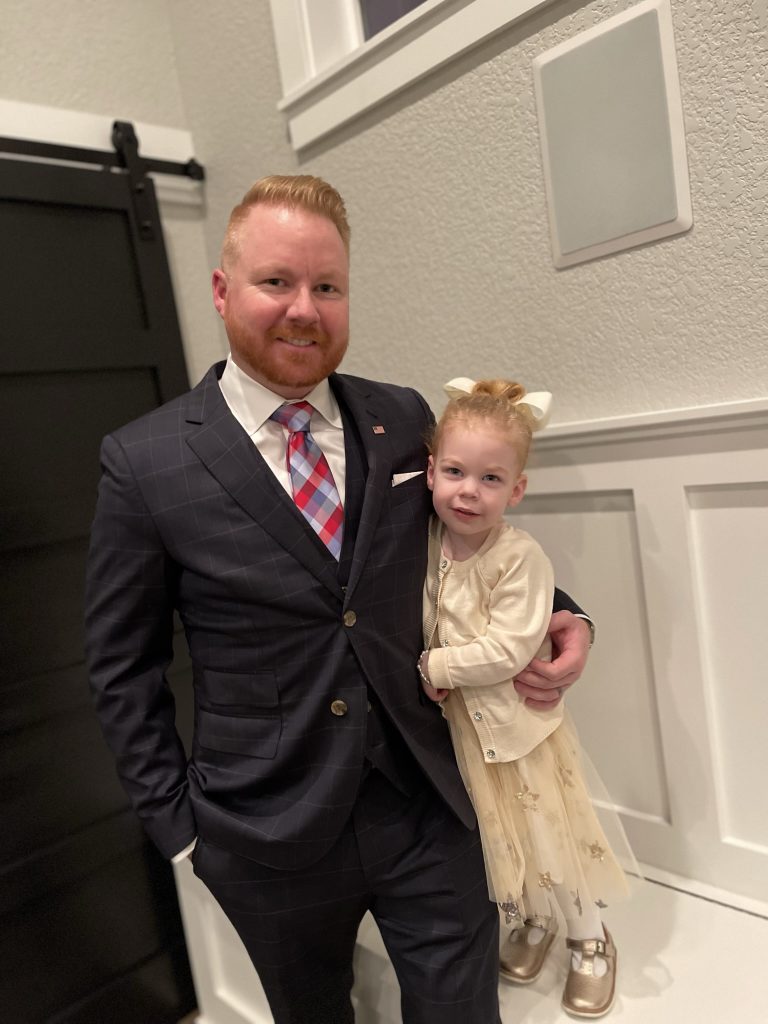 A special highlight this quarter was your first Daddy Daughter dance! You and Daddy dressed up and went to our church/your preschool and danced the night away! It was so obvious you felt so special having somewhere to go that Crew (and I) were NOT going — you loved some one on one time headed out with your favorite guy.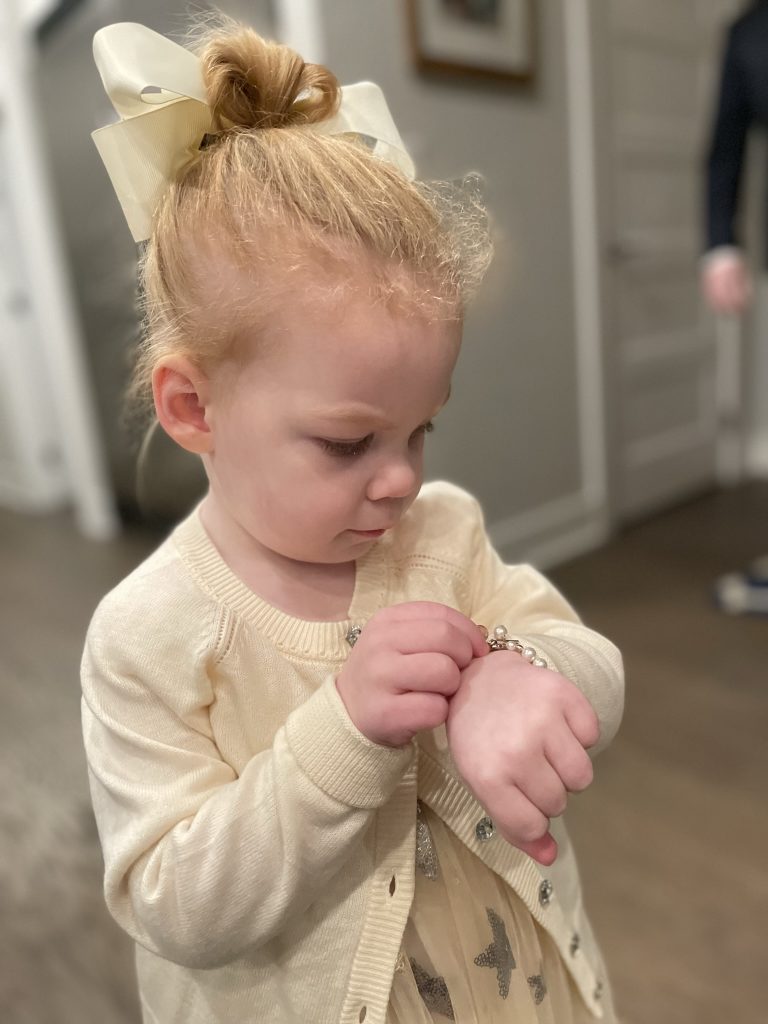 You are through and through a girly girl. You love makeup, jewelry, continue to love nail polish and notice all the details in someone's outfit. You are patient while I try and tame your wild mane and love to check your fit in the mirror before we head out the door in the morning!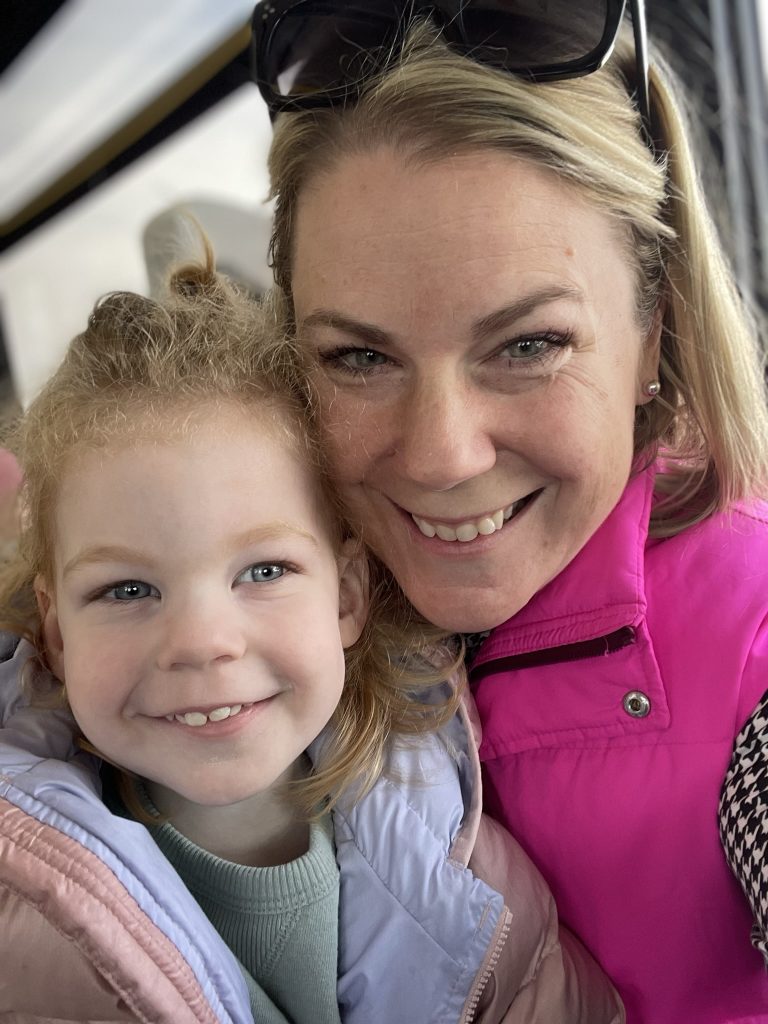 You love your boys, but you're first and foremost a mama's girl. I do cherish these days when Crew is in school and we can do some adventures just the two of us, at your speed. Pictured above, we went to a "Don't Let the Pigeon Drive the Bus!" story hour, and got to go on a city bus ride after. You LOVED the entire experience and excitedly chanted along with the words to the story.
Lots of "cheesing" and exaggerated faces in photos lately, including this one coming home from school with your classroom valentines!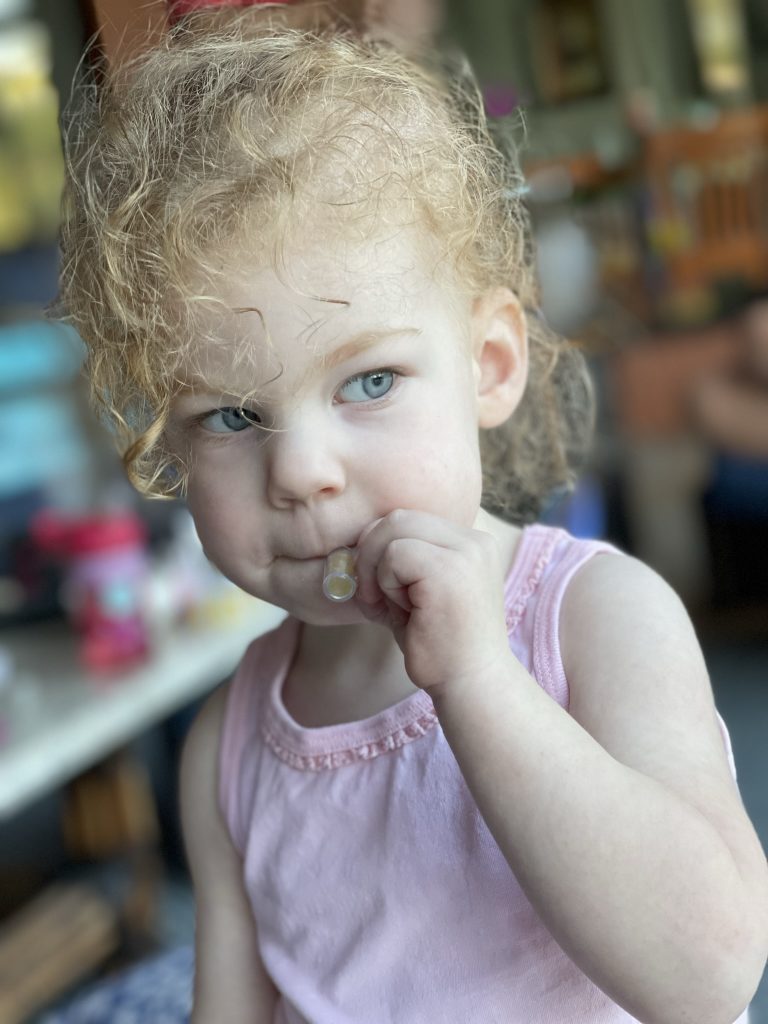 We took a family trip to Florida in February. You were not feeling your best, but you were a trooper. We made some simpler memories this time around, hanging near home with lots of pool time, and some short outings to the children's museum and a local playground – a welcome adventure since it was freezing conditions back home!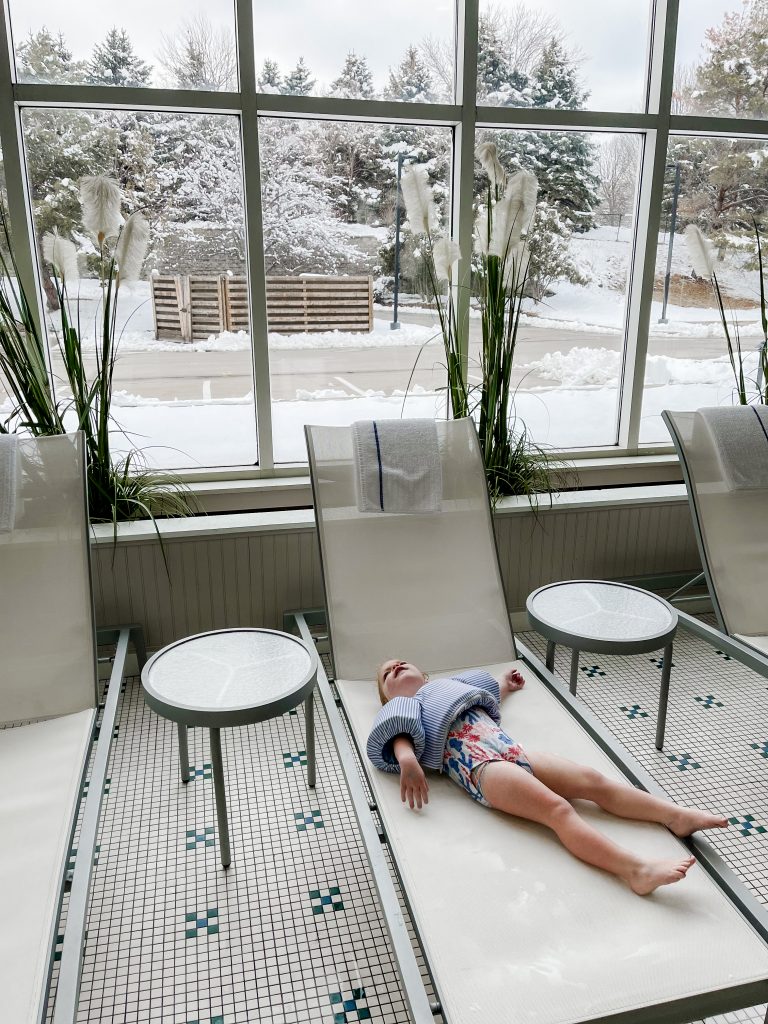 You are very into the idea of "relaxing" lately — after our trip to Florida in February, we used our March spring break to hang closer to home, with the exception of a night to a nearby hotel to swim, eat pizza, and soak up the hotel kid novelty. Even with snow outside in the background, you were ready to "sunbathe"!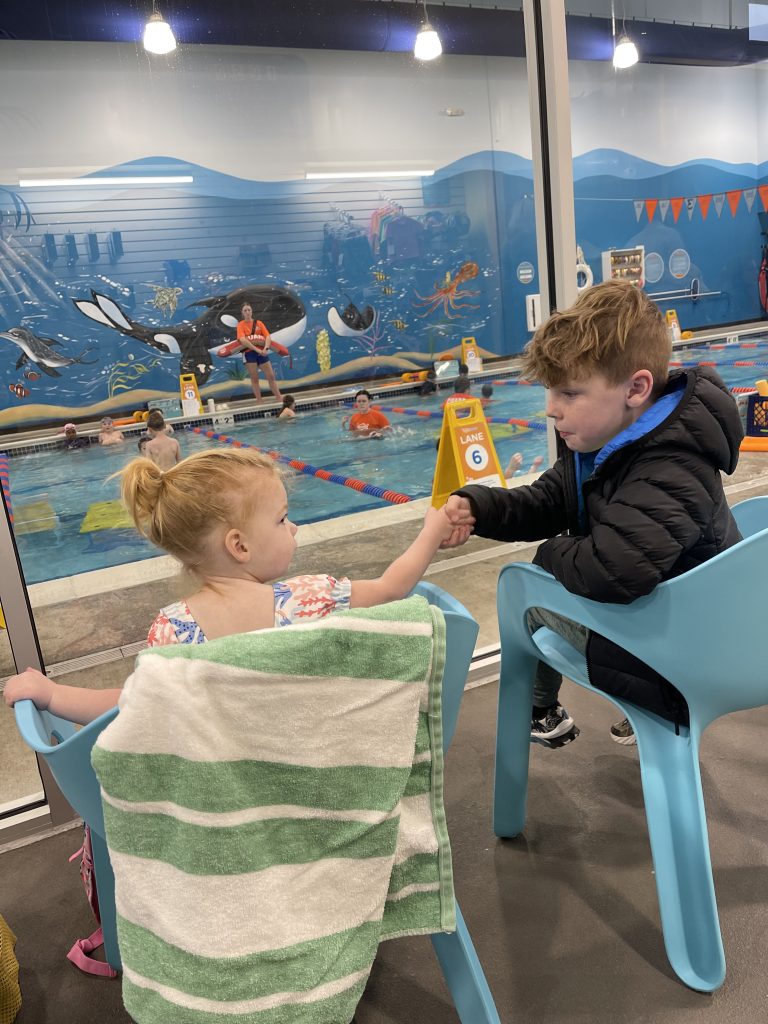 We proudly watched you do a series of swim lessons WITHOUT a parent alongside you. You did remarkably (surprisingly?) great at waving to us and heading off to find your teacher on the other side of the glass. You hate putting your face in the water, but happily work on just about everything else, waving to us after every turn.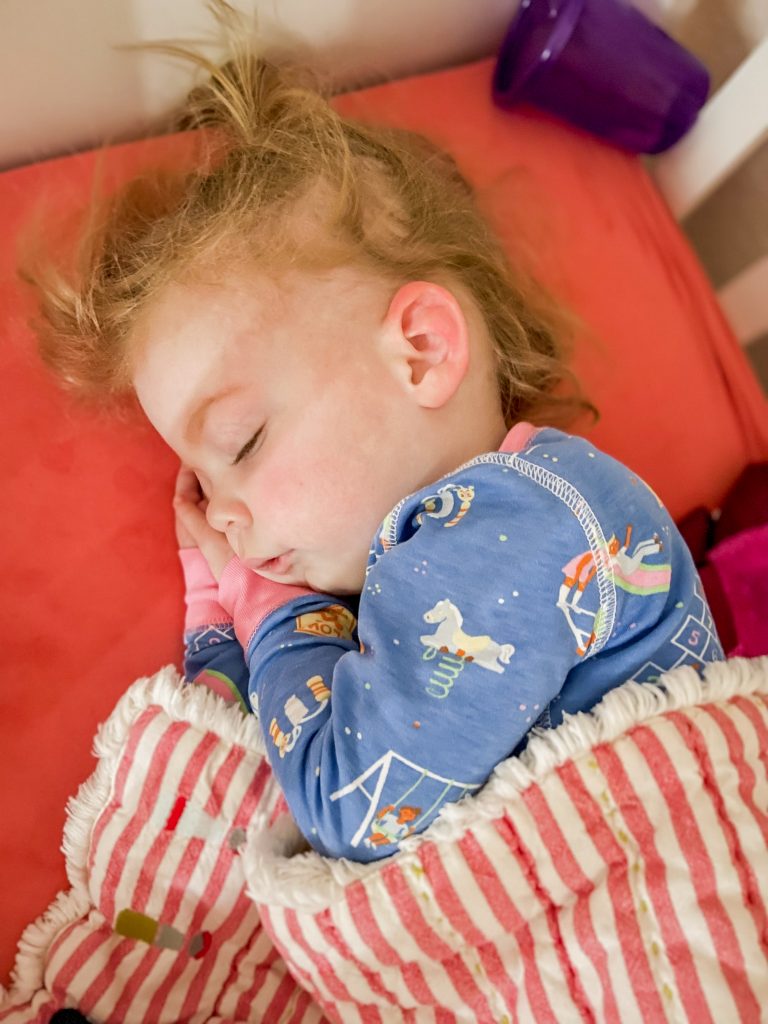 You continue to be a great sleeper, logging about 11 hours at night and most days I have to wake you from a nap after about 2.5 hours otherwise you pull night owl bedtimes. Puppy and Pink Blankie are your constant bedtime companions.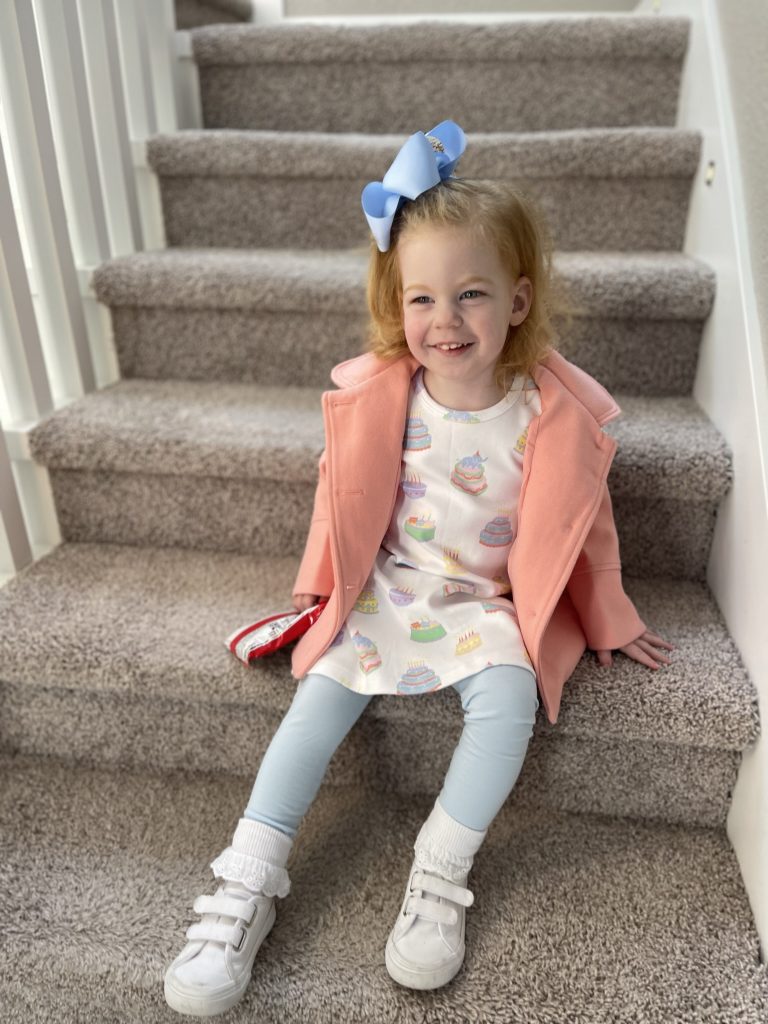 Something about this first birthday party for a preschool friend hit me…the Covid babies are indeed, okay. I remember wondering what your early social years would look like, or if you'd all be just "behind" when it came to connecting with new people, but you were delighted to be headed to your "own thing" and celebrate your friend after watching Crew get dropped off at countless parties over the past months/years that you weren't allowed to stay and participate in. There's something special about the second and watching you get to start your own social circle (and as result, ours as parents, expands! We've met a whole new circle of preschool parents this year!).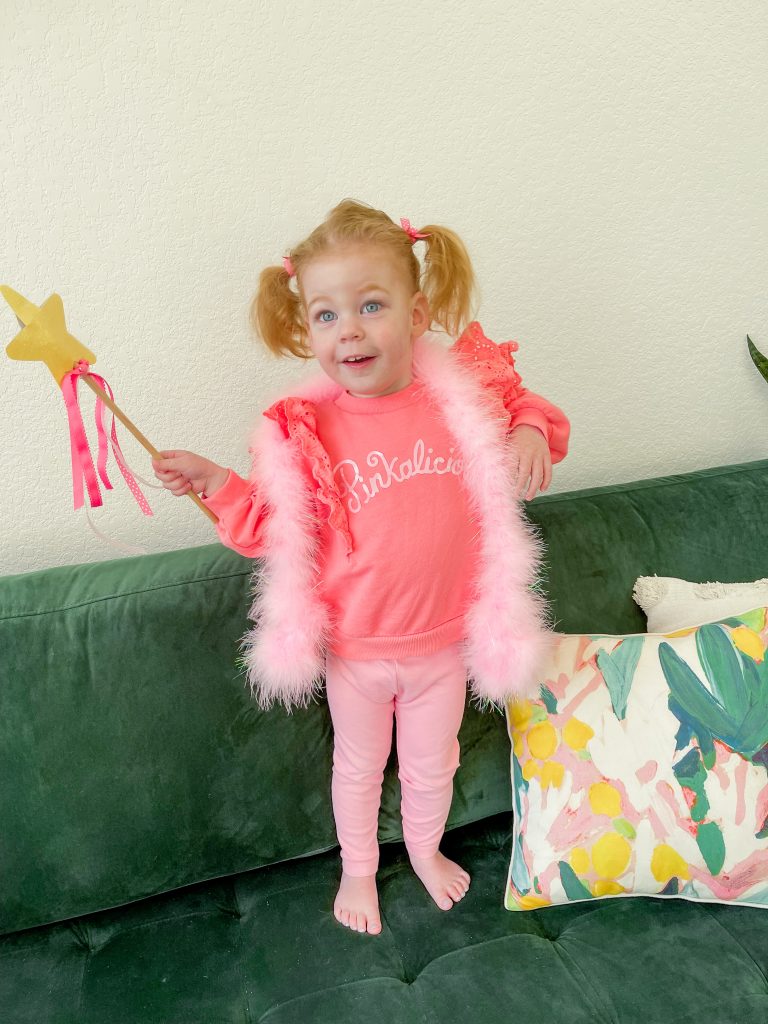 Preschool in general, has been the very best thing in your world. You LOVE your teachers, the friends, and in general the routine and predictability of knowing you get to go two mornings a week to sing, craft, snack, and play. This particular day, you were charged with coming dressed as a favorite character and we went with your favorite of the moment…Pinkalicious.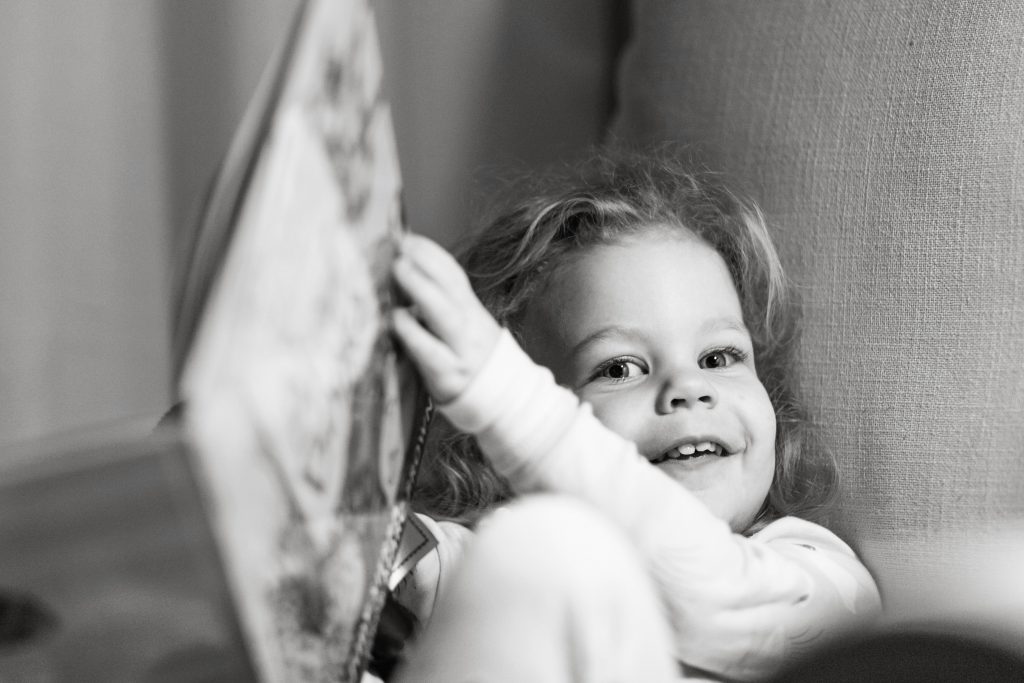 For the longest time, you would decline if we offered to read to you at any other time than bedtime, and while you still seem to associate it and prefer at that time, you're coming around on reading for fun throughout the day. Your current favorites continue to be Going on A Bear Hunt, but also The Wonderful Things You Will Be, Wild About Books, and the Pigeon series.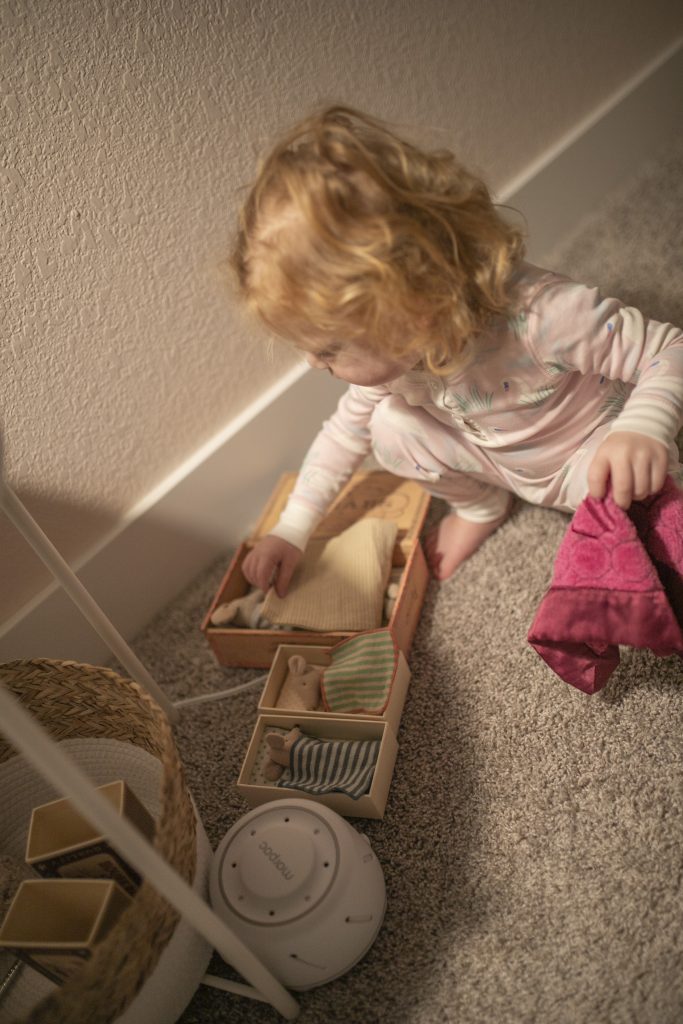 Your preferred playthings right now are all miniatures. Little critters, little people, Maileg mice, Polly Pockets…anything in a tiny universe. You role play and chat both sides of their conversation. I have to laugh that most of the time I try and join in, you ask me to please be quiet. You are deep in your own imaginative world.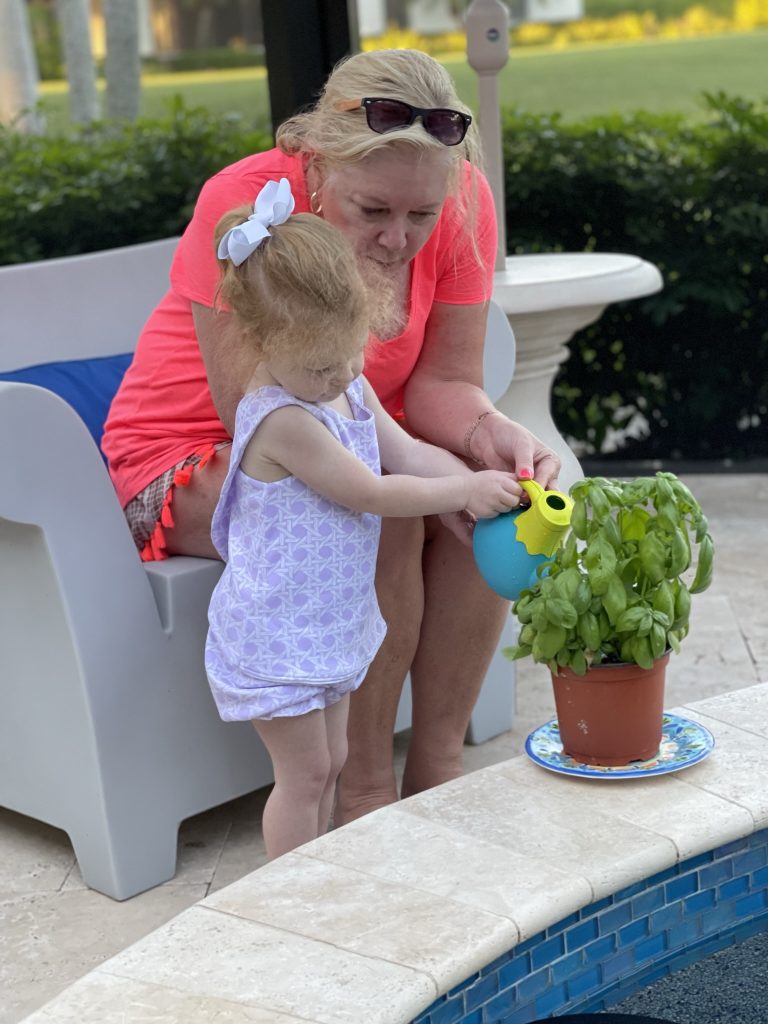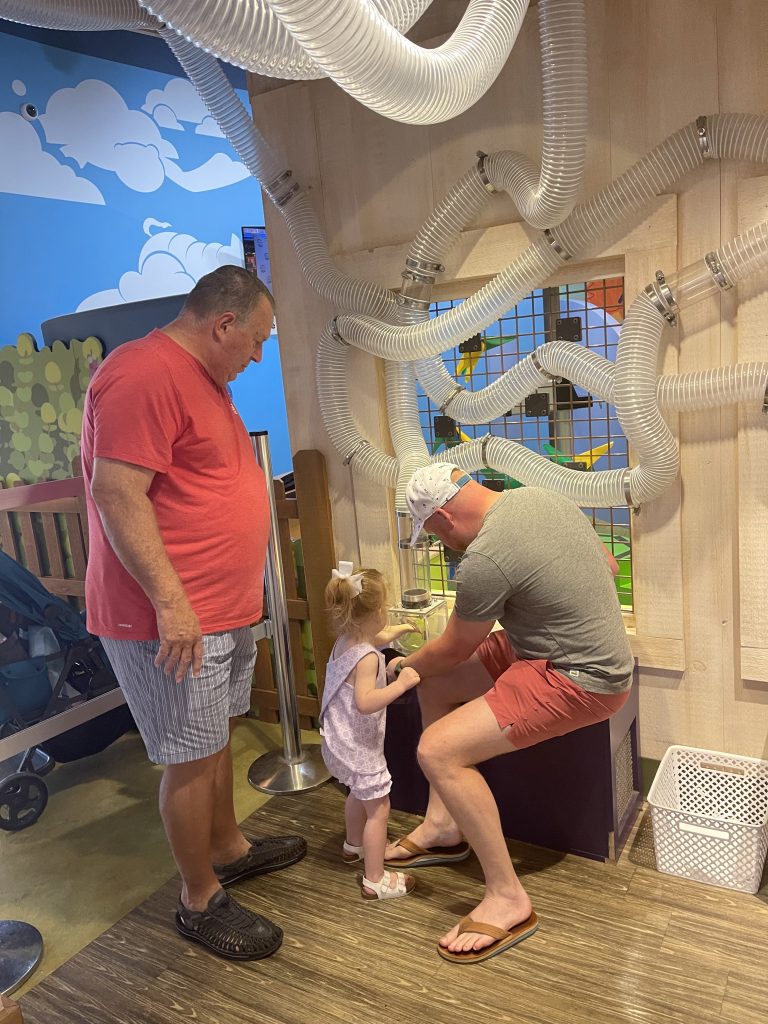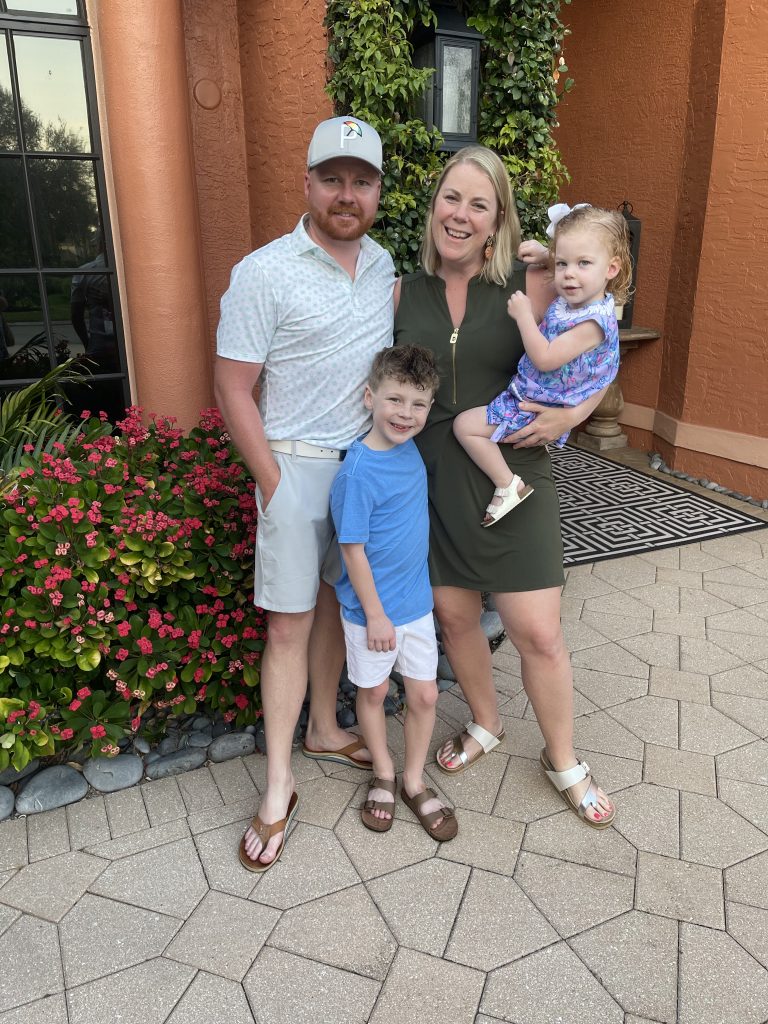 In some ways you still seem so little and in some ways you are an "older" version of your brother at this age — having a five years older sibling just has this effect, I think. You are certain that you, too, are also eight and your conversations and assumed inclusion with older kids reflects this. 🙂 You love your family BIG, are always vocal about where you stand on an opinion, and while you show affection in a big way, you show just as much displeasure when the mood strikes (and it does…regularly…). You are not short on personality but I love and admire your authenticity. How do you have it more figured out at three how to unapologetically be your true self, than I do at thirty-nine? We have a lot to learn from you, Greer Girl. You put us through our paces some days, but keep being YOU.