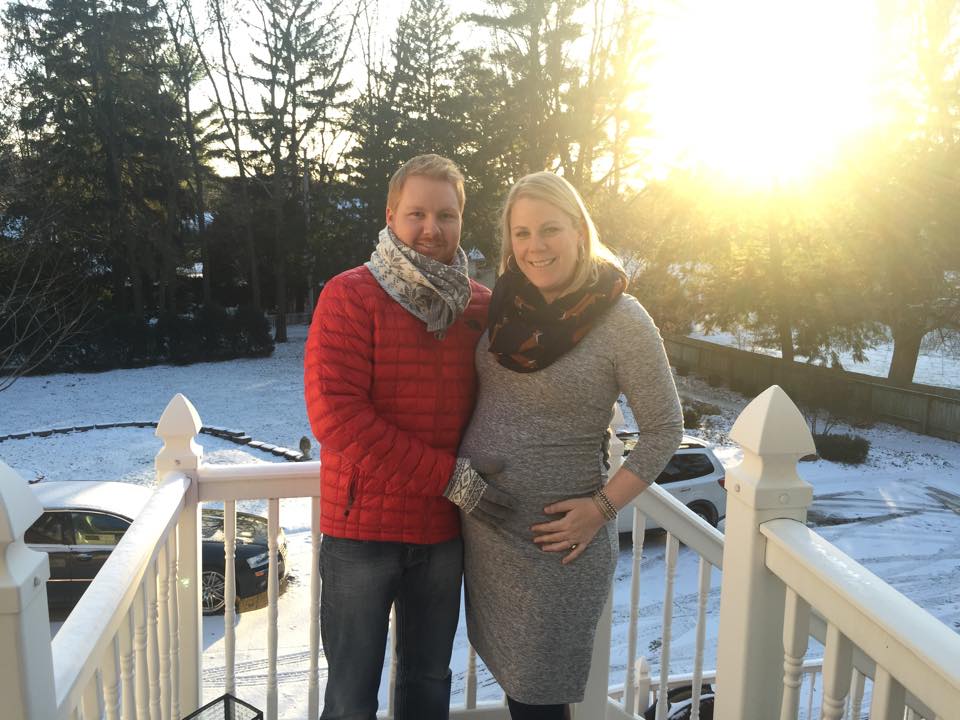 Thanksgiving | 34 weeks
It's hard to believe we are in the final 5+ weeks before this little man's arrival. We have seen more than one baby arrive early this year, so I have that in the back of my mind (although my doctor thinks I'll go past my due date). I've been drafting a list of things to remember for the hospital, tackling some box-packing around the apartment, doing a little baby laundry, and trying to stay on top of my workload as I plan for maternity leave, juuuust in case I have less time than I think.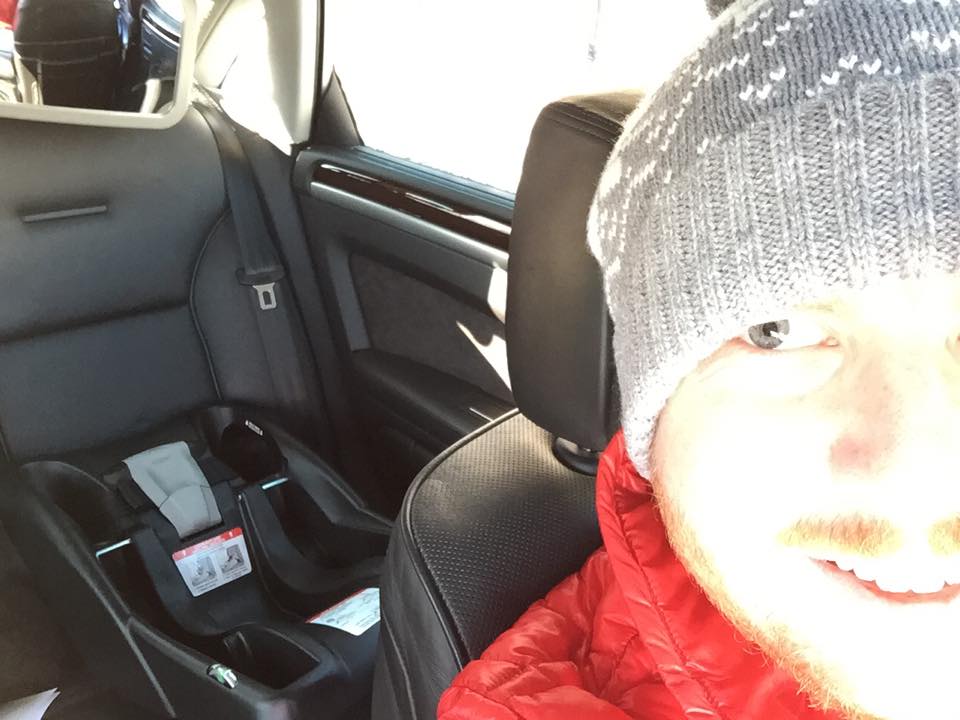 Car seat bases and backseat mirrors installed…check!
We've been crossing things off our list like grabbing the last essential items off our registry, getting my car in for an oil change, dental check-ups, taking a baby CPR class with some friends, deep-cleaning the apartment, and stocking up on some household basics. We're hoping to make the first weeks at home with a newborn just a tiny bit easier and with fewer to-dos. Just getting our new routine down while trying to move to the house will be work enough, so anything that can be done now (and to avoid taking a newborn out and about in January weather more than necessary), is being done.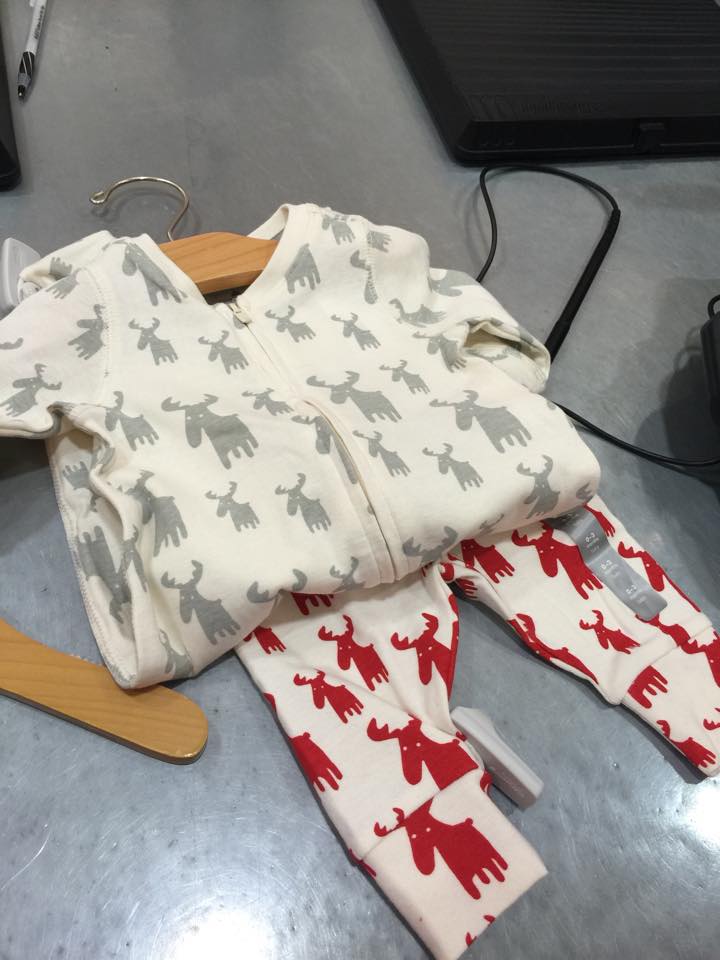 I even schemed to get Page into a Baby Gap one night after dinner…after lecturing ME that Baby has enough clothes, he found a couple items that will allow him to match the new "mod lodge" house…and we even made a second stop at the other location across town to grab a matching onesie that became a "must". Hehe…turns out no one can resist adorable baby clothes!
In some ways, being in the apartment is a blessing and helps me to keep things simple. I'm not overwhelmed with the tasks of readying a nursery (baby's "room" is a rock 'n' play squeezed next to our bed!), or agonizing over which Pinterest freezer meal recipes to make (our freezer is the size of a microwave – no room for pre-prepared meals… just order pizza!). It has been nice to have wrapped up the last of my photo sessions for the year, so I can enjoy just working ONE full time job and take better care of myself in these last weeks. I'm looking forward to getting our Christmas cards in the mail, and putting my feet up for some holiday movies and hot chocolate. Other than that, our plan for the coming weeks is to slow our pace, get in some dates with friends, work on the next stages of house progress (stone and closets are the next meetings!), and get ready to meet this tiny new family member.
How far along: 34.5 weeks
Gender: BOY
Weight gain:   up 20lbs…praying a body can only pack on so much with less than six weeks to go! Baby is guesstimated between 5 pounds and 5 pounds, 2 oz. Guesses are that he will be 8+ at delivery!
Maternity clothes: Definitely favoring the most comfortable of maternity options at this point. Leggings and my Uggs seem to be the staples of most outfits.
Stretch marks: Still no…knock on wood!
Belly button in or out: no popping, but pretty flush
Sleep: I have finally figured out some comfortable positions that allow me to stay asleep for longer stretches before hip pain, heartburn, extra-strong kicks, hunger, or all of the above, wake me up :). I am still up a couple times a night to pee, but between a routine of popping Tums just before bed and recruiting extra pillows on top of the Snoogle to get comfy, sleep has improved a bit and just in time – I've been dragging myself through many of my days!
Best moment:  I was blessed with a GORGEOUS second shower hosted here in town to include local girlfriends as well as my bestie who flew in from Philly. Page's agency hosted a shower where the focus was on him for a change – go cart racing and a diaper cake topped with bourbon for the daddy-to-be! Both such thoughtful events arranged by great friends. We are SO lucky to have so many loving people in Baby's life!
Worst moment: I can't think of anything worthy of a WORST moment, but getting around on the ice with no sense of balance has been interesting, as has scraping my SUV windshield with a belly in the way! Page ordered me a new brush/scraper that extends a couple feet. I feel a little geriatric using it, but not complaining! Little things like just trying to roll over in bed have become something of a three-point-turn. I constantly feel like a big, awkward dork!
Miss anything: My regular clothes and more choices of what to wear. Red wine. Alcohol in general. Sleeping on my stomach. Sleeping in general. A decent sense of balance. Visiting the bathroom a normal amount of times in a day. Soft cheeses. A waistline. Clearer skin. Did I say red wine already?…

Movement: Stronger than ever, becoming more flip and roll sensations than kicks, as he gets more crowded with less room to "wind up" his punches and kicks.
Cravings: So much for the healthier things I craved earlier on! Juice and clementines, but also cinnamon rolls and salt and vinegar chips – all at the top of the list. I've reverted to a touch of the first trimester in terms of aversions…most meat and fish turns me off again. Lime Tostitos and mango salsa are my go-to salty-sweet thing!
Queasy or sick: Not sick, just getting uncomfortable. Pressure and a sense of feeling overly stretched comes and goes from my lower belly, along with some Braxton Hicks contractions. The tailbone pain comes and goes but trips to the chiropractor are helping. I instagrammed a pic at a recent visit, and couldn't believe how many mamas commented that they, too, found major relief (even turning breech babies!) from chiro visits. This would be my "one piece of advice" for expecting mamas…go and get some relief from an adjustment!
Looking forward to: Our final holidays as "just us", and I can finally say we are looking forward to Little Man's arrival! We know it is still (likely!) a month or more away, but we feel ready and anxious to meet this babe already and begin new adventures in 2015!