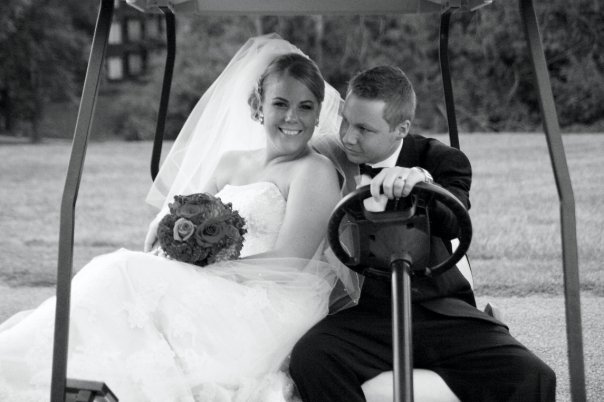 This weekend, September 29 to be exact, marks the five-year anniversary of our "I do"s.
It's hard to believe it's been half a decade since we were married, and in many (good) ways, it seems so much longer. I started this blog just after our nuptials without any real forethought – it was simply a way to share wedding and honeymoon pictures with family. Fortunately, its existence endured beyond the honeymoon and, in a way, this little blog celebrates its anniversary every time we do.
I originally wrote the posts just for me as a way to archive our life together. Instead, what began as an audience of maybe a dozen or so readers (our parents, best friends, and the occasional lost Googler who landed on the wrong page!), changed drastically and has grown into an audience far beyond what I could have imagined when I started this project. As Smith life has evolved the past five years, so has the content that makes it into the posts. Hopefully the photos are a bit better composed and the writing a little more polished, but mostly I hope the perspective has grown a little, from barely out of college kids to the "late twenties" we are in now. 🙂
I often forget that most of the people who follow this blog now are those I've never had the pleasure of meeting in person and while I try to respect that and keep things light here and not too personal, it seems okay to me, today, in the spirit of blog and wedding anniversaries, to share a little more deeply than I normally might. I admit that I, myself, often skip the more life-behind-the-scenes posts of bloggers I follow but don't know personally. So no offense taken if you want to pass right over this particular post. 🙂
I always post something about our anniversary each year. You can read about our first, second, third, and fourth years via the links. Most years I share a few pictures and brief thoughts, maybe followed up with a later post about how we spent the day or weekend. In past years, I have kept it brief, but I look back on this fifth, most recent, year with particular fondness and joy.
I have more to say this year.
September '11 to September '12 brought a lot of changes our way. It was the first year in our marriage that neither of us switched jobs, either by choice or chance. We were both content and in familiar places with steady structure. That alone made it a great year and we count the blessing every day that in an unfortunate time for many careers, we get to go to jobs we enjoy where we are challenged to think and get to see our ideas come to fruition. I look forward to seeing where our professional lives take us in the next five years. We have lots of ideas and plans on which we are ready to lay some groundwork. There's no instruction manual on how to proceed from here, and we are figuring it out as we go. It's scary and thrilling and frustrating and exhilarating all at once.

Speaking of laying plans, the most obvious milestone of our fifth year in marriage (and consequently, here on the blog) was the purchasing of our first home. The purchase translated into our first time building a home together, a process that both tested and united us in ways I could never have foreseen. It was amazing to see something come to be out of nothing and witness the mistakes we made along the way, and high five over the decisions we stood our ground on during the process. We work together often in our freelance businesses (even our day jobs have brought us around the same conference table more than once), but this was the first real time we worked together on something as personal as a home. It was an up and down (but mostly up!) experience of which I'm so glad I got to be a part.
When I think about the little bits that make our life so happy right now, I cut to some of the more random, unseen to anyone but us moments, like an enthusiastic late night meeting with a client, sitting around a kitchen table and feeling the palpable excitement of an idea coming to life. I think of peeking out a window as Page rearranges his sprinkler configuration for the millionth time and picture him as an eighty-year-old surveying the grass. I think of stopping whatever was originally on the day's itinerary to go have a celebratory drink when some news at work (day job or otherwise) deserves a toast. More than anything, I think of Fridays after work, when I can almost count on coming home to a drink being poured for me and the speakers turned up for what always turns into an all-out dance party, just the two of us in the living room. Anyone else might roll their eyes at the ridiculousness. I love that I married the guy who stops only to turn up the volume.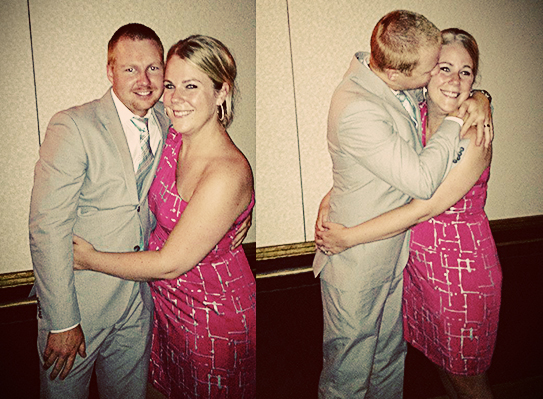 I would be remiss in writing an anniversary post and not talking about the man I married. I am constantly inspired by his, "sure, why not?!" attitude and his huge heart. He is up for anything and always the first to give when giving is needed. I am continually amazed by just how hard he works. There's no doubt Page lives by the mantra, "work hard, play hard" but most only see the second half of that equation – the half that golfs at every free moment and gets caught by friends driving too fast around town in his favorite toy. I think some of even our closest friends might be surprised to see how a typical day for this dude might involve getting to the office by 6 to work on a freelance project, start his "regular" day at 8, use up his lunch hour to meet with another freelance client, go back to the office to wrap up his day, then head home and address whatever needs to be done there – mowing the lawn, grilling dinner, and often helping out with my latest hair-brained idea for the house. He takes his job(s) as a web designer very seriously, but his job as a husband even more so. Lucky me? Understatement.
As much as I would like to think that marriages work or don't work based on just "knowing" the person you marry is the right one, I don't think it's true. I think you have chemistry, you do a lot of getting to know each other ahead of time, and then you stay present in your marriage, you don't coast, and hopefully, you have a stroke of luck or two that you don't grow apart and each stays equally committed – particularly for couples who got married as young as we did. As much as I thought I knew Page inside-out the day we were married at age 23, I feel so much closer to him now, five years later. I have thought more than once, "wow, it's so LUCKY that we've turned out to be so similar". (Seriously, how scary is that?! Ha!)
Whether it's been luck, good communication, or maybe a bit of both – it has kept us on similar paths. I love that we see eye-to-eye on when to splurge and when to be frugal. That we are in sync on the topic of a future family. That we are both talkers, drawn to positive, enthusiastic people with big ideas. I love that neither of us is tied to a single thing besides each other and we could move somewhere new in a minute, take on a whole new life, and be just as happy as we are now. Who knows? Maybe it will happen in the next five!
I promise to revert to my "short and sweet" approach for the six-year post. And I'm okay if no one (except for hopefully the guy I married!) even reads this far down in the entry. Life is sweet and years from this one, I want to remember all the reasons why. Happy anniversary to my best buddy and my other half.
Cheers (*clink!)