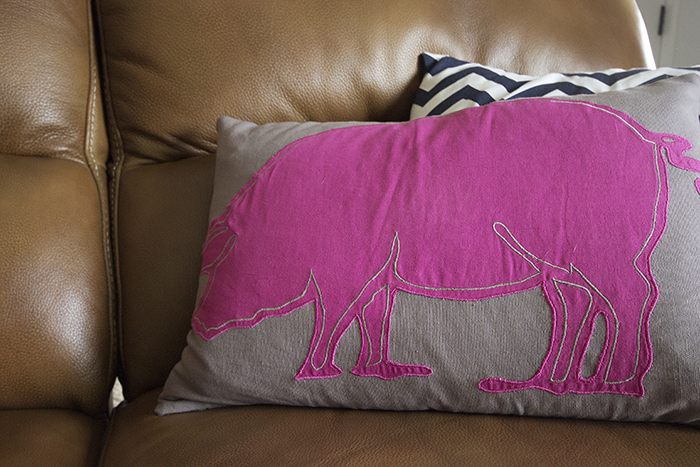 With the basement completed and ready to use, I quickly threw in a few accessories I'd been hoarding, in time to host a party the weekend we finished. (Nothing like cutting it close!)
Since then, it's been fun to take a more leisurely approach to finding just the "right" items to bring this level of the house together. Inspired by a couple of friends' houses and a couple of my favorite bloggers, I wanted to bring more of our personalities into this space and make it FUN. Inspired by rooms like this one and this one, the decorating goal was to make it feel well thought-out and cohesive, while still macho enough to house poker nights and super bowl parties.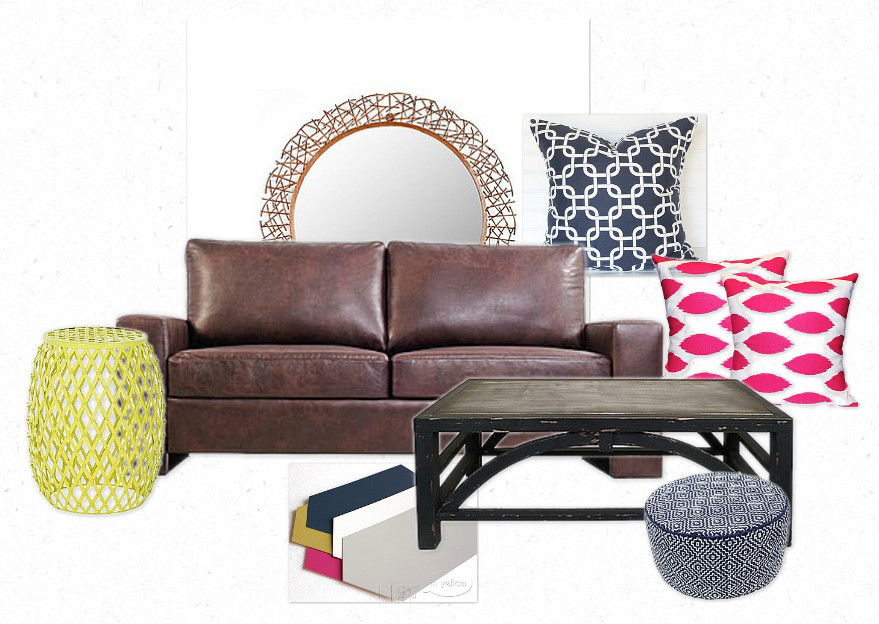 For me, decorating down here started with the color scheme. We brought in the white trim, carpet, and tile from the rest of the house for continuity. But with the bulk of our house a light and bright color, I wanted to feel a mood shift when coming into the basement. And for a room that would likely host daytime sports watching, a deeper, darker color would help absorb some light when necessary.
I wanted to go a little more modern and industrial in some areas. The house still had to flow, but if we wanted to do something a little edgier, it seemed a basement was the place to try it. A little less C&B, and a little more CB2, if you will. You might remember the picture above, which I posted this time last year after paint shopping. I knew I wouldn't find the exact pieces, but pulling together a board of elements helped me get focused.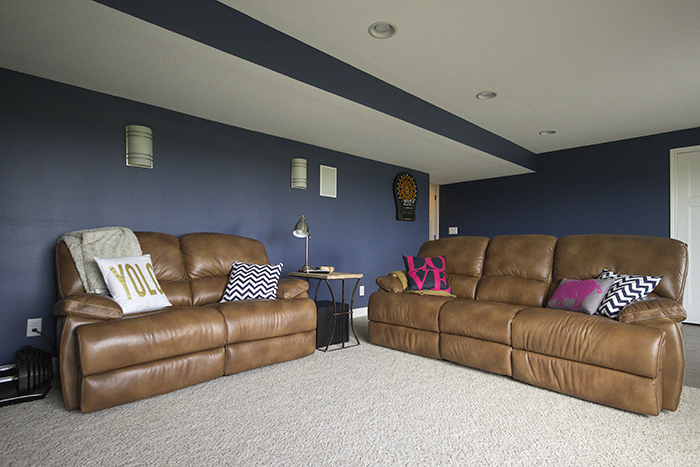 Now that the space is a reality and I've been able to start playing around with accessories and art, I have a list of my favorite things already in here, and a list of things I'd still like to do.
Here are some of my favorite elements in the space: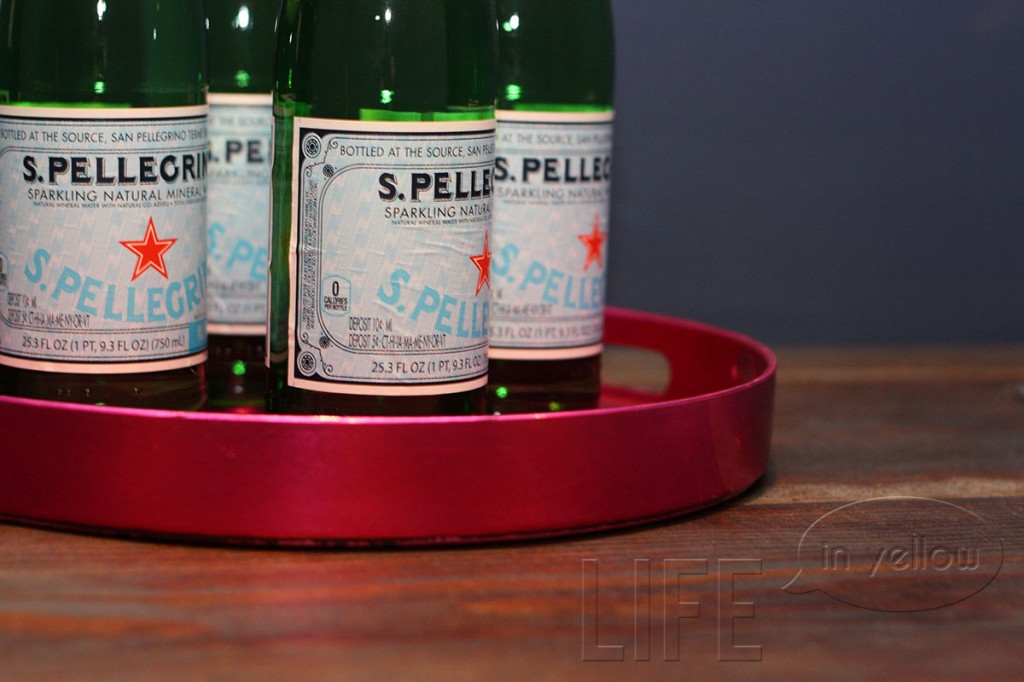 I love the bar counter top, because it was our own idea and we worked together to make it. We wanted an "old bar" vibe and I love the deep color and hearty depth of it.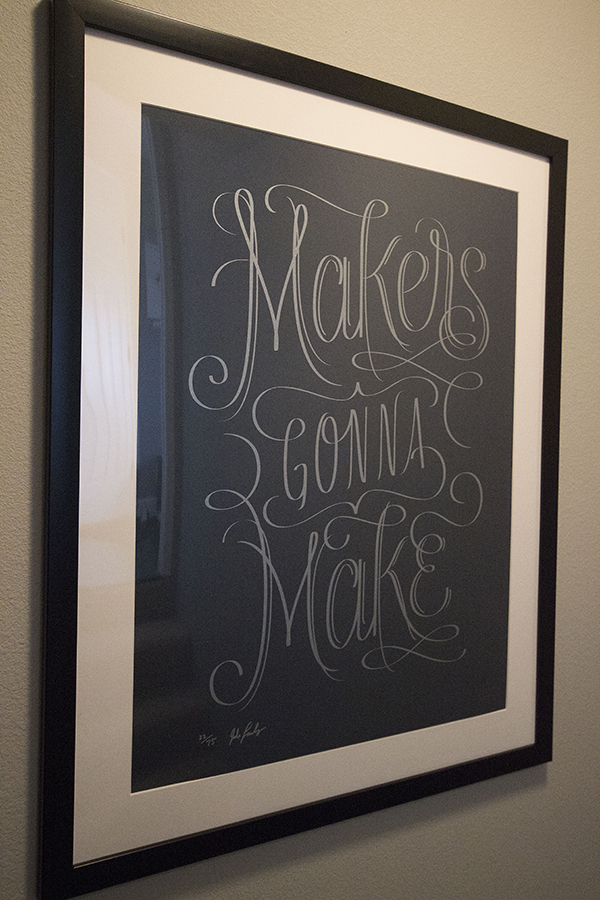 This screen print at the top of the stairs by Jude Landry not only supports an independent artist, and is the perfect color to set the tone for coming down to the basement, but the saying floors me. I love when you stumble on something that is just SO perfect — the moment I IMed the link to Page, he said, "We NEED that!". What I love even more is that it made ME think of the infamous "makers are going to make, and takers are going to take" comment around the election (yep, political alert!) and Page thought of it as a play on the popular lyrics, "haters gonna hate". With a dual meaning, I love it even more. 🙂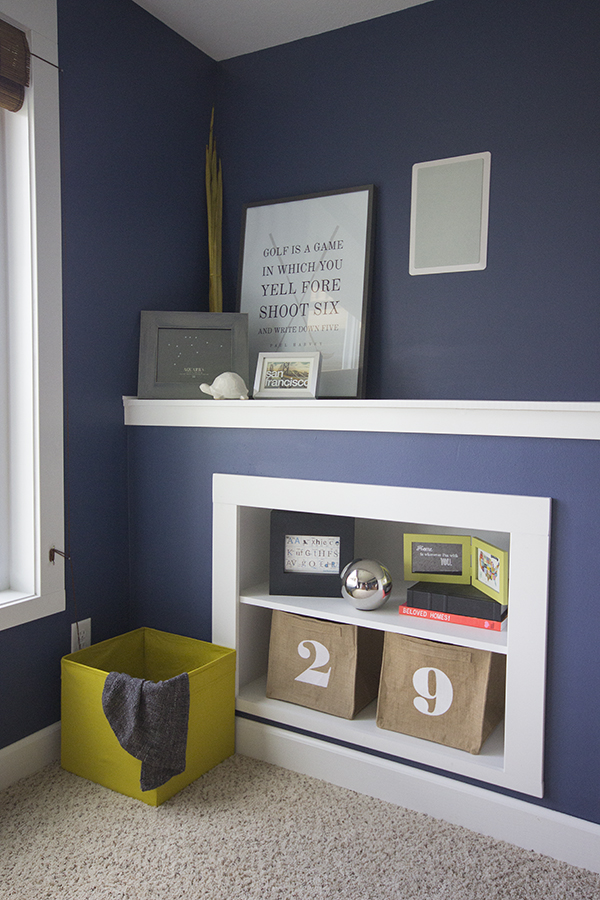 Married on the 29th of September, there are "2 & 9" elements throughout our home. These canvas bins were the perfect way to bring the date into this room, doubling as storage for movies and games. I designed the golf print based on a quote Page loved and wanted on display.
And some future decorating projects:
I'm excited to bring the influence of seasons in here. Especially with the wood elements, I have already snagged some birch logs and have my eye on some hearty baskets to put to use in here as the temperatures drop. As the holidays approach, I'd like to incorporate the colors of the walls with some more "cabin" type holiday elements like evergreen branches and reindeer.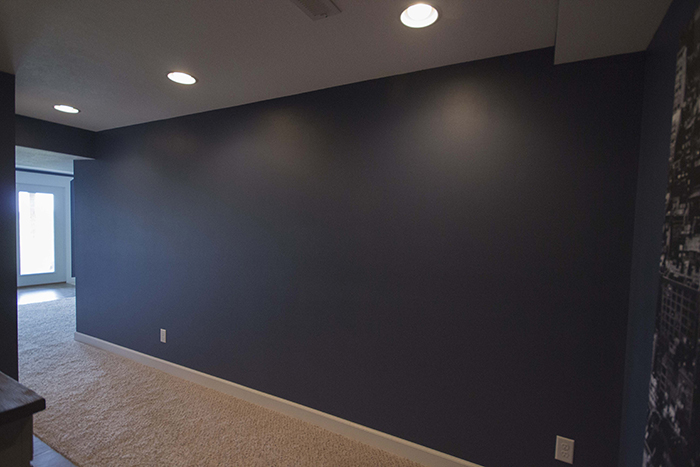 I've considered and decided against several things for this long wall opposite the bar that leads from the stairwell into the living room. I think I've settled on the the idea of a collage of frames (either random sizes/arrangements, or super linear like this) with a common theme. Whether they house a collection of personal photos… or a set of Friends quotes… or prints I make of the various area codes we've lived in together…remains to be seen. 🙂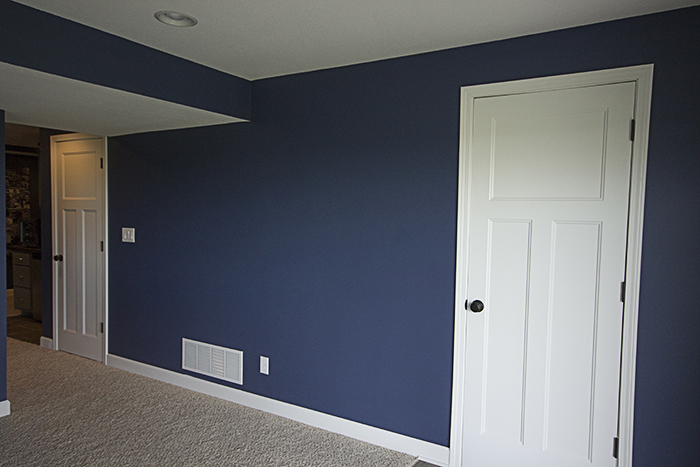 This wall behind the seating area in the main space needs something as well. I'm hoping it might work to incorporate this deer (in silver). I ordered it weeks ago, but it has been back-ordered over and over again and will finally arrive later this month. I like a quirky element here and there that raises an eyebrow – and love that it's a great play on basements that may ACTUALLY boast real deer heads. I'm not sure it's enough to hold this wall on its own, so a couple flanking pieces are on my lookout list.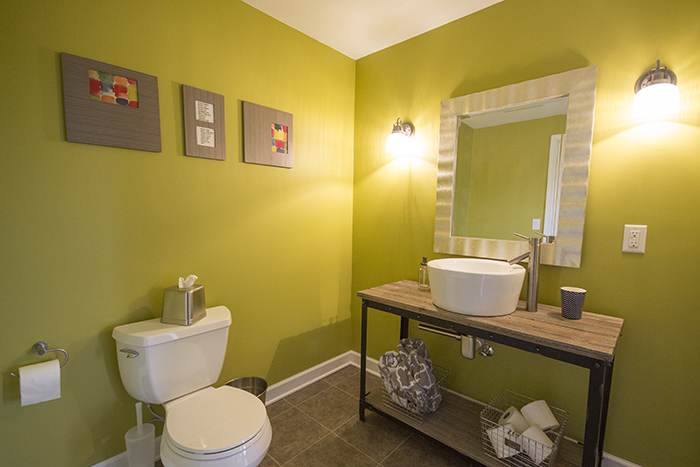 The bathroom turned out to feel larger than either of us anticipated when building. Even after adding in the vanity and allowing plenty of "swing room" for the door to our HVAC closet, I'd like to bring in something cool into one of the corners of this room for a little added interest. It would be great if it could double as storage for some not-so-pretty-to-display stuff like bleach and toilet cleaner. 🙂
There are a few, less exciting, things we might add if we feel they're needed – like curtains over the bamboo blinds on the window for more light-blocking, and I'm always open to some cool dishes to have on hand in the bar. I love a good decorating project and this one promises to be a fun one!