My kids are picky eaters — so let's call this reverse psychology week. Ha! I'm trying to expand their horizons just a nudge, and make it a little more visible to Crew, specifically, how much food actually costs, and the time it takes to plan and cook a real meal from start to finish. As for Greer? I'm just hoping the girl will eating something green. Big goals this week! 😉
What We're Reading: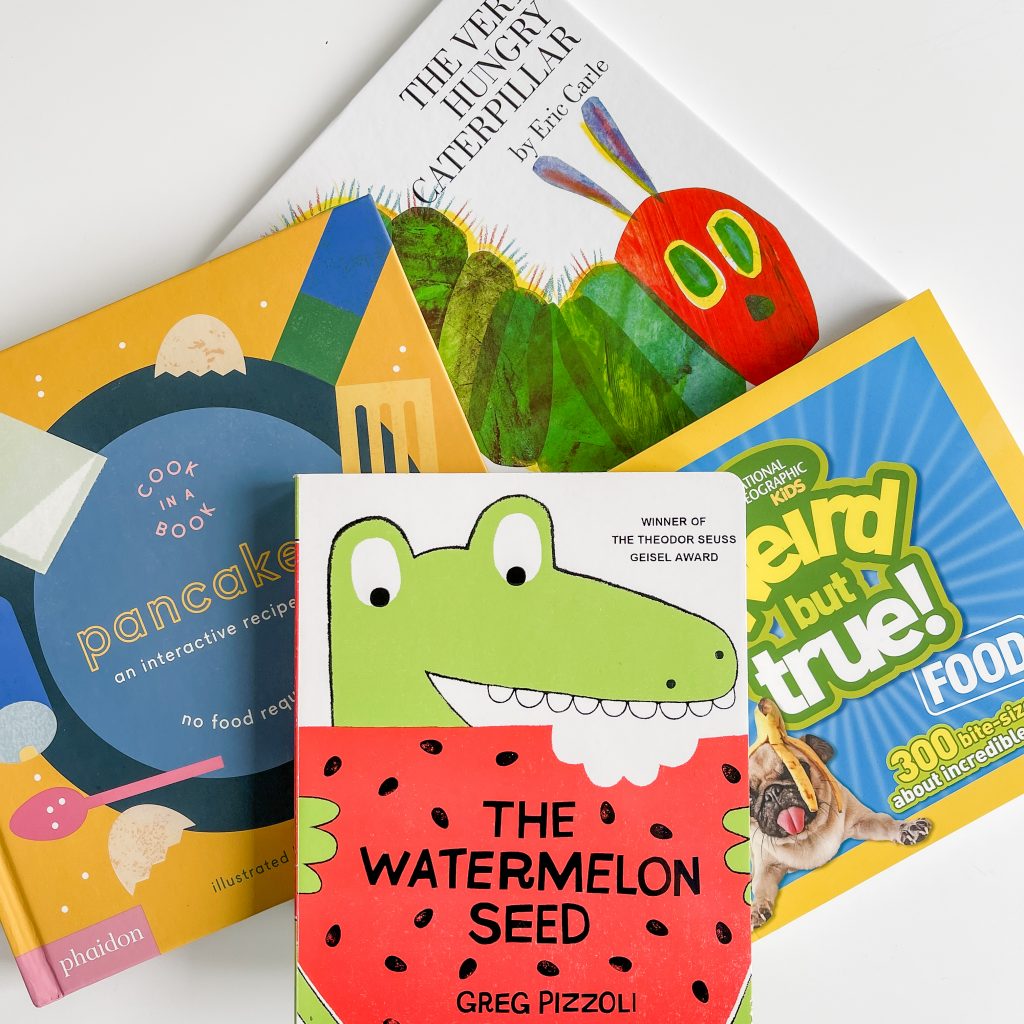 Weird But True: Food — not everything Crew reads is going to be a novel 🙂 But if I can entice some reading time with fun facts and trivia, I will. This book fits the bill, and this week's theme.
Cook In A Book: Pancakes! — We've gifted titles from this series numerous times. The books are very interactive and make a recipe visual from start to finish. The first spread is all about the materials and ingredients needed, followed by several cooking steps – maybe stirring by turning a wheel, or filling a measuring cup by pulling a tab. In this specific title, you finish by popping out a doughy pancake on one side, then flipping it to a golden brown side then on to a plate on the next page. These books are durable and we've owned every one of them!
The Watermelon Seed — What happens if you swallow a seed?! Both of my kids as toddlers have loved this book. It's silly and short and the illustrations are in a bright unique color palette.
The Very Hungry Caterpillar — a classic!
What We're Doing:
For our weekly playdoh kit, I added a few tools and accessories from our kitchen, and printed out dinner plate printables and laminated them to be play doh mats. For our sensory bin, I'll be adding an assortment of dry brown beans, a spade, and various wooden vegetables from our play kitchen to make a "vegetable garden". During these kinds of activities we love to listen to something, so I'm planning to play the But Why? podcast episode, "Why do we like to eat certain foods?"
It's probably no surprise we'll be cooking this week! (I love this read on age-appropriate cooking skills kids should have — we have some work to do ha!) We will pick a couple easy recipes that are kid friendly then, as opposed to our weekly drive-up orders, we'll go (gasp!) IN to the grocery store. I'm going to make a visual shopping list to help Greer follow along as we shop for the ingredients, while also using it as a chance to help Crew notice how the store is laid out. (Also a bonus math lesson in what preparing a meal really costs!) A trip to the grocery store seems so underwhelming, but considering he's in school when I do most of my store runs during the school year (and 90% of the time pick up in the parking lot anymore) I think there will plenty for him to take away from this outing.
I thought it would be fun to "play restaurant" back at home, so we'll design a menu with the feature meal, practice setting the table (we do this regularly, but we might kick it up a notch to feel "fancy" with some candles, cloth napkins, water glasses, etc.). We may end up burning off some dinner later having a dance party to two annoying but food themed songs my kids love — "Gummy bear" and "It's Raining Tacos".
Other ideas on tap if we have time — vegetable stamping, making rock candy, and doing pancake art. We may have to visit Krispy Kreme or Hurts Donuts to peek in and see the donuts being made as well! 😉
Bon appetit!