This is another week that Crew will be busy with a day camp, so much of this week is geared toward Greer's level. She is our BIG animal lover, so it was easy to take this idea and run with it!
What We're Reading: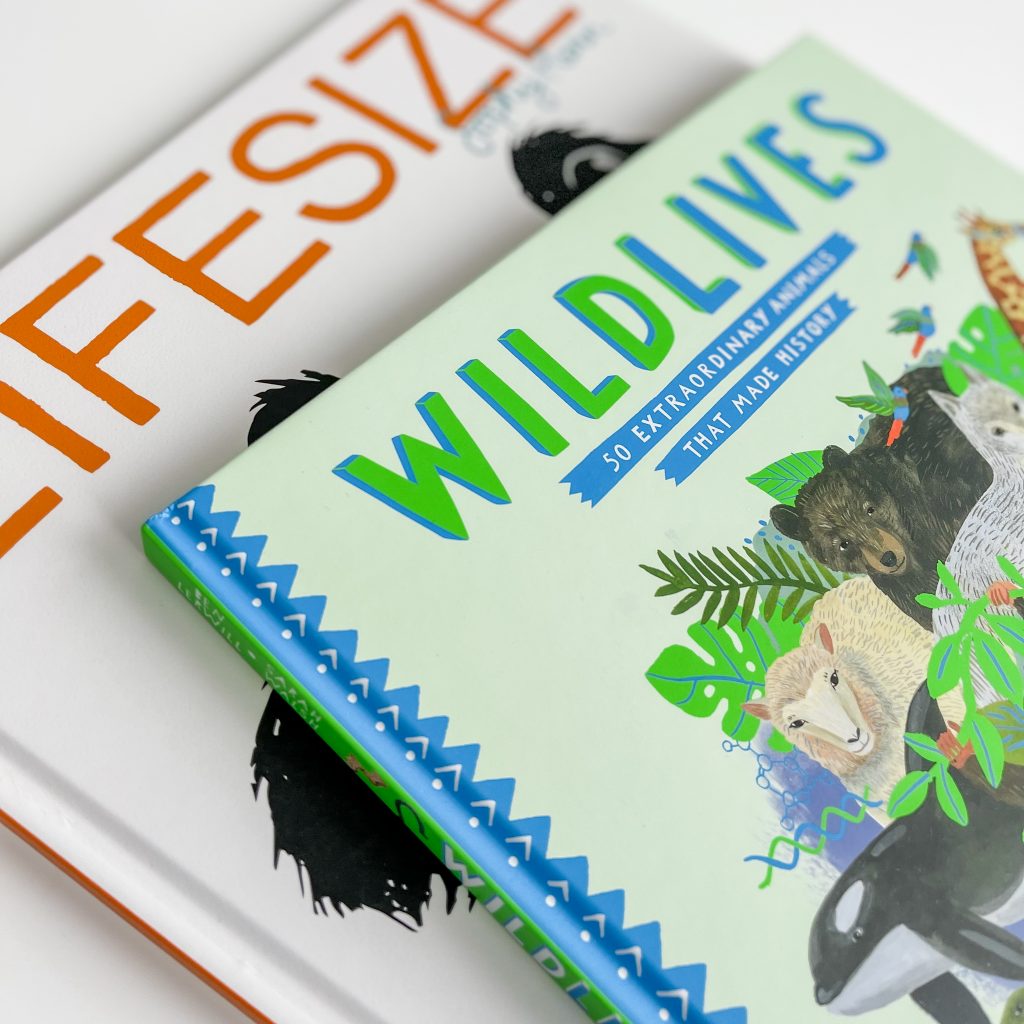 Lifesize — we have both this and the dinosaur version. The book itself is BIG and the illustrations are all drawn to scale for real life animals so kids can visualize what they might look like up close in real life!
WildLives — I bought this one with Crew in mind, he's a sucker for a story with a twist or an interesting fact that not everyone might know. This book profiles the true stories of 50 animals that made their mark in history.
Brown Bear, Brown Bear — to reinforce animals and colors and Alphabet with Greer.
Alphabet – a FAVORITE for animals and ABCs.
If Animals Built Your House — I love the twist on real information in this read (the illustrations are filled with kids being the size of each featured animal – very clever!). My kids haven't seen it yet — I'm saving it for this week, but I'll report back on what they think 🙂
What We're Doing:
This week we will be heading to where else but our local ZOO!
I thought about printing this set of Ocean Riddles to draw a couple each night at dinner this particular week. Additionally, our Papa and Mimi live right next to the ocean in Naples, so I'm hoping my mom, who's as much a frustrated teacher as I am, can do a virtual lesson for us this week from her neck of the woods. 🙂
For our playdoh kit, I was inspired by this bird nest version and will be adding several bits of Easter grass, some twine, feathers, and some fake birds from the craft store.
This is a good week to get some mileage out of our sensory table. For one setup, I'll get our kinetic sand back out and add in this tube of desert animals along with some rocks and let them go to town setting up a desert habitat. When that gets old, we can add in some colored blue water and our ocean set. (For toddlers throw in some scoops and cups and you have a full on water table.)
***If you have the IKEA flisat sensory table, you've likely seen ALL the printables and accessories on Etsy to get extra mileage out of it. I grabbed this recycling template and if we need an extra setup this week, we might chat about picking up trash at the kinetic sand "beach" to keep the animals and their homes safe.
A couple bonus ideas if we have time: this ocean oil spill experiment and this experiment about how arctic animals stay warm. We may also venture to a creek in our boots and see what kind of habitats we can find, as well as head to a nearby pond to feed some ducks. For Greer in the bathtub this week, I have a couple dozen tiny rubber ducks, some green craft foam cut into the shape of a lilypad, and some blue water color to make her bathtub into a "pond".