A lot of weekly themes this summer pack in more science and history, so I wanted a week where we could focus on ART and do lots and lots of creating. It felt fitting to slot this week toward the end of the summer when we could have a bit of a brain break and enjoy making stuff (an awesome way to unwind, too, if you have any first day jitters starting to creep in!).
What We're Reading: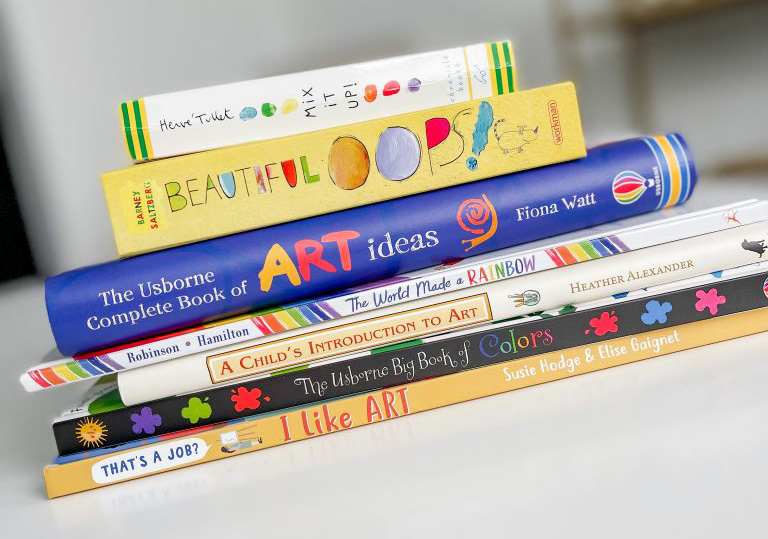 Mix It Up — interactive color mixing fun (Greer is currently obsessed at almost 2)
Beautiful Oops! — Great for the perfectionist kid and learning to turn a mistake into something cool
Complete Book of Art Ideas — THE most underrated Usborne book IMO jam packed with ideas to create
The World Made A Rainbow — the story of how people used art to show solidarity in the early days of the pandemic…I added our own pictures and wrote a letter to my kids inside as a sort of time capsule
A Child's Introduction to Art — perfect length of info for many famous artists and showcases most famous works they might recognize
Usborne Big Book of Colors — very sturdy XL board book for learning colors but also with bits of trivia, color theory and more
I Like Art…What Jobs Are There? — part of a series – I love how this delves into 25 separate career paths based on a passion for art
What We're Doing:
Art, art, and more art! I'm skipping the weekly playdoh kit and sensory table setup since everything we are doing this week covers the creating/sensory category. Starting with a title on our reading list, I want to incorporate this Mix It Up activity.
I thought Crew would be intrigued by this Minecraft self portrait project. Greer loves simple cause and effect, so I thought this Blow Painting art with straws would be right up her alley.
Other creations on our list include raised salt painting, bubble painting, and flipping through these famous paintings flashcards.
I'm hoping we can swing some real outings this week (potty training is the week before this!). Assuming we can, or maybe with just Crew for a change, I'm planning to go to a local art studio to do some splatter painting Pollock-style, and I'd like to take just Crew back to our Art Center…it's been more than two years since we last visited! As a final stop, I thought we might pack a picnic dinner one night and eat it in the Sculpture Garden downtown…we haven't been in about a year, and it's always a hit with Crew. Last time we went, we hunted for cool murals downtown as well …I wouldn't be surprised if he asked to do this again, and bonus for Mom – fun photo opps 🙂