Crew is fascinated by the vastness of space and Greer is obsessed with looking for the moon right now, so this was an easy theme to work into our summer weeks!
What We're Reading: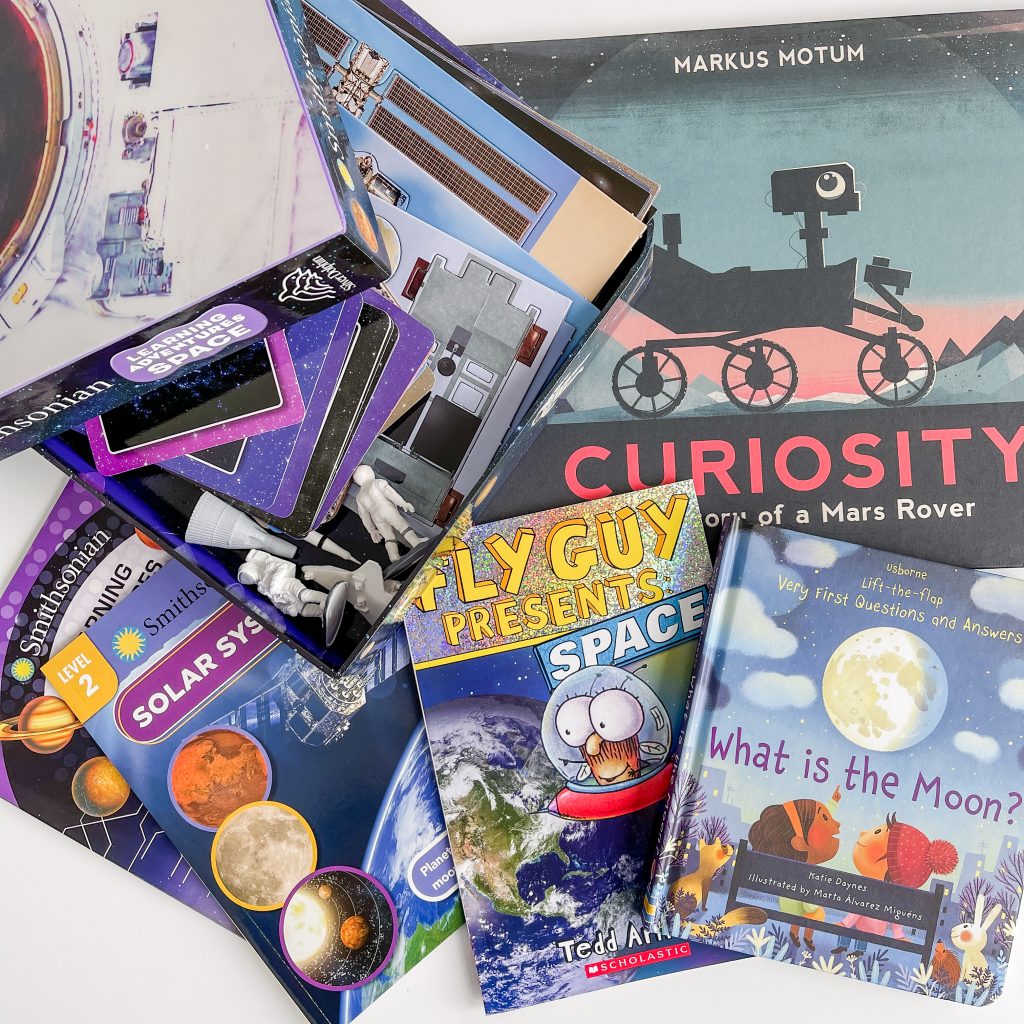 Smithsonian Space Kit — This was actually what set this week in motion for me. I spotted this at Costco (I don't know if they're still available there) but it had everything we needed in one box — a couple of simple readers, some figurines and cardboard pop outs to create a diorama (and reuse in our playdoh kits and sensory table for the week), plus a set of flashcards with interesting facts about the different planets and other space terminology. You could grab this kit and call it GOOD for a week of space theme stuff!
What is the Moon? — For Greer, although admittedly it's still a little over her head, but she'll happily follow along because of the topic. We'll grow into this one and if you want a more robust older kids version, I've seen The Usborne Book of the Moon firsthand and was THIS close to grabbing it as well.
Fly Guy Presents Space — Perfect Crew-level reader with just the right amount of depth for this week's theme.
Curiosity: The Story of a Mars Rover — this has been a longtime favorite of Crew's although we haven't had it out much the past year or so, so I'm hoping it feels fresh all over again when we hit this week. Love the large size of the page spreads and the illustrations.
What We're Doing:
This is a summer camp week for Crew, so we're keeping the activity load lighter and more geared toward Greer. We will have our play doh kit and sensory table setup on tap and I'll be reusing the figures that came in the Smithsonian book kit linked above. I added crumpled tin foil and various rock filler (from the dollar store) to make some space scenes. While we're doing these, I have a podcast bookmarked to listen to: Tumble Science's "The Road Trip to Outer Space".
I found an outer space yoga flow routine for kids when we need to move a bit, and we can bust out some toothpicks and marshmallows to make constellations following these templates. One or both kids would love to do this watercolor planet project if we need our art fix, and if we need some downtime, we might put on Wall-E.