My red white and blue heart can't wait for this week — it might have been my favorite one to plan!
I love the festivities that surround this week anyway, and finding ways to explain to my kids WHY we celebrate brought it all full circle for me. While it would be easy to run in every American History direction, I wanted to focus on something my kids could grasp, that was more visual. USA Landmarks was what I landed on — combined history, geography, architecture/art and patriotism all at once.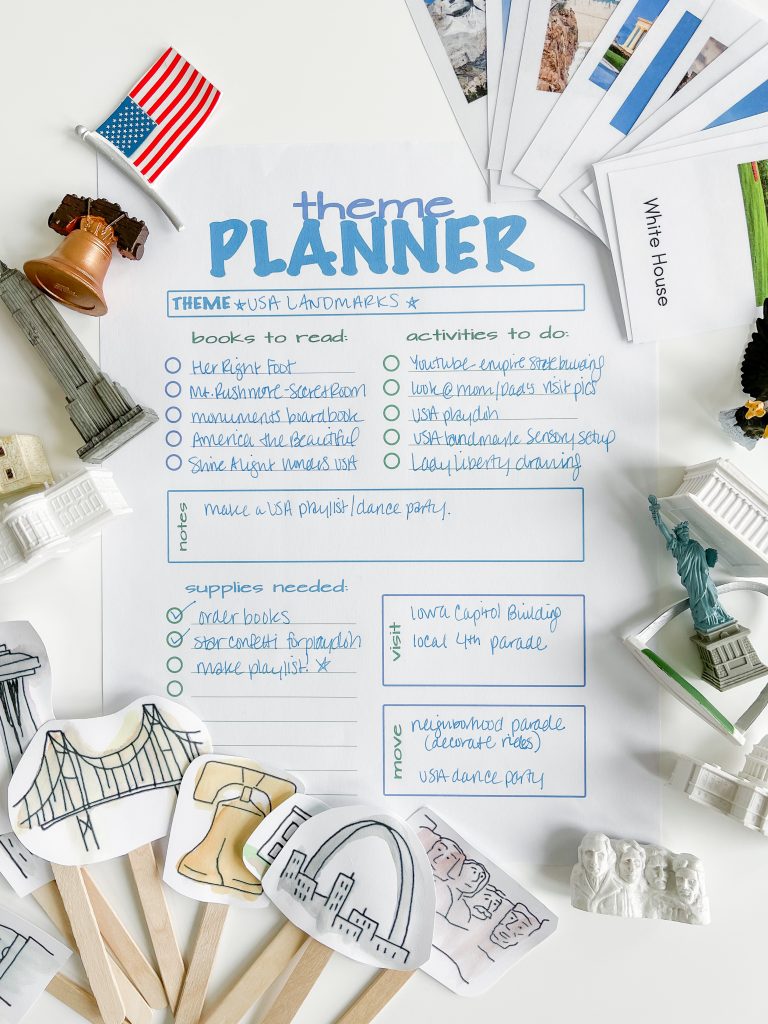 Like every other week, I've been using my Theme Planner from the Summer Plan Printables to help keep my arms around all the things going on, this holiday week in particular, plus the activities and outings I want to accomplish with my kiddos.
What We're Reading: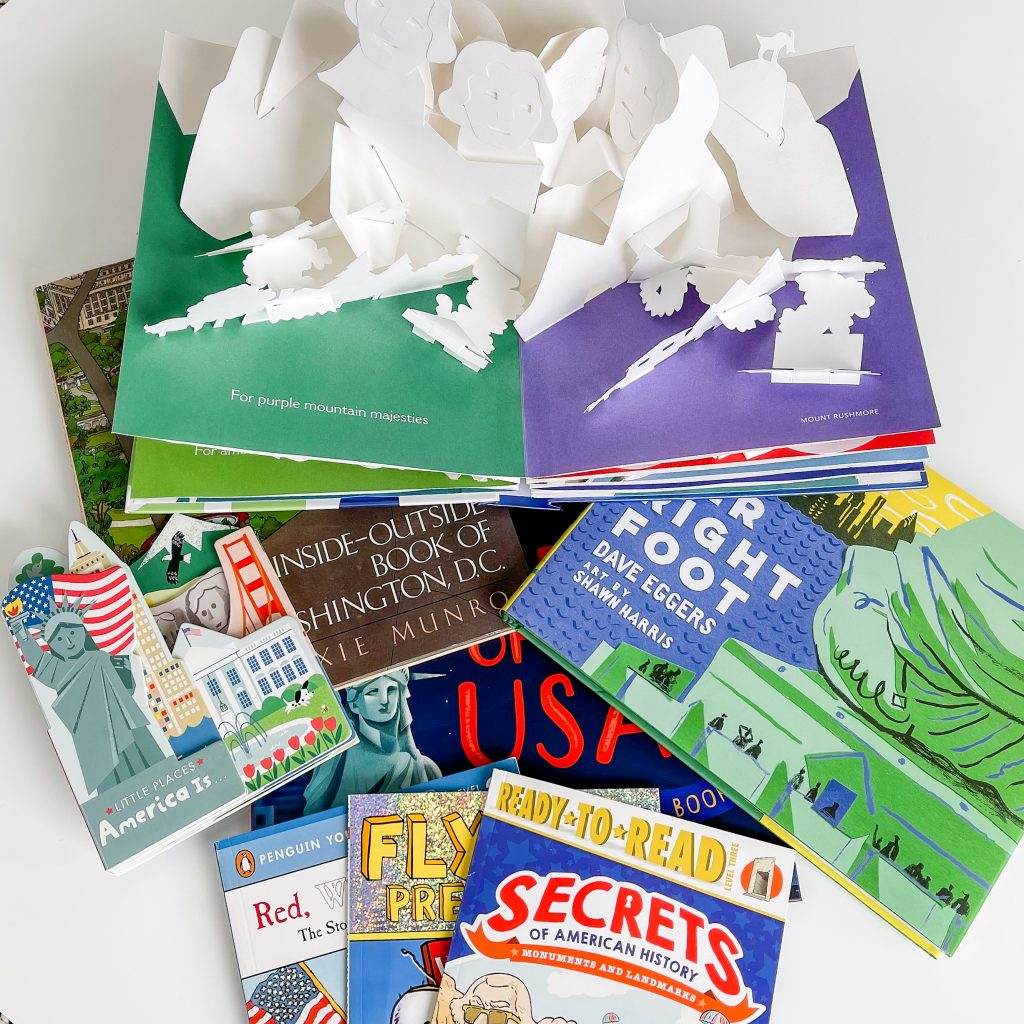 I could justify a STACK of reads for this week — because I bring them out year after year just as I do with our other holiday book collections. Some we've had, others I added new this year — as Crew gets older, I'm always trying to keep something challenging on our shelf.
The Inside Outside Book of Washington D.C. was mine as a kid — the most BEAUTIFUL illustrations and if you can't visit in person, this book is the next best thing!
America the Beautiful — the most beautiful and detailed pop-up book…it's truly a work of art!
Shine-A-Light Wonders of the USA — if you've seen the flashlight Usborne books, you know kids love them. I couldn't believe my luck to learn there was one that perfectly fit this week's topic.
Little Places: America Is — there's a sweet and simple American message to this board book that is durable enough for Greer to flip through again and again (love the cutout edges to the pages, rather than simply square) but I can see Crew applying his newfound knowledge to flip through this as well.
Red, White, and Blue: The Story of the American Flag — a bit broader than our theme, but the reading level was appropriate for Crew and he loves trivia type information. I'll save it beyond just this week for a re-read every summer around this time.
Her Right Foot — I checked this out from our library and knew before finishing it that we needed to own it. It covers a fantastic message and there is a LOT of information (mostly all new to me!) packed in here about Lady Liberty, from a new vantage point. I love a book that really makes you think about something in a new way.
Mount Rushmore's Hidden Room and Other Monumental Secrets — another reading level fit that also gets at trivia and "did you know?!" themes for Crew. I'm anxious to learn some new things from this one, myself!
What We're Doing:
It was pretty easy to pull a bunch of red, white, and blue items together for a weekly playdoh kit. I incorporated some red, white and blue dough, some star confetti, beads, little toothpick flags, pipe cleaners, and some various sizes of Legos to stamp/design with. (This was also a subtle nod to all the architecture we're studying this week – ha!)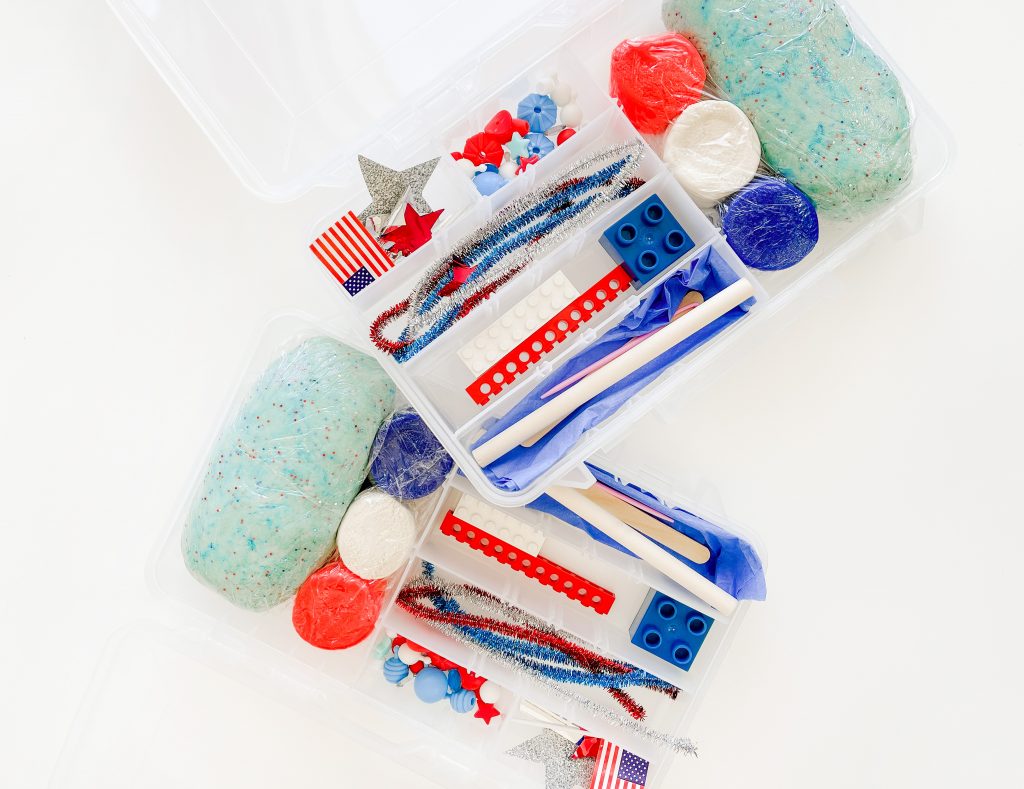 For our sensory table, I printed a USA map graphic and these printable cupcake toppers, added them to popsicle sticks, and will create a sort of "drop a pin" activity for mapping the seven landmarks. While they included others not covered in the cupcake toppers, we'll use these USA landmarks in the bin as well to put a tactile spin on something we otherwise can't just go out the door and SEE this week, but rather rely on videos and books to visit.
Other activities on tap include this art lesson on drawing the Statue of Liberty, visiting the Iowa Capitol building downtown, and of course all the traditional 4th activities…food, parade, and fireworks!
Happy 4th of July week!