To be clear — I'm MORE than okay with lots of down time and my kids getting bored enough to figure out how to entertain themselves. I think it can be easy to fall into the trap of needing to un-bored our kiddos. "Keep the Kids Busy" to me, means laying some groundwork, providing some options, and letting them help themselves. If I'm doing it right, I'm helping prevent some summer slide AND saving my own sanity! 😉
This will be my third summer at home full time with my son, age 7 and daughter, age 2 and I found myself brainstorming ways to keep both sets of interests/ability levels simultaneously engaged while giving us ALL a little structure during the twelve weeks of summer.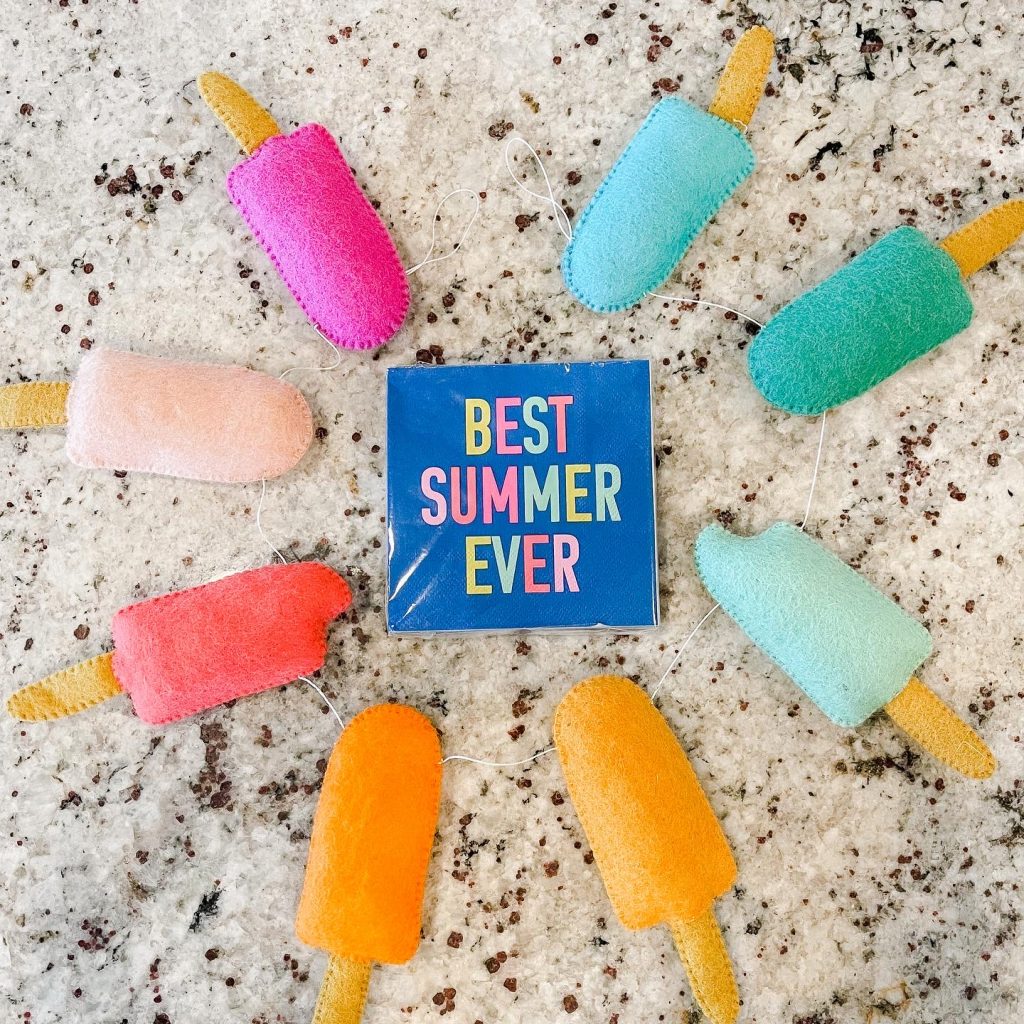 I came up with 12 weekly themes (view each one in detail HERE!) around which to plan some projects, activities, and outings that could be tailored to both age groups. My best guess is that each week's activities boil down to a couple hours TOTAL in a week, and I'm not stressing whether or not we get to it all. We have other activities and lots of pool and park time to accomplish, so as long as everyone is happily busy and not LIVING on a screen, I won't push anything, but should we get restless, I know that I have this arsenal of fresh stuff to pick from each week.
As I started to plan out our summer, I found myself designing some templates we could use to keep us on track….thus, the Summer Plan Printables were born! I've noted below where I use these to help me keep a grip on what we're up to. My hope is that by making them available, some or all of them are helpful to others, too!
You can view each weekly theme in more detail HERE.
*Items in bold below are printables available in the Summer Plan Printables (pictured below!)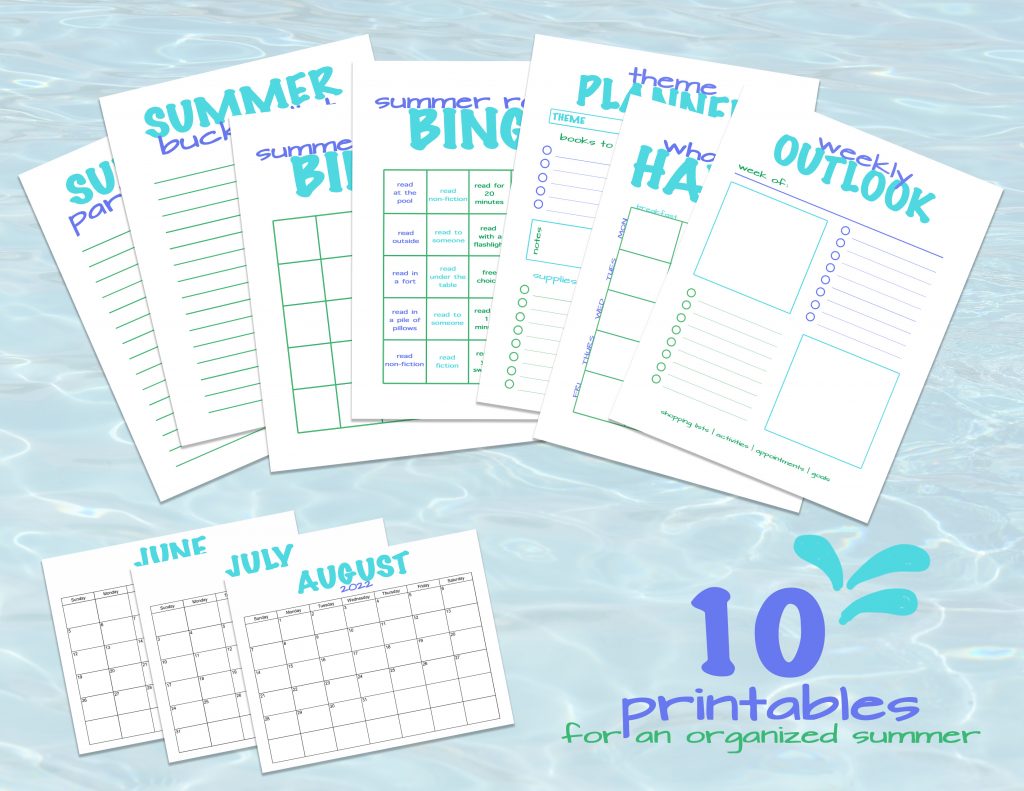 Each Week:
Using the Theme Planner from the Summer Plan Printables, I'm trying to hit on the following areas with each week's theme:
Reading/Writing: weekly trips to the library and we'll keep a summer journal; to keep him motivated to log reading time, I'll be incentivizing little prizes with our Summer Reading Bingo (from the Summer Plan Printables)

Watching/Listening: watching shows/movies and listening to podcasts

Making: a playdoh kit and/or a sensory table setup most weeks because both of my kids will do these together for long chunks of time — (totally worth the effort and mess for me!), plus lots of art projects along the way

Adventuring: a weekly "field trip" to a new or special spot we don't often visit
Plus some proactive "summer slide" work:
…And that's it! The rest of the summer is for sunscreen, chlorine, popsicles, lightning bugs, and checking things off our Summer Bucket List.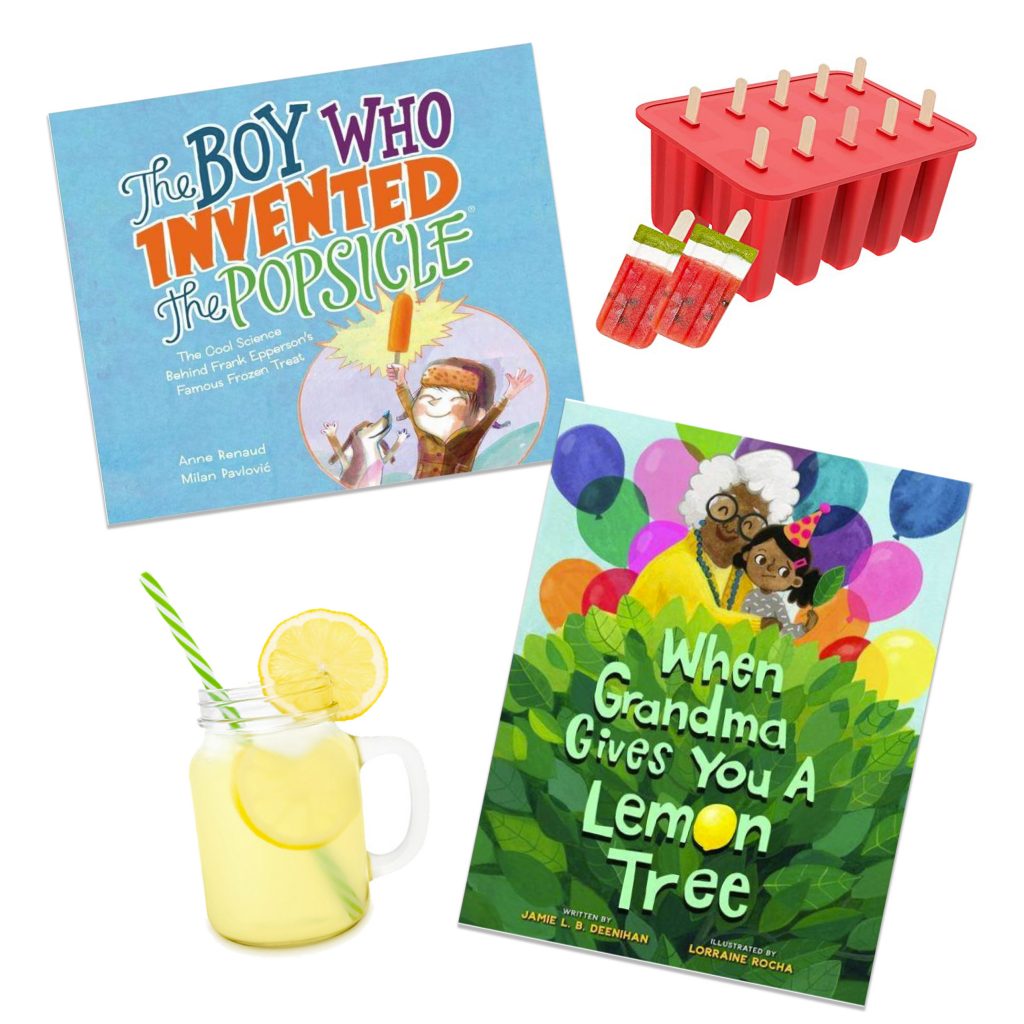 Week 1: Summer Kickoff
Read the full Week 1 post in more detail here!
Week 1 and 12 are the most loose in terms of structure. I figure in both weeks, we are easing out of one schedule and into another. The general theme of this week is to kick off some good habits and have a lot of FUN. Our first week will include:
Decorating / starting a weekly summer journal (picking a different writing prompt question each week)
Making homemade popsicles
Filling in our weekly menu of lunches and snacks, so I can plan accordingly, and the kids know what to expect
Check a first item off our summer bucket list
Make squirt bottle sidewalk chalk
Playdoh kit: Ice Cream theme
Start our 50 Park Challenge (our goal for the summer is to hit 50 different parks…we will be keeping track on the Park List printable!)
Start free reading time and introduce the Summer Reading Bingo card (for every row of 5 he gets to select a prize – all dollar spot type stuff)

Week 2: The Human Body
Read the full Week 2 post in more detail here!
Read Uncover the Human Body, Big Book of the Body, Shine A Light: The Human Body (Crew) and Body board book (Greer)
Watch The Magic School Bus Explores the Human Body
Digestion experiment (multiple versions on pinterest – involves bread in a ziploc bag)
Playdoh kit: human body (Crew) face (Greer) playdoh mats
Sensory table: red water beads "guts" and hidden organs (we LOVE these TOOBS and coordinating printables)
Visit Kids Warrior Gym to exercise our bodies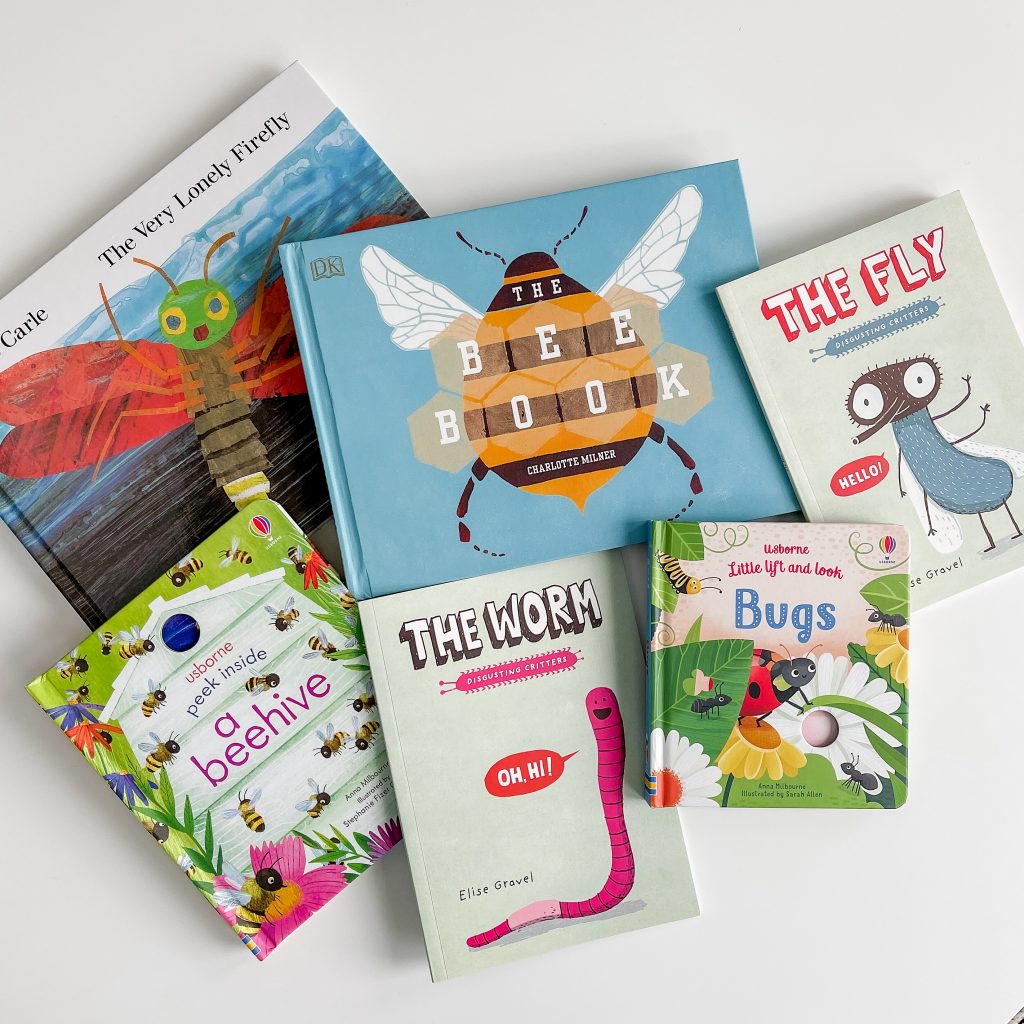 Week 3: Bees (and other bugs)
Read the full Week 3 post in more detail here!
Read The Bee Book (jam packed with info), Peek Inside A Beehive (great preschool version of same info), Bugs, The Very Lonely Firefly (a classic!), The Worm and The Fly (great early readers!)
make Honey Nut Cheerio balls (recipes on pinterest)
Bubble wrap honeycomb painting (search pinterest)
Playdoh kit: Worms and bugs
Sensory table: beehive (yellow/black rice and accessories — incorporating this beehive as well)
Visit Jester Park Nature Center
Pollinator challenge (cornstarch experiment – see pinterest)
Honey slime (you guessed it – pinterest)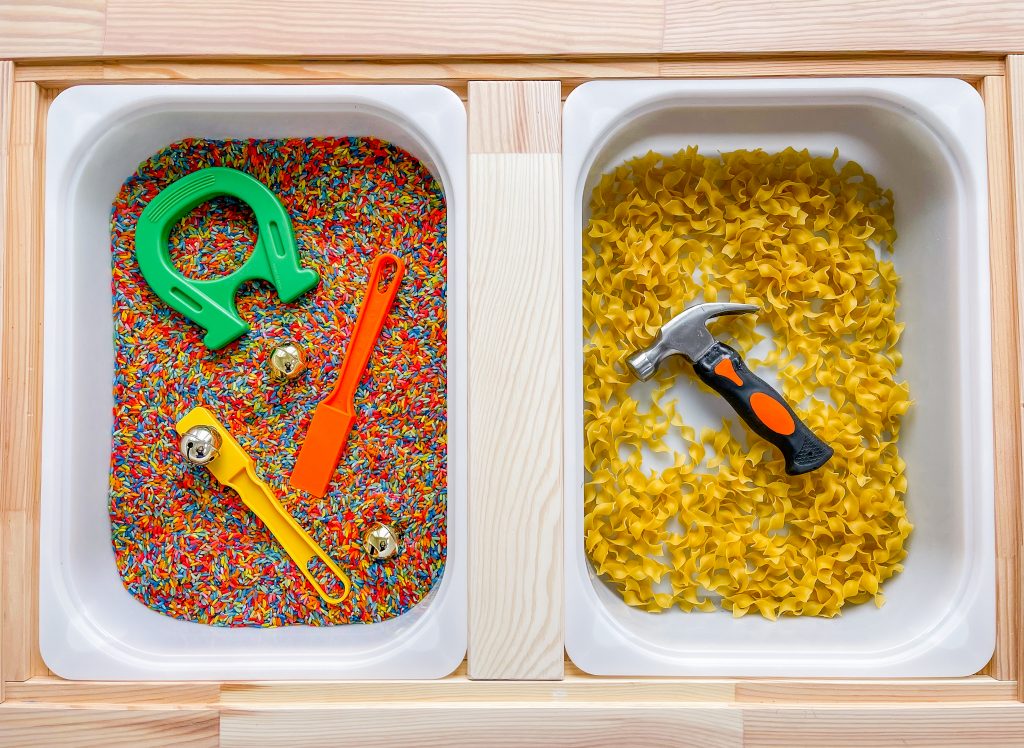 Week 4: Music and Sound
Read the full Week 4 post in more detail here!
Complete The Science of Sound chapter from our Tinkeractive workbook
Read Questions and Answers About Music, My First Drumming Book (both of these are a big hit in our house!)
Play with instruments (I've stashed some new instruments (similar set) to bring out this week
Crunchy sounds sensory bin
Make our own musical instruments
Have a dance party and a ballet lesson (Mom brushing off ancient skills)
Go listen to live music as a family
Week 5: Weather
Report the forecast with a weather board (similar board)
Make a water tornado experiment
Listen to But Why? Podcast: "What's With the Weather?"
Read What Makes It Rain?, The Science of Snow, Rain, and might incorporate this meteorology activity book if we have time
Playdoh kit: weather
Senosory bin: weather
Learn about rain dances and make a rain stick
Visit the Iowa Science Center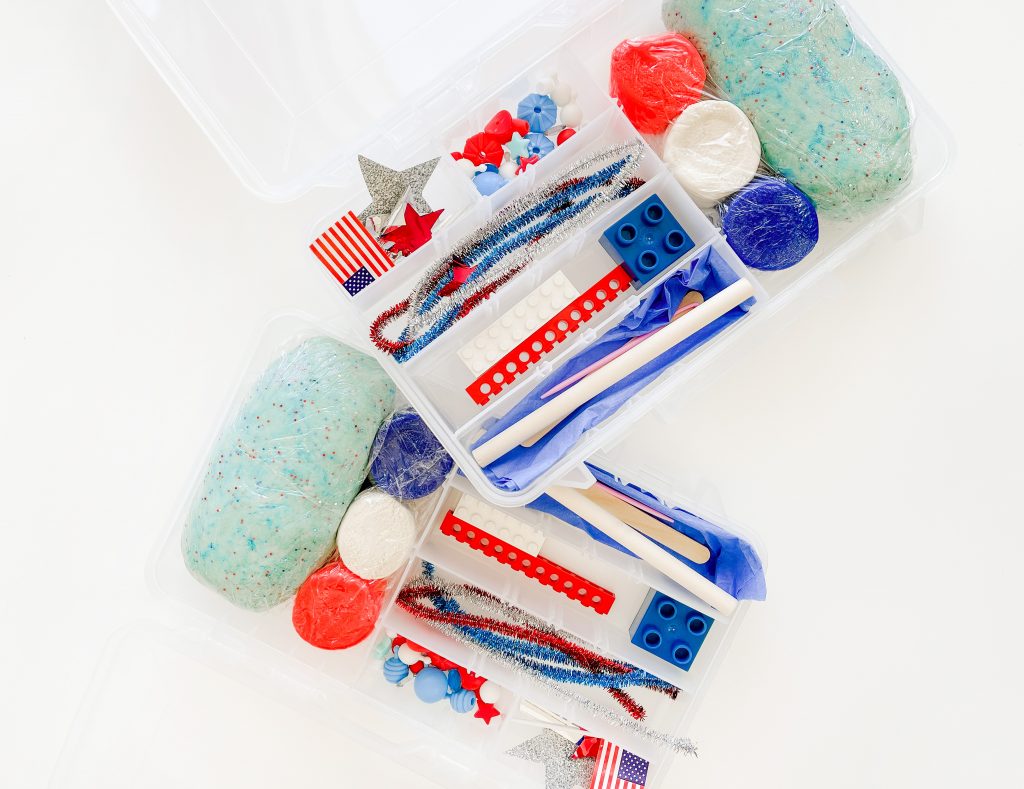 Week 6: USA Landmarks
Visit the Iowa Capitol building
Read Shine A Light: Wonders of the USA, America the Beautiful (THE most beautiful pop up book you'll ever see!), Mt. Rushmore's Hidden Room & Other Monumental Secrets, Her Right Foot, and Little Places: America Is
Watch The Building of the Empire State Building (YouTube)
Lady Liberty drawing activity
Playdoh kit: USA
Sensory bin: USA landmarks Toob with map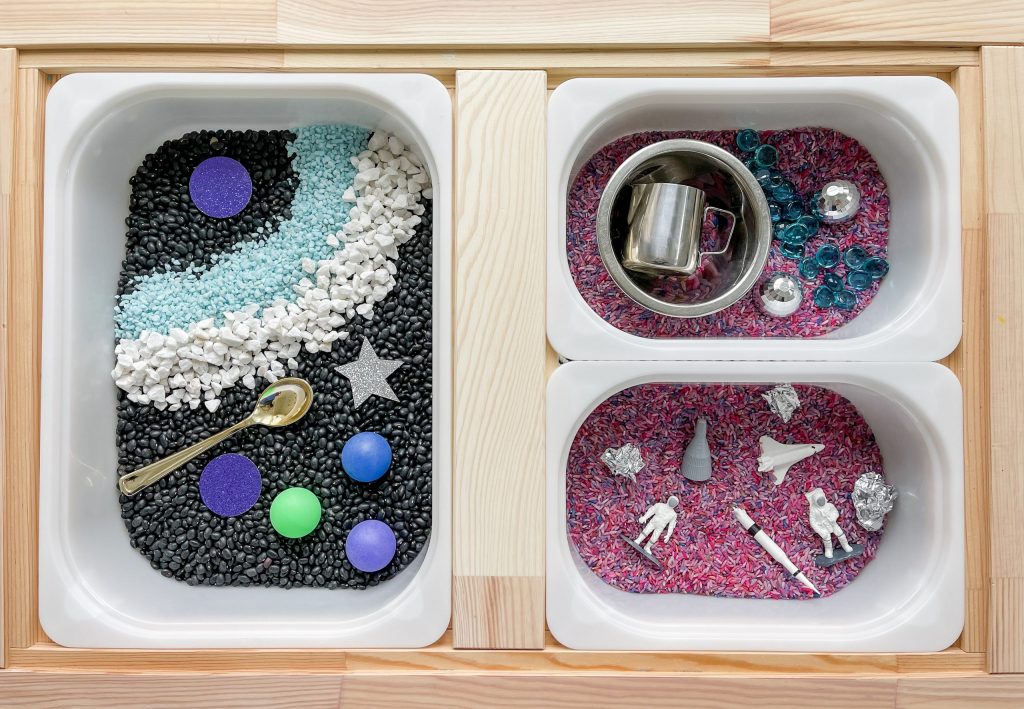 Week 7: Outer Space
Complete Smithsonian Space book/kit, What is the Moon? (Greer is OBSESSED), Curiosity the Story of a Mars Rover (longtime fave)
Listen to Tumble Science Podcast "The Road Trip to Outer Space"
Watch Wall-E
Playdoh kit: outer space
Sensory bin: outer space
Toothpick and marshmallow constellations (Pinterest)
Outer Space yoga flow (YouTube)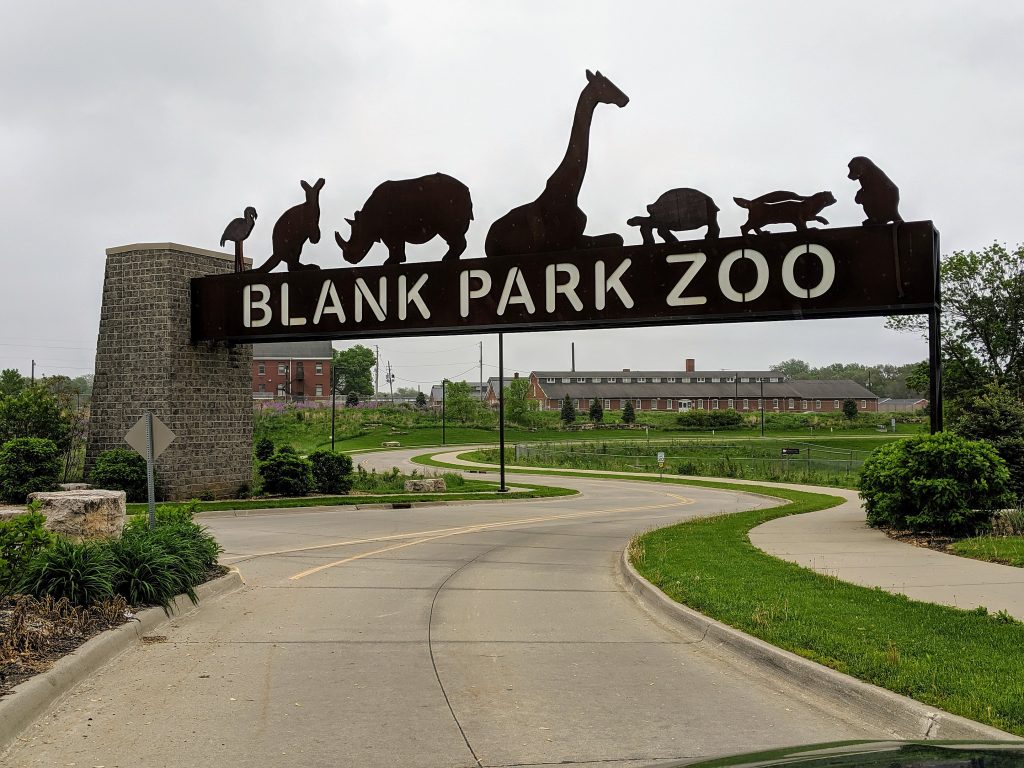 Week 8: Animals & Habitats
Read Brown Bear Brown Bear, Ocean Riddles, Wild Lives: 50 Extraordinary Animals that Shaped History
Watch Finding Nemo
Listen to Brains On! Podcast "Animal Farts: A Mighty Wind"
Playdoh kit: birds nest
Sensory table: desert animals (using kinetic sand and these guys)
Draw a sidewalk chalk ocean mural
Visit the Blank Park Zoo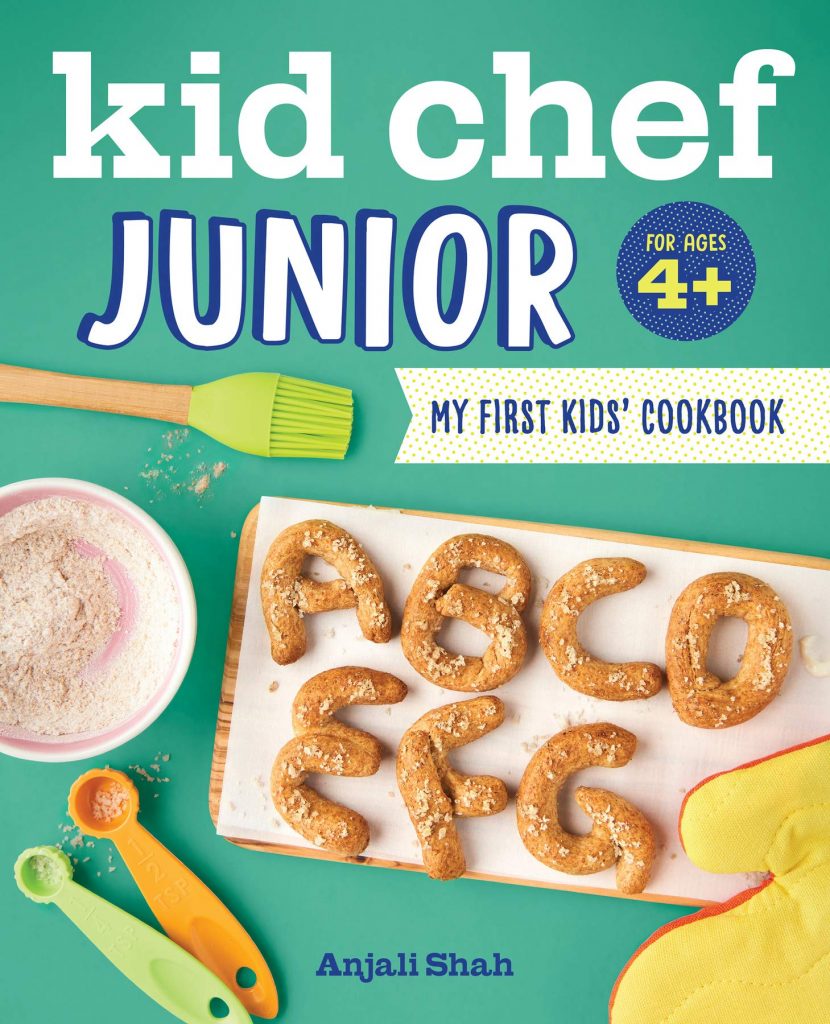 Week 9: Food
Read Weird But True: Food Facts, Cook in a Book Pancakes (we love this whole series!)
Listen to But Why? Podcast "Why do we like to eat certain foods?"
Sensory bin: vegetable garden
Playdoh kit: mealtime placemat
dance party to "Raining Tacos" and "Gummy Bear" songs
Visit the grocery store (bingo card to complete, shop for ingredients)
Design a menu/Cook a meal/Set the table like a restaurant
Food groups grocery sorting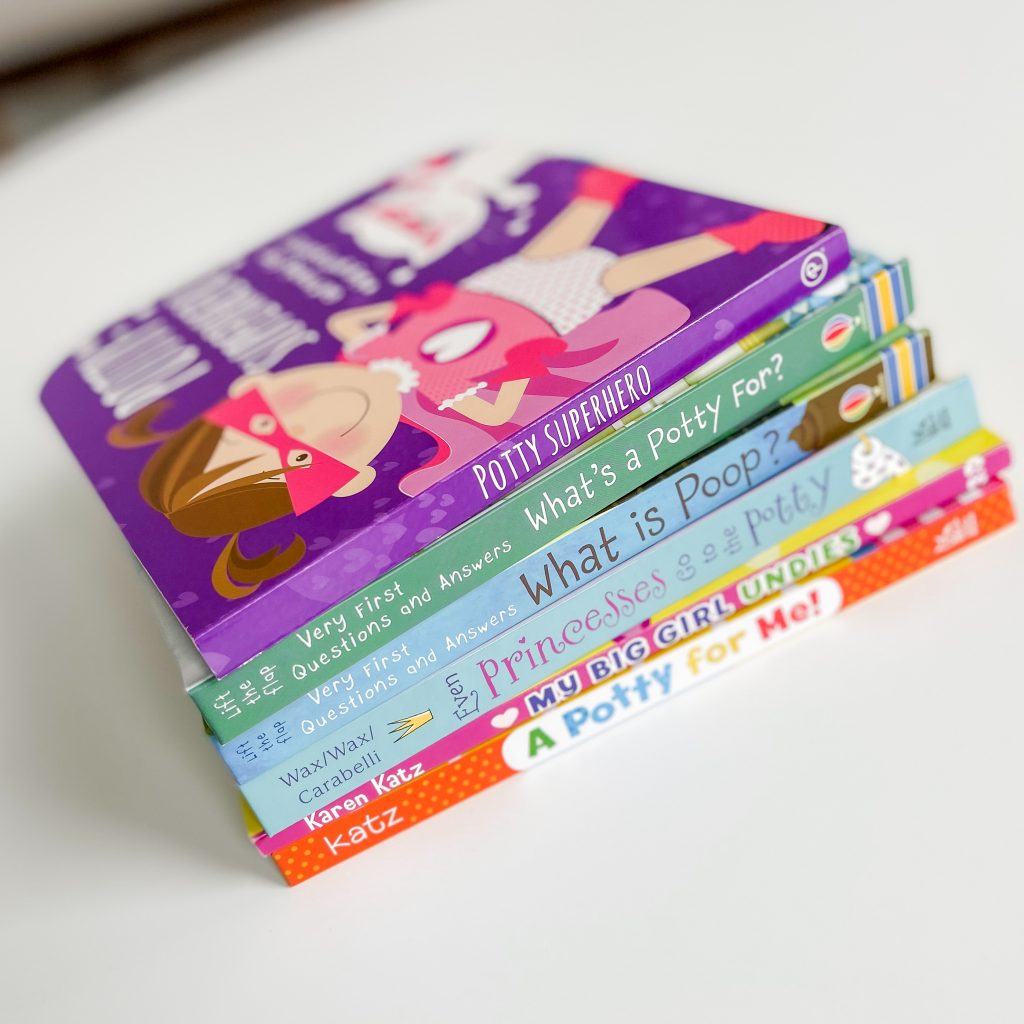 Week 10: Poop (& potty training!)
(This week is light on outings and high on self-entertainment — nothing is set in stone but the plan is to be potty training this week!)
Read What is Poop?, What's A Potty For? , Even Princesses Go to the Potty (the firefighter version of this was popular with Crew years ago!), A Potty for Me!, and My Big Girl Undies
Pin the poop in the potty (pinterest)
Watch Dirty Jobs episode of septic system
Sensory bin: wash your hands
Make unicorn poop putty (pinterest)
Sketch a flow chart of the waste water system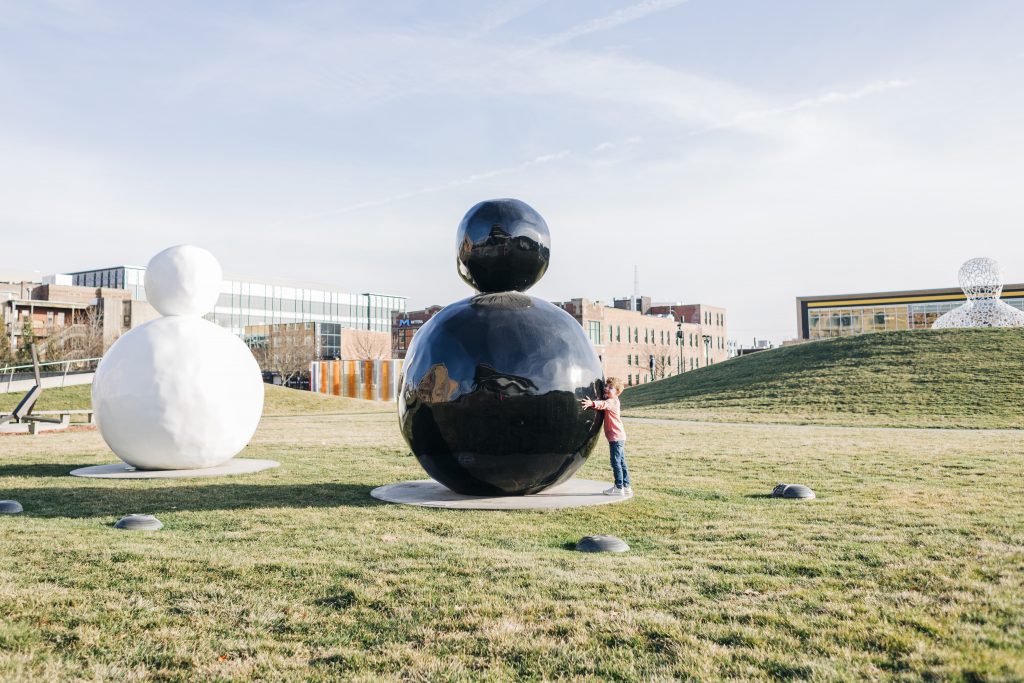 Week 11: Art Studio
Read Mix It Up, Beautiful Oops, I Like Art What Jobs Are There?, Famous Paintings cards, Complete Book of Art Ideas (THE most underrated Usborne book IMO — we could do a project a day from this book for MONTHS and not be through it all!) and A Child's Introduction to Art
Watch Mr. Rogers episode with Eric Carle visit
Salt painting
Rock painting
Bubble painting
Visit Papajohn Sculpture Park
Visit The Art Center
Splatter paint at Artfull (local kids art studio)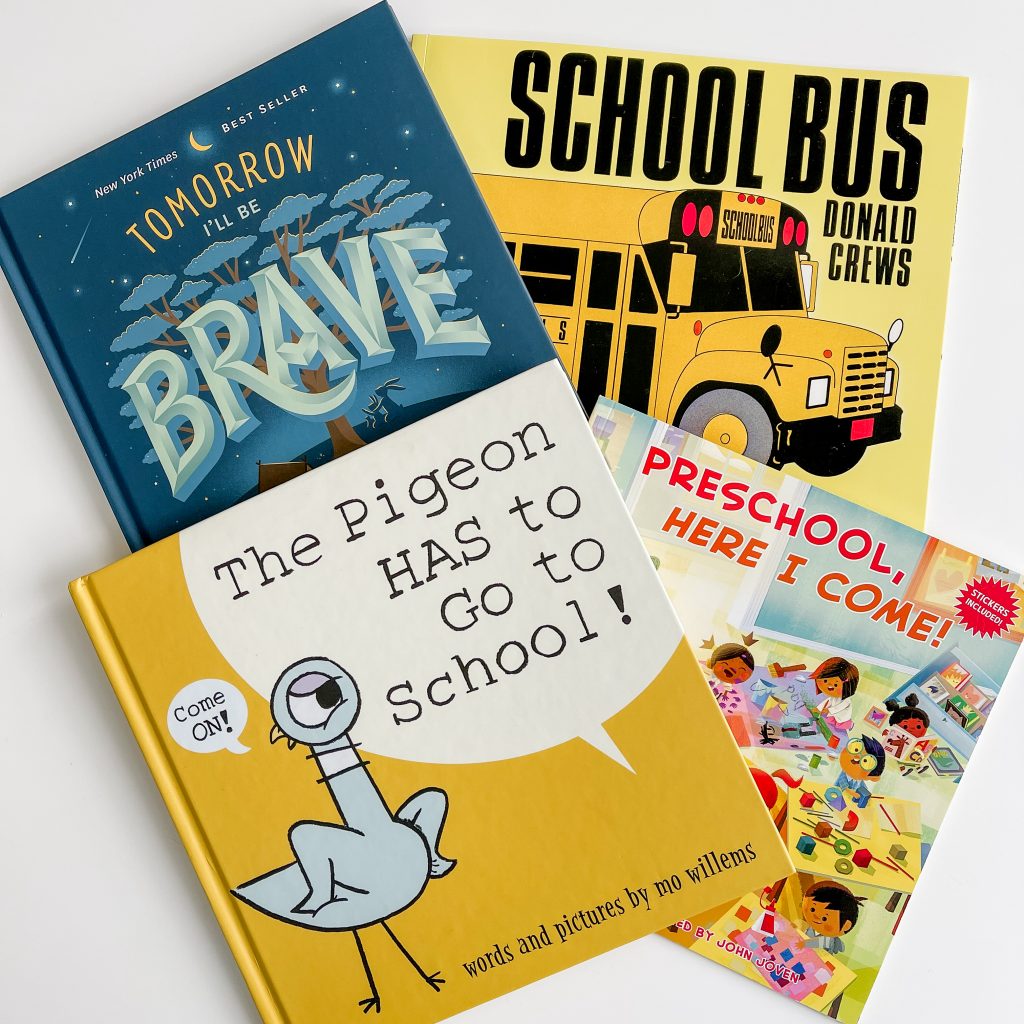 Week 12: Back to School
Read Tomorrow I'll Be Brave, The Pigeon Has to Go to School and School Bus (all mostly geared toward Greer)
Listen to Best Whatever Ever! Podcast S: 3 Ep: 1 "Worst School Year Ever"
Sensory bin: ABCs
Playdoh kit: Pigeon and the Bus
Sidewalk chalk photos with incoming grade numbers
Back to school traditions
Family movie theater outing
Visit schools for Open House events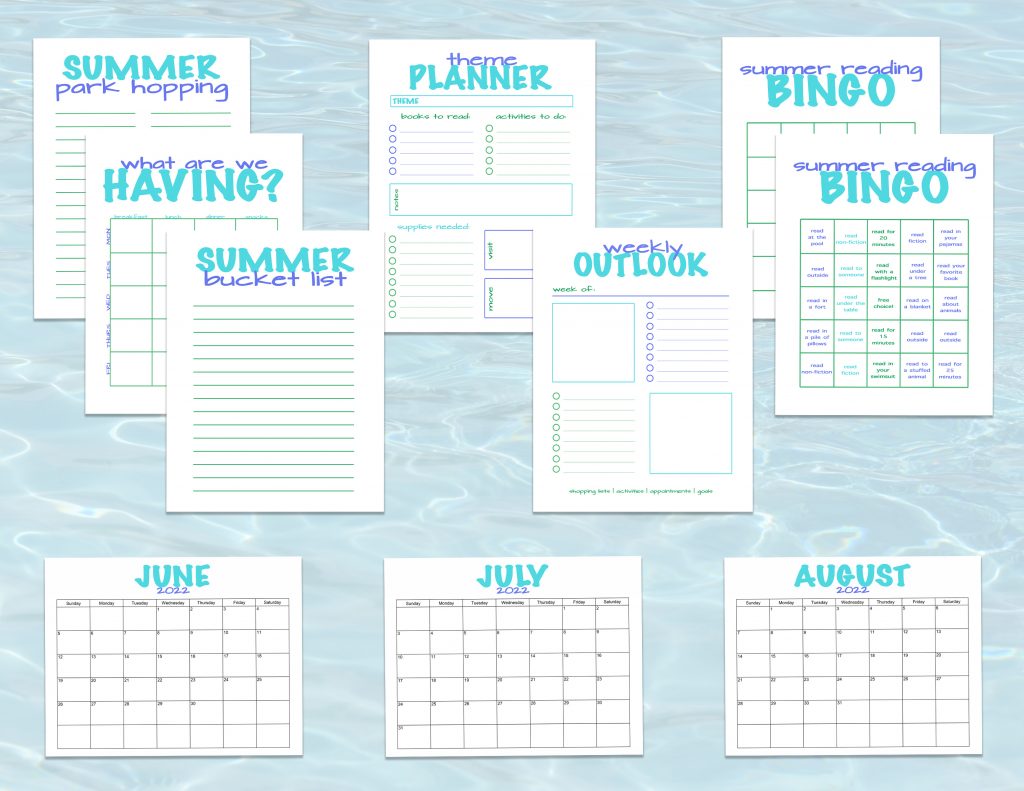 Planning and Organizing It All
Planning and Scheduling:
I do keep an online calendar, but to keep it visual for everyone to see at a glance, I print off our monthly calendars from the Summer Plan Printables (pictured above) and add all activities/trips/appointments. From one week to the next, I fill out our weekly outlook (shopping list, to-do activities, and our goals for the week) so we can see what we have on tap starting each Monday. To keep lunches easy for my extra picky kids, we used the meal planner to choose a weekly rotation of lunches and snacks so there are no surprises.
Sensory Bins:
My kids LOVE some sensory play. We put on some music or sometimes we just chat while they do their thing. I keep giant ziplocs of fillers by color — beans, rice, kinetic sand, glass beads, and more in allllll the colors. It's easy to pull from here when we are ready for a fresh "setup". We reuse it for a while and when it starts to get gross or if we've left it outside, I toss it and make fresh batches of stuff as needed. I'm not afraid to do messy fillers — chocolate pudding as "mud", colored water, water beads, cloud dough — I do tend to save these for the warmer months when it's easy to haul everything outside, but if we're indoors I just throw our gathre mat under the table for easy rinse cleanup afterwards.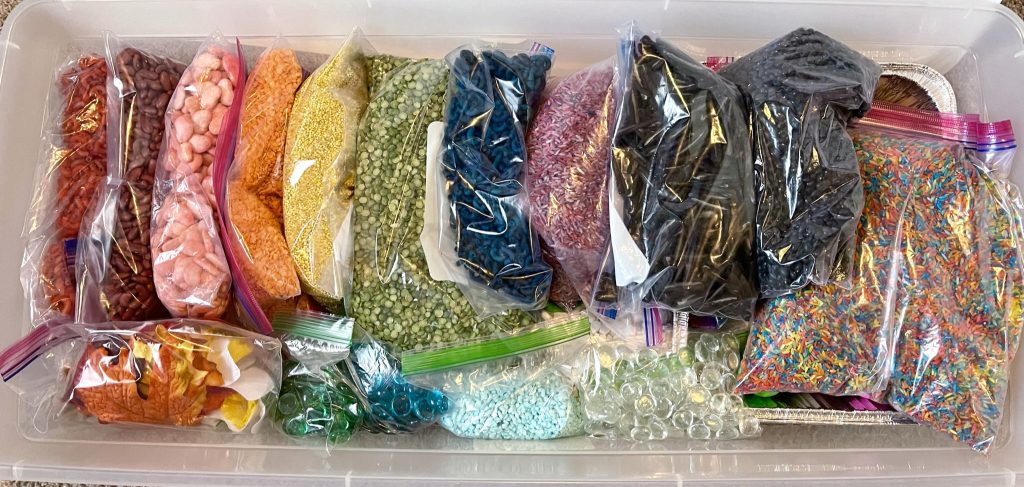 I keep a bag of nature stuff like plastic greenery, Easter grass, and green felt for when we are setting up any kind of scene. Otherwise our go tos are the Safari Toobs, random craft supplies (pom poms, popsicle sticks) toy food, painted salt dough shapes, dollar store randoms, and whatever else fits the theme. I'm mildly obsessed with these bags and use them to keep everything sorted. Add a few tools — leftover laundry scroops, dixie cups, small prep bowls, tongs or go for a set of tools just dedicated for this use. We also love these tool sets that are better for wet sensory stuff.
Playdoh Kits:
There are BEAUTIFUL versions of these available for purchase, but with a stash of stuff, you can put these together for much less, and I wanted to have a new one each week for three months…so DIY it is! I'll reuse a lot of the "theme" stuff between the kits and our sensory set-up each week and house it all in a tackle box for each kid. We do replace a bulk pack of PlayDoh brand dough every couple years to have a stash of colors on hand, but I've also found it REALLY easy to make large batches at home and color it exactly to what we want and add fun stuff like chunky glitter or scented oils if you're feeling extra. In each kid's box, I add a couple playdoh tools to use week to week, but to switch it up you could swap out mini cookie cutters, repurpose rubber stamps, etc.
Laminate Everything:
To save some cash, I DIY a lot of our flashcards, playdoh mats, and wipe-off activities at home and laminate them to keep them durable and reusable. If you go this route, I'm going on my fourth year with this cheap laminator and it works great. (Also, you DON'T need the fancy laminating sheets – these have lasted me a while and work perfectly!) We've made our own sight word games for Crew, animal matching activities for Greer, ornament gifts, tags for backpacks, and a zillion other projects. Seriously. Laminate everything. (But alternatively, these are also great!)
Thanks for following along! I'll be back soon with weekly detailed posts of our plans and you can find them all under the first tab at the top under "Keep the Kids Busy" — and please follow along with us on Instagram at @keep.the.kids.busy!