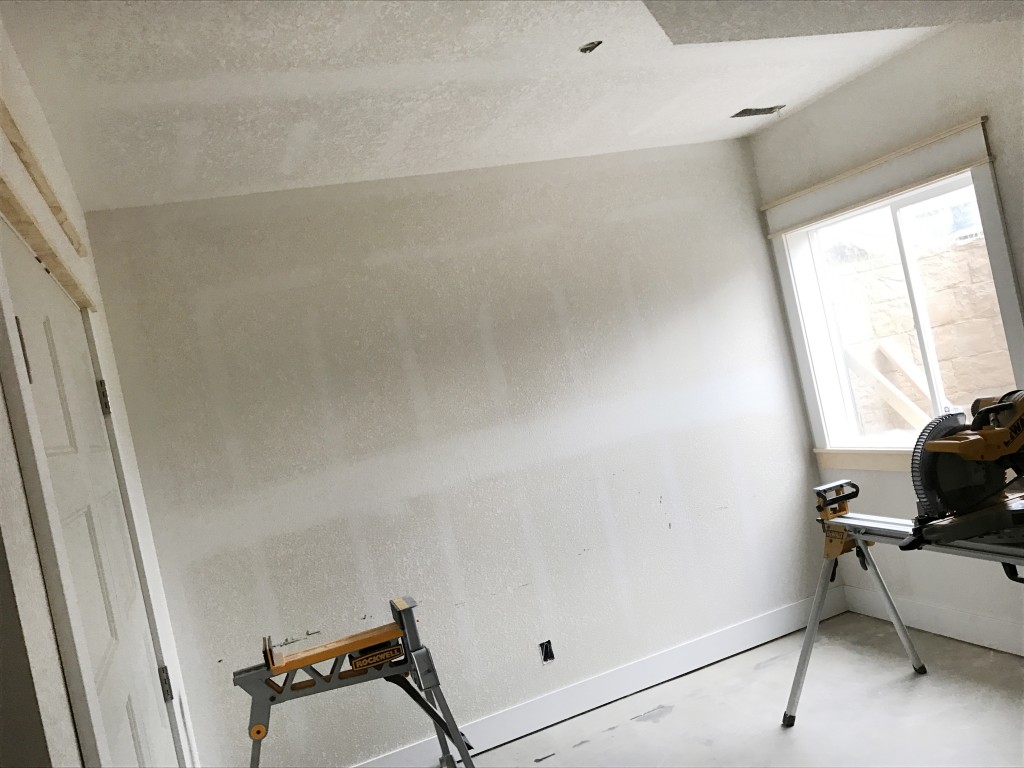 Having built two homes, I'm very familiar with picking out elements for my home without being able to actually see/touch/walk through the ACTUAL finished space beforehand. Finishing the basement level is a little bit easier because at least I can reference the room size and take measurements anytime I want (versus trying to do the math off a set of blueprints and "guess" what 4 feet feels like!). Even so, the walls aren't yet painted (as we speak!) carpet isn't yet in (although we've picked it out — it's a slightly cooler/lighter color than what's pictured below, but same pattern) and the lights aren't yet turned on (fixtures on order!). So, pulling together a couple versions of a quick inspiration board helps me immensely to figure out the vibe I'm going for in a room. I like too many styles and one moment I'm pinning everything "transitional farmhouse", the next it's all "rustic/industrial". Trying to keep a balanced blend that isn't too pigeonholed is tricky!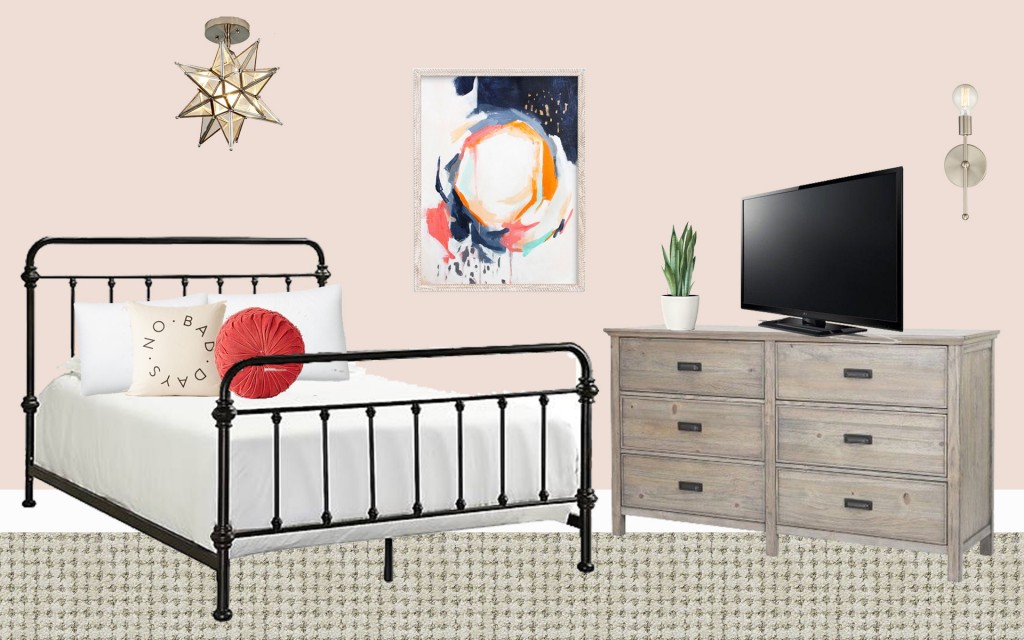 Bed | Ceiling Light | Throw Pillows | Artwork | Dresser | Wall Sconce
Carpet pictured is Tuftex Peak Talent in "Misty Dawn" — (ours will be in "Drizzle")
Paint color pictured is Sherwin Williams "Faint Coral" — see all of our paint picks here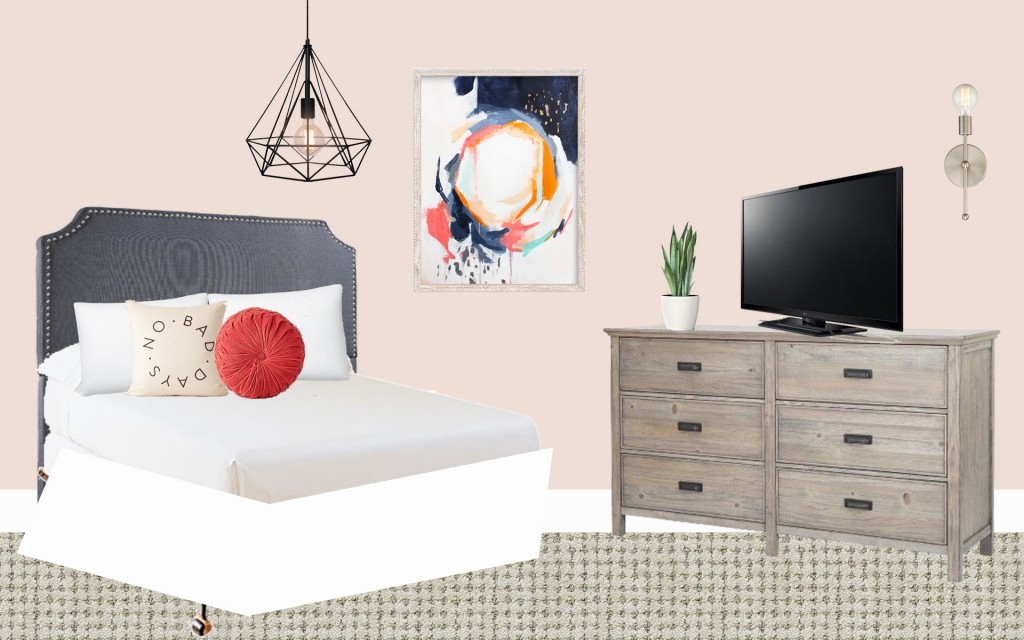 Over the next couple weeks, I'm excited to share a room-by-room plan for our lower level. Unless our money tree blooms out back overnight, it will certainly take a little time to pull together all the finishing touches, but we feel pretty stoked about the progress that's coming along and, furnished or not, we hope to have some usable space by summer!
For today, I'm sharing the inspiration for our guest bedroom. The people at Casper and I created a little checklist of the elements needed in this room to make it inviting to future guests!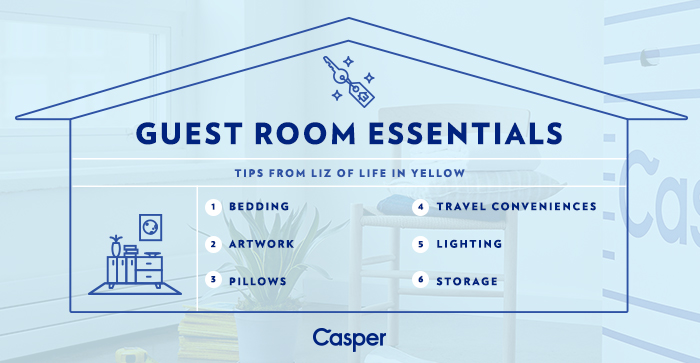 Bedding. Coming into the warmer months, I love the idea of keeping it fresh/crisp with bright white sheets, a light down comforter, and a couple light blankets folded at the foot of the bed. But I'm also already thinking ahead to the holidays, and how to bring in some Christmas coziness — flannel sheets and some festive throw pillows.
Artwork. A must for giving your guests a glimpse of your decorating personality! I have a couple little pieces to sprinkle around the room that are specific to where we live and represent Des Moines for the people visiting us here. I also am planning to make an updated version of the art in our upstairs guest room that displays all the deets for accessing our wifi. For a larger, focal piece in the room, I'm loving the colors in this print from Minted.
Pillows. There's nothing worse than sleeping on a flat/cheap/"extra" pillow when you're staying over, and I'm all about investing a little in the foundation pieces; a good mattress and quality pillows. You don't want your guests tossing and turning all night!
Travel Conveniences. As I mentioned, we'll displaying our wifi in the room, and a TV will have DirecTV for more entertainment. I'll be adding a little basket in here with everything from some spare toothbrushes and travel-sized bath products, to a small emergency kit (nail clippers, stain pen, etc) and a couple of leisure books and magazines. I want to wait and see how big the room feels after the bed is moved in, but I'm planningon either a bench at the end of the bed, or a luggage rack in the corner to make accessing suitcases easier. When guests actually arrive, I like to add bottled water and a fresh glass on the dresser.
Lighting. The less-than-stellar shot of the room above was taken on my phone, and what you can't see to the left is the little nook entry from the hall. We need a very flush sconce on that wall to bring in a little light, but still let the door open, left, into the room so that our guests can easily reach the light switches on the right wall. (So many things you have to think about!) Guests aren't as familiar with the layout of your home as you are, and you want to make it easy so they aren't bumping around in the dark, fumbling for lamps. Aside from a small bedside lamp, the lighting in here (both the sconce in the entry nook, and the star ceiling light over the bed) will all be tied to a single set of switches. Side note: While I'm always a fan of a ceiling fan in a bedroom, because of the way our soffit bumps into this room, we opted for something smaller on the ceiling, and an oscilating fan on the floor…I'm not going to lie, it's been fun picking out pretty light fixtures for the ceiling in here, instead of boring old fans!
Storage. We definitely don't want guests feeling like they unzip their suitcases…and then have nowhere to put anything. My plan is to use a dresser that can double as a TV stand, so there is plenty of places for guests to unpack things if they want to. The closet is generously sized, so I'll likely use it for some of our own off-season things, but have a section dedicated so guest items can be hung up.
Any must-haves I haven't thought of??