I last blogged about our plans for the basement shortly before we moved in. If you prefer a quicker re-cap than reading the link, we had our builder frame this lower level for us and stock it with drywall, saving Page one of the more time intensive steps, and avoiding dragging messy (and huge!) sheets of drywall through our finished house later when we were ready to get cracking down there.
Our plan still includes some unfinished storage space, a fifth bedroom, full bath, gym, kid area/oversized toy closet/understair playhouse, an area to hang and watch TV, a wet bar, and a golf simulator. As much time as we spend at home now, it makes sense to us to put our time, energy, and funding into these types of projects. Additionally, after our last basement finish much more than paid for itself when it came time to sell, we also see this as a fun project that we not only benefit from now, but also (hopefully) and investment that will pay off later. Since we moved in, we had an electrician come out and rough in all our wiring.  
This summer, Page did some additional framing of the soffit in the bedroom, an access wall to the sump pump along the simulator area, a future stone column, and the wet bar. Although the gym is no more than framed, we added our flooring — the same horse mats used by CrossFit gyms — and moved in the weights and equipment. We've been using the gym as-is in lieu of a paid membership elsewhere and we both love the ability to work out at home.
This past month we tackled insulation. There's no way to sugarcoat it — insulation installation is pretty damn awful, but it's a step we could do ourselves and save some coin.
We've had the hardest time finding available drywallers, and in something unheard of to us, we are discovering many options — but some ONLY hang the drywall, and some that ONLY mud/tape/texture. Weird, but whatever, we'll take it. We were able to get on the first contractor's schedule this month, so voila, we now have walls! This was SUCH a huge step down here — to get all the drywall up and off the floor makes the space, while unfinished, much more usable. We have a busy toddler who can spend the cold winter months riding bikes, big wheels, and jumping on his trampoline (shh! he doesn't know Santa is bringing it!) down here all winter long, while we save up for the next steps (and pick paint colors! No idea what we want to do down here yet!)
Please excuse the dump of photos…it's been over a year since I last came down here with my camera! Beginning with our basement stairway…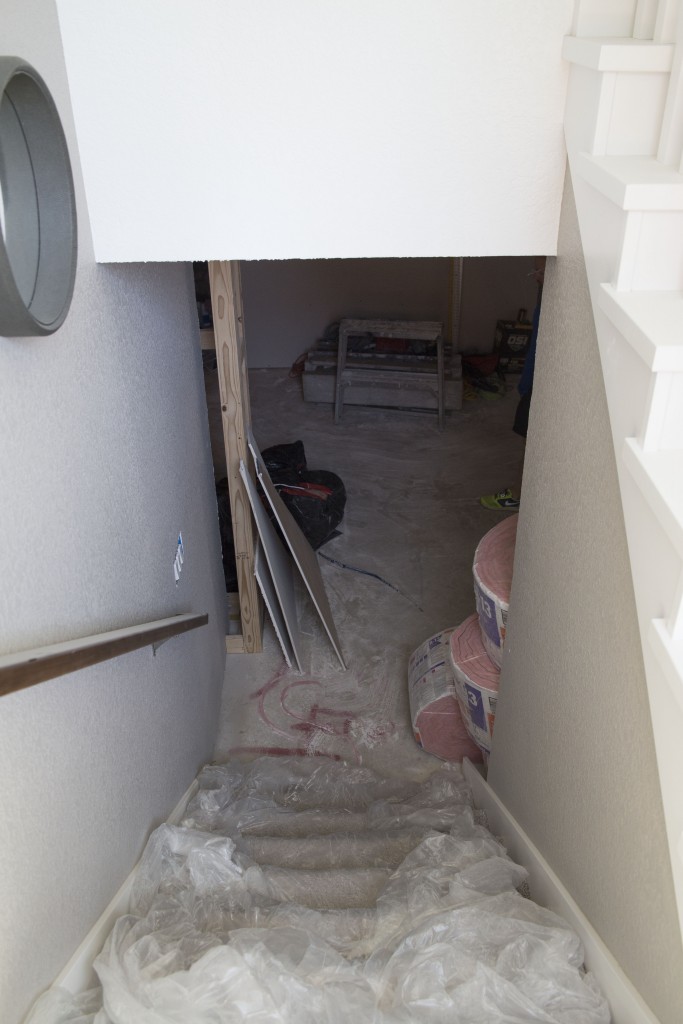 …this is the view into what will be the living room area…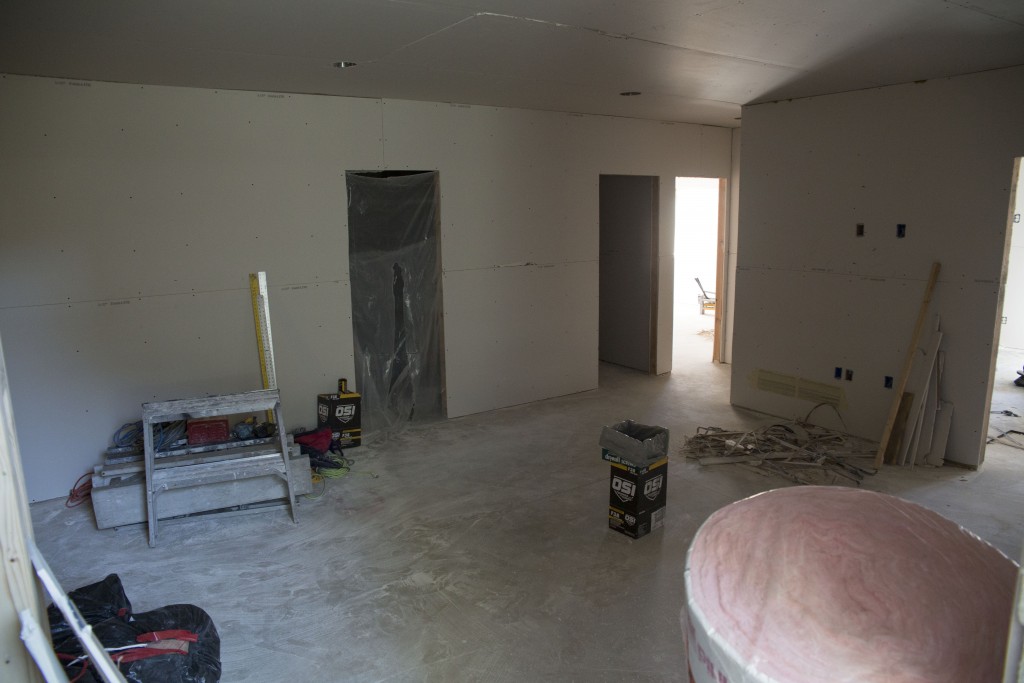 Off to the right of this area is a kiddo space…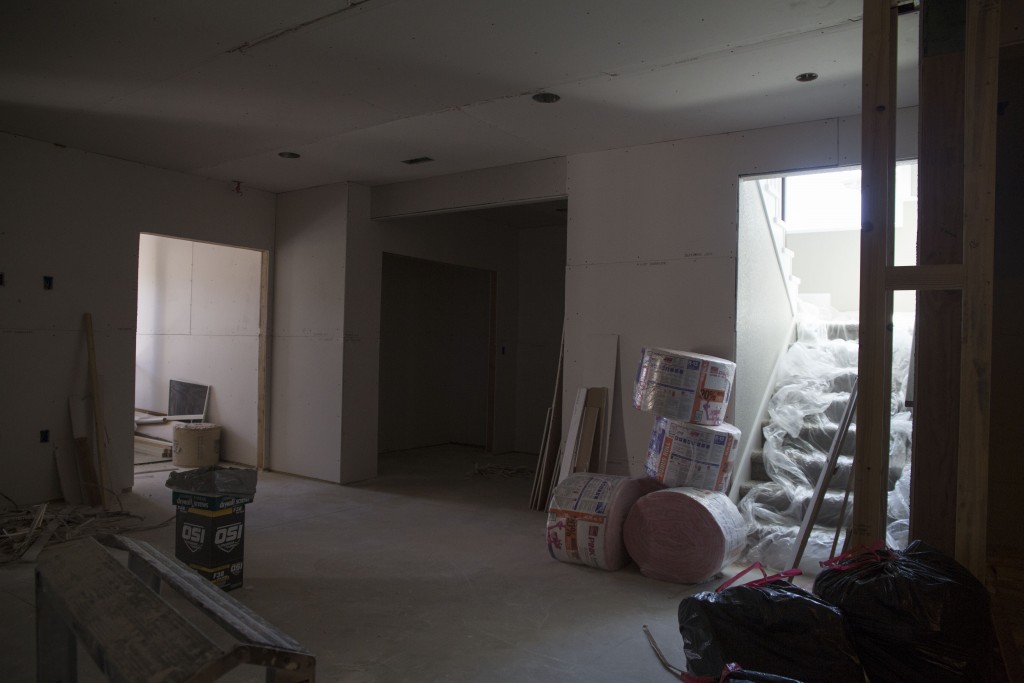 …with an extra-deep closet to the left for toys/games…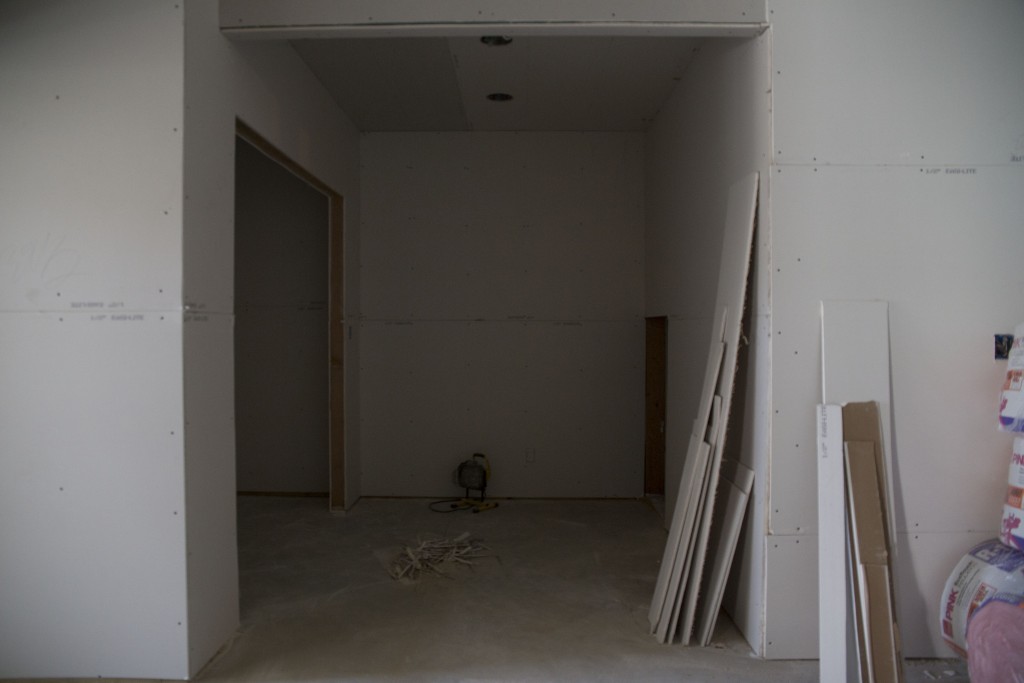 …and perhaps my favorite spot of the whole basement, a mini door to under the stairs for a Crew clubhouse…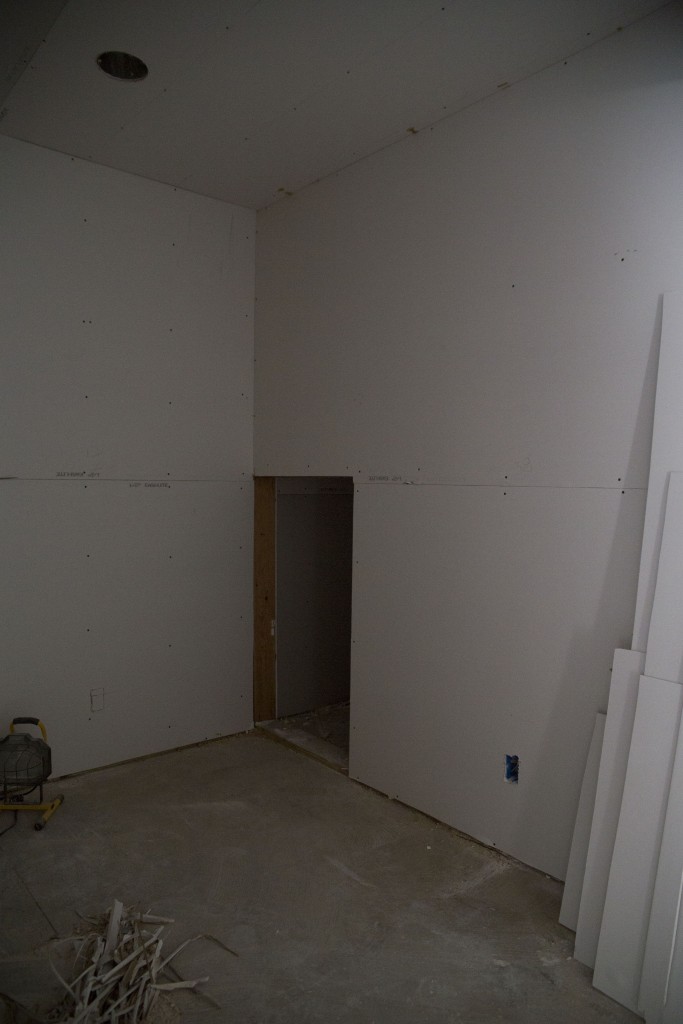 …In the opposite corner of the living room will be a full bath, and a guest bedroom…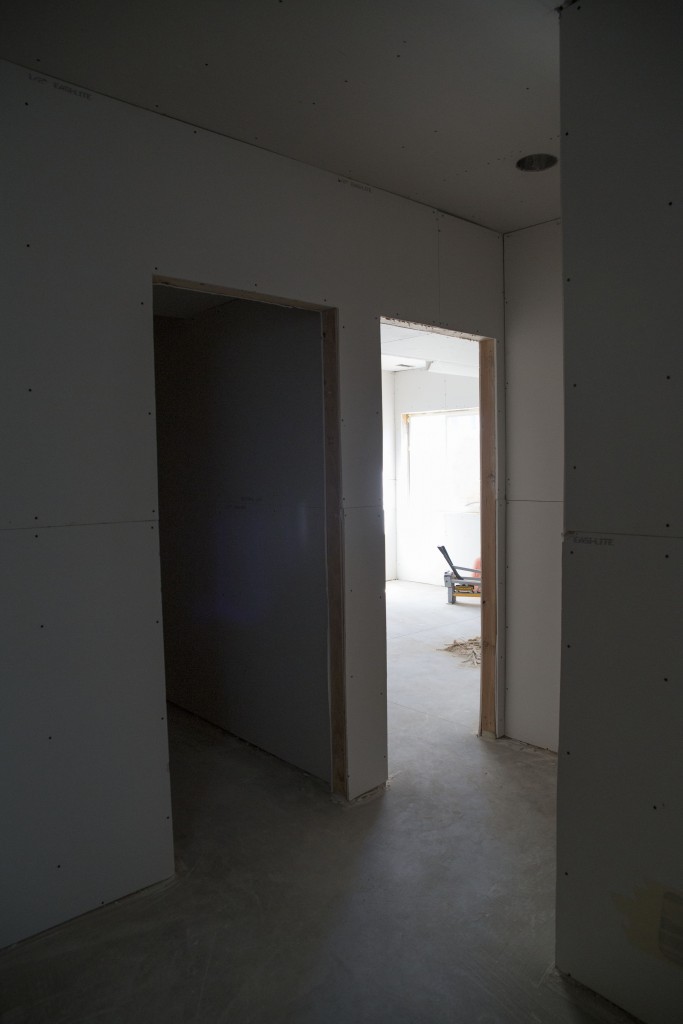 (guest bedroom)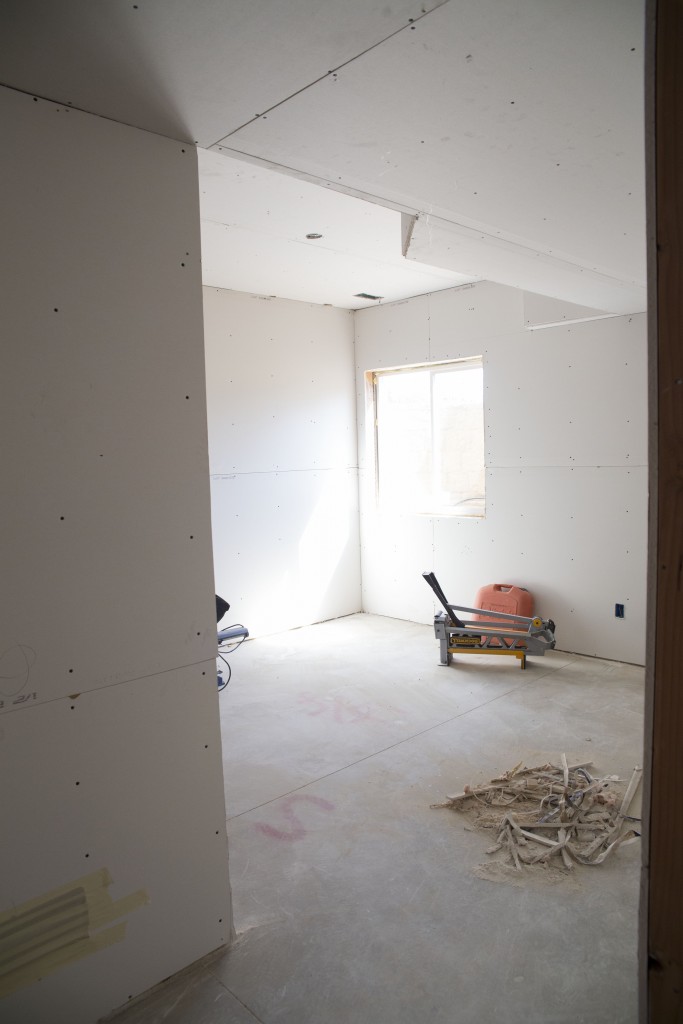 (guest bedroom)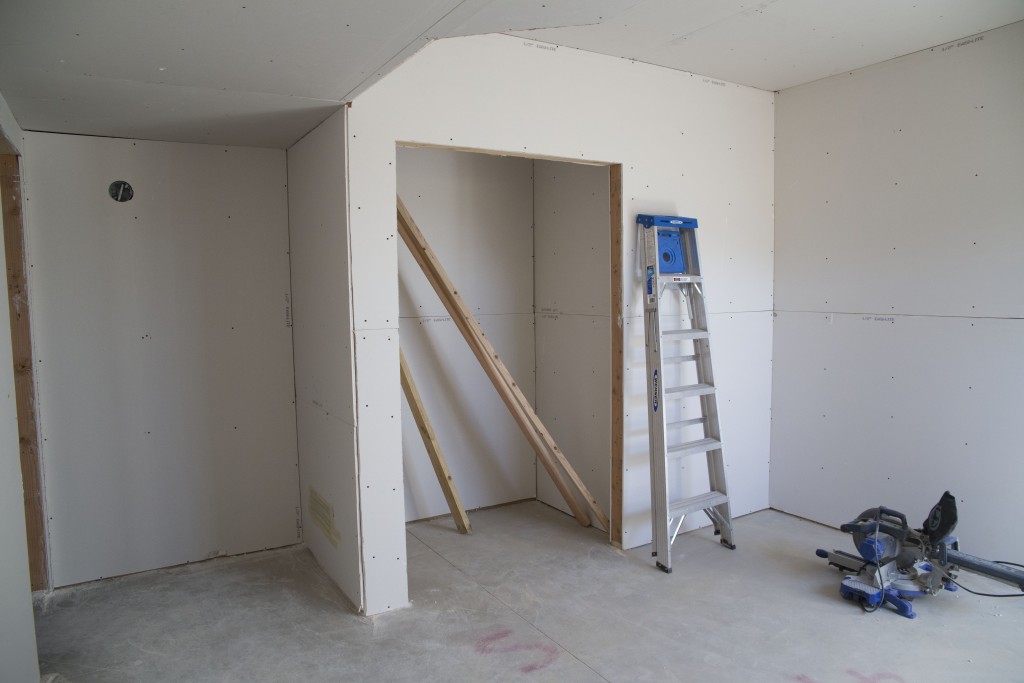 …and opposite the guest bedroom is our workout room…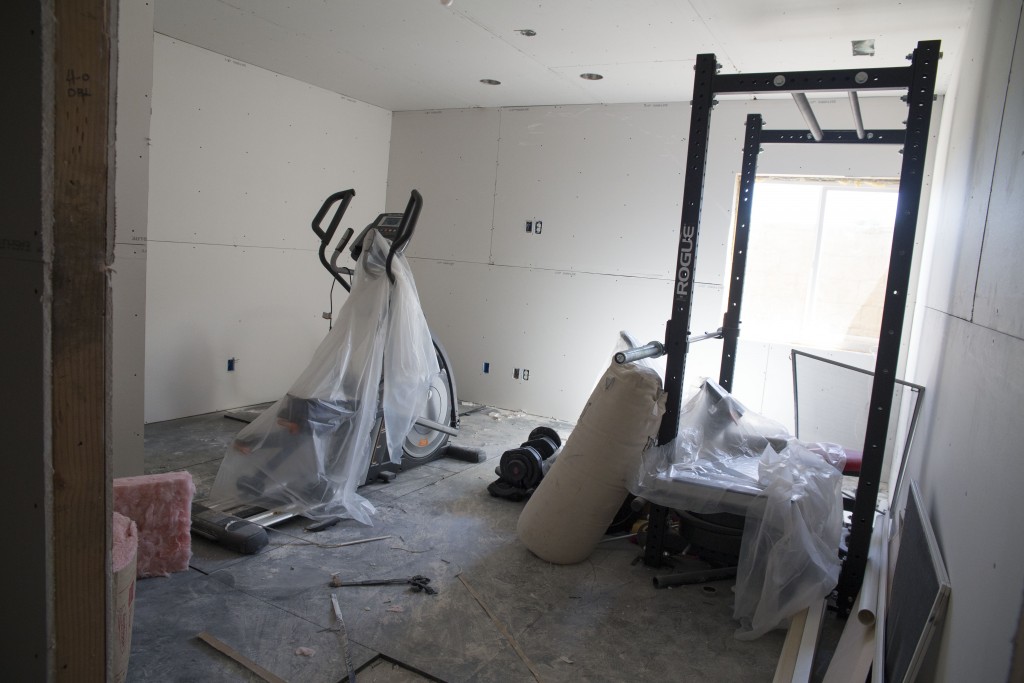 …turning around from the workout room looking across the living room to what will be the bar area…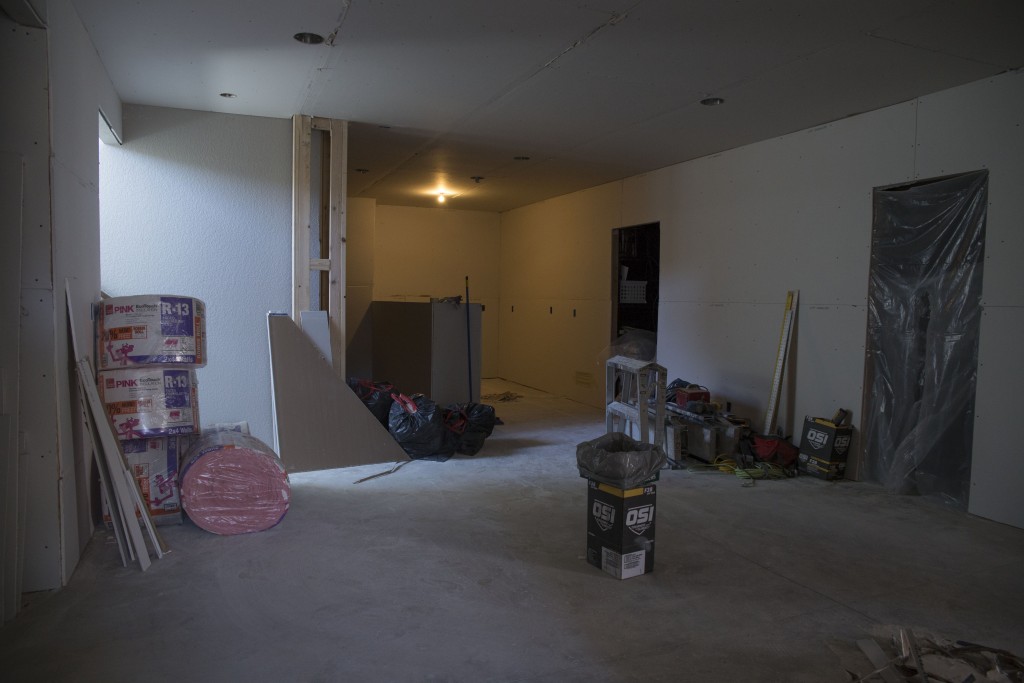 …and in front of the bar, the golf simulator…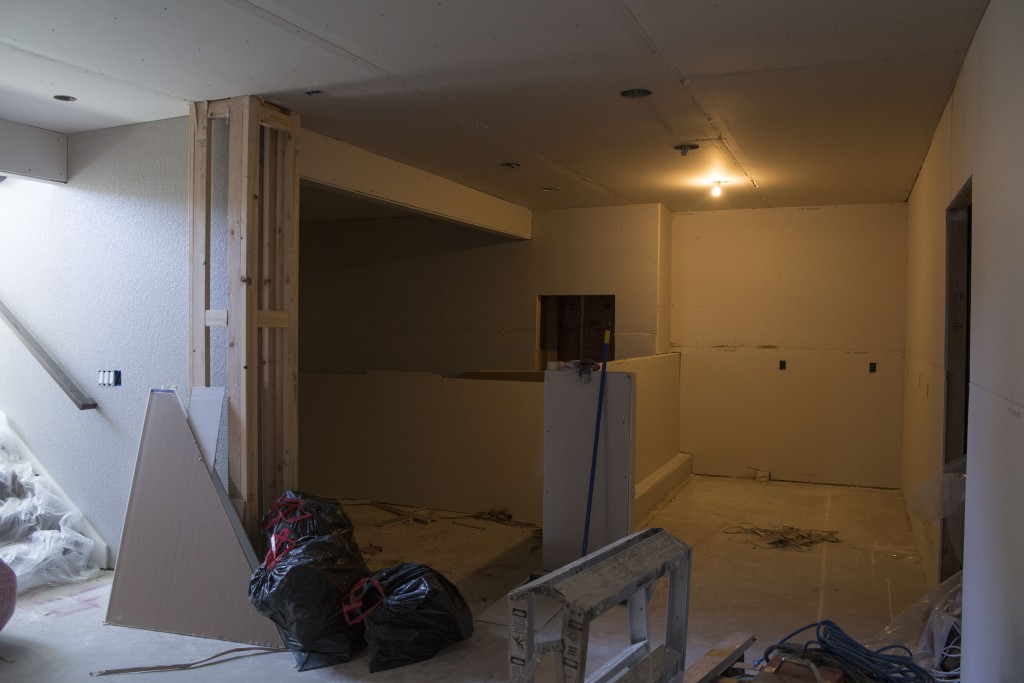 …the door to the right is a long narrow closet mainly for access to A/V, our sump pump, etc.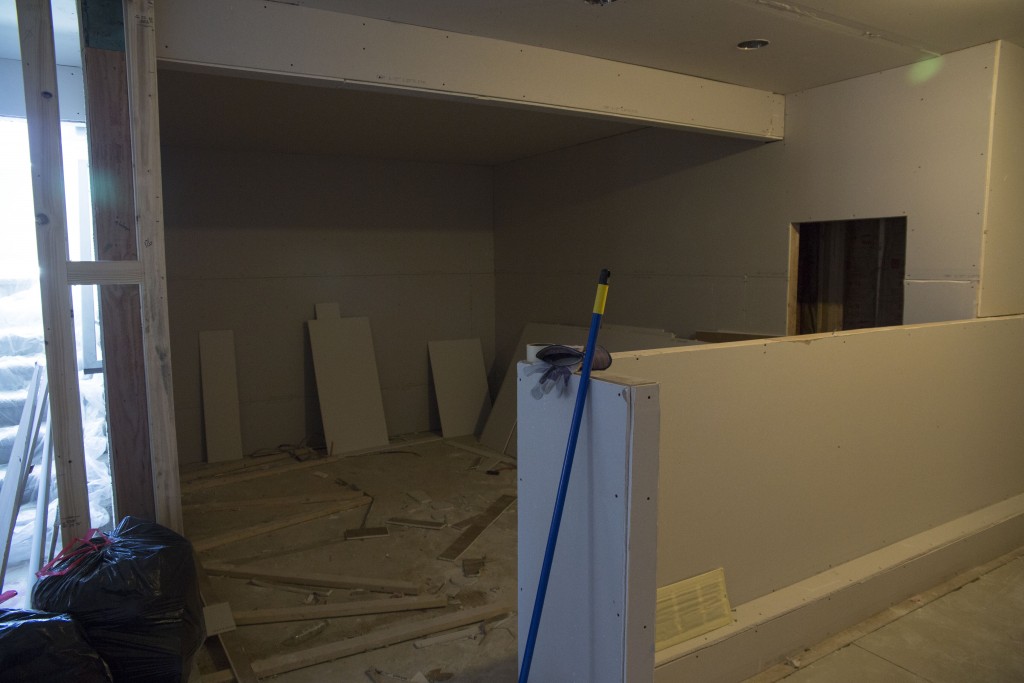 For now, we're at another pause point down here, cleaning up this latest (dusty!) phase, but so happy with the progress made as we save for and decide on next steps. As mentioned, the mudding and painting will be completed by a pro, but Page will do the trim work himself. Flooring will be professionally installed, although we've toyed with installing the bath/bar floor ourselves. (It's worth noting we also said this the first time we finished a basement…and changed our minds, so…). Final plumbing and electrical stages will be completed by outside help, and we'll plan to install our own bath fixtures, closet fixtures, and bar cabinetry/counter. So more or less "half DIY". For now we're just happy dancing that these most recent steps are behind us!