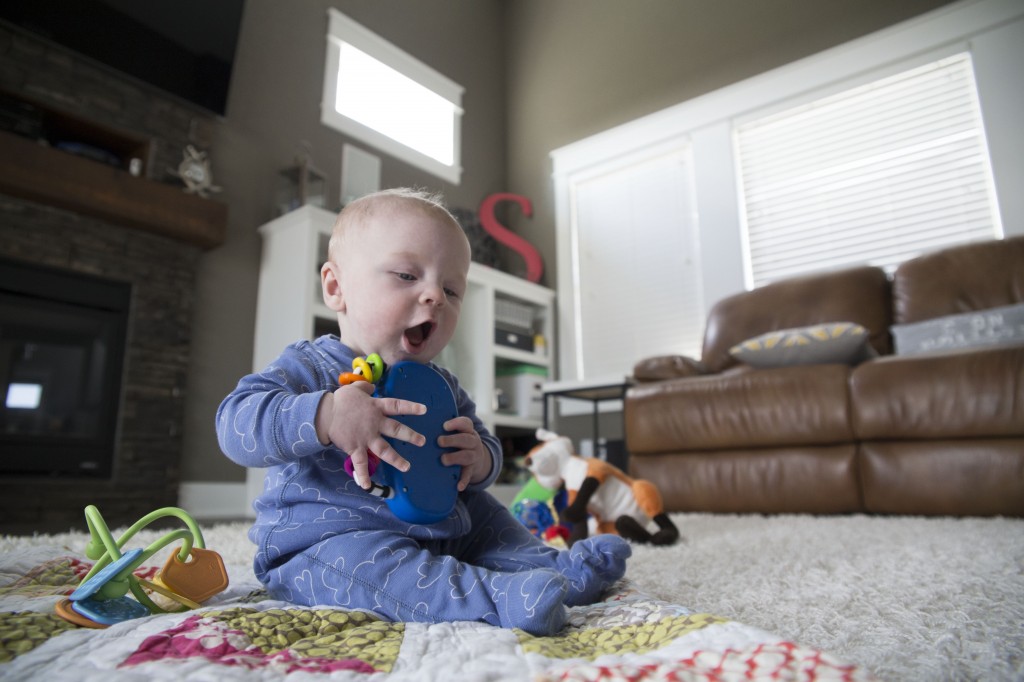 The long and short of it is that a baby…equals way more stuff.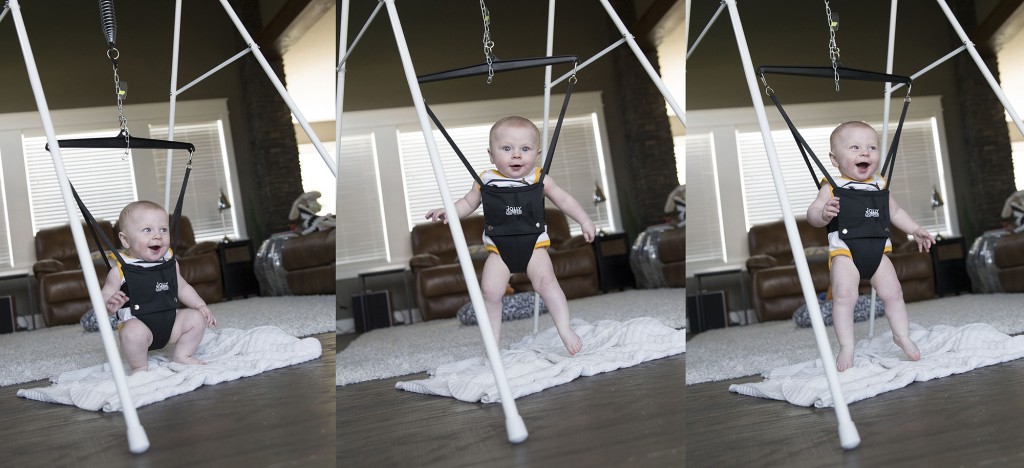 While in some areas I go crazy (as in…ALL the adorable baby boy clothes!), there are other areas I was super minimalist when it came to buying all the "stuff" (I finally caved and agreed we needed a jumper, but only now that the swing is gone – neither of which takes up a SMALL amount of space or looks very chic with the rest of the house ha – but this grin makes it worth it!).
In an attempt to keep from all the baby gear taking over the house, once Crew outgrows things, they are sorted into sell/donate, or keep, and promptly taken to the basement to be stored. There is so much stuff since his arrival and I'm constantly working to keep it under control. I love to see how others with littles are doing the same, so here's my version of organizing/storing all things Crew-man.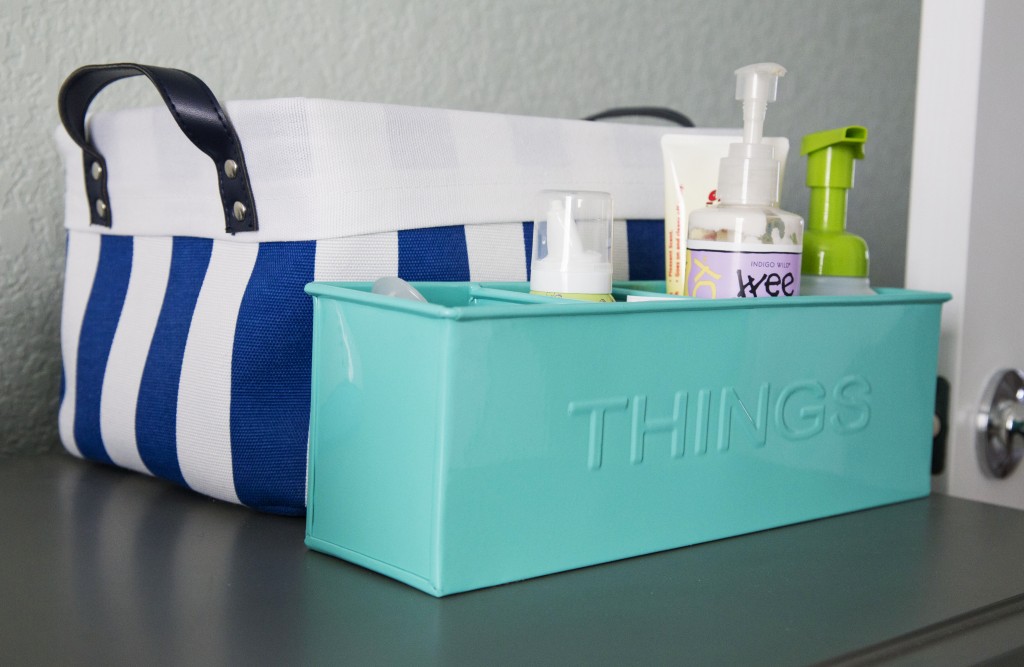 A while back I posted about Crew's nursery. To take a little more in-depth look, here is how things are organized within its four walls.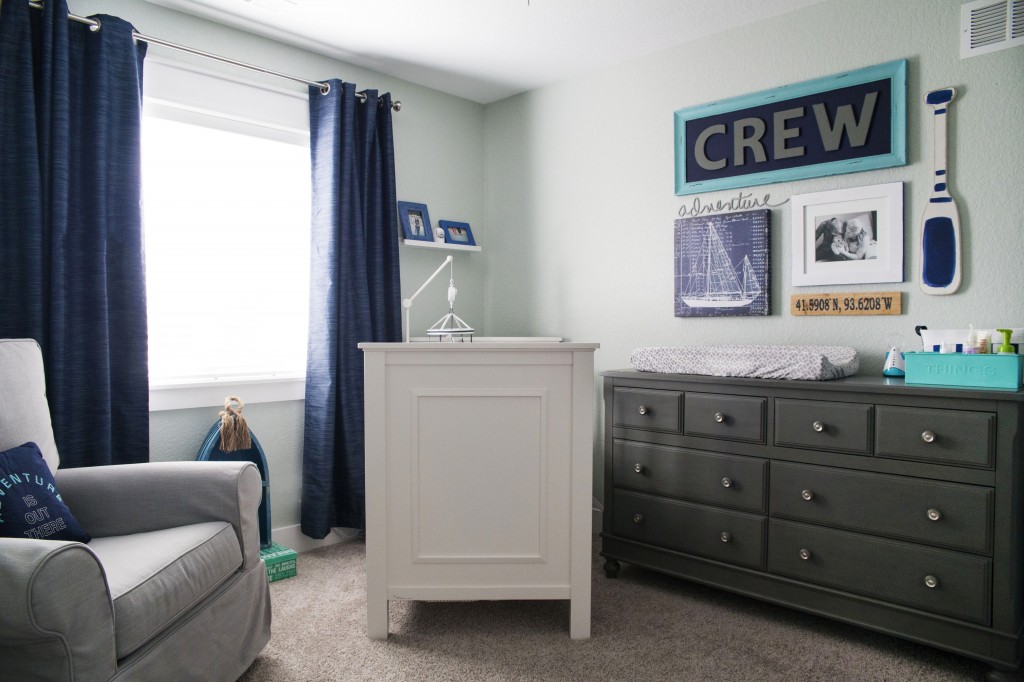 For the most part, the clothing he is currently wearing is divided among the dresser drawers by pajamas, tops, bottoms, and one-pieces. Socks/hats,/bow ties and other accessories have a drawer of their own, as do the muslin blankets he cuddles with at night. We designated a drawer just for burp cloths (hopefully we are nearing the end of needing those!) and another for sleep sacks/nighttime diapers.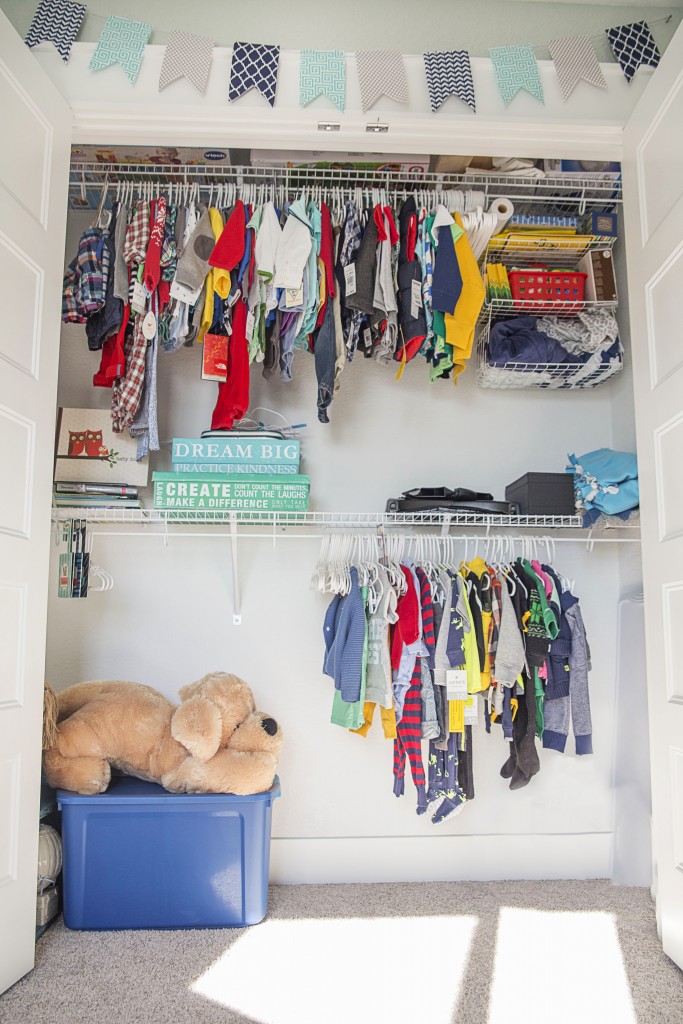 Any clothing he hasn't yet grown into (and anything "hang-worthy" he is currently wearing) is hung up and organized by size — super helpful when I'm shopping for upcoming seasons/ages to know what we already have in the stash. Toys for when he's older and stuff for his someday "big kid room" are stashed on the shelf up high, spare crib sheets and changing pad covers are in the shelving on the right, and his collection of blankets made by family and friends are stacked along with his growing collection of stuffed animals! We are hoping to have his future play area in our basement completed by the time he's old enough to really play with these, and many other toys, but for now is his small room, they set up camp here.
As he outgrows clothes (I seem to find something just about every time I put away a load of laundry), I either choose to pitch/donate, or it goes in a hidden storage bin under his crib. Once the bin is full it gets labeled with the size ranges it contains and stored in the basement. This is easier than trekking downstairs all the time, but also keeps too-small things from getting back into the drawers.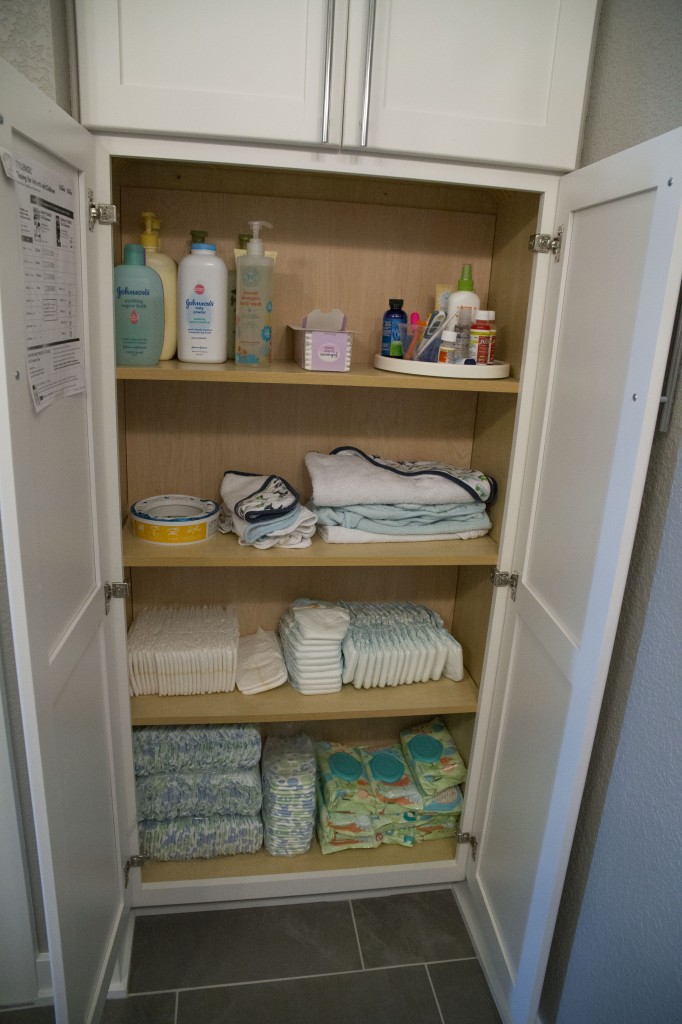 Just outside his door is the "kids bath" as we call it. The large section of this cabinet is perfect for stashing his towels, baby wash, meds, and the overflow of diapers, wipes, diaper pail refills, and more. (God bless Target subscription, yes??) Bath toys are stashed in a catch-all that suction cups inside the shower.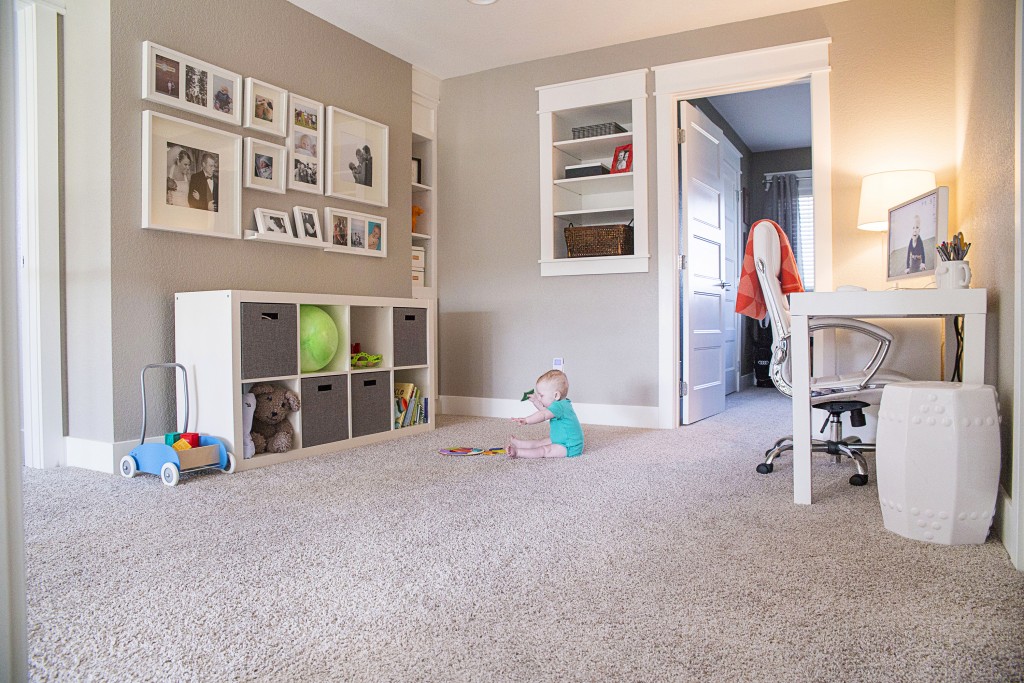 I try and work during Crew's naps, but sometimes we find ourselves in our upstairs landing, where he can spread out for a little playtime while I try and answer a few quick emails. Eventually, I see this space becoming more of a hangout with some beanbags and a TV, but for now it has my desk and the Ikea shelf holds some bins of toys/books for the baby man.
Downstairs, I've designated a kitchen drawer to all things Crew-food-related. By now, all the pumping supplies have been moved out of here and replaced with spoons and sippy cups, and of course, the ongoing supply of bottles. A couple of dollar store baskets and a divider from IKEA help keep things in their place and easy to grab. Crew is entirely on formula now, which we buy in bulk and I store in this easier-to-open flip lid container.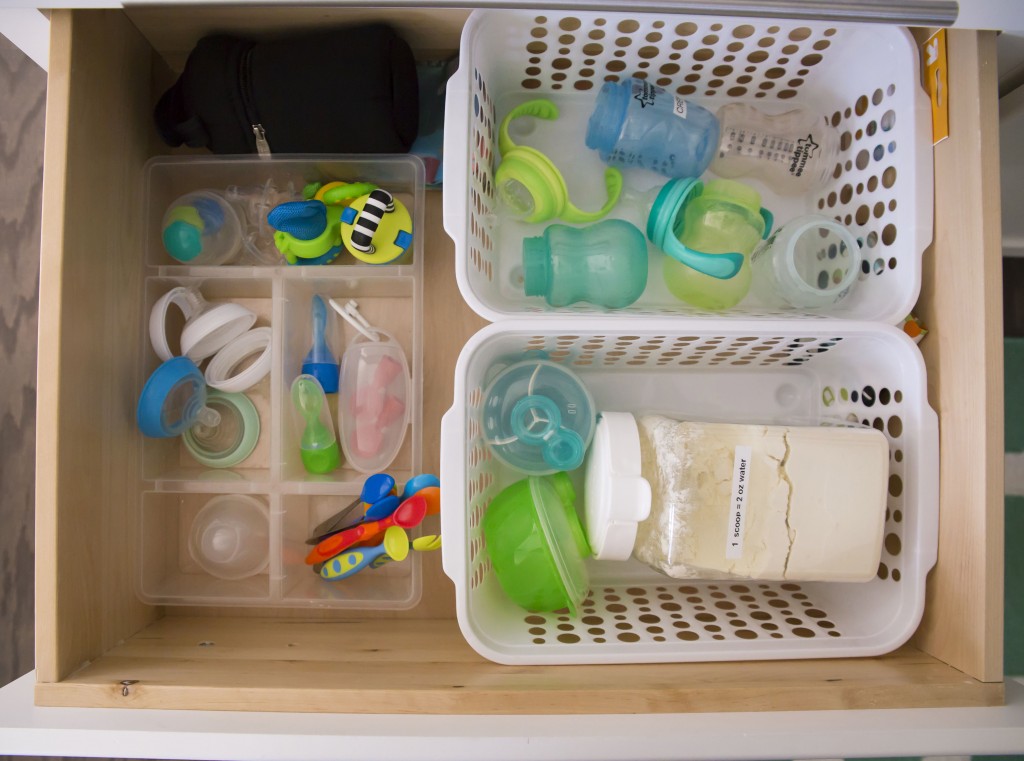 I've been making my own baby food, and dedicated a shelf in our freezer to store it all. In general, when I make a batch of something, I divide it between some cube trays and pouches, eventually putting the frozen cubes into baggies and sorting both cubes and bags into separate bins for fruits and veggies. Super easy to grab a cube or two when we're eating at home, or to send a pouch along to day care.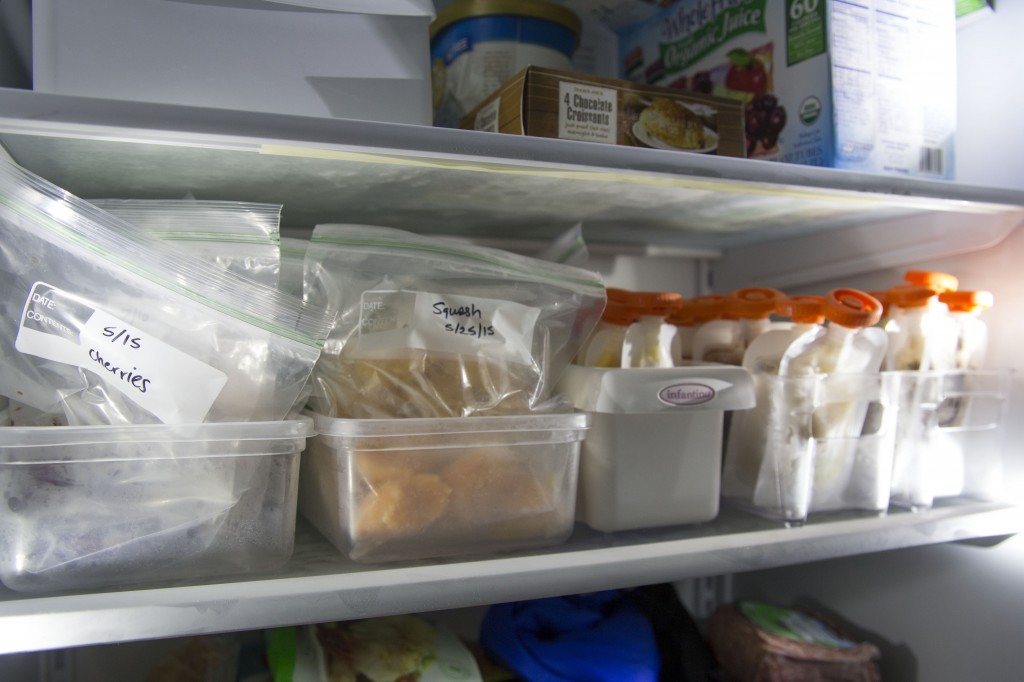 I've never wanted to carry a diaper bag — it's not really my style, and my everyday bag is a pretty large tote that I do keep a spare diaper, slim pack of wipes, and changing pad in, along with a teether and a little cosmetic bag that holds some baby meds if needed. For the rest of the things I may need on extended trips out and about, I keep a fabric cube on the floor of the car near Crew's carseat. In here, I stash a couple toys, books, blankets, burp cloths, more diapers and wipes, and a bag of various meds. For me, this works much more easily than carrying it all on my shoulder for as often as I really need it.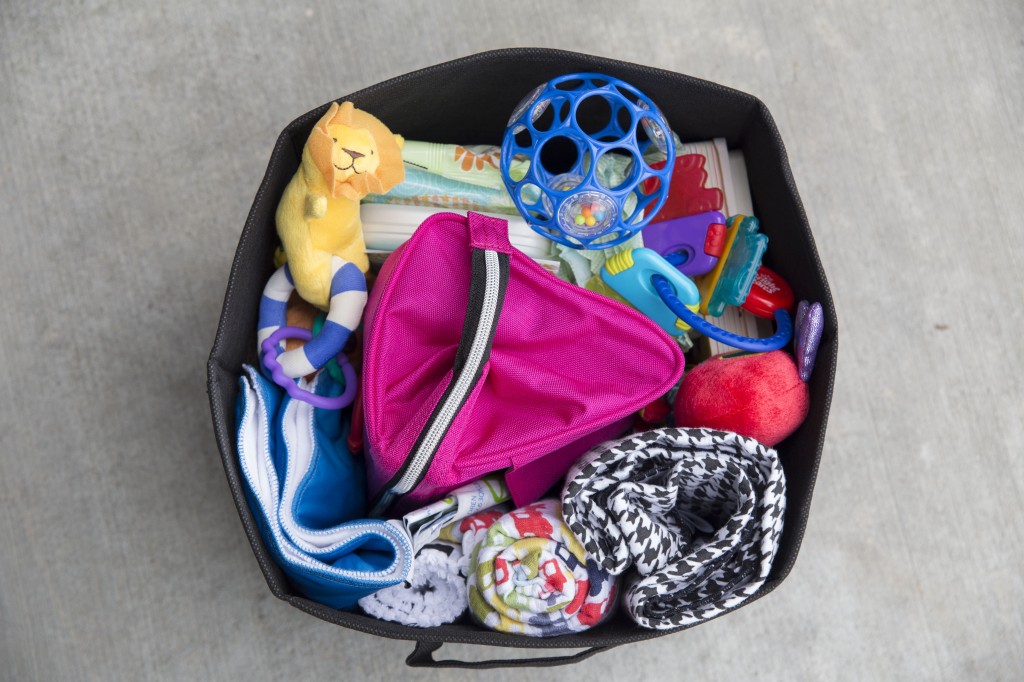 It's still a lot of stuff – but I'm trying to keep it corralled! Anyone else have tips or tricks for keeping ALL. THAT. BABY. STUFF. under control??